One of the things that has always bothered me about the introduction of 4-stroke technology into the world of handheld outdoor power equipment was the tendency for oil to get all over the place unless you positioned the tool precisely right-side up. Hang it up, let it tip over, or—GASP—use it upside down or sideways, and you're likely to witness oil running out of the engine, and all over the tool. Lately, however, manufacturers have been solving this problem by modifying the lubrication system, and the new Makita 4-stroke outdoor power tools use a patented technology of their own to eliminate this issue. Their system uses a push-pull method of distributing vaporized oil to the critical components, so when you tip the tool or alter the angle of the tool, oil isn't free to flow anywhere it wants.
An even bigger deal for some, however, is that the Makita Mini 4-stroke (MM4) engines meet the reduced emissions requirements that are becoming more and more important to various municipalities. Because they don't burn an oil/gas mix, the emissions of the Makita MM4 4-stroke tools are far lower—and that's no small factor in the OPE market. A 4-stroke engine also uses less fuel overall, sometimes up to 40% less, plus it's not cheap to mix oil and gas, and the operational cost savings of being able to use regular fuel is hard to ignore.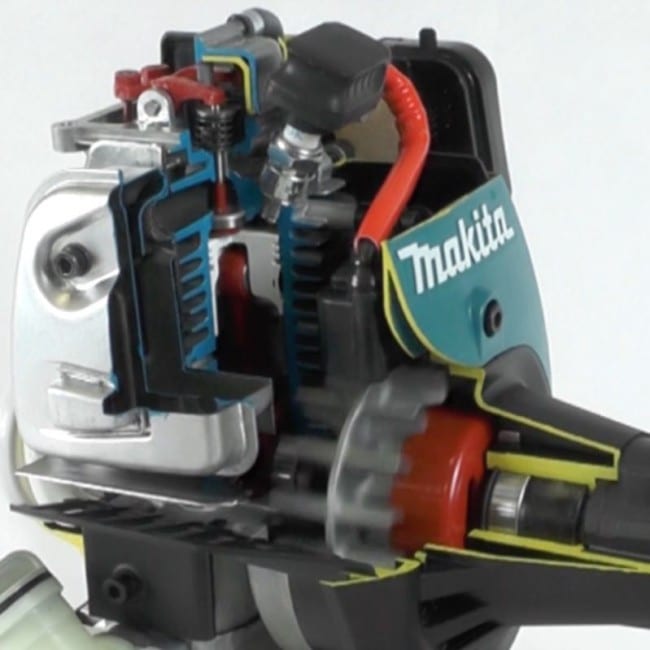 Makita EY2650H25H MM4 Telescopic Pole Saw
We saw several of the new Makita 4-stroke outdoor power tools at this year's 2015 GIE Expo in Louisville. The first MM4 model we ran into was the Makita EY2650H25H MM4 telescopic pole saw. This new pole saw extends up to nearly 13 feet in length, giving you an unprecedented reach for trimming limbs and branches from the safety of the ground. The tool weighs just under 16 lbs, and the aforementioned lubrication system means that you can operate the tool at any angle without emission smoke and the dreaded smell of oil burning off the motor housing.

Makita PM7650H 4-cycle Backpack Mist Blower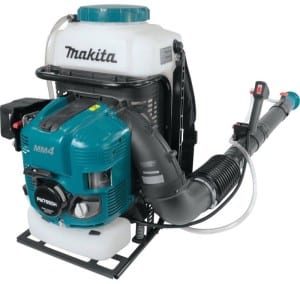 The next tool that we were interested in was the Makita PM7650H 4-cycle backpack mist blower. This new backpack mist blower, aside from smelling better than its 2-stroke counterpart, features a 2 speed "cruise control" lever on the inside of the control joystick that can be used to increase and decrease engine speed as needed depending upon whether you're spraying insecticide or fertilizer. Makita also designed this backpack to be more comfortable, adding a low vibration frame with a spring system to decouple the engine from the chassis. There's also extra padded shoulder straps, but no hip belt to offload the weight and strain from your back. Fortunately, the tool only weighs about 29 lbs (empty, of course).
The Makita PM7650H 4-cycle mist blower can hold about 3.9 gallons of liquid and its 75.6cc 3.82HP engine can spray over 50 feet horizontally when needed at a velocity of 190 mph. A liquid control valve sits near the front of the nozzle and allows you to adjust your flow rate to get just the right amount of material on your garden or landscaping.
Makita EM2650LH 4-stroke Trimmer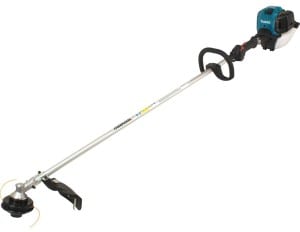 The next of the Makita 4-stroke outdoor power tools we looked at was the Makita EM2650LH 4-stroke trimmer. This is a lightweight but powerful trimmer that really should do well for landscapers looking to have a durable, all-day tool that can run with minimal vibration and lower environmental than comparable 2-stroke models. The Makita EM2650LH uses a 25.4 cc commercial duty engine with the same lubrication system that keeps your oil from running out when you hang your tool or tilt it to the side. It uses a high capacity, rapid load bump-feed head that lets you cut a length of string, feed it into the center of the head, and simply wind the head until it's fully loaded. It's almost as convenient as a Pro trimmer head. This new string trimmer also weighs just 10.9 lbs. For easy maintenance, the Makita MM4 4-stroke trimmer uses a heavy duty, dual stage air filter, and the oil filling port and drain plug can be accessed easily. There's even an oil level view window and a translucent fuel tank so you know exactly where you stand at all times. This trimmer uses a steel drive shaft—this, in addition to the handle design, helps Makita reduce vibration to the user.
Makita Rebrands Dolmar Chainsaws
For anyone who's familiar with the comings and goings of industry companies and ownership changes, the Dolmar brand has been owned by Makita since 1991. As of October 1, 2015, however, Makita U.S.A., Inc. became fully responsible for all Dolmar products throughout the U.S.A. We got to see the result of that change with the new orange Makita-branded Dolmar chainsaws at GIE.
This new arrangement allows Makita to present products that use a combination of Dolmar professional 2-stroke chain saws, Makita MM4 4-stroke outdoor power equipment, and their 18V and 36V (X2) LXT products. What happens when you combine decades of industry know-how, 4-cycle technology, and cordless power tools? Who knows, but it's sure to be a fun ride! Nothing should change with respect to distribution or dealers, but you will begin to see all future Dolmar chainsaws featuring the same orange color—but with a new Makita logo on the blades.
Wrapping it Up
Makita has a lot more tools it showed off at GIE, including the new 18V X2 string trimmer and blower, BBX7600N 75.6 cc MM4 backpack blower, and the EK7651H 14 MM4 4-stroke power cutter. They also showed off their new Makita Hybrid LED work light which we first saw at the Makita 100 Year Anniversary Event. This is a tool we think is going to take the industry by storm once it gets into the hands of contractors. The 2015 STAFDA trade show is coming up in a couple weeks, and that should also see some new tools introduced from Makita—if my super secret sources are correct!