What if you could attach a work table extension to your tailgate and avoid hauling sawhorses and plywood? That's the basic idea behind the TRUC Table – the Transportable Rugged Utility Construction Table.
Invented by Nate Dipillo, the TRUC Table offers an adjustable, stable platform to fit most work trucks. It can also be detached from the truck and wheeled around to your chosen location.
The system folds up for transportation against your tailgate and secures using straps. When you're ready to work, the legs fold out and lock using a pin system. 13 inches of height adjustment allow you to set the TRUC Table flush to most tailgates. The table will support up to 500 pounds of whatever you'd like to throw at it.
Our Take
The concept of the TRUC Table is solid – the idea of having a rolling workbench attached to your tailgate is really attractive. However, the implementation still needs refinement, particularly for the price tag.
I'd like to see something more finished than a strap system to secure the table during transportation for one thing. There's also a lot of steps to get the table ready for work. Each of those steps is pretty easy and little more than removing the strap and popping pins in place. When you're ready to work away from the truck, you'll need to release it from the hitch as well.
There's another issue in that the caster wheels are designed for rolling over flat, hard surfaces, not the sand and gravel found on many jobsites.
But by the time you've dealt with all that, you may want to just stick with a set of sawhorses.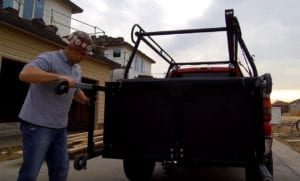 But there's good stuff to talk about here as well. The big deal is how much strain the TRUC Table takes off your back. Because of its adjustable height and folding leg design, you never bear the weight of lifting it to the ground. It simply folds out and down to create workspace right at your tailgate.
And since it does release from the hitch or tailgate and has casters, it's portable around the site. Load it up with 500 pounds of gear or less and wheel it around where you need it – as long as where you need it is on concrete or hard flooring.
What hurts the most is the price tag. You'll want the Hitch Mount System so that will add another $200 to the $1,250 starting price. And if you want a galvanized top instead of wood, it goes up from there.
TRUC Table Key Features
Wood or galvanized top
13-inch height adjustment
Adjusts to fit most truck tailgates
Available Hitch Mounting System (sold separately)
4 Accessory openings
2-year warranty
MSRP: $1,250 (no hitch, standard wood top)