Werner Leansafe X3 Ladder Simplifies a Useful Design
The Werner Leansafe X3 ladder is a 3-in-1 design that acts as a leaning, A-frame, and extension ladder that's corner-friendly. It's functionally similar to Little Giant's King Kombo. However, Werner made some intelligent changes in the initial Leansafe design that make it much easier to use.
Pros
Type 1AA 375-lb load rating
3-in-1 leaning, A-frame, and extension ladder
Built-in top cap nestles on inside and outside corners, secures on studs
Super-easy adjustments
Relatively light at 24.1 pounds
Rear rails fit between studs
Design puts you closer to walls in A-frame position
Cons
Highest A-frame height doesn't let you reach volume ceilings
Only two types available right now
Extended position doesn't allow for corner/stud benefits
Multiple Positions, Easy Adjustments
For a ladder, we actually have quite a bit to talk about on the Werner Leansafe X3. Like other 3-in-1 multi-position ladders, it can lean in, stand alone as an A-frame, or flip around to an extension height.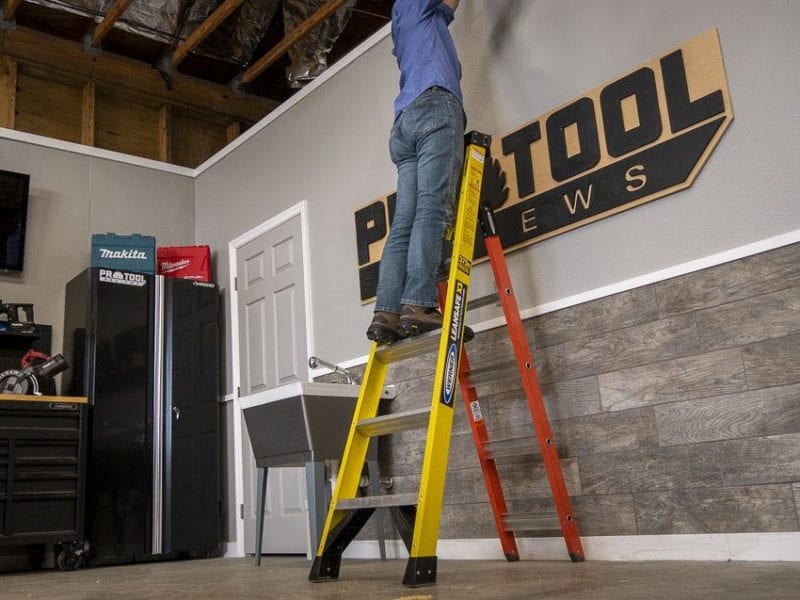 Folded it's 6 feet tall and extends out to 9 feet when you swing the rear rails around. For an average person, that's a 10-foot reach for the first two positions and 13 feet as an extension. I'm 6 feet, 2 inches tall, so my reach is a bit higher.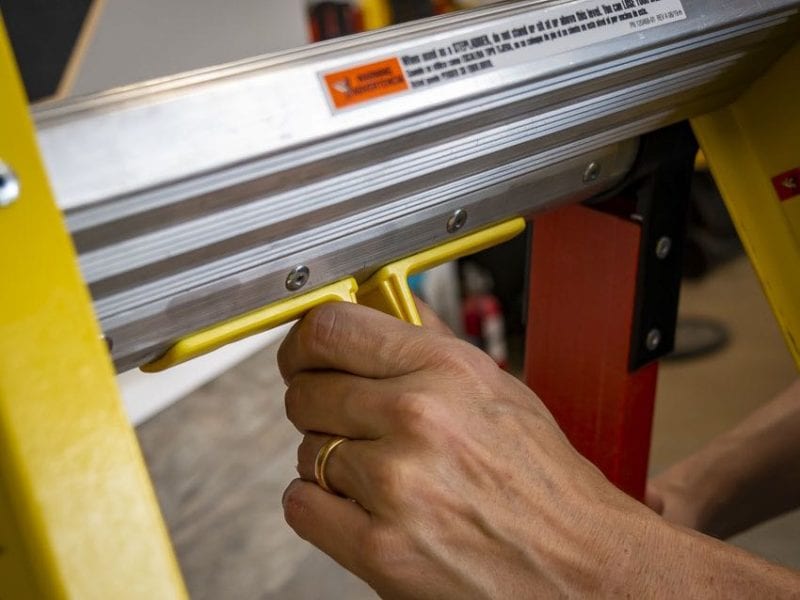 It took about 5 minutes to fall in love with the Werner Leansafe X3 ladder and it's all about how you make those position changes. Other ladders we use have spring-loaded pins on the outside of the rails. Werner uses a pinching system in the middle of the rail that lets you release both sides with one hand and it's SOOOO much easier!
The other systems force you to change your position around the ladder as you release, adjust, and sometimes pop the pins back in place if they don't slip in on their own. Werner's design doesn't have that kind of issue.
But Wait, There's More!
We'd have been sold just on the adjustment, but there are several other design features worth pointing out.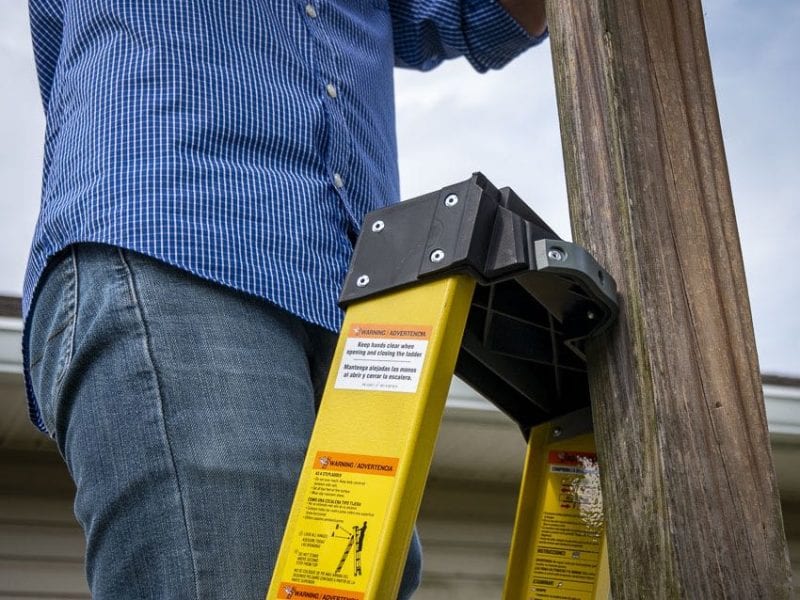 In the leaning position, the contact side of the top has a non-marring material covering it. It's also in a shape that contours to sit nicely on inside corners, outside corners, and even against exposed studs. Unlike Little Giant's version, there's nothing to flip out. It's just there when it's needed and doesn't get in the way when it's not.
You lose the corner/stud benefit when the ladder is in the extension position, though. It's not something that affects a lot of what we do, but you might run into a spot you wish it had the option on warehouse jobs, in large shops, or other high-ceiling structures.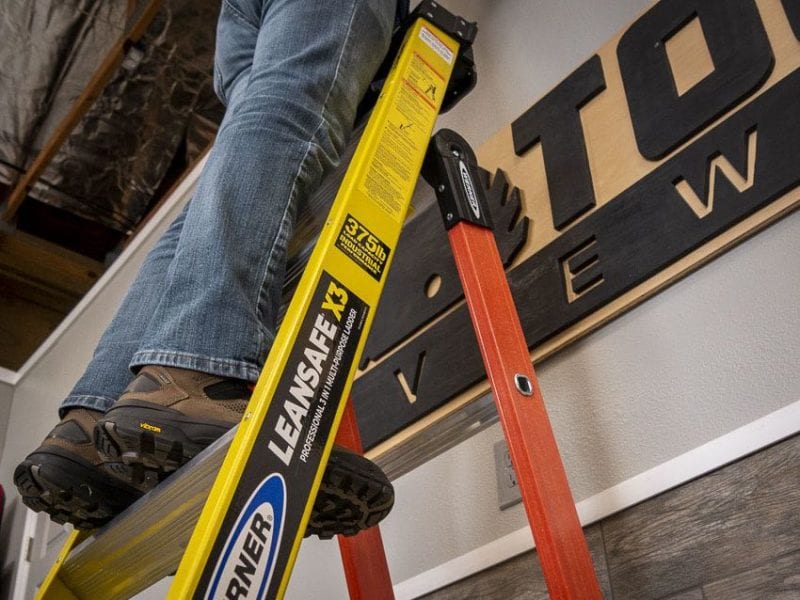 Most A-frame ladders pivot at the top, but Werner moves the X3's down one step. Doing that gives you the stability you need while moving the top over the rear rails and closer to the wall or surface you're working next to.
The rear rails are also narrower—just 14-1/4 inches. The width lets you put the ladder between studs while you're running wire, cable, pipe or other material in the pre-drywall phase.
Additional Features
Slip-resistant foot pads
Werner Edge360 bracing
Electrical-friendly fiberglass frame
Certifications: ANSI A14.5 (2007), OSHA
Yellow and orange color scheme makes it highly visible while standing out from your other ladder types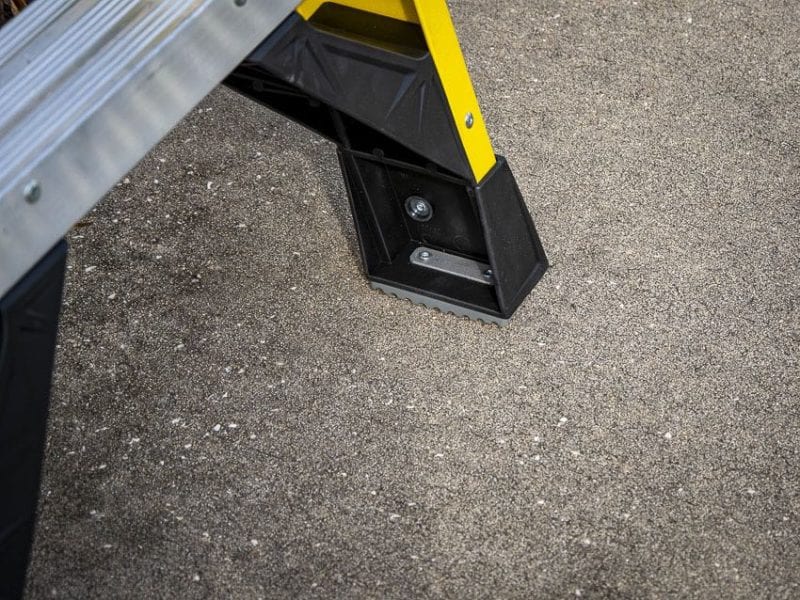 Pricing
You can pick up the Werner Leansafe X3 ladder for $248 which is right around Little Giant's pricing. Little Giant gives you its Ground Cue feature on the bottom step. It's helpful, but I like Werner's adjustment system so much better that it puts the Leansafe in the win column for me.
The Bottom Line
The Werner Leansafe X3 is the perfect ladder for everyday tasks for both professionals and homeowners. It's limited to single-story heights and there might be a few times you wish the corner/stud feature was accessible in the extension position. However, those are very minor considerations.
Thanks to its 3-in-1 positioning, electrical-friendly fiberglass frame, and easy use, it's one of the most versatile ladders you can buy. It's our new go-to ladder and we only reach for something else when we need more height or a podium ladder for extended work.
Werner Leansafe X3 Specifications
Model: Werner LDP7306
Material: Fiberglass
Folded Length: 6 feet
Capacity: 375 pounds (Type IAA)
Positions: Leaning, A-frame, extension
Price: $248