In my never-ending quest for the perfect footwear for work, I'm constantly chasing comfort. After all, the challenge isn't producing a shoe with a safety toe, puncture resistance, and stability, it's doing it in a way that doesn't leave your feet begging for mercy at the end of the day. More often than not, I really just want to wear my running shoes. So when I saw the new Wolverine Jetstream, I had a feeling it would be right up my alley.
The Wolverine Jetstream clearly has the look of a running shoe, but they're not the first ones to go down this road. I love the fit of my Carhart Force boots that are made to fit like a running shoe. Whether you're going for a run of one mile or 26.2, running shoes have to be comfortable and there are work shoes and boots hovering around the fringes of the secure fit they offer.
But can you just take a running shoe, slap a composite toe in it, and call it good to go? It might not be that simple, and Wolverine put much more thought into it than that.
Editor's Note: Check out our best work boots review article for our favorite products for all applications.
The Look
Like I said, the Wolverine Jetstream has the look of a running shoe. It most closely resembles a model from Asics and several people have mistaken them for exactly that.
You have four colors to choose from including red/black, gray/green, blue, and black. I decided to go with blue mainly because I like a bright look for my running shoes. Even though these won't be used for running, it does fit the look that I'm going for when I wear them.
The Fit
The Wolverine Jetstream fits very much like a running shoe. It's more snug around the middle of your foot with a little room around the heel and an agreeably large toe box. I usually wear a men's 12.5 medium width, but often have to wear a 13 since not everyone has half sizes that large. That's the case with the Jetstream and I went with a size 13. I find that it fits true to size.
The Feel
Working from the inside out, the Jetstream has a memory foam footbed, an RMAT rubber EVA blend midsole, and a slip-resistant rubber lug outsole. What you'll notice when you take your first steps is how soft the shoes feel bearing your weight.
After my first couple of hours, I needed to loosen the shoelaces as my feet began to swell as they always do throughout the workday. The pressure I felt was not at the upper laces because I tied them too tight, but rather in the middle section. Once I loosened them up, the discomfort went away.
You'll want to wear at least ankle-high socks with the Jetstream. I found that with my normal low-cut running socks, the back of the shoe rubs the area behind my ankle and causes some discomfort. Simply wearing a slightly higher sock will take care of the issue.
What your feet and legs will love is the light weight of these shoes. Wolverine is claiming they weigh 10.7 ounces. That's pretty good for a running shoe, even better for a work shoe with a safety toe.
Memory foam is both a blessing and a curse for some people. My feet sweat a lot as it is and memory foam adds to the heat retention in shoes. Thankfully, the upper is breathable to allow moisture out. Although I do sweat more in these, it's not as bad as waterproof work boots that are not as breathable.
Safety Features
The Wolverine Jetstream has the look and feel of a running shoe, but its design is first and foremost a safety shoe. Wolverine put their CarbonMax composite safety toe in the Jetstream to provide lightweight protection. But don't confuse lightweight with light-duty—the CarbonMax is a very capable safety toe.
The outsole features a slip-resistant rubber lug appropriate for almost any work surface. Like most casual shoe styles, it gets slick on dusty floors.
What you won't find on the Jetstream that you do in most work boots is a puncture plate of some sort. That's going to relegate these off of many jobsites and put them more in the realm of warehouses and for finish work in construction.
Durability
The durability of the Wolverine Jetstream is something worth looking into with such a soft feel. Most running shoes will last between three and six months or 300 to 500 miles before replacement. That's because the EVA foam breaks down as the force with each stride is roughly 4 times the weight of the runner. In other words, my running shoes absorb more than 750 pounds of pressure with each step. And each one is required to do that about 5000 times on a 6-mile run.
But work shoes are different – your walking steps don't put nearly as much pressure on the shoe as running strides do. Even so, Wolverine uses their RMAT rubber EVA blend that is work grade so it's better suited for work environments than running shoes.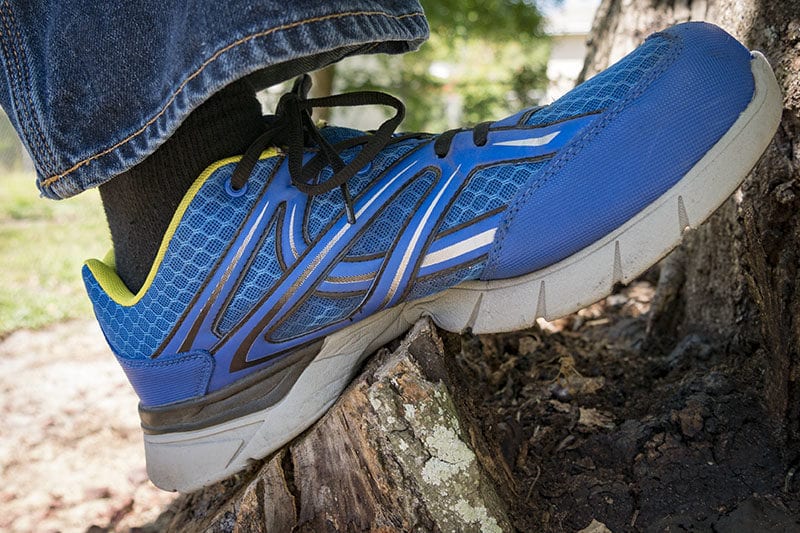 That's a break away from traditional work boots that often look to a polyurethane midsole that – while tough – is also fairly stiff. Time will tell the whole story, but I expect the Jetstream to last longer than my running shoes but not as long as my traditional work boots.
When you look at the upper, it's not the tough leather construction you find on many work boots. Instead, it's a breathable mesh much like a running shoe. Don't expect it to react as well to the same kind of abuse the uppers of your regular work boots will take. But keep in mind, these are work shoes, not work boots, and don't carry as tough a design so you have to adjust your expectations of where they will do their best work.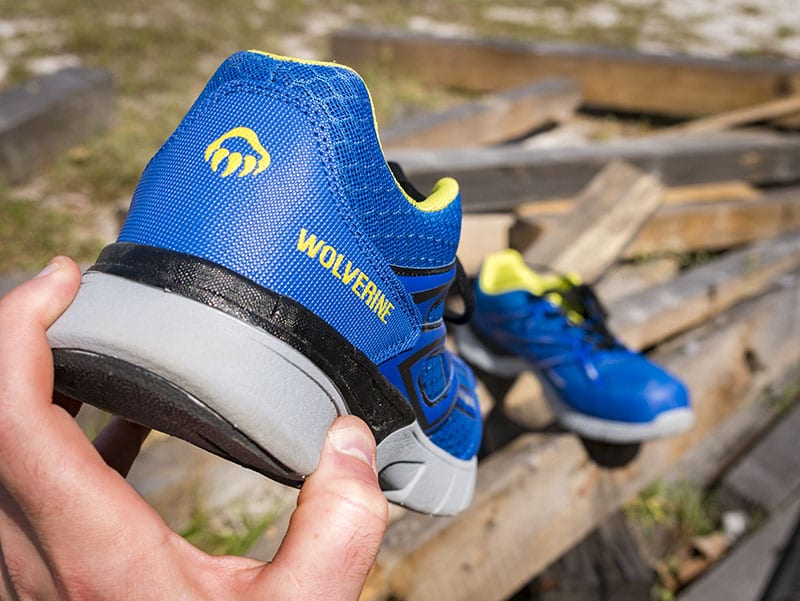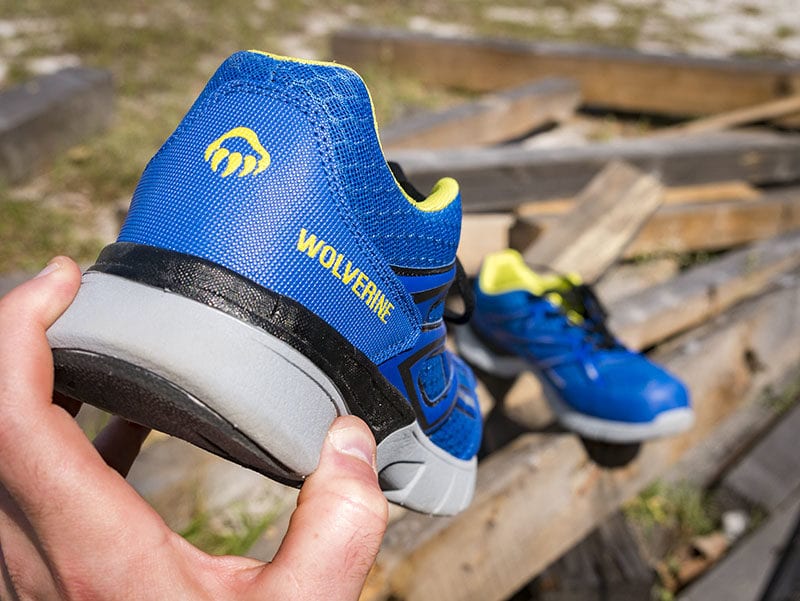 The upper and midsole are connected by cement – in other words, glue – which is the least durable of most work boot construction methods. However, it's how virtually every running shoe is constructed.
The Bottom Line
The Wolverine Jetstream has the look, fit, and feel of a running shoe. Despite its lightweight design, a CarbonMax composite safety toe is hidden inside, but there's no puncture resistance.
Combining Wolverine's RMAT rubber EVA blend midsole and memory foam footbed gives the Jetstream a soft, comfortable feel on your feet. Users with naturally sweaty feet will notice a bit more sweat thanks to the heat retention of the memory foam. It's a tradeoff for extra comfort.
As a work shoe with a soft EVA foam/rubber blend for the midsole and cement construction, it's not designed to be as durable as a premium work boot. I expect it to last longer than the 300 to 500 miles my running shoes give me. However, keep in mind that it's not unusual for someone who works on their feet to travel 3 to 5 miles in one workday.
Wolverine Jetstream work shoes have a retail price of $89. This is a little less than I pay for running shoes that I expect to get maybe six months out of. Since I can't wear these on every jobsite, they should last a while, though everyday wearers will want to keep an eye on them starting around the 6-month mark. At the end of the day, these are a solid bet for Pros doing finish work in the construction industry along with warehouse and other workers that spend a lot of time on concrete surfaces.
Wolverine Jetstream CarbonMax Safety Toe Shoe Key Features
CarbonMax composite safety toe
Lightweight show reduces fatigue on legs and feet
Thinner toe cap wall provides more toe box room
Strong structure offer protection against falling objects
Memory foam footbed
Wolverine Jetstream CarbonMax Safety Toe Shoe Specifications
Model: Wolverine Jetstream
Weight: 10.7 ounces
Upper: Breathable mesh and TPU
Lining: Moisture Wicking Mesh
Footbed: Removable Memory Foam
Midsole: High Performance RMAT Rubber EVA Blend
Outsole: Slip-resistant rubber lug
Cement Construction
Nylon Shank
ASTM F2413-11 M I/75 C/75 EH
Price: $89