ZT Adds Some Flair To Their Already Succesful 0393 Model
When ZT introduced the 0393 last year, it was an instant success. This time around, the Made in the USA Zero Tolerance 0393GLCF brings the same Rick Hinderer design, premium steel, and build quality as the last model, with a couple of new features as well.
Pros
Rick Hinderer design
Made in the USA
High-quality CPM 20CV steel
Titanium handle has glow-in-the-dark carbon fiber overlays
Hard-use "working finish"
KVT ball-bearing opening system
Reversible clip
5 oz. total weight
Cons
Glow-in-the-dark needs sunlight to charge – something that doesn't happen in your pocket
Recommendation
The ZT 0393GLCF is a little pricey, but the glow-in-the-dark handle looks cool, and it stands out against other knives you might add to your collection. The CPM 20CV blade steel is incredible, but plan on sending it back to ZT for sharpening unless you're solid in that department already.
At its core, this ZT is an exceptional folding knife. It holds an edge well, looks great, feels comfortable, and opens smoothly and easily. At the end of the day, it's a real easy knife to recommend.
Features
Blade
The ZT 0393GLCF uses Crucible's CPM 20CV steel. CPM 20CV steel is exceptionally hard, resistant to corrosion and wear, and takes quite a bit of force to break. It also holds an edge really well.
There's both good and bad news with this: your knife stays sharper for longer, but sharpening it can be a real pain in the neck. If you have experience with a whetstone, it's a time-consuming process compared to other steels.
If you're a novice in the sharpening department, you're better to send it back to ZT for sharpening to get it done right. Use your lower-grade steels to hone your craft for now.
This Rick Hinderer-designed knife features a harpoon-style "spanto" blade – a cross between a tanto blade and a spearpoint. This means that it offers solid slicing abilities as well as a good tip for piercing. Additionally, the blade punches in at 0.156″ thick, which offers a bit more "meat" than the typical folder.
The blade features a "working" finish. This means that an abrasive material was used to tumble the blade, similar to a stonewashed blade. This finish is great at hiding scuffs and scratches.
A word of caution though: before ordering the ZT 0393GLCF, double-check with your local laws to make sure that owning this knife isn't breaking any laws. It has a 3.5″ blade, and when opened, this knife measures in 8.25″. Sorry, Canada, this one's off the list for y'all completely.
Handle
The standout feature of the handle is undoubtedly the glow-in-the-dark carbon fiber overlay. ZT opts for a phosphorescent handle on this edition of the 0393, with the idea being that if you take it into a dark room, you'll still be able to see it.
Phosphorescent materials need to be charged—either by the sun or some other light source—to be effective. Assuming that your knife spends the vast majority of its time in your pocket, access to sunlight will be sparse at best. It's debatable if it will have had the requisite charging time to glow when you move into a dark room. There's no doubt that it looks pretty freaking sweet, though.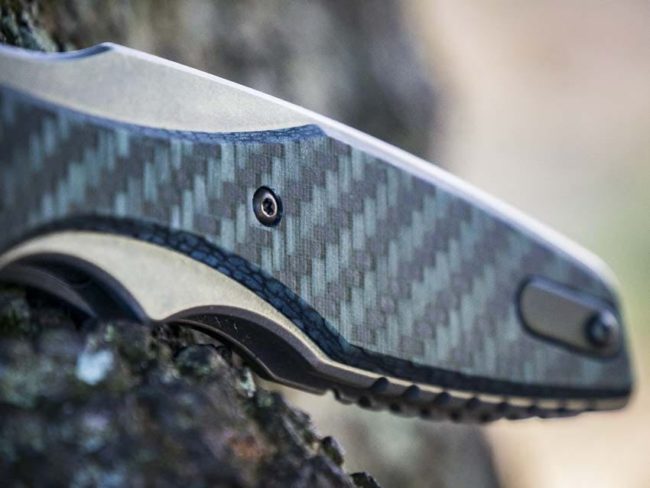 Back to the practical: the rest of the handle is also legit. ZT has opted for a titanium handle with a working finish that matches the blade steel. It includes a titanium frame lock with a hardened steel lockbar insert. The result is a knife that feels very secure in the open position. The frame lock takes a little more effort to unlock than liner locks, but I like the extra security.
In its closed position, the ZT 0393GLCF measures in at 4.75″ and fits into my front right pocket really well, despite my also using that pocket for my cell phone. Perhaps I opt for jeans with a lot pocket space, but the knife feels unobtrusive when stored away. In any case, the sturdy clip can be reversed to store away in your left pocket as well, though you are limited to a tip-up carry for this one.
The 0393GLCF weighs in at 5 oz. This is a little bit beefier than, say, ZT's 0470's 3.2 oz. This is just a generally beefier knife. Even with the extra heft, this knife is comfortable to hold onto with its contoured handle and it has good balance. While it doesn't ever feel heavy, it does feel… present, if that makes any sense.
Jimping
One of the things I really appreciate about the 0393GLCF is the amount of substantial jimping around the handle to help with your grip. There's some on the spine of the blade for your standard carry, as well as some on the front side of the bottom of the handle in case you need to use a reverse grip.
Deployment
ZT uses a KVT ball-bearing opening system which has a smooth enough opening action that you don't really need a spring assist when using the finger flipper. It has enough substance to provide the leverage to flip out the blade quickly without needing to enlist the help of your wrist.
Using the thumb studs doesn't feel quite as smooth and actually takes a little bit of effort. However, those thumb studs do double as blade stops here, which adds to the overall build quality of the knife.
Price
The ZT 0393GLCF has an MSRP of $350. We've managed to find it around $280 with a minimum amount of research, but it's still priced where you might think twice about using it as your every day carry. Whether you're adding it to your collection or for a premium EDC it's not overpriced—it's a premium knife at a premium price point. It uses a fantastic, durable steel alloy, and has a really solid, balanced build with a smooth, easy open.
The Bottom Line
The upgrades that make the ZT 0393GLCF what it is are halfway helpful. The working finish looks nice and hides wear and tear, and it adds to what the original 0393 was. The glow-in-the-dark handle, on the other hand, will probably be nothing more than a novelty for most of us. It could be a nice feature to have, but if it spends the day in your pocket, don't expect it to light up when you drop it at night.
That said, the Zero Tolerance 0393GLCF, at its core, is an exceptional folding knife. ZT doesn't make crappy knives in our experience and this won't be the knife to break that particular mold. It will stay sharp, looks great, feels comfortable, and opens smoothly and easily. It's a little pricey, and you might not want to horse around with sharpening it yourself, but it won't disappoint you.
Zero Tolerance 0393GLCF Specs
Model Number: 0393GLCF
Steel: CPM 20CV, working finish
Handle: Titanium, working finish
Blade Length: 3.5″
Blade Thickness: 0.156″
Closed Length: 4.75″
Overall Length: 8.25″
Weight: 5 oz.
MSRP: $350 $280.00