Having already published our best lawn mower reviews article and also one on the best electric lawn mowers, we know mowers. We've spent countless hours cutting with them and testing them on our property. So what if you've already decided on Makita as your manufacturer of choice? You still have over a half dozen models to choose from! We polled our best Makita lawn mower reviews for many different applications to help you decide. We've reviewed nearly every model and have the testing, data, runtime, and more to help you make an informed decision.
Best Makita Lawn Mower Review Overall
If you want the best Makita lawn mower review we did all year, we have to recommend the XML08 we first reviewed in 2021. This model gives you the goods without quite going overboard. In fact, we've seen the mower and batteries on sale for $699. You can also buy just the mower and add your own set of batteries. For commercial Pros or anyone on a 1-acre lot or less, this Makita lawn mower should do the trick.
Testing during the summer, we set the deck to 3-inches and loaded up four 6.0Ah batteries. We didn't exactly take it easy—cutting Bermuda, Bahia, and St. Augustine. About 2/3 of our cutting area was pre-cut to 5 inches. The other 1/3 hadn't been cut at all in two weeks. We had a runtime total of 47 minutes. On a regular maintenance cut, we would have easily cut for more than an hour.
Commercial self-propelled mowers run more than $1000. Sticking with battery competitors, Stihl's self-propelled model with a similar battery loadout is $879. That may seem expensive compared to residential mowers, but you get much more in terms of build quality and cutting power. The Makita XML08 self-propelled lawn mower is a good solution when your crew needs a solution for where gas mowers are unwanted or unwelcome.
Aside from perhaps making the battery switch automatic, there's not much to complain about with this mower. Take a look at the XML09 if you want a true aluminum deck that adds a bit more weight as a tradeoff for better weather resistance and a higher price point.
Our Favorite Makita Lawn Mowers for Pros
Makita XML09 21″ Self-Propelled Lawn Mower
We already declared the XML08 the best Makita lawnmower we reviewed so far. However, if you want to kick it up a notch, the nearly-identical XML09 adds an all-aluminum deck that makes this mower even more weather-proof. It does add some weight, but nothing you wouldn't get from a commercial gas model. Of our Makita lawn mower reviews, the XML09 really stands apart (it's also the most expensive model Makita makes).
You get the same power and runtime as the XML08, but it eliminates the plastic on the front of the deck. Instead, the aluminum (not steel) deck extends all the way front with a metal guard out front as well to avoid damage from obstructions, stone borders, etc.
Look for the Makita XML09PT1 lawn mower to run about $999 with a set of four 5.0Ah batteries.
For landscaping crews, the Makita ConnectX 21-inch self-propelled lawn mower takes direct aim at the problem of runtime. Its ConnectX 1200Wh backpack is like having a little more than thirteen (13) 18V LXT 5Ah batteries. Makita isn't the first to have a backpack battery, but we really like their implementation. The backpack-style battery connects directly to the top of the ConnectX lawn mower. You don't have to tether yourself to it with a cord.
When it comes to runtime, you can mow up to 3 continuous hours. For the way most professional crews use their walk-behind mowers to supplement their ZTs, it's enough to get through an entire day.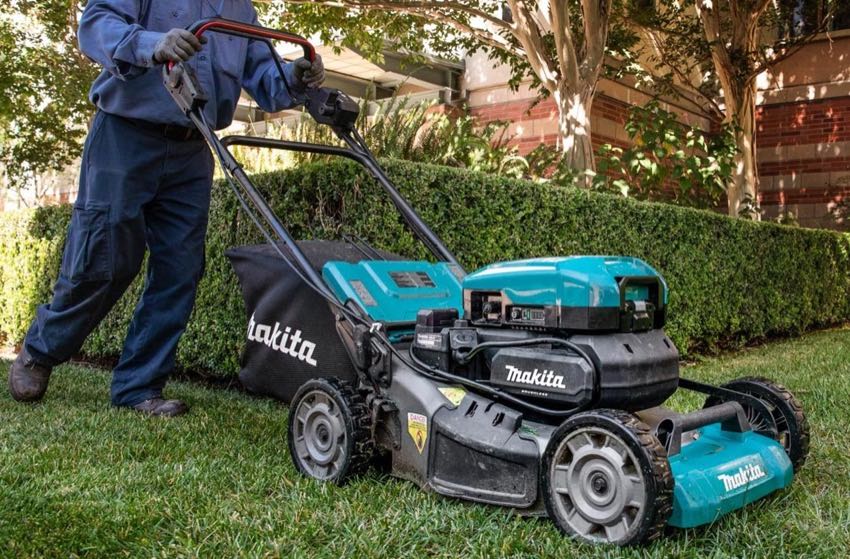 As a professional-grade mower, the Makita CML01 runs $949 as a bare tool. The battery adds another $1399 for a grand total of $2348 if you buy them separately. Like Makita's other lithium-ion tools, the warranty runs 3 years on both the mower and the power supply.
Best Makita 36V Push Lawn Mower for Homeowners
Makita XML11 21″ 36V (X2) Self-propelled Push Mower
If you don't require a self-propelled mechanism, the Makita XML11 presents a great entry-level option for homeowners who still have a reasonably-sized property (up to 1/2-acre). The Makita XML11CT1 lawnmower kit includes four 5Ah batteries and typically prices out around $499. That includes a rear bag and dual-port charger.
Makita claims around 40 minutes of runtime with these batteries, and the self-propelled mechanism has a variable speed between 1.5 and 3 MPH. Single-lever height adjustment lets you set the blade to cut between 1-1/4″ and 4″. Lastly, the handle folds down to make garage or shed storage a breeze. Given the $499 price, this mower might be one of the best bangs for your buck in the 21-inch self-propelled range.
Best Makita 18V (X2) Lawn Mower for Really Small Yards
It may be that you want a self-propelled lawnmower for a bit less than the available commercial models from Makita. In that case, the Makita XML03 lawn mower provides an excellent compromise. This push mower runs just $399 for a kit that includes four 4.0Ah batteries and a dual charger. That's an insanely low price for a fully-electric battery-powered mower.
Of our Makita lawn mower reviews, the Makita XML03 might seem diminished. It lacks a self-propelled motor, and you "only" get an 18-inch wide deck. However, it can cut up to a 1/3-acre in 43 minutes or less. The steel deck also provides commercial-level quality—letting it work just as well for a more maneuverable solution for landscapers.
With a folding handle for easy storage and a single-lever cut height adjustment (13/16″ – 3″), you have everything you need for a smaller yard or super-maneuverable commercial mowing tool.
Best Electric Push Lawn Mower (Not Self-Propelled)
Makita XML07 Push Lawn Mower
The Makita XML07 is essentially the same as the XML08 that we recommended above but without the self-propelled drive. Makita made huge improvements to this model compared to earlier versions to get it ready for commercial use.
You get the same steel deck commercial landscapers love. Like other Makita lawnmowers, the XML07 uses two 18V batteries to run (it's a 36V mower) and has room for four packs so you don't have to go back to the trailer or garage as often.
Makita also dialed in a Quiet Mode for its brushless motor. When you're trying to conserve runtime or keep the noise level down in lighter cutting conditions, it keeps the blade at a lower—and quieter—RPM. Pick up this capable commercial-level push mower for $699 with four 5.0Ah batteries and a dual-port charger.
How We Make Our Best Makita Lawn Mower Picks
Deck Size and Material
When doing Makita lawn mower reviews we have to understand the deck size and material. Pros typically want steel decks (Makita even has a model with an aluminum deck to save on weight). While most insist on 21-inch deck size for cutting grass, many Pros need a solution that can get into tighter areas where the zero turn or stand-on cannot. For that, 17-inch and 18-inch models excel.
Runtime
How much runtime a battery-powered lawn mower has is only part of the equation. The best information is how much area you can cut on a charge. We recommend Makita mowers with an eye to the amount of cutting they can be expected to accomplish on a set of 4 batteries.
Build
The build quality largely includes the deck material, but also takes into account the other items consumers and Pros need for extended use. We're looking for solid components that will last well beyond the warranty period, a rigid construction, and protection for the electrical components and batteries.
Other Features
In addition to any standout features, here's a list of the standard items we look for:
Drive type and function

Height adjustment and range

Handle positions
Discharge options
Value
For our team of experts, value is much more than just price. It's about what you get for what you pay. An expensive model may very well be the best battery mower value if it's performing far enough ahead of the budget brands to justify it.
Best Makita Lawn Mowers Buying Guide
As you're deciding on the best Makita battery-powered lawn mower for you in 2022, there's a lot to consider. These electric mowers are a long way away from when we started with battery power.
What's Your Budget?
While you can get a Makita battery lawnmower for less than $500, plan on spending at least $700 for a commercial kit with four batteries and more than $800 for the top models.
That can cause a bit of a conflict. When you look at what you can get for the same price on a gas mower, you get more power and features from that gas engine. It won't have the noise, emission, and maintenance benefits, though.
Residential or Commercial Quality?
With many manufacturers, you don't see a ton of differences between commercial and residential walk-behind battery lawn mowers. Makita mostly makes commercial lawn mowers.
These professional battery-powered electric mowers from Makita include a familiar design and features that match what professionals look for. Makita also has a pretty large dealer network that they should end up leveraging as they continue to expand into battery-powered outdoor power equipment.
Self-Propelled vs Push Drive
Considering a self-propelled drive doesn't have a huge effect on your runtime, it's a feature you should get if it's in your budget. Look for variable speed control and try working it in the store before you bring it home. You can usually tell in just a few minutes if it's comfortable and natural for your hands.
Look for a mower that disengages its drive easily when you want to pull the mower back. Some systems have a hard time letting go and force you to drag the drive wheels rather than allowing them to roll.
Let's not completely rule out the classic push mower style, though. When you're on a budget, you can easily save $100 or more without losing cutting performance if you're willing to carry more of the workload.
If that's the direction you're heading, look for a poly deck to help reduce weight and wheels with low rolling resistance to make your job a little easier.
Self-Propel Drive Adjustment
Our testing team generally prefers a variable speed control separate from the presence bar. The Makita XML03 also includes a "Whisper Mode". This tells the brushless motor to maintain 2500 RPM to keep the noise down and your battery efficiency up.
The Makita XML11 uses an easy-to-use speed control on the left to set the speed between the minimum and maximum extremes.
Steel vs Aluminum vs Poly Deck
In the gas-powered world, there are really no poly decks—most are either steel or aluminum. The cordless lawn mower world is much different with poly decks in every direction.
Steel is more durable, but it's very unlikely you're going to wear through a poly deck over the life of your battery-powered lawn mower. Poly also has an advantage in design. It's much easier to make subtle changes in the shape that optimizes airflow for better lift, mulching, and bagging than a steel deck.
And, while steel is more durable, aluminum saves weight and resists corrosion. If you have a lot of small rocks you kick up when you're mowing or perhaps your 15-year-old doesn't pay quite as much attention as you'd like, then a steel or aluminum deck can extend your mower's life!
Bag, Mulch, or Side Discharge?
You probably already know whether you prefer to mulch or bag. Here in central Florida, we usually mulch to return nutrients to the lawn and avoid stopping every 10 minutes (literally) to dump the bag.
Sometimes, however, you go on vacation or the weather prevents you from hitting your normal mowing day. That's when side (or rear) discharge becomes helpful.
Instead of keeping the grass up in the deck for finer mulching, it kicks it out. You could bag it, of course, but you'd spend a lot of time emptying. For the sake of getting your cut back under control, side discharging can help keep you moving along when your grass gets long.
Some Makita mowers give you all three options. That way, you can keep that side discharge chute somewhere handy just in case you need it.
Deck and Blade Size
Most of the best electric lawn mowers have 20 or 21-inch deck sizes with slightly smaller blades (Makita is one brand that lists the actual blade diameter rather than the deck diameter).
Makita also provides smaller models appropriate for smaller lawns or areas with a lot of landscaping to work around.
The larger deck sizes are most helpful on lawns over 1/4-acre where they offer more significant time savings. For lawns 1/4-acre or less, even a 17-inch deck works well. Those smaller decks also work for taking care of limited areas where zero turns cannot fit.
Height Adjustment and Range
This one is really about what your preference is. We find most people set their height once and leave it, so just make sure the mower you choose has the cutting height you need.
The majority of electric lawn mowers have all the height range you need to cover a wide variety of grass species. If you prefer to cut at heights over 3-1/2 inches or under 2 inches, just double check that the mower you're looking at covers it.
Multiple Battery Ports
If you have a lawn that's more than 1/3 of an acre, there's a good chance you can benefit from multiple battery ports. There are three possibilities: a second storage port, a second active port with a manual switch, and a second active port with automatic switching.
Automatic switching is the most convenient and usually comes on higher-priced mowers. Manual switching and simple storage take some extra effort, but not as much as going back to the garage or trailer for another battery. With four battery ports onboard, Makita at least ensures you have plenty of runtime available on their 18V X2 (36V) mowers.
Why Buy an Electric Lawn Mower?
The best Makita electric lawn mower for you should get your lawn cut on one charge. No matter which model that is, they all share some common characteristics. There are no gas emissions and no gas engine to maintain. You still need to clean it off when you're done, but the maintenance is much easier and takes less time.
Makita lawn mowers also dramatically cut down noise compared to gas mowers. The early bird gets the worm and if you want to start mowing at 7:00 on Saturday morning, your neighbors can probably sleep through it. More of a night owl? While many battery-powered mowers have headlights, Makita's do not—so no night mowing for you!
Our favorite reason to buy a Makita electric battery lawn mower is that you can just insert the batteries and mow. There's no cranking, no choke, and no fuel cut-off valve. As long as you have enough batteries to get the entire lawn cut, it's an easier system to work with than gas.
Why You Can Trust Pro Tool Reviews
Ever check out a "review" site and you can't tell if they actually tested the tools or if they're just "recommending" the Amazon top sellers? That's not us. We won't recommend anything unless we'd actually use it ourselves and we don't really care who the primary retailer is. It's all about giving you a legitimate recommendation and our honest opinion of each product.
We've been in business since 2008 covering tools, writing reviews, and reporting on industry news in the construction, automotive, and lawn care industries. Our Pro reviewers work in the trades and have the skills and experience to know whether tools can perform well in the field.
Each year, we bring in and review more than 250 individual products. Our team will put our hands on hundreds of additional tools at media events and trade shows throughout the year.
We consult with innovators in the technology and design of tools to gain a broader grasp of where these products fit and how they work.
We work with more than two dozen professional contractors around the United States who review products for us on real job sites and consult with us on testing methods, categories, and weighting.
We'll provide more than 500 pieces of new content this year absolutely free for our readers—including objective evaluations of individual tools and products.
The end result is information you can trust because of the editorial, scientific, and real-world professional experience we collectively utilize each and every time we pick up and test a tool.