Father's Day is fast approaching us already, which is a scary proposition for anyone who hasn't really put any thought into what they're going to get the man who helped raise them. But fear not, because we have a list of must-haves for when Dad is on the job, working around the house, or just relaxing on the weekends. Here are our Best Tool Gifts for Father's Day 2022!
Best Tool Gifts for Father's Day 2022
Under $100
Traeger Rubs and Sauces
Why we'd love to have it:
Traeger makes outstanding pellet grills and they also happen to be seasoning masters! Traeger rubs and sauces can make your next meal a masterpiece. Try them out on your own or check out the 1600+ recipes on Traeger's website and see how some of the most amazing cooks in the world use them. Need a place to start? We're obsessed with the Fin & Feather Rub, Traeger Rub, Sugar Lips Glaze, and Apricot BQ Sauce!
Get it for:
Don't think too hard—grab Dad several different Traeger rubs and sauces and then dare him to blow your taste buds. It's a Father's Day gift that will keep giving back to you!
Check out more details here.
Keen Utility Flint Light Crew Socks
Why we'd love to have it:
Keen socks are one of those things you didn't know you needed until you put them on your feet. The Flint Light is a breathable crew sock that's great for the summer months. Merino wool offers a soft yet durable construction, and each pair is left/right-specific so it fits better than any other sock you've worn.
Get it for:
Socks might sound a little cliche, but every Dad will legitimately love these!
Check out more details here.
Pendleton Original Whisky
Why we'd love to have it:
Kentucky may be the bourbon capital of the world, but when it comes to traditional whisky, the West is where it's at. Pendleton Original is very approachable and a great all-around choice on the sweeter side. It starts with vanilla, honey, butterscotch, and custard on the nose before shifting to a hint of fruit, honey, and spice on your tongue. It finishes with a smooth medium balance that doesn't burn your tastebuds into submission.
Get it for:
Pendleton Original is an easy-drinking whisky that's a great fit for whisky lovers and those who are just getting started.
Check out more details here.
White Duck Work Apron
Why we'd love to have it:
Some guys prefer tool belts and other guys prefer aprons. If you're on the apron side of the argument, you have to check out White Duck's work apron. Available in brown, tan, or black (we prefer brown), they're made from 24-oz waxed cotton canvas tough enough for any shop while protecting against sawdust, stains, shop gunk, and more. Three chest pockets and two kangaroo front pockets hold your gear where it's easy to access. The shoulder straps are adjustable and padded, and there's a quick-release buckle for the waist strap.
Get it for:
If your Dad loves working in the garage or shop, he can use a White Duck work apron.
Check out more details here.
Superfeet Adapt Run Insoles
Why we'd love to have it:
Superfeet has a wide range of replacement insoles to cover everything from work to play. If the recreational side of your life involves time on the running paths, take a closer look at Adapt Run insoles. These are specifically designed to flex and move with the natural motion of your foot with each stride while providing incredible comfort despite the impact of running.
Get it for:
Grab a pair for Dads who enjoy running or an evening walk. Make it even better with a pair of Orange or Flex insoles to cover his work boots, too!
Check out more details here.
Klean Kanteen Insulated Classic 25-Ounce with Pour Through Cap
Why we'd love to have it:
Klean Kanteen's Insulated Classic is, well, a classic. The 25-ounce version is capable of keeping liquids hot for 24 hours or cold for 80 hours. The pour-through cap means you don't have to remove it completely to transfer your drink to a cup. Plus, you have your choice of four colors: brushed, black, porcelain, and marigold.
Better yet, Klean Kanteen is shifting focus on their materials selection, and this bottle along with others is now made with 90% recycled steel!
Get it for:
Whether it's hot coffee or sweet iced tea, every Dad needs a way to keep his choice of beverage at just the right temperature.
Check out more details here.
Kershaw Cargo Pocket Knife
Why we'd love to have it:
The first time I picked up the Kershaw Cargo pocket knife, I was in love. It's a lightweight design with a clip point D2 steel blade settling into a glass-filled nylon handle. There's no assist, but the thumb studs make it easy to open with one hand. What sold it for me is the mid-lock. This knife is a wonderful combination of modern materials and a design reminiscent of Grandpa's pocket knife.
Get it for:
Every Dad needs a pocket knife. Those that already have one need at least one more.
Check out more details here.
Why we'd love to have it:
Whether it's opening clamshell packaging, breaking down Amazon boxes for recycling, or other tasks around your home, office, and shop, there are a ton of ways to use Dremel's 4V electric scissors. The blades are super-sharp out of the box and you can forget keeping AAAs on hand because this model has a lithium-ion battery. It's incredibly convenient and can save Dad a few cuts on his hands and a lot of cussing.
Get it for:
If Dad hates clamshell packaging as much as we do, he'll love these electric scissors!
Check out more details here.
Chemical Guys Starter Car Care Kit
Why we'd love to have it:
If you like to keep your vehicle looking great, or just want to do a better job of it than you have been, Chemical Guys has a ton of kits to help you out. Not sure where to start? The Starter Car Care Kit is perfect! It has the Light Duty Clay Bar, Silk Shine Protectant, Signature Series Glass Cleaner, Signature Series Wheel Cleaner, Butter Wet Wax, Citrus Wash and Gloss, and Speed Wipe all in one high-value set.
Get it for:
Get this for Dads who like to keep their rides looking great on and off the job.
Check out more details here.
Truewerk Cloud Shirt
Why we'd love to have it: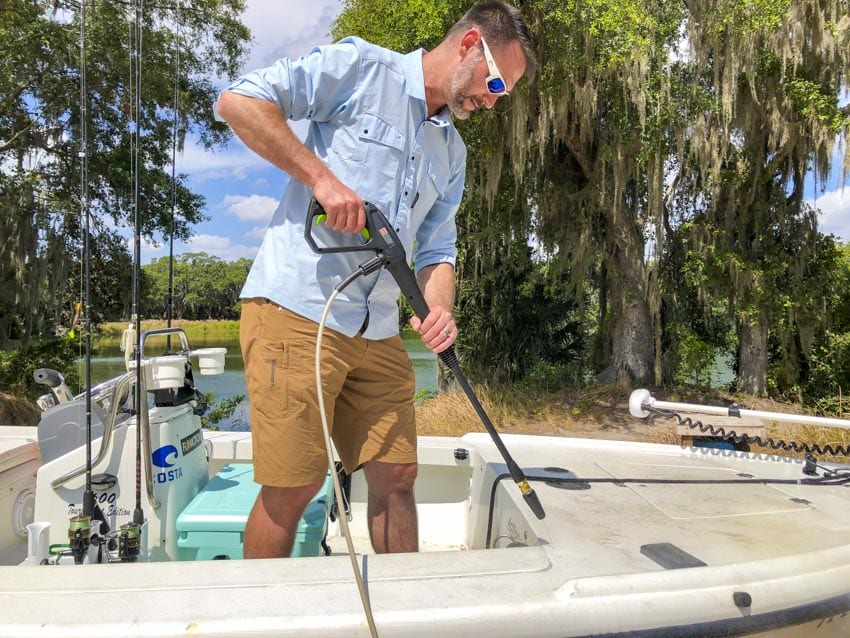 Summer is here and Truewerk has you covered! Available in short sleeve or long sleeve, the Cloud shirt is incredibly lightweight, breathable, and fast-drying. We're particularly fond of the use of snaps instead of buttons. Best of all, it still blocks 98% of the sun's rays from reaching your skin. You can get it in three colors: white, deep grey, or our favorite, ice blue.
Get it for:
Great for any Dad, this is the most comfortable shirt he could ever want for the summer heat.
Check out more details here.
Truewerk Cloud Shorts
Why we'd love to have it:
Pairing beautifully with the Cloud Shirt you're already getting him, Dad will love Truewerk's Cloud Shorts. Featuring the same lightweight, breathable, quick-drying features as the shirt, these shorts are comfortable on and off the job. A 4-way stretch design keeps these shorts flexible and they also protect you from UV rays. They're available in deep grey, flint, black camo, and olive color choices. There's also a Cloud Pant if you prefer full-leg coverage.
Get it for:
Dad will never remember working or relaxing as comfortably as he'll experience wearing Cloud Shorts. Get them for Dads who deserve a little more comfort in their lives.
Check out more details here.
5.11 Rapid L2 Flashlight
Why we'd love to have it:
We've owned several 5.11 flashlights and love the durability. One of the newest lines is the Rapid series, featuring three sizes and outputs to choose from. Of the three, the Rapid L2 has the highest output at 523 lumens and features a 61-lumen low plus a strobe function. Compact at less than 5 inches long, it uses two CR123 batteries for power and is easy to carry as part of your EDC loadout.
Get it for:
Forget those cheap flashlights at the outdoor store—get Dad one that's durable enough for any scenario with the 5.11 DNA he'll be proud to carry.
Check out more details here.
Why we'd love to have it:
With a 5-gallon tank at your disposal, HART's 20V portable uses an 8-in-1 nozzle at the end of a 20-foot hose to help deliver cleansing water in a gentle rinse all the way to a targeted spray. Best of all, it can run on either a Hart 20V battery or connect to your vehicle's 12V outlet. The kit includes everything you need for just $99.
Get it for:
From beaches to mountain bike trails and everything in between, life is messy and HART's Portable Rinser can help you clean up.
Check out more details here.
MEATER Plus Wireless Meat Thermometer
Why we'd love to have it:
Getting perfect cooking results has a lot to do with prep and cooking control, but take that brisket off too early or too soon, and the rest doesn't really matter. Grab a MEATER Plus wireless thermometer to make sure you get Pro-level results and a line of neighbors at your door every time you cook. It takes the original MEATER and extends the range up to 165 feet with a Bluetooth repeater. From there, just keep an eye on how things are progressing with your phone and know exactly what cooking temperature you're holding and the internal temperature of your meat.
Get it for:
If Dad cooks, he needs a MEATER or four. It'll help him produce the perfect steak, brisket, pulled pork, or just about anything else without needing years of training to get it right. For the cooking-obsessed Dad, grab the MEATER block with 4 thermometers.
Hot Father's Day Deals
Get the MEATER+ with Meat Church spice rubs and a MEATER bar blade for $104.95 through June 19, 2022
20% off MEATER+ from June 10th to the 19th
Check out more details here.
Best Tool Gifts for Father's Day 2022
$100 – $250
Gerber Dual Force Multi-Tool
Why we'd love to have it:
One of the biggest complaints we have about multi-tools is the pliers just don't have the strength to do the job sometimes. That changes with the Gerber Dual Force. Boasting twice the jaw strength and force, the slip-joint design with aggressive teeth is far better for getting a grip on stubborn nuts and bolts. Among it many onboard tools, this one also sports the offset driver we first saw on the Gerber Center-Drive multi-tool.
Get it for:
Father's Day and multi-tools go hand-in-hand. Get this one for any Dad on your list.
Check out more details here.
Kodiak Quicktrail Nano Work Shoe
Why we'd love to have it:
Not everyone needs or wants a work boot. Work shoes are often more comfortable and lighter weight. Kodiak's Quicktrail Nano has an athletic-inspired design with a composite Nano safety toe. Underneath the breathable upper, there's a ComfortZone Lite footbed. Flipping to the underside, you'll find a slip-resistant, non-marking outsole that's great for concrete floors. Plus, the laces are made from recycled plastic.
Get it for:
If your Dad works on hard floors all day or just enjoys spending his free time tinkering in the garage, he'll love having a pair of Quicktrails on his feet.
Check out more details here.
Why we'd love to have it:
Cordless ratchets are great for helping you tighten and loosen fasteners without the need for a hand tool or the risk of over-torquing. Ridgid has three brushless options with strong performance and we prefer the 1/2-inch model with its 60 ft-lbs of torque. There's also a 3/8-inch and a 1/4-inch with increasing speeds and decreasing torque.
Get it for:
If the Dad on your list turns a wrench frequently, this is a great gift!
Check out more details here.
Bora Centipede 4 x 2 Workbench Set CK28STB
Why we'd love to have it:
Whether it's your garage, shop, or work truck, space is at a premium. The Bora Centipede is your best friend as a portable workspace. The support collapses in to take up about as much space as a camping chair while the tabletop folds to fit nicely in a carry case. Toss the clamps in their bag you have a nice tidy system. The best part? It's strong enough to hold 2500 pounds!
Get it for:
This is a great gift for any Dad who enjoys DIY projects or needs work support professionally.
Check out more details here.
Why we'd love to have it:
Don't knock it 'till you try it! Makita's 18V LXT Sub-Compact oscillating multi-tool may look different than what you're used to. Its excellent performance is almost overshadowed by ridiculously low vibration. Plus, it uses a Starlock accessory interface.
Get it for:
Most contractors and many DIYers come across the need for an oscillating multi-tool, especially those who are into remodeling.
Check out more details here!
Why we'd love to have it:
There's absolutely no question in our minds that titanium hammers are the way to go. Lighter than steel without giving up striking force, they're the creme de la creme. For framers and general use, check out Stiletto's 15-ounce TB III. It has an 18-inch titanium handle and hits with the power of a 28-ounce steel hammer with 10 times less shock. The head includes a magnetic nail starter and a side nail puller. Plus, it's available with a smooth or milled face.
Get it for:
If Dad swings a hammer, this is the Cadillac he'll want to drive nails with.
Check out more details here.
Why we'd love to have it:
Forget swamp coolers—EGO's 56V cordless misting fan is what all the cool kids are using this summer! Drawing directly from a bucket using a siphon hose, you can switch between constant and intermittent misting, or just use it as a fan. Either way, its 6 speed settings can keep you cool sitting next to the fan or up to 25 feet away and it's remarkably quiet for its size.
Get it for:
Get this for any Dad who likes spending time outside by the pool, grill, or just enjoying life.
Check out more details here.
Why we'd love to have it:
Flex took the traditional cordless tower light and took it to a whole new level with its modular design. It starts with a hybrid design that uses either a Flex 24V battery or AC power to pop up to 4000 lumens of light. The tripod stand deploys a collapses super-easy. But wait, there's more—you can take the light off of the top and use it as an independent work light to reach more confined spaces!
Get it for:
Flex 2-in-1 design makes this a great fit for any Dad who's a contractor or simply wants to have a quality light around the house.
Check out more details here!
Why we'd love to have it:
If you're looking for Pro-level performance from a rear-handle circular saw without the premium price tag, Skil can punch your ticket. The PowerCore 20 XP uses two batteries to reach higher performance while remaining compatible with Skil's wide range of high-value power tools. When it comes to making the cut, there's plenty of muscle with a build that can stand up to nearly any jobsite.
Get it for:
Snag this one for serious DIYers or Professional contractors who want quality tools without spending premium prices.
Check out more details here.
Filson Ripstop Nylon Pullman Bag
Why we'd love to have it:
The Filson Pullman starts with 500D Cordura, uses a ripstop stitch, and then double treats the bag for water resistance. In form, you can carry it by the handles, on your shoulder, or use the backpack straps. Functionally, it's a well-developed 36-liter bag that's perfect for travel with clothing straps and two lid pockets on the inside. Exterior front and rear pockets keep your most essential items close at hand. For Dads who travel by air frequently, it's carry-on friendly at 18 x 13 1/2 x 9 inches. Plus, it's Filson, so you know it's going to last.
Get it for:
Pick this up for any Dad who travels and appreciates high-quality, durable gear.
Check out more details here.
Best Tool Gifts for Father's Day 2022
Over $250
Tecovas The Doc Boots
Why we'd love to have it:
When it comes to Western-style boots, Tecovas makes some of the best in the world. The Doc is a square-toe dress boot with a smooth outsole that looks amazing. With two color options in bovine and one in bison, they feature a double-stitched Goodyear welt, leather sole, and stacked leather heel with a rubber cap. No matter which color you choose, you'll stand out as the classiest cowboy in the crowd. Looking for a work boot instead? Check out Tecovas' The Midland for a similar style with a work boot outsole.
Get it for:
Dads who know how to dress up while showing off their Western roots will love Tecovas boots.
Check out more details here.
Why we'd love to have it:
Cordless angle grinders are incredibly useful and Hilti's Nuron technology offers outstanding performance. There are some serious brains behind the brawn, too. 3D Active Torque Control can sense a bind-up in any direction and stop the motor quickly. It also has SensTech that can tell when your hand is on the handle—even if you're wearing gloves. Combined with the slide switch, you get the convenience of the constant on function with the safety of a paddle switch.
Get it for:
Grab this one for Dads who do a lot of metal fabrication or work in construction, especially in the concrete industry.
Check out more details here.
Why we'd love to have it:
Milwaukee completely changed the way we look at wet/dry shop vacuums with the introduction of its modular system. Choose from a corded, single battery, or dual battery powerhead, then add a 6, 9, or 12-gallon canister to go with it. It's more durable than other models on the market and there's an incredible line of trade-focused Air-Tip accessories you can grab to customize your vac for the way you use it most.
Get it for:
With so many options, there's a Milwaukee wet/dry vacuum configuration for any Dad!
Check out more details here.
Why we'd love to have it:
Ryobi really stepped up its cordless miter saw game with the 18V One+ HP Brushless 10-inch miter saw. It's more confident than we've seen from previous models with the stability and accuracy to give you professional results. Plus, it's lightweight and easy to move around.
Get it for:
Get this one for Dads who are into remodeling and renovation or do trim work for a living.
Check out more details here.
Monument Deluxe Pellet Grill
Why we'd love to have it:
If you haven't tried pellet grilling yet, you're missing out! From smoking low and slow at 180° to perfecting burgers at 500° and everything in between, pellet grills are easy to use and offer fantastic results. For a way to break in without breaking the bank, check out the Monument Grill Deluxe Pellet Grill. Two meat probes keep multiple meats under close observation, the hopper holds 15 pounds of pellets that last up to 20 hours, and the onboard electronic hold the temperature where you set it. It's all yours for less than $500.
Get it for:
If Dad has ever had a passing thought about learning how to smoke meat, he'll love how easy a pellet grill is!
Check out more details here.
Why we'd love to have it:
Want to stand on the shores of the Gulf of Mexico and single-handedly steer a hurricane back out to sea? Echo's PB-9010T backpack blower will make you feel like you can! Its 79.9cc engine produces up to 1100 CFM and 220 MPH. Most importantly, it hit 52.0 Newtons on our force meter—the most we've ever tested!
Get it for:
Echo's PB-9010 is perfect for professional lawn care crews and large property maintenance.
Check out more details here.
DR Power Chipper Shredder Pro 400 ES
Why we'd love to have it:
DR Power's Pro 400 Chipper Shredder can help turn your lawn debris and branches up to 4 inches thick into a layer of mulch with ease thanks to its Briggs & Stratton 250cc engine. With 20% more power than DR's entry-level Chipper Shredder, it's a nice upgrade for larger properties or those with higher tree density. It also has a pin-style hitch system for you to tow with your ATV, UTV, or riding mower. It's available in both recoil and electric start versions.
Get it for:
This is a great fit for Dads with a large homestead, farm/ranch, or hunting properties.
Check out more details here.
Why we'd love to have it:
There are several battery-powered zero-turn lawn mowers on the market, but we have a soft spot in our hearts for the less-intimidating style of a lawn tractor. Greenworks uses its 60V batteries to power a 42-inch model that's comfortable to ride, confident to use, and has an excellent turning radius. Best of all, it's easy for anyone in the family to learn how to use it easily.
Get it for:
Dads that have between a 1/2-acre and 2 1/2 acres of lawn to maintain will love the gas-free convenience and easy controls Greenworks offers.
Check out more details here.