Father's Day is fast approaching us already, which is a scary proposition for anyone who hasn't really put any thought into what they're going to get the man who helped raise them. But fear not, because we have a list of must-haves for when Dad is on the job, working around the house, or just relaxing on the weekends. Here are our Best Tool Gifts for Father's Day 2023!
Best Tool and Gear Gifts for Father's Day 2023
Under $50
Why we'd love to have it:
What exactly is the Hammer Fist? Officially, it's a striking tool with a lot of bonuses. What you decide to strike it… that's up to you. It's capable of driving nails and tent stakes, it has a dual nail puller, there's a 1/4-inch hex drive, it has a ruler, and even works as a 90° square. Making it a true Father's Day gift, there's also a bottle opener.
Get it for:
Grab this for the Dad on your list who enjoys unusual multi-tools to use around the house.
Check out more details here.
Pendleton Midnight Whisky
Why we'd love to have it:
Pendleton consistently hits above its price point and the Midnight blend is no exception. Canadian in style and distilled in Oregon using glacier water from Mount Hood, a portion of the blend is aged for more than 6 years in American brandy barrels. Look for leather, cinnamon, nutmeg, and cloves on the nose (plus a hint of ginger if you're really good). Your mouth will enjoy an oak-forward taste with notes of coffee cake, nuts, caramelized bananas, and candied figs before fishing smooth with spices, nuts, and no alcohol burn.
Get it for:
Dads who love a good whisky will enjoy the complexity and smooth finish of Pendleton Midnight.
Check out more details here.
Why we'd love to have it:
Skil is introducing an expansion into lifestyle products, starting with a couple of cordless fans. Whether it's the 4-inch clamp fan or the 7-inch model, these are unusual for a couple of reasons. First, both feature brushless motors, which offer longer runtime and service life. They're also capable of running on Skl PWRCore 12 or PWRCore 20 batteries, so you're good to go no matter which system you're using. Even if these are your first Skil products, you can run the fans using a USB-C cable.
Get it for:
Everyone's happier when Dad can keep his cool, and multiple power options make these a great gift for any Dad!
Check out more details here.
CHARD Single Burner Butane Camp Stove
Why we'd love to have it:
CHARD is known for its meat prep and cooking gear, and its Single Burner Butane Camp Stove is perfect for the Dad on the go. Fueled by a butane canister installed under the right cover where it's out of the way, the burner can produce up to 8500 BTU and accommodate a 10-inch pan. From a riverside breakfast to multi-day jobs in remote areas, and tons of other times in between, this lightweight camp stove ensures a hot meal is never far away.
Get it for:
Grab this for any Dad who likes to cook on the go.
Check out more details here.
Smartwool Merino Boxer Briefs and Hike Classic Full Cushion Socks
Why we'd love to have it:
What you're wearing underneath what everyone sees can make or break your day. Smartwool's Merino Boxer Brief starts with an 88% Merin wool/12% nylon blend and holds it together with flatlock stitching that won't chaff or create hotspots. The nylon is made from recycled materials and creates a more durable core while the merino wool is what stays against your skin. A merino-lined oversize elastic waistband wraps up the comfort features while the garment as a whole help you regulate temperature, manage sweat, and fight odor.
Check out more details here.
Ensuring Dad doesn't feel de-feet-ed by the end of the day, Smartwool's Classic Full Cushion Hiker Sock is happy to take of him on the job or on the trail. The blend of 56% ZQ-certified Merino wool, 31% recycled nylon, 11% nylon, and 2% elastane is durably knit together in the USA and features a crew cut length. The high level of cushioning provides relief from the pain and fatigue of thinner socks and the overall material thickness provides some insulation for cooler days.
Check out more details here.
Get them for:
There's nothing quite like socks and underwear for Father's Day (okay, maybe a tie). Seriously, though, every Dad can use a quality foundation for his outfit, and these will keep him comfortable all day long.
Superfeet Adapt Hike Max Insoles
Why we'd love to have it:
Sore feet suck and contribute to higher overall fatigue at the end of the day. Whether it's your work boots or hiking boots causing the issue, solve it with Superfeet's Adapt Hike Max insole. The insole flexes with your foot, adapting to give your feet the feel of being in a custom boot. The heels feature a generous amount of cushioning while the forefoot area has responsive rebounding action to return energy in each step. It's also moisture-wicking and helps control odor, making every aspect of your experience as a boot owner better.
Get it for:
If Dad complains about his feet at the end of a long workday or hike, Superfeet's Adapt Hike Max insoles are the relief he's looking for.
Check out more details here.
Thermacell EL55 Rechargeable Mosquito Repeller + Glow Light
Why we'd love to have it:
Themacell's EL55 is a rechargeable combination of a mosquito repeller and a pleasant glow light. The battery power a small heater which activates the liquid repeller and disperses it to an area up to 20 feet in diameter. Each cartridge lasts up to 12 hours and the battery runs the unit for up to 9 hours. When you want the ambiance of the soft glow light, you have 5.5 hours of enjoyment before needing to charge the battery. Combine multiple EL55s to surround your outdoor living space with a pleasant, mosquito-free atmosphere for your next get-together this summer.
Get it for:
Think about the number of times Dad is swatting at mosquitoes—that's the same number of reasons he needs Thermcell for Father's Day.
Check out more details here.
Best Tool and Gear Gifts for Father's Day 2023
Under $100
WhiteDuck Canvas Tarp
Why we'd love to have it:
If you're tired of dealing with poly tarps that only last a season or two, a WhiteDuck Canvas Tarp is exactly what you need. Made from 100% cotton with an 18-ounce material weight, these tarps are super-durable, have water-resistant coatings, and are treated to be mold, UV, and odor-resistant while allowing moisture to escape so the gear you're covering doesn't rust or rot. Add in rust-proof stainless steel grommets along with reflective tape on the corners and you have a tarp you can actually count on.
Get it for:
Grab a WhiteDuck Canvas Tarp for Dads who have equipment, vehicles, gear, or materials that need covering.
Check out more details here.
Backcountry 7-Inch Destination Shorts
Why we'd love to have it:
Workwear is great for the jobsite, but when it's time to relax, hit the lake, or hike the trail, you want something lightweight and breathable. That's where Backcountry's 7-Inch Destination Short comes into play. Featuring a highly flexible polyester construction (50% is from recycled sources), these lined shorts are comfortable in any warm environment your off-the-clock pursuits take you. Even with the athletic fit, there are two front hand pockets plus a zippered rear pocket to keep your essentials from falling out.
Get it for:
From lounging around on a lazy afternoon to nearly any summertime outdoor adventure, Destination shorts will keep active Dads so comfortable that you may want to go ahead and order two for him… and two more for you.
Check out more details here.
Eddie Bauer Men's Momentum UPF 50+ Hoodie
Why we'd love to have it:
When it comes to being prepared for whatever the day's weather throws at you, rain gear is always on our minds. There's a lot to love about Eddie Bauer's Momentum UPF50+ Hoddie and it starts with rain protection. Solidly constructed of 100% polyester, the jacket gets a DWR coating to repel water. While it's a lightweight jacket, it's built intentionally room so you can layer it over other garments, making it a relevant option in all four seasons. Plus, the hoodie's UPF50+ rating gives you outstanding sun protection when rain isn't your biggest threat.
Get it for:
Any Dad who works or plays outside will be happy to have the Momentum Hoodie in his gear bag.
Check out more details here.
Ariat Hilo Casual Shoes
Why we'd love to have it:
You probably know Ariat for its cowboy boots and western wear, but that's not the only quality gear to consider. When the boots come off, Ariat's Hilo is a casual shoe that's incredibly lightweight and cushiony. You can almost hear your feet saying "aaaaaaaah" the moment you step into them. The moc toe and laced design look great with shorts or jeans and the canvas upper provides exceptional breathability. Wear these flexible shoes on the boat, to the store, to cut the grass… heck, wear them everywhere you don't need your work boots.
Get it for:
Grab a pair of Ariat Hilos for Dads who kick their shoes off the moment they get home and put on the comfortable shoes they actually like wearing.
Check out more details here.
Black Diamond Alpenglow Hoody
Why we'd love to have it:
One of the things we love about climbing gear is that it's built tough and works well in nearly any environment. Black Diamond's Alpenglow hoody is a technical shirt made from an 87% polyester/13% elastane blend. It boasts UPF 50+ protection along with a mineral-based in-fiber colling technology called BD.cool that sends 71% of near-infrared rays away from your body, keeping you cooler. Polygiene odor control keeps everyone more comfortable and there's a credit card hip pocket sewn in. With 8 colors to choose from, you're sure to find one to fit your personality.
Get it for:
For work or play, Dad will love the comfort and sun protection of the Black Diamond Alpenglow.
Check out more details here.
Moultrie Dual Solar Battery Box + Trail Camera
Why we'd love to have it:
Moultrie makes fantastic standard and cellular game cameras, but they can chew through AAs, especially during active seasons. Take your trail or security coverage needs to a more convenient level by adding Moultrie's Dual Solar Battery Box to your camera. It houses a 12V rechargeable battery (not compatible with Moultrie's smaller 6V cameras) to give you more runtime than AAs alone and protects the battery from the weather. There's a charger built in and the icing on the cake is a pair of integrated solar panels to give you even more time between charges.
Get it for:
Whether Dad needs a trail camera or he's looking for a security camera for jobsites and construction trailers, Moultrie has the quality cameras he needs and the Dual Solar Battery Box significantly extends the runtime.
Check out more details here.
Best Tool and Gear Gifts for Father's Day 2023
Under $250
Icebreaker Merino Tech Lite II Short Sleeve Polo
Why we'd love to have it:
Merino wool is the way to go if you're looking for an alternative to polyester and the Icebreaker Merino Tech Lite II Short Sleeve Polo is a great way to get it in a classic polo style. This shirt uses Merino wool that's breathable and helps regulate your temperature but without the odor that polyester traps. Even the buttons are made from Corozo, giving you a shirt that's 100% natural. The material is woven to be lightweight and perfect for hot summer days, when you want a polo look on active days, or when you want to be the best-dressed guy at the summer cookout.
Get it for:
Grab this one for Dads who like the look of a polo. It's classy and crazy comfortable on the hottest days!
Check out more details here.
ISOTunes Pro 2.0 Bluetooth Hearing Protection Earbuds
Why we'd love to have it:
Would you rather drown out the noise by making your music louder or shut out the noise but lose the tunes? Isotunes has built a business by making sure you can have both! The Pro 2.0 earbuds—a Pro Tool Innovation Awards Winner—start with an in-ear design that offers a 27 Noise Reduction Rating that's ANSI-certified and OSHA-approved as hearing protection. Then it adds excellent sound quality with an 85-decibel max to ensure that your jobsite entertainment doesn't put you in violation of OSHA's hearing protection standards. An improved fit over the first generation, IP67 protection against water, dust, and sweat, and a 16-hour battery life wrap up a package that will make just about any Dad's day.
Have a different model in mind? From June 4 – 18, you can find deals up to 30% off when you order direct from IsoTunes!
Get it for:
Grab a pair of IsoTunes Pro 2.0 earbuds for the Dad that wants to reduce outside noise and not just overpower it while listening to his favorite music or podcast.
Check out more details here.
Why we'd love to have it:
One of the biggest complaints we have about multi-tools is the pliers just don't have the strength to do the job sometimes. That changes with the Gerber Dual Force. Boasting twice the jaw strength and force, the slip-joint design with aggressive teeth is far better for getting a grip on stubborn nuts and bolts. Among its many onboard tools, this one also sports the offset driver we first saw on the Gerber Center-Drive multi-tool. It's also now available in an all-black color scheme.
Get it for:
Father's Day and multi-tools go hand-in-hand. Get this one for any Dad on your list.
Check out more details here.
Why we'd love to have it:
Chemical Guys is a dominant force when it comes to keeping your vehicle looking great. One of the best and easiest ways to maximize your exterior cleaning is with the Big Mouth foam cannon. Connected to your pressure washer, it creates a crazy-thick foaming action when you combine it with one of CG's foaming car wash soaps. There's a lot to choose from, including plenty of kits that include the Big Mouth. Need some help deciding? Grab the kit that includes the foam cannon and a half-gallon of Chemical Guys' HydroSuds Ceramic Si02 Shine High Foaming Car Wash Soap.
Get it for:
If the Dad on your list spends the time to keep his ride looking great, he'll love the time savings and results of having Chemical Guys' Big Mouth foam cannon in his arsenal.
Check out more details here.
Dometic GO 50L Hard Storage Box
Why we'd love to have it:
Plastic storage containers are fine for some things, but there's a reason your mission-critical gear is called "critical" and you don't want to leave that to chance. Whether it's field instruments and climbing gear for remote jobs or the essentials for your outdoor adventures, the Dometic GO 50 Hard Storage Box is something you consider. It's a waterproof, dustproof container with a generous 50 liters of storage inside. Lock points and tie downs make it secure for the most rigorous offroad environments while integrated handles and a stackable design make transport and storage easier.
Get it for:
Grab this for the Dad who has gear that absolutely has to get there in one piece and without being compromised by the elements.
Check out more details here.
Filson Washed Feather Cloth Shirt
Why we'd love to have it:
Filson's pre-washed Feather Cloth Shirt is a 100% cotton button-down that's ridiculously comfortable right out of the package. With its 3-ounce material weight, it's lightweight enough for the hottest days and woven tight to provide exceptional durability. There are five colors available that work great for your outdoor adventures or tucked into a pair of Filson's Draftsman Canvas pants for business casual environments.
Get it for:
This is a great shirt for classy everyday wear and stalking trout on your favorite stream.
Check out more details here.
5.11 Outpost Chrono Watch
Why we'd love to have it:
If you're looking for a watch that's as tough as the environments you work and play in, check out what 5.11's Outpost Chrono watch has to offer. Available in a Tactical OD Green or Strom Grey color scheme, this analog design has a 44mm stainless steel face and is waterproof down to Davy Jones' locker at 330 feet! Mineral glass protects the face and hands underneath where luminous material helps you easily see the hands after dark. Toss in a minute/second analog chrono and you have a field watch that's ready for whatever your day brings you whether it's on the ground, in the air, or underwater.
Get it for:
Designed as a rugged watch, the 5.11 Outpost Chrono is a fantastic EDC option for your Dad's outdoor adventures, the urban jungle, and the jobsite.
Check out more details here.
Uncharted Supply Co. First Aid Plus Kit
Why we'd love to have it:
A first aid kit along with quality training can literally save lives. There are plenty to choose from, but Uncharted Supply Co takes it to another level with its First Aid Plus Kit. One part first aid, one part survival, it's a set every tradesman and adventurer should have with them every day. Your standard first aid items are there plus bonuses such as chem lights, a multi-tool, duct tape, a flashlight, stormproof matches, a CPR kit, and a mechanical pencil. It's incredibly well-thought-out and an excellent value for what you get.
Get it for:
From the daily grind to weekend adventures and long vacations, every Dad can use a quality first aid kit and Uncharted Supply Co's First Aid Plus gives him so much more than the basics.
Check out more details here.
Chirp Wheel Pro
Why we'd love to have it:
There are all kinds of massagers and foam rollers on the market, but targeting back pain is tough. The main reason is that you risk injuring yourself if you put too much pressure on your spine. The Chirp Wheel Pro solves that problem. Similar to a foam roller in its basic design, there's a channel running through the center to take the pressure off of your spine while massing your back muscles. The Pro model adds vibration to the mix, driving the relief deeper. The wheel is 5 inches wide, allowing you to run from your lower back, between your should blades and all the way up to your neck. If you're worried about weight, the Chirp Wheel Pro can support up to 500 pounds.
Get it for:
If Dad suffers from back pain, even if it's only on occasion, the Chirp Wheel Pro is a great way to help him get the relief he needs.
Check out more details here.
Orvis Trekkage LT Adventure Briefcase
Why we'd love to have it:
Orvis' Trekkage LT Adventure Briefcase is special for several reasons. It starts with a 600D CORDURA re/cor RPET—a material made from 100% recycled high-tenacity polyester yarn created from discarded bottles and packaging. High-wear areas get an extra-tough 800D nylon reinforcement. The material gets a TPU water-resistant coating.
From there, it's about the design. It's a 22-liter bag that's carry-on friendly for flights. Inside, the organization is fantastic. There's a large main compartment, internal and external pockets, a padded laptop slot, and even a small hidden compartment for your passport or other small valuables. The zippers are lockable to add some security. Toss in grab-and-go handles with a comfortable shoulder strap and this will be your favorite travel bag.
Get it for:
Whether it's travel for business, a 3-day flyfishing trip, or both, this is a fantastic way for Dad to keep his clothes and gear organized for the road.
Check out more details here.
ICEMULE R-Jaunt 20L Backpack Cooler
Why we'd love to have it:
ICEMULE made a name for itself with its Jaunt series backpack coolers. A fold-down closure seals in the cold and even air, so it floats (though we wouldn't recommend it as your primary life jacket).
Now the line takes its next big step forward with the R-Jaunt made from eco-friendly recycled PET fabric. The material is post-consumer plastic, mainly from water bottles. With its larger 20-liter capacity, it holds enough to enjoy a weekend trip while remaining a manageable size and loaded weight. Well-designed straps make the carry more comfortable and there's even a front pocket to store some essentials.
Get it for:
Dads who love beach days and short-hike picnics will love being able to strap an ICEMULE on instead of hefting a hard cooler around.
Check out more details here.
Why we'd love to have it:
I remember the first time I used a cordless ratchet instead of a socket wrench and it changed my entire outlook on mechanical projects. Ridgid has a full line of cordless ratchets for its 18V system that run from standard to extended reach and even high-speed models. They offer a comfortable, secure grip and alleviate the monotonous back-and-forth motion of a socket wrench while saving you time. Plus, Ridgid's competitive pricing and lifetime service agreement make these ratchets a fantastic value!
Get it for:
From serious gearheads to occasional DIYers, if your Dad works on any of his own vehicles, boats, trailers, and more, he can use a quality cordless ratchet.
Check out more details here.
Why we'd love to have it:
Fin-Nor makes premium sunglasses and the Cleat is one of the new styles for 2023. It features a large fit with comfortable, flexible earpieces that don't create pressure points on your head. The polarized lenses have outstanding clarity that cut through the glare and help you see the details you'd otherwise miss. Low fog buildup with smudge and water-resistant coatings make the Cleat a winner for all of your outdoor needs.
Get it for:
Fin-Nor sunglasses are fantastic on the water and also helpful for outdoor activities or even your daily commute. Every Dad can use a pair!
Check out more details here.
Grayl UltraPress Titanium Purifier
Why we'd love to have it:
Forget everything you know about field water purifiers—the Grayl UltraPress Titanium Purifier is something much better. Filtering out viruses, bacteria, and chemicals while improving the taste and smell of water, you fill a base container and push the top container to filter water. There's no sucking through a straw or filtering painfully slow volumes. In about 10 seconds, you have a full 16.9-ounce bottle that's ready for drinking and you can add a drink mix to the filtered water if you like. Each filter lasts roughly 300 fills, so there's a lot of time between cartridge changes.
It gets better, though. Thanks to its CP4 Grade 1 titanium construction and butterfly handles, the base container is fire-friendly so you can heat liquids or cook with it. A D-ring loop is perfect for tying paracord to and lowering to a water source that's out of reach. Sweetening the deal, you get Grayl's Titanium Dining Set with your purchase. Just add it to the cart when you add the Titanium UltraPress and you'll get it for no additional charge!
Get it for:
If Dad's work or play takes him to even mildly remote locations, he'll appreciate the convenience and versatility of a Grayl UltraPress Purifier.
Check out more details here.
Flex 24V Cordless 1/2-Inch Mid-Torque Impact Wrench
Why we'd love to have it:
Mid-torque impact wrenches are one of our favorite tools. They're smaller than high-torque models and the latest generation can do almost everything you need. Flex is expanding its 24V cordless lineup and now has a mid-torque impact wrench option. It has 600 ft-lbs of fastening torque and 750 ft-lbs of breakaway torque, plus assist modes for both forward and reverse. It has all the performance and features Pros need, plus it comes in at a lower price and has a lifetime warranty if you purchase and register by 12/31/23. The bare tool runs $199.99 and there are two kit options available if Dad needs a battery and charger to go with it.
Get it for:
From mechanics to contractors, any Dad who is a professional contractor can use a good mid-torque impact wrench.
Check out more details here.
Maven C.2 Binoculars
Why we'd love to have it:
Maven make high-quality optics and their business model allows them to deliver a higher value than its competitors in the same quality class. The Maven C.2 is part of the mid-range line that offers exceptional quality for the price point. While the premium B-series can give you higher optical clarity, the C.2's value makes it a perfect choice for those who want high performance without the high price. Available in either 7x or 10x magnifications, the objective lens is 28mm, making for a compact set of binoculars with fantastic daylight image quality.
Get it for:
If your Dad enjoys hunting, birding, fishing, and other outdoor activities, or he's involved in security and surveillance, Maven C.2 Binoculars are a quality choice for daytime use.
Check out more details here.
Best Tool and Gear Gifts for Father's Day 2023
Under $500
Tecovas The Cartwright Cowboy Boots
Why we'd love to have it:
When it comes to Western-style boots, Tecovas makes some of the best in the world. The Cartwright is a cowboy-style pointed-toe boot with a classic cowboy style that looks amazing. With four color options in goat, calf, or bison, they feature a double-stitched Goodyear welt, leather sole, and stacked leather heel with a rubber cap. No matter which color you choose, you'll stand out as the classiest cowboy in the crowd. Best of all, they wear great as your everyday boot on the ranch and clean up great as a dress boot.
Get it for:
Dads who know how to dress up while showing off their Western roots will love Tecovas boots.
Check out more details here.
Why we'd love to have it:
When a storm comes through or it's time for seasonal trimming, there's nothing like a good battery-powered chainsaw to make your life more convenient. For homeowners in this camp, Greenworks' 60V 16-inch chainsaw is a fantastic choice. It has the power to outperform a 42cc gas model while maintaining a size and weight that's easy to manage. Since there's no gas engine to maintain, all you have to do is make sure the battery is charged, pop it in, and cut. There's no cord pulling, much less noise, no emissions, and carb to gum up.
Get it for:
Grab this chainsaw for Dads who have trees on their property to maintain or are the type of person to help out their neighbors after a storm comes through.
Check out more details here.
Why we'd love to have it:
When you're shopping for a pressure washer, there's a conflict between the convenience of electric units and the power of gas. Thanks to a brushless motor, HART bridges the gap with its 2500 PSI/1.1 GPM electric pressure washer. Its higher PSI reaches the level that we normally only see from gas-powered units. On the other hand, the brushless motor not only avoids all the gas hassles but also has a longer-lasting design than brushed motors. It's the best of both worlds and available conveniently from Walmart.
Get it for:
If you own your own home, you need a pressure washer and this model can help Dad clean faster without the need for a gas engine.
Check out more details here.
Meindl USA Bergell MFS Hiking Boots
Why we'd love to have it:
Tired of boots that leave your feet in agony after a day of hiking? Take a look at what the Bergell MFS hiker from Meindl USA can do for you. A classically-styled mid-height hiker, the upper is made from high-quality leather and treated to Gore-Tex to ensure it's waterproof. A rubber rand around the outside edge protects the leather from abrasion while an aggressive outsole tread from Vibram offers stable multi-direction traction.
Inside, it's all about comfort. It starts with a polyurethane midsole that absorbs the pressure from each step. Memory foam wraps your entire foot—not just the bottom—comfortably and a memory foam/fleece Air Active Soft Print Drysole has an absorbent top layer that wicks moisture away to keep your feet comfortable and dry.
Get it for:
If your Dad is tired of low-quality, uncomfortable hiking boots, give him the gift of quality German-made hikers.
Check out more details here.
Why we'd love to have it:
Cordless angle grinders are incredibly useful and Hilti's Nuron technology offers outstanding performance. There are some serious brains behind the brawn, too. 3D Active Torque Control can sense a bind-up in any direction and stop the motor quickly. It also has SensTech that can tell when your hand is on the handle—even if you're wearing gloves. Combined with the slide switch, you get the convenience of the constant on function with the safety of a paddle switch.
Get it for:
Grab this one for Dads who do a lot of metal fabrication or work in construction, especially in the concrete industry.
Check out more details here.
Milwaukee M18 Fuel Gen 4 Hammer Drill and Impact Driver Combo
Why we'd love to have it:
The latest and greatest in a 2-tool combo kit from Milwaukee is the Gen 4 M18 Fuel Hammer Drill and Impact Driver. The 2904 hammer drill upgrades both speed and torque compared to the previous model and adds kickback control, making what was already a great tool even better. The 2953 impact driver picks up some speed while maintaining its 2000 in-lbs of torque. The impressive thing is that neither tool had an increase in size in order to reach higher performance levels. The kit includes both tools, two 5.0Ah batteries, a charger, and a hard case.
Get it for:
These are premium Pro-grade tools that are a great fit for any Dad working in the trades and who appreciates a high level of performance.
Check out more details here.
Magellan Outdoors Pro SwiftRise 8-Person Hub Tent
Why we'd love to have it:
When you think about camping, is it an idyllic view? Or a more realistic memory of a frustrating experience? Magellan Outdoors is ready to set you on the path to a much better experience with its Pro SwiftRise 8-person Hub Tent. It starts with a ridiculously easy and quick setup, especially when you consider its size. Seriously, 90 seconds and you're ready to go!
Then there's the generous ventilation that allows even the slightest breeze to cool things down. Once you're secure and comfortable inside, built-in LED string lights let you enjoy some together time before turning them off and staring out at the wide-open sky. If inclement weather threatens your perfect trip, a rain fly and screen covers keep you and your gear dry until it passes while windows still let you see what's going on around you.
Get it for:
What better way to let Dad know you're ready for a camping trip than with a tent that makes the trip much less stressful? Adventurous Dads will love the ease of setup and high ventilation Magellan offers.
Check out more details here.
Penn Authority Spinning Reel
Why we'd love to have it:
Penn makes some of the best fishing reels on the planet and enjoys a stellar reputation in both fresh and saltwater. The Penn Authority is the new standard every other spinning reel is going to be measured against. Its IPX8 construction ensures water can't reach the internals, even if it gets submerged. The stainless steel gearing is cut by CNC, combing with a 12+1 stainless steel bearing system for a precise, smooth action across all sizes. The sealed Slammer drag system offers smooth fish-turning power when that tarpon or king mackerel makes a run for it. Penn's Leveline slow oscillation creates an even line wrap that helps make your casts long and accurate. From finessing smallmouth bass out of the rocks to the epic tarpon battles of Boca Grande, there's a Penn Authority for every fisherman.
Get it for:
No matter what kind of fishing Dad enjoys, he's going to love the quality and smooth performance of a Penn Authority spinning reel.
Check out more details here.
Best Tool and Gear Gifts for Father's Day 2023
Over $500
Why we'd love to have it: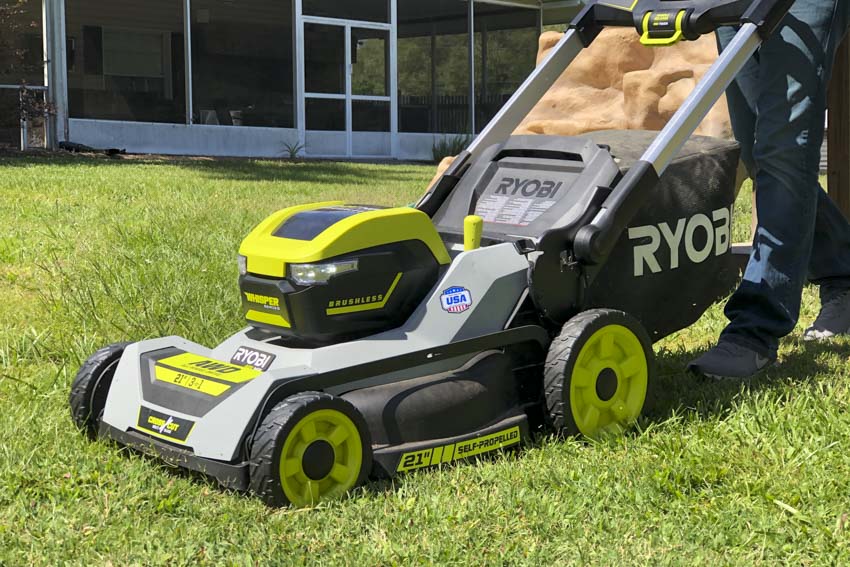 Ryobi made a massive leap forward in lawn mower performance with the launch of its 40V HP Brushless CrossCut mowers. It gets even better with the AWD self-propelled model. Sporting the torque of a 170 cc gas engine, this mower cuts confidently and cleanly without any of the hassles, noise, or emissions of a gas mower. Just in time for Father's Day, Ryobi sugar-coated the deal by taking $100 off of the kit price. If that isn't enough, you also get a bonus 17-inch string trimmer or 730 CFM Whisper Series blower kit for free! So that's the mower, a string trimmer or blower, three batteries, and two chargers that would normally run $1067 for $799.
Get it for:
Dads who are ready to make the switch to battery power for lawn care and need to maintain up to 1/2 an acre will love this deal!
Check out more details here.
SiOnyx Aurora Pro Night Vision Camera
Why we'd love to have it:
Whether you're working construction site security, taking care of the feral hog population, navigating waterways, or enjoying knowing what's going on around you, a night vision camera is a phenomenal tool to have once the sun goes down. The SiOnyx Aurora Pro Night Vision Camera is a military/law enforcement-grade camera that takes photos and video in full sunlight all the way down to moonless starlight with outstanding clarity. A built-in compass, GPS, and accelerometer provide critical data and it can stream directly to your phone or tablet for a larger view. Need to keep your hands free for other tasks? It mounts to helmets, your boat helm, vehicles, or even a rifle. If work or play keeps you up at night, SiOnyx has your vision needs covered.
Get it for:
Does your Dad have a tactical mindset or want to see what's going on after the sun goes down? The SiOnyx Aurora Pro is the camera he needs!
Check out more details here.
Why we'd love to have it:
There are plenty of people who love the idea of having a zero-turn lawn mower, but the idea of learning how to use lap bars causes them to hesitate. EGO flattens out the learning curve with its E-Steer ZT. Its electronic power steering design and accelerator pedal take just a few minutes to get used to. The interface keeps the majority of your controls and information right in front of you on the steering wheel. The icing on the cake is that it runs on the same batteries that power other EGO 56V equipment and takes advantage of onboard charging.
Get it for:
Dads who have more than 1/2 an acre to mow and don't want a traditional gas zero-turn mower will love EGO's design!
Check out more details here.