If you're looking for a cordless oscillating multi-tool that uses the Starlock system, there are only a handful to choose from currently—but the number is growing! Today, we're looking at the Bosch 18V cordless oscillating multi-tool.
As one of the first cordless models to sport the Starlock interface (Fein also introduced it on their MultiMaster and SuperCut multi-tools), it shows off the advantages of a hands-free system.
Pros
Starlock accessory changes
Excellent PTR Time Trial result
Reasonably low vibration
Solid build quality
Cons
Bulky, somewhat boxy handle design
On the heavier side
Starlock Blade Changes
The Bosch cordless oscillating tool features our favorite accessory interface, the Starlock system. Not only does the Starlock interface provide an excellent grip on the blade, allowing for better torque transfer, but this system also allows for one-handed, tool-free blade changes.
With this system, you pull back on the blade lever to eject your old blade from the blade mount. Then, simply press the tool down onto the new blade until it clicks into place.
It's simple, fast, and we love it!
Ergonomics
While not the whole story, weight will play a big part in how we rate a tool's ergonomics. At 4.46 lbs with a 6.3 Core 18V battery attached, the Bosch cordless oscillating tool has some heft to it. You can mitigate that a bit without dropping much performance by using the compact 4.0Ah Core18V battery instead.
It also has a pretty boxy frame and a larger handle diameter. While larger hands won't mind it, our testing team prefers a slimmer design.
Bosch 18V Cordless Oscillating Multi-Tool Performance
The cordless Bosch 18V oscillating tool features an EC brushless motor and Bosch claims that this motor provides 30% more power than their previous 18V motors. In practice, what all this translates to in terms of performance is a tool that gets the job done smoothly, though not necessarily with blazing speed.
It doesn't cut slowly, but we did test several faster models. This might have something to do with the 2.8° oscillation angle more than the actual power being produced, as this multi-tool still cranks out 8,000 – 20,000 OPM.
That said, Starlock was a huge advantage for Bosch on the PTR Oscillating Multi-Tool Test Track. Posting a time of 1:38, only Fein's SuperCut Cordless was faster at the time we tested.
Here's what the Test Track entails:
Undercutting a door jamb
Cutting out drywall for an electrical box
Cutting five finish nails to remove trim
Removing an 18-inch line of grout
Sanding a 6-inch section of 2×4 pine stud
Along the way, we have to make two blade changes.
Vibration Control
Due to the oscillating mechanism, multi-tools have a tendency to shake around a lot. So vibration control, or lack thereof, is an important feature on a multi-tool.
That 2.8° oscillating angle might have hurt Bosch's speed on individual cuts, but it helps reduce the vibration and still earns a decent score. However, Bosch doesn't claim any sort of advanced vibration control and it's not at the same level as Fein or Milwaukee.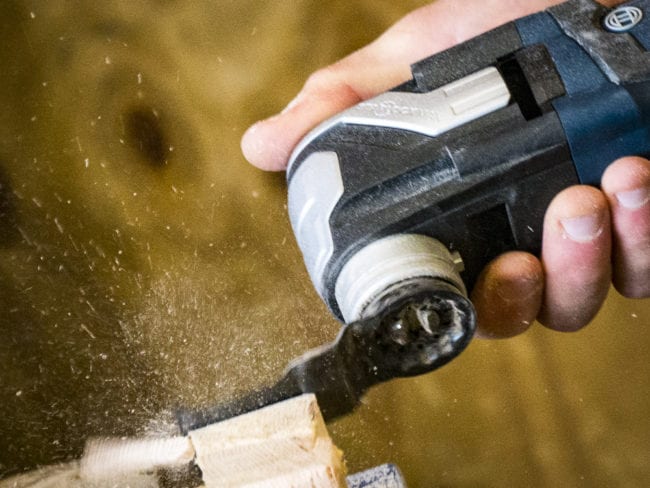 Noise
Oscillating multi-tools also tend to cause a bit of a racket. On all of the models we tested, the noise generation ranged from 92 dB(A) to 104 dB(A). Even the quietest of these machines successfully avoids being whisper-quiet. This multi-tool falls in the middle of that spectrum at 98 dB(A). It's still loud, but not nearly as loud as it could be.
Bosch 18V Cordless Oscillating Multi-Tool Feature Set
Starlock Plus accessory interface
EC Brushless motor technology
LED light
Constant Response circuitry – maintains the desired speed under load
Variable-speed dial
Reinforced metal gearing
No-mar plastic ribs
Bosch Cordless Oscillating Multi-Tool Price
The Bosch 18V oscillating tool retails at $199 for the bare tool. It also comes with a 1-year warranty. There's no kit option currently available.
The Bottom Line
The major highlights for the Bosch cordless oscillating multi-tool are the Starlock interface and reasonably low vibration. Of course, the quality we expect from Bosch is also there. However, other brands have surpassed it in several categories. If you're already on the Bosch 18V platform, this tool will serve you well. If you're hunting among multiple cordless options, there are a few options that may be a better fit for you.
Bosch 18V Cordless Oscillating Multi-Tool Specs
Model: Bosch GOP18V-28N
Power Source: Bosch 18V battery
Oscillations: 8,000 – 20,000 OPM
Oscillation Angle: 2.8°
Weight: 4.46 lbs. with 6.3Ah Core18V battery
Warranty: 1 year limited
Price: $199.00
Check out more information on Bosch's website.