Last Updated on July 11, 2023
After college, I went to work for the power company for a bit and my first days were filled with all kinds of safety. There were computer mini-courses to take with quizzes to pass. Then there was fitting for all of my PPE. OSHA mandated general and construction PPE, or personal protective equipment, back then and they continue to regulate it on today's jobsites. Some of the requirements fall under general industry standards while others are specific to construction.
Most Used Construction PPE
We're teaming up with Milwaukee Tool to bring you an overview of the most-used PPE in the construction industry. While we've worked hard to pull together a comprehensive article, it's still a general list. Specific trades (we're looking at you, Electrical) may have stricter requirements or more equipment you need to consider. There are also 28 OSHA-approved state plans that may go beyond federal standards.
Our goal is to get you thinking about personal protective equipment and consider some of the newest options available. We plan to go into more detail about each section in the coming weeks. Always follow up with your safety manager about the specific PPE requirement for your job to make sure you have your bases covered.
While we're on the subject, why not spend a few minutes perusing Milwaukee's current PPE offerings? You can check out their entire line of safety products here.
Hard Hats – Head Protection
OSHA Standards
Protection for your noggin is a no-brainer. Actually, it's a keep-your-brainer. When there's a risk of objects falling on your head, flying into it, or running your head into an object that might cause injury, hard hats are a requirement.
Editor's Note: Check out our article on the coolest and most comfortable hard hats to see our top recommendations and we can also help you when choosing the best hard hat!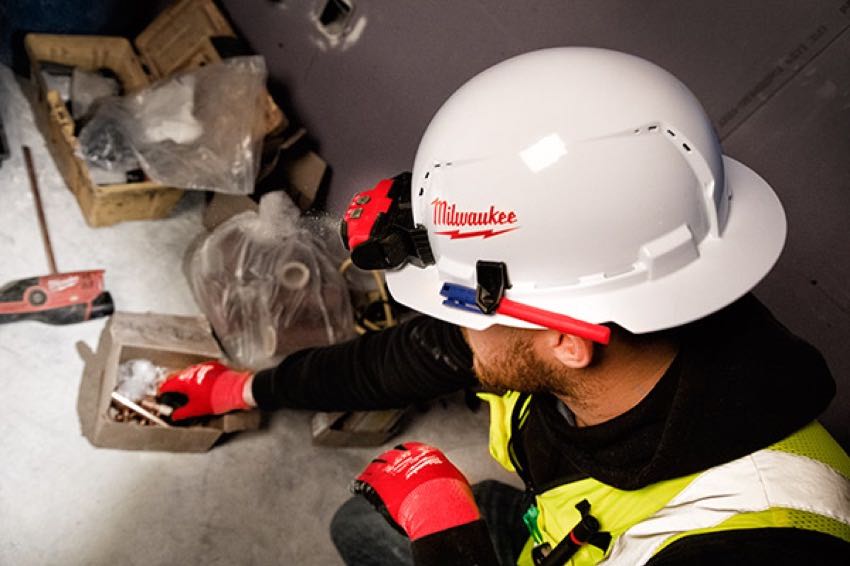 Not all hard hats are appropriate for every job, so be sure to check before buying. Regardless of which Type and Class you need, it has to have ANSI Z89.1 certification.
Milwaukee Hard Hat Options
Milwaukee covers Class C and E with Type 1 hard hats. The big deal is their Bolt Hard Hat Headlamp mount which lets wearers simultaneously use headlamps with other accessories.
Check out these Milwaukee hard hats at Acme Tools:
Safety Glasses – Eye and Face Protection
OSHA Standards
Whether it's sawdust or splashing chemicals, your eyes are sensitive, vulnerable organs that you can't work without. There's almost no job that doesn't require eye protection. In some cases, you may have to wear glasses with side protection or even a full face shield.
When it comes to choosing this critical construction PPE component, look for ANSI Z87.1 certification.
Hearing Protection
OSHA Standards
Your hearing has the potential for long-term damage and it's more than just the curse of husbands and fathers (OSHA doesn't discuss selective hearing loss). The two major kinds of hearing protection are over-the-ear and in-ear. No matter which one you use, pay attention to the NRR (noise reduction rating). It's a measure of how many decibels it reduces and can bring physically painful noise levels down to what you can work in for several hours.
You can compare OSHA's Permissible Noise Exposures to see how much exposure you're allowed at various decibel ratings. Hearing protection requirements kick in at 85 decibels.
Milwaukee Hearing Protection Options
Gloves – Hand Protection
OSHA Standards
Gloves can protect your hands from chemicals, burns, cuts, abrasions, and even offer some impact protection. Different materials have different protection characteristics, so no single glove or style works in every environment.
Back in 2016, updated ANSI cut resistance standards transformed it into a simple A1–A9 scale.
Some of Our Favorite Milwaukee Glove Options
Boots – Occupational Foot Protection
OSHA Standards
The best work boots do more than offer more stability than an old pair of sneakers. Depending on your work environment, you may need protection against falling or rolling objects, piercing through the sole, electrical hazards, and more.
In general, you're looking for ANSI Z41 certification. OSHA's general industry standard also mentions ASTM F-2412-2005 and ASTM F-2413-2005 that cover test methods and performance requirements.
Safety Vests – Visibility
OSHA Standards
OSHA doesn't have a ton to say about safety vests, aside from clarifications for flaggers on road projects or workers exposed to public vehicular traffic. From there, they reference the MUTCD (Manual on Uniform Traffic Control Devices) 1926.6. The Worker Visibility Rule from the Federal Highway Administration also specifically notes that safety vests or garments are required to protect against vehicular or construction traffic.
The FHWA makes the point that anyone working around moving vehicles or construction equipment should wear high-visibility gear. The earlier an equipment operator sees you, the more time he or she has to react to your presence. Even when there's not a regulation that requires you to wear a safety vest, you may find your employer requires one anyway.
The bottom line is that if you want to be seen, wear a safety vest, whether you have to or not.
Milwaukee Hi-Visibility Clothing Options
Respirators – Respiratory Protection
OSHA Standards
Most of the recent news surrounding respirators as part of construction PPE comes from the concrete industry and the changes to silica dust regulations. But you need a respirator from more than just concrete dust. There are numerous dusts, fogs, fumes, mists, gases, smokes, sprays, and vapors that kick in their use. Respirators range from hospital masks types to full-on gas masks.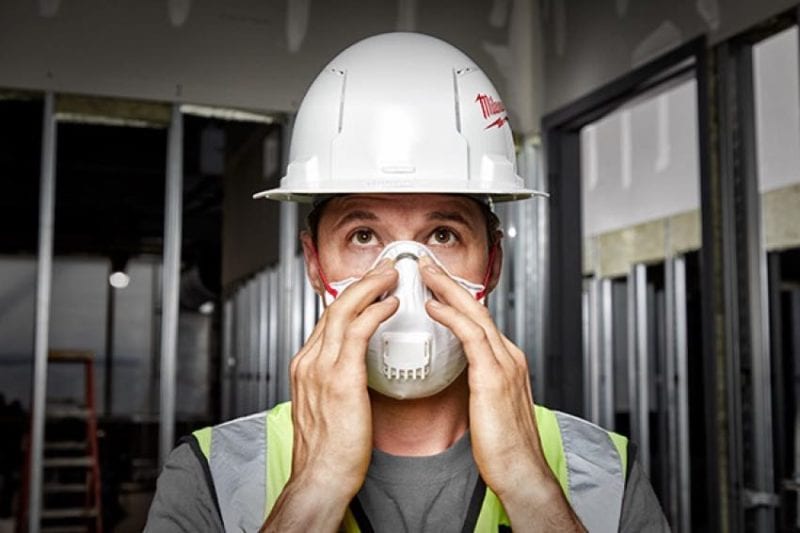 Sometimes, equipment and methods (like Table 1) let you work without a respirator. When those aren't feasible, you need respiratory protection to protect your lungs. One of the reasons it's easy to overlook respirators is that damage like silicosis sometimes takes years to set in.
Check for NIOSH efficiency ratings. Respirators come in 95%, 99%, and 100% filtration and different jobs have different requirements.
Lanyards – Tool Tethering
OSHA Standards
When you're working above ground level, dropping a tool presents a significant risk of injury or death to people working below you. OSHA regulates safety nets and toe boards but hasn't officially mandated tool tethering just yet. However, ANSI passed their Dropped Objects Protection (ANSI/ISEA 121-2018) in July 2018 and created a pathway for OSHA to create their own standard in the near future.
Look for load ratings on the tethers you're considering. You need to make sure the lanyard you're using is robust enough for the tool you have it attached to.
Helpful Milwaukee Tether Solutions
Fall Protection
Fall protection devices cover a wide range of general and construction PPE and get an entire OSHA Construction Subpart all to themselves. Anytime you're working 6′ or more above the ground or near a hole more 6′ deep or more, fall protection comes into play. Guardrails and safety nets play a big part in protection, but there are many situations that you need to physically attach your body to a personal fall arrest system.
One thing to keep in mind for construction is that once a lifeline, safety belt, or lanyard (personal, not tool) is subjected to in-service loading, it has to be taken out of service immediately and never used again for fall protection.
Check out the entire Milwaukee PPE and safety lineup at Acme Tools!