Last Updated on July 11, 2023
When we got our hands on the latest Crescent Z2 pliers, we wanted to know what set them apart from the other high-quality options on the market. In short, it's all about the features, and it's not all bells and whistles.
In designing the Z2 series, Crescent started where it matters most—with the people that use these tools day in and day out.
"When we set out to make better pliers, we turned to our customers to find out what features they needed to complete their jobs. We talked to professionals in different trades with different needs and distilled that information down to create features that make a difference in their day-to-day work."

Jarrett Wolf, product manager for Crescent Tools
That all sounds great, but we wanted a closer look. Below is a breakdown of four of the 35 members of the Crescent Z2 line.
Crescent Z2 8-Inch Dual Material Long Nose Pliers
Right out of the gate, we loved the classic long-nose design of these pliers. A closer look reveals some useful improvements.
The joint sits higher than most, giving you more leverage for a stronger hold and easier cutting (this is a common theme in the line). According to Crescent, cutting is up to 35% easier than other options.
The cutting edges are laser hardened, offering clean cuts while staying sharp up to 50% longer.
The jaw is where things get even more interesting, though. It starts with cross-hatched knurling for a better grip on wires.
Raise your hand if you've tried to tighten or loosen bolts with long nose pliers. It's not much fun and the jaws tend to slip a lot. Crescent deals with this using two fastener grip areas low in the jaws that make gripping fastener heads much more effective when you have the room to work with them.
Finally, the pliers wrap up with ergonomically curved handles and comfortable grips with tether holes on both ends.
Price: $17.99
Crescent Z2 9 1/2-Inch Dual Material Lineman's Pliers
Our next example is the ever-popular lineman's pliers. With the classic lineman's look, it again starts with a joint that shifts higher to improve the leverage. It also has the benefits of laser-hardened edges and cross-hatched knurling as we saw on the long nose pliers.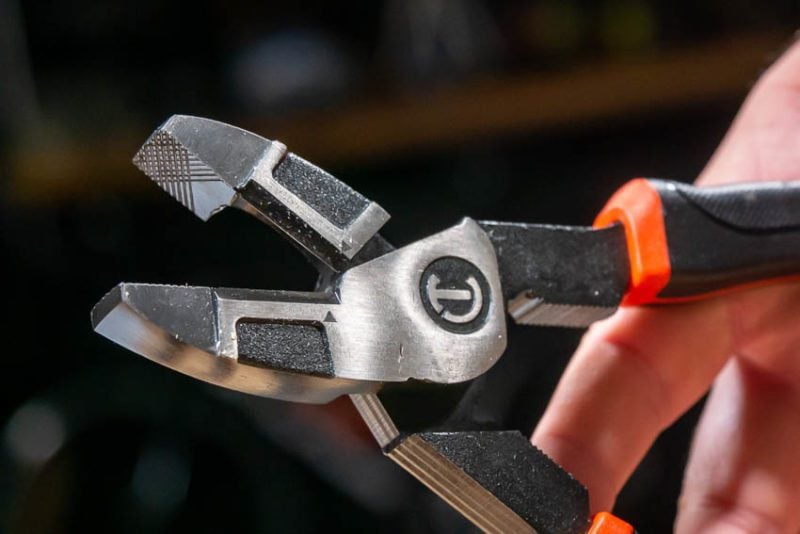 Below the jaw, two sections stand out for crimping and fish tape pulling.
Continuing the trend, ergonomic, comfortable handles with tether points to finish it up.
Price: $20.99
Crescent Z2 Diagonal Cutting Pliers
This section gets a bonus: we were able to get our hands on both the 8-inch and 6-inch versions of the Z2 diagonal cutting pliers. Similar in design, they offer a solid 1-2 punch with the 8-inch pliers offers greater leverage and strength while the 6-inch pliers have a significantly more compact nose area to get into tighter spots.
Both models stick with a high-leverage joint positioned higher than standard pliers. They also have the same laser-hardened cutting edges as the others we've been discussing. As you can probably guess, they have a very comfortable grip with ergonomically curved handles and tether points.
As for the diagonal, it's set to 20° so you can get right up against the material surface and get a flush cut on the nail or screw you're clipping.
Aside from size, the main difference between the two is that the smaller one has a knurled section below the jaw that's great for grabbing and pulling.
Price: $16.99 (6-inch), $18.99 (8-inch)
Parting Thoughts
We really like the comfort of the grips on Crescent Z2 pliers and the features they added are genuinely helpful. If that's not enough to tempt you, take another look at the pricing. Compared to what you might pay for other brands, they offer an excellent value proposition backed by a lifetime warranty.