DeWalt Atomic One-Hand Reciprocating Saw Sets New Standard for Compact Design
The DeWalt Atomic one-hand reciprocating saw didn't make in time for our best cordless reciprocating saw article. However, now that it's here, we put it through the same tests. Just looking at it compared to the others, you can tell DeWalt put a big focus on keeping it compact.
Pros
Most compact saw in its class
Lightweight
Outstanding vibration control
Shoe grabs 2x material
Only saw in this class to include a belt hook
Cons
How Fast Does the DeWalt Atomic One-Hand Reciprocating Saw Cut?
The DeWalt Atomic reciprocating saw cuts up to 2800 strokes per minute with a 5/8″ stroke. Some of the saws in the same class push the 3000 SPM mark and give you a little more on the stroke length at 7/8″.
That shows in our testing, where this model is one of the slower cutting models we've tested. In 3/4″ EMT, it averages 6.04 seconds per cut. Only the Makita XRJ01 was slower and the fastest was Kobalt's 1.79-second average.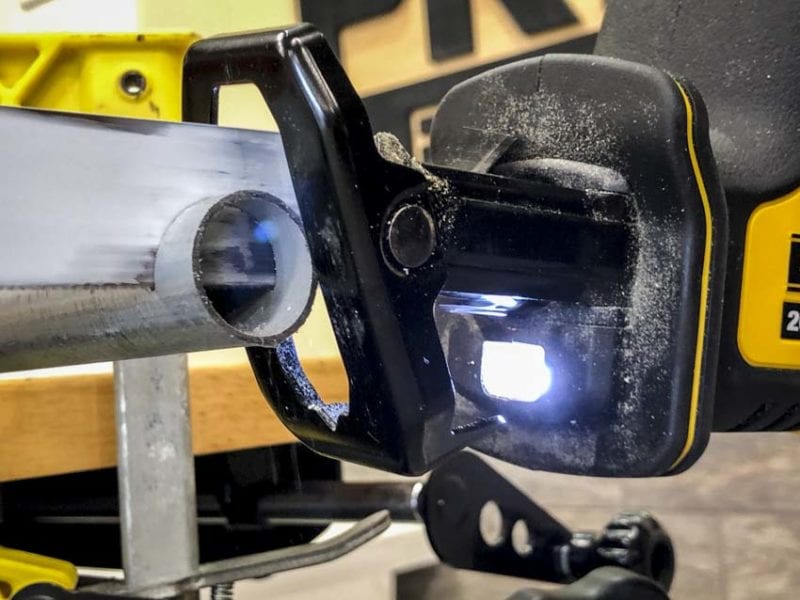 Moving to 3″ PVC, the results were similar. With a 12.77-second average. It was well under Ridgid's 4.50-second winning effort. Both Makita and the Metabo compact recip saw had slower cutting speeds, though.
Even though these cutting speeds aren't impressive compared to the other saws in the class, it's still an effective tool for cutting the thinner materials in electrical, plumbing, HVAC, and irrigation.
Because the stroke length is so short on saws in the one-hand class, they tend to have trouble clearing chips on all but the thinnest wood. DeWalt falls into line with that trend and isn't a saw we'd reach for to cut 2x.
How Much Vibration Does it Have?
The DeWalt Atomic one-hand reciprocating saw shines in vibration control. Part of that is thanks to a pivoting shoe where many of its competitors stick with a fixed one. There seems to be less vibration in the saw's design natively as well. The end result is that our team ranked this model as having the lowest vibration in its class.
How Big is It?
Another area DeWalt knocks their design out of the park is in size. It's the smallest model we've tested, coming in a little shorter than Metabo's ultra-compact model.
Its weight is pretty reasonable as well. at 3.2 pounds, only Makita and Metabo are lighter as bare tools. DeWalt packs their kit with a 5.0Ah battery, so it's a heftier 4.6 pounds with it. If you don't have a ton of cutting to do, you can save some weight by using a compact 2.0Ah pack instead.
What Features Should I Look For?
Brushless Motor
Brushless motors aren't the standard for the one-hand class yet. DeWalt includes one on the Atomic, giving it better runtime and longer life than if it hadn't.
Pivoting Shoe
The fact that DeWalt's shoe pivots isn't unique, but not every one-hand reciprocating saw includes one, either. What is unique to the class is the claw design on the backside of it. This lets you hang the saw on 2x, EMT, back ladder rungs, and other materials ~1-1/2″ or less.
Belt Hook
Normally, we wouldn't be all that excited about a belt hook. But it's something we haven't seen on any other reciprocating saw until now. Rafter hooks? Sure, just not in the one-hand class. Among all of the compact reciprocating saws, only DeWalt gives you a belt hook.
Additional Features
How Much Does it Cost?
If you already have DeWalt batteries, you can pick up the bare tool for $129. It's right in the middle of the range for this class ($99 – $159). As a kit, it's one of the more expensive options, setting you back $279 with a 5.0Ah battery and charger.
The Bottom Line
The DeWalt Atomic one-hand reciprocating saw targets a compact form rather than top-tier performance in their design. If that sounds like it lines up with your priorities, it's a big win.
Buy it if you value a compact size, lighter weight, and lower vibration for cutting thin materials. Pass if you're going for fast cutting speeds and/or want to cut wood thicker than 1x.
DeWalt Atomic One-Hand Reciprocating Saw Specifications