Diamondback Dirigo Bag Blends Tool, Tech, and Document Storage
Some tools bags are great for combining tool and tech storage, but they don't give off a particularly professional vibe when you're meeting with clients or executives. The Diamondback Dirigo Bag has a compelling look that can potentially bridge the gap. We took a deeper dive to see if it does.
Pros
Durable 1000D nylon DiamondSkin material
Compatible with Diamondback Sleeves and other accessories
Balances tech, documents, and tool storage beautifully
2-inch or 1-inch padded should strap option

Made in the USA
Cons
Not as much double and triple stitching as we like to see
Carry handle forces the bag to lean forward
Diamondback Dirigo Bag Design and Use
Materials and Construction
Diamondback starts with a combination of DiamondSkin V-diamond vinyl material and 1000D nylon sewn together with primarily single stitching. The material is definitely durable and should stand up to a lot of abuse. We'd love to see some additional stitching layers to back up what's there. That said, in our first few months of use, none of those stitches are threatening to pop.
Exterior Storage
For the Dirigo bag, the design starts life as a messenger bag and evolves into a tool bag, and there are plenty of pockets to work with.
On the outside flap, there's a zippered exterior pouch that's great for documents up to legal pad size you want to keep separate from what's in the main section.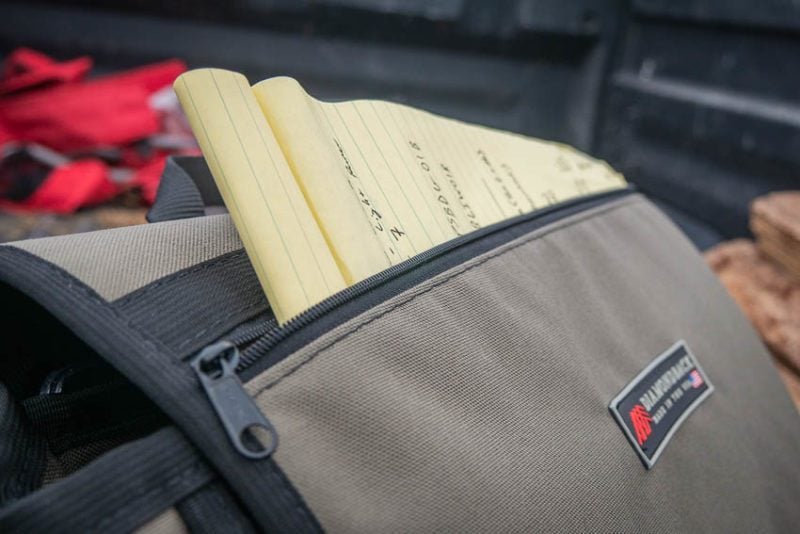 The flap closes down with G-hooks and I'm a little torn on that call. I prefer more secure latching with clips or buckles. On the other hand, I can't complain too much the G-hooks haven't slipped out on us.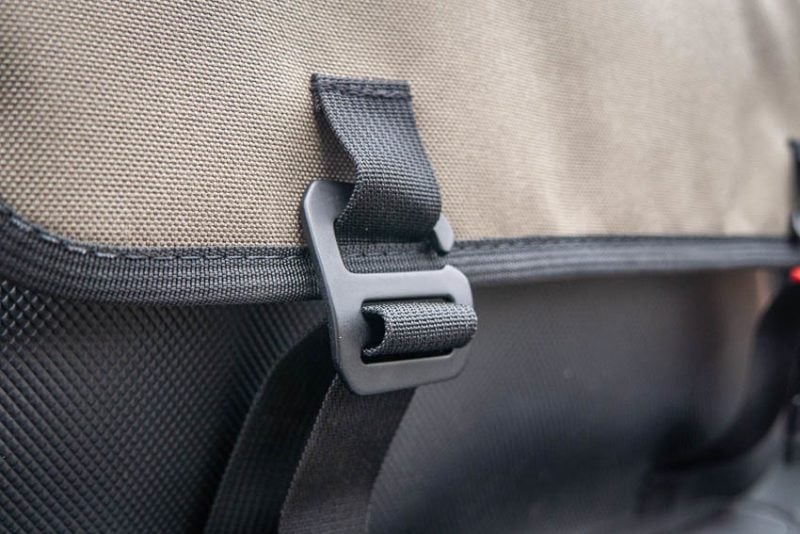 On each side, you have a webbed pocket. You can use the webbing to add other Diamondback accessories or just use it as a pocket. There's also webbing along the top front of the bag you can use to clip other items on.
Interior Storage
Inside, there's a padded section that fits laptops up to 17 inches and another sleeve in front of it that you can use for a legal pad, notebook, or other documents. A hook and loop strap keeps items from falling out of those pouches.
In front of the pouches, we start to see the potential for tool storage. There are two large, two medium, and four small pockets you can use for everything from small notebooks and pens to meters and screwdrivers.
Finally, there's the main storage area where the traditional messenger bag design swells to a 6-inch depth for bulk storage. There's enough room for a drill and impact driver combo, a change of clothes on meeting days, or even Flex's 24V inline circular saw if you really want to.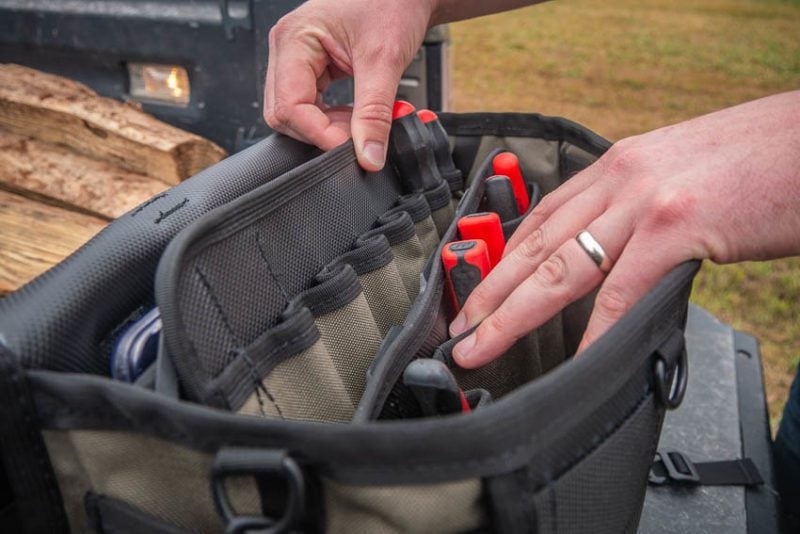 If you're deeper in the Diamondback storage environment, the Dirigo is wide enough to include several tool sleeves with or without panels. What we like about the Sleeves is the ability to preload different sets and just grab what you need for the site and leave the rest in the truck or back at the shop.
Carry Options
When it comes to carrying the bag, you can choose either a 2-inch or 1-inch padded strap. We prefer the 2-inch to let the weight spread out over your shoulder more.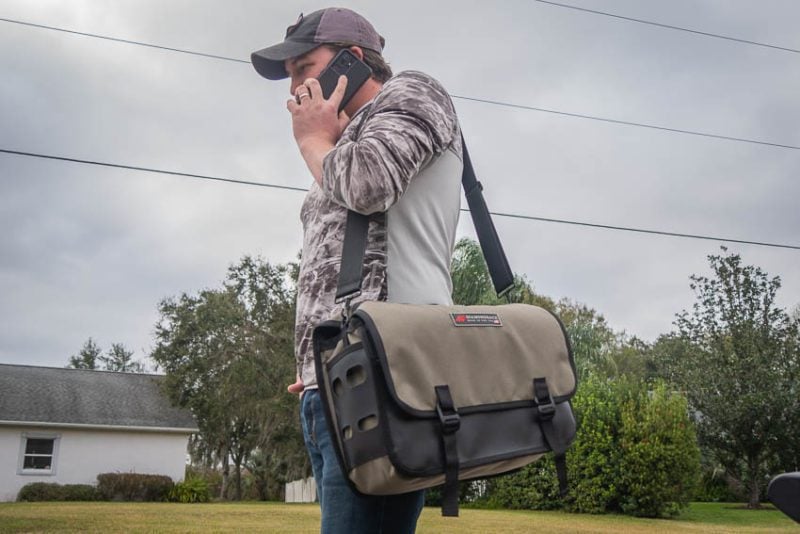 There's also a carry handle on the back of the bag. Most messenger bags have handles on the front and back or one over the center to balance the weight. The Dirigo's one-handle design connects on the side and leans forward a bit. The upside is that the directional pull of the weight plays to the strength of the stitches. On a bag that's potentially loaded down with tools, that's a bigger deal than most messenger bags.
Diamondback Dirigo Bag Price
The retail price for this Made in the USA messenger/tool bag is $199 and it comes with a 5-year warranty. Diamondback doesn't have much competition in the premium space, but the price is what we expect given the material selection and design. There's a 30-day free return policy, including free return shipping.
The Bottom Line
The Diamondback Dirigo Bag successfully meets the needs of contractors who need a tool bag that gives clients and management a more professional perception. We really like this bag for IT and VDV professionals. The combination of tech storage, document storage, and built-in pockets combined with the versatility of Diamondback sleeves makes it a very attractive option for tech-heavy jobs.
Discover more storage options on Diamondback's website!