The Dow Great Stuff PRO 15 Gun is the answer to dispensing its Great Stuff expanding foam consistently and easily. It's a one-handed tool that allows the PRO cans to fasten securely to the top and dispense a bead of expanding foam anywhere from 1/8″ to 3″ in thickness. If you do a lot of construction work, or you are in the specialty trades like plumbing, electrical or weatherization, you're going to want a tool like this to simplify what can be a very tedious and time-intensive task. Once you use a dispensing gun, you won't want to go back to tubes. Add to that the fact that the Dow Great Stuff PRO 15 Gun can help you to use your cans longer and reduce waste and it just might save you money over the long haul.
Why Use a Spray (Expanding) Foam Gun?
Some professionals may wonder why they should even consider spending money on using a spray (expanding) foam gun. After all, don't the cans come with plastic straws, allowing simple use? The answer is that you probably shouldn't use a spray foam gun if you don't do more than one project per year or are a very occasional user. If you're a professional, however, you're going to find that a gun gives you considerable advantages. First and foremost, you get better control. By setting the flow rate, you can more easily adjust the bead size and deliver more consistent results. More than that, however, when you let go of the trigger – the can stops dispensing foam. Unless you're using a model with a straw attached to the end (which allows the foam to continue expanding), guns like the Dow Great Stuff PRO 15 Gun store only liquid, unexpanded foam within the barrel. That means that when you let go of the trigger, and that check valve drops back to seal the exit hole – all flow stops. You're not going to run into that extra two to three inches of dribble that you'll get when you use the manual can varieties.
It's also far easier to use, so you don't encounter the physical exertion that you do when using the manually-activated cans. After spraying a Great Stuff can for a while to seal multiple windows or doors, you'll definitely begin to feel it in your wrist and hands. The Pro line of guns, including the Pro 15 that we reviewed, let you exert a minimal amount of energy to accomplish a nice steady bead of foam where you want it. The last thing we love about expanding foam guns is that you can leave your Great Stuff Pro can attached, provided you use the gun once a month. The gun system is completely sealed, from the can to the nozzle, so it's good to go for up to 30 days of storage. In fact, it's far better for the gun itself if you store it with the can attached – far better (not to mention cheaper) than using gun cleaner, which can leave residue in the gun that will harden over time and build up, reducing your flow rate and the overall gun performance. Just be sure to use the gun a little bit every 30 days to keep it fresh and ready to go.
Clean Up
If you do make a mess, or need to clean the top of the can or the outside of the gun, the Great Stuff Pro Gun Cleaner is a great product that is acetone-based. It comes with a threaded top so it can be screwed onto the gun – but we don't recommend it if you can keep everything sealed up tight and you use your foam regularly. It dissolves the un-cured foam nearly instantly, allowing you to clean that normally sticky Great Stuff foam off of just about any surface. Check out how a single spray of the gun cleaner literally blasted a line right through our test beads of foam:
Great Stuff also makes new Work Wipes, which use a chemical called diabasic ester to clean up overspray using individual cleaning cloths. They also smell sort of citrusy, which is nice. The wipes store in a plastic resealable bag and are super easy to use and keep with you in the work truck or your tool bag. They can clean just about anything, including caulk and adhesives, so keep them on hand wherever you go.
Dow Great Stuff PRO 15 Gun Build Quality
There are three guns made by Dow for dispensing their Great Stuff Pro expanding foam. The models are the Pro 13, Pro 14, and Pro 15. All three guns are actually made in Switzerland by a company called Todol and there are a few mostly minor differences between the models:
PRO
13
PRO
14
PRO
15
Tip
Barbed
Replaceable
barbed
Replaceable
smooth
Body
Plastic
Aluminum
Plastic
Barrel
Aluminum*
Aluminum**
Stainless
steel
Trigger
Metal
Aluminum**
Plastic
Check
valve
*
Stainless
steel**
Stainless
steel, Teflon
Can
adapter
Aluminum*
Teflon
Teflon
Flow
control
1/8″
– 3″ beads
1/8″
– 3″ beads
1/8″
– 3″ beads
Incl.
Accessories
2
x 8″ straws; 2 x 2″ tips
Needle-nose
tip
–
–
Opt.
Accessories
–
–
40″
length barrel
–
–
Price
$28.35
$48.25
$120.00
*Dow has indicated that it is coming out with new PRO 13 and PRO 14 guns within the next few months, The PRO 13 will have a steel barrel, nickel-plated can adapter and Teflon check valve. **The new PRO 14 will have a brass barrel, steel trigger and Teflon check valve.
The Pro 15 is a slightly modified Todol Pageris gun, while the Pro 14 takes most of its attributes from the Todal Pur Shooter. The Pro 15 gun isn't much to look at – at least not from a distance, but it has some high-end features that make it the top of the line model, despite its rampant use of plastics throughout the body. In particular, nearly all the important surfaces are Teflon-coated, so that clean up is easier and to help the gun consistently make a positive seal with the can. Add to that a stainless steel tip, and you've got a product that will last a very long time without succumbing to rust or other corrosion. The Pro 15 also has a replaceable tip and tough plastic trigger. While it may not seem as durable as aluminum or steel, it's not doing much to cause it to break and the action is very smooth once you set the flow rate correctly.
Dow Great Stuff PRO 15 Gun Testing
We started by loading up a can of Great Stuff Pro Window & Door Expanding Foam onto the gun. The best way to do this is by pressing down and actually screwing the gun onto the can. This affords you the best possible connection and reduces the likelihood of cross-threading the can incorrectly onto the Teflon-coated adapter. We grabbed a piece of scrap plywood and started running beads using the minimum setting of the flow control valve and then gradually opened it up to attempt large bead sizes. The results speak for themselves: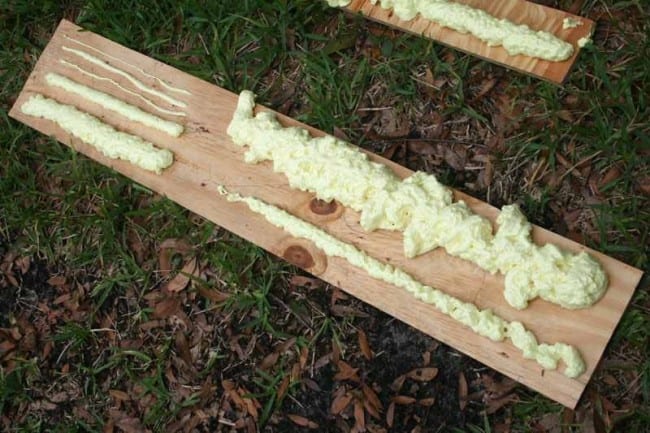 With virtually no learning curve, we could lay down an 1/8″ bead or a much wider line of expanding foam with no difficulty at all. The flow control valve was easily opened up or closed at the rear of the gun and we experienced a very simple and consistent line of foam wherever we wanted it. The gun was also easy to keep in a straight line thanks to the orientation of the can to the handle – which made it easy to manipulate and guide.
After testing the precision of the Dow Great Stuff PRO 15 Gun, we wanted to see how much time and effort it would save us on a pet project we had. This time, we needed a ton of foam to fill an extremely large crevice at the inside elbow of a water oak tree. This is a natural place for water to collect and really do some damage to the tree by encouraging rot and insect infestation. Once we cleared out the crevice, it was nearly 10-inches deep at its lowest point! We let it dry out and then proceeded to fill it with Great Stuff Pro Gaps & Cracks, allowing it to fill and expand as needed to cover the entire area and cause future rain to move around the area and not fill and rot the tree.
Going back after everything had expanded and dried, we took a wire saw, which we typically use for PVC, and created a nice smooth cut along the angle of the tree to give us a diminished footprint of foam and hide the area from view when standing below.
The result was a nicely recessed section of foam that we then coated in roof tar, to ensure the rain didn't work its way into the sliced foam (since we had removed the outer seal afforded by the natural drying of the foam). The finished product now keeps the rain from penetrating deep into the tree. Not your usual application of Great Stuff Foam, but it worked.
We next tackled a couple of windows we were putting in that required Great Stuff Window & Door foam sealant to weatherize them properly. The foam worked perfectly and the Pro 15 gun allowed us to lay down a consistent bead from top to bottom along the window's 2×4 frame. Having replaced a ton of windows, I can say that this was a far easier process than using the cans with the included plastic straw.
Conclusion
After using an expanding foam applicator gun, it's hard to imagine going back to the regular can and straw. In fact, I won't. But professionals will have to ask themselves whether or not the $120 price is simply too high for this tool. We'd have to give a resounding "heck yes" – but since there are two other models, it just means that the Pro 15 remains the elite tool you can buy if you want to. For under $50, we feel the Pro 14 is in the sweet spot and remains the model to get. With that said, you'll see that we gave the Pro 15 a dismal 2/10 Value rating, but the tool itself is fantastic – it gets a 7/10 Performance rating. It's just that you can save yourself a lot of money and buy nearly three of the Pro 14 models for the same money. Do yourself a favor and pick up a Dow Great Stuff Pro Foam Dispensing gun – you won't regret it.