From The Best Tool Gifts For Work To The Best Outdoor Gear For Play, PTR's Christmas Gift Guide Has Something For Everyone!
This year produced some outstanding new tools, along with tons of fantastic outdoor gear, and many make great gifts for the holiday season. We pulled together some of our favorite tools and gear this year to give you some options for the best tool gifts for Christmas 2023!
Best Christmas Tool Gifts for Men and Women Contractors
CMT Orange Tools 7 1/4-Inch Perfect 24-Tooth Framing Blade
A blade's a blade, right? Pros know that's not the case, and CMT Orange Tools' Perfect Framing Blade is a great example. Its thin kerf improves cutting speed and reduces material waste, while laser-cut expansion slots reduce vibration and dampen sound. The shear angle grind on the front of the teeth creates a smooth cutting experience and the high density of the carbide in the teeth ensures a long cutting life. Wrapped up with a pitch-resisting, anti-corrosion, and heat-reducing orange coating, it's a premium blade that offers outstanding value.
Price: $9.97 each
Gerber's Made in the USA Assert features an S30V clip point plain edge blade that offers far better performance than value blends. Its glass-filled nylon handle features a honeycomb structural pattern, allowing it to achieve a crazy-low carry weight of just 1.9 ounces. The thumb stud/pivot lock combination sets this knife apart from the typical frame or liner lock models. But what can make the Assert completely unique to you is that it's part of Gerber's customization program that offers a ton of great ways to get the look you want.
Price: Starts at $175
Great sound, OSHA-certified hearing protection, and a situational awareness feature highlight Milwaukee's RedLithium USB Jobsite Ear Buds. With six sets of earpieces to get the right fit for both comfort and legitimate hearing protection, you can reduce the surrounding noise levels by 22 or 25 decibels, depending on the earpieces you choose. Better yet, the Jobsite Aware function allows lower-level noises through so you can still hear what's going on around you and maintain a safe situational awareness all while enjoying high-quality sound from your device via Bluetooth 5.1.
Price: $179
Metabo HPT really nailed the complete package with its 18V Triple Hammer BOLT Impact Driver. The Triple Hammer design and brushless motor offer fast driving performance while the BOLT mode specifically dials in the performance for working with nuts and bolts. At the same time, it's a compact, lightweight tool, and with a retail price of just $179 for the 2-battery kit, it's the best value currently available for a professional-grade impact driver.
Price: $179 kit
We were already happy with the performance of Hilti's original Nuron metal-cutting circular saw, but the upgraded SC 6ML-22 takes it to another level. This cold-cutting saw operates at 4000 RPM and simply melts through metal cuts up to 2 3/8 inches deep. While the blade is keeping the cut cool and spark-free, the chip collector keeps the mess to a minimum and offers easy dumping when it's full. Wrap in Hilti's excellent ergonomics in the physical design, and you've got one heck of a metal-cutting circular saw.
Price: Starts at $310 (bare tool)
Best Christmas Tool Gifts for Woodworkers and Carpenters
Bessey 360° Trigger Clamps
Bessey has a new take on the traditional trigger clamp that's absolutely brilliant. With the EHKL360 series, the triggers can rotate 360° around the bar into 12 positions, making it super-simple to clamp in spaces where you normally would have to compromise on your jaw engagement. You can even swivel the triggers away to make room for more clamps, and it's easy to convert the clamps into spreaders. The clamps have a 300-pound capacity, and the jaws open to 3.1 inches.
Price: $42.99 – $72.99 per pair
CMT Orange Tools Locked Pro Dado Set
Not all dado stacks are created equal, and CMT's Locked Pro Set is the first to ever UNI EN847 compliance. In short, that means the locked nature of the stack ensures that the elements never come into contact with one another. The magic is due to its unique blade body design and special lock spacers that other brands don't have. Combined with CMT's Orange Shield Coating, you get flat bottom grooves and virtually splinter-free cuts in solid wood, laminates, melamine, and veneer plywood. It's your table saw's new best friend.
Price: $149
After watching group partners Ryobi and Milwaukee hit the market with their track saws, Ridgid fans have been waiting anxiously for their turn. It's here, and it's everything we expect from Ridgid. The performance is confident with precise results. It also includes the features Pros need, and the price tag makes it an excellent value. That goes double when you add in Ridgid's Lifetime Service Agreement. The saw comes with a pair of 27.5-inch tracks along with a track clamp to get you started. You can buy additional sets or 60-inch single rails separately.
Price: $399 (bare tool)
Best Christmas Tool Gifts for Plumbers
Milwaukee Faucet Swap Out Wrench
The Milwaukee Faucet Swap-Out Wrench is a real game-changer when you're dealing with those super tight spaces during a faucet swap. The design is sleek, and the handle is long and slim. This makes it a breeze to reach those tricky mounting hardware spots under the faucets. The handle is also sturdy, so you can count on it for many swap-outs without any trouble. The ends fit perfectly onto mounting nuts, making it easier to remove them without any fuss. Plus, it's got adjustable ball detents in the wrench body, which means it holds onto inserts really well. Ready for ratcheting, screwdriving, and wrenching, stubborn or corroded fasteners don't stand a chance.
Price: $29.99
Why buy a dedicated pipe cutter if you can save money with an attachment for a tool you already own? DeWalt has a PVC and Pex pipe cutter attachment (there's one for copper pipe, too) that fits on your impact driver. It even works if it's not a DeWalt. Tackling up to 2-inch schedule 80 PVC, you simply line up the cut, pull the trigger on your impact driver, and let the tool do the hard work for you.
Price: $119
LedLenser wrapped a combination of manual, automatic, and app-based remote controls along with solid environmental protections into the HF8R headlamp. By adding in hard hat-friendly accessories, it's one of the best headlamps you can get for any trade. The automatic mode makes it particularly attractive for plumbing applications. Of course, it's also a solid bet for your outdoor adventures, and it comes at a price that earns an excellent value rating.
Price: $139.95
Best Christmas Tool Gifts for Electricians
Weller 30-Watt Soldering Iron Kit
Weller has an affordable option when you need a precision soldering iron. Their 30-watt model features a slim pencil grip design and comes with easy-to-change conical, chisel, and screwdriver tips. Best of all, there's a 360° halo LED light surrounding the tip. This lets you see what you're working on no matter what conditions the job has you in.
Price: $24.99
Klein Tools Premium Electrical Test Kit
Klein Tools Premium Electrical Test Kit includes three core tools every electrician needs. The MM320 is a manual-ranging digital multimeter that's a must-have for everything from building systems to batteries. Klein's NCV13P is a non-contact voltage tester that covers standard and low-voltage applications and has an LED flashlight built-in. The RT250 covers your GFCI receptacle testing needs with a backlit digital display. The kit includes everything you need to get started, including batteries and leads. You can buy it for less than $50. For that price, it's handy to have around the house, even if you're not a professional electrician.
Price: $49.99
Greenlee Dual-Shoe Hand Bender 844AH
Forget carrying two benders everywhere you go. Thanks to Greenlee, you can bend 1/2-inch EMT, rigid, and IMC, plus 3/4-inch EMT with one tool. A large foot pedal and standard markings make accurate bending easy. And if you happen to damage the handle, you can easily swap it out with some 1-inch rigid conduit.
Price: $129.99
Best Christmas Tool Gifts for Mechanics and Car Enthusiasts
Uncharted Supply Co Athena Lithium-Ion Jump Starter and Power Bank
Whether you're getting ready for work, a road trip, or overlanding, Uncharted Supply Co can make sure you don't get stuck with a vehicle battery that's too low to get you going. The Athena is a compact lithium-ion jump starter with the capability to handle gas or diesel engines up to 6.0L. The 16,000mAh battery has the capacity to jump up to 15 times on a charge. Plus, you can use it as a portable power supply. It includes USB-C, Micro USB, and a pair of USB-A ports. Never drive away home without it.
Price: $139.99
Flat tires are inconvenient no matter when they happen. That jack that comes with your car? It just adds an extra three layers of frustration to go with it. Make the job easier by letting a battery take care of the heavy lifting. Greenworks' cordless car jack can lift vehicles up to 3 tons and has a max lift of 17 1/2 inches. Even better, it operates using the same 24V battery that powers a full suite of tools and outdoor power equipment.
Price: $129.99 kit
Flex 24V Mid-Torque Impact Wrench
With the Flex 24V Mid-Torque Impact Wrench in your arsenal, you can kiss cords and hoses goodbye (and good riddance). Don't let its relatively compact size fool you. Under the hood, the brushless motor is capable of producing 600 ft-lbs of fastening torque and 750 ft-lbs of breakaway. In addition to three standard operating modes, there's also an assist mode. This helps reduce the risk of overtightening in forward and automatically stops rotation once the fastener loosens in reverse. This is one impact wrench that can do almost everything a mechanic could hope for.
Price: $269.99 kit
Magellan Outdoors Cartop Carrier
Sometimes, your vehicle simply doesn't have enough space for your whole family and all their gear. That's where Magellan Outdoors' Cartop Carrier can save the day. With 18 cubic feet of storage space available, it can hold up to 110 pounds. Plus the durable HDPE construction has a hinged id designed to be accessed from either side. It's also aerodynamically shaped, so it won't kill your gas mileage. The carrier weighs just 30 pounds on its own. This makes it easy to install on roof rack bars up to 4 inches wide.
Price: $299.99
Best Christmas Tools Gifts for Lawn, Garden, and Outdoor Living
WhiteDuck 18-Ounce Cotton Canvas Tarp
If you're tired of dealing with poly tarps that only last a season or two, a WhiteDuck Canvas Tarp is exactly what you need. Made from 100% cotton with an 18-ounce material weight, these tarps are super-durable, have water-resistant coatings, and are treated to be mold, UV, and odor-resistant while allowing moisture to escape so the gear you're covering doesn't rust or rot. Add in rust-proof stainless steel grommets along with reflective tape on the corners and you have a tarp you can actually count on.
Price: Starting at $75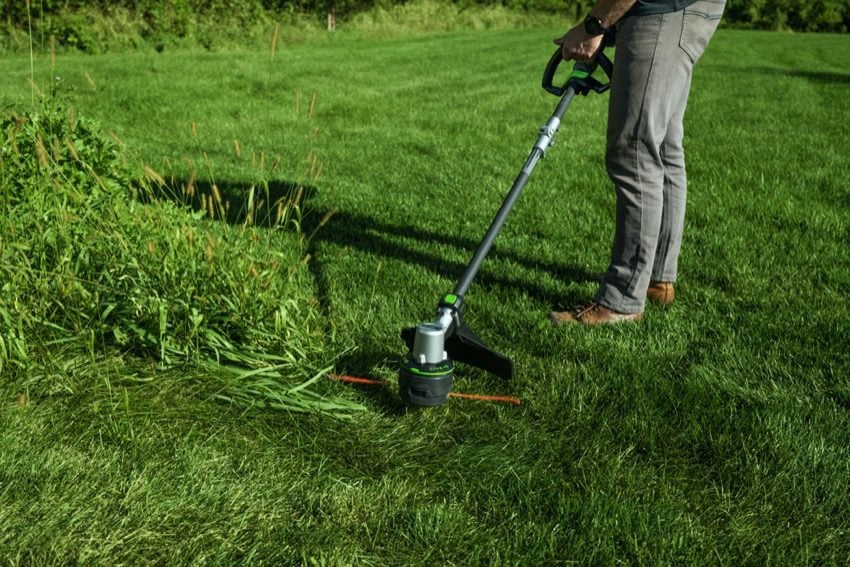 Give the gift of lower frustration this year with EGO's 56V Line IQ String Trimmer. This intelligent lawn care tool automatically feeds line to keep a consistent 16-inch cutting swath. When the line eventually runs out, EGO's super-easy PowerLoad feature eliminates the headaches. Simply run the line to the center, push the PowerLoad button, and watch it automatically load the spool. It really is that simple. Toss in excellent performance and outstanding vibration control with the reduced weight of a carbon fiber shaft, and it's no wonder this was our top choice as the best battery-powered string trimmer for 2023.
Price: $329 kit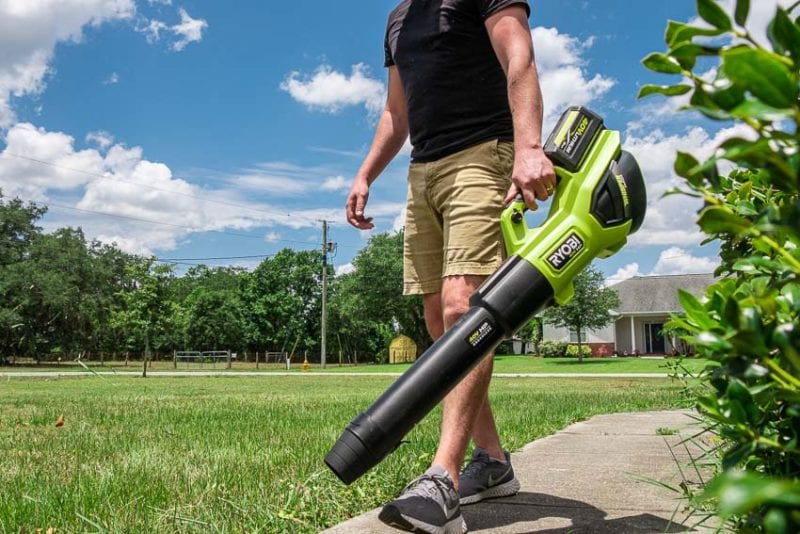 With the 730 CFM Whisper Series Leaf Blower, Ryobi combined outstanding performance and an amazingly quiet operation. Pushing just under 22 Newtons in our testing (way beyond what you get from gas handheld models), it produced just 76 decibels in Turbo mode. The blower is so quiet, your neighbors won't care if it's 4 AM on Saturday morning when you're using it. Sweetening the deal, it comes with two Ryonbi 40V 4.0Ah batteries. These are compatible with a full suite of high-performance lawn care tools conveniently available at your local Home Depot.
Price: $329 kit
The Echo CS-4920 chainsaw is perfect for people looking for the mid-range performance of a legitimate farm and ranch class saw at the lightest possible weight. Its 16 – 20-inch bar capacity gives it a wide range of applications from regular tree care to storm cleanup. It's a great balance of performance and price, perfect for people who need more than a residential saw can give but don't need to put the high hours on it that professional arborists and foresters do.
Price: $379.99
Skil PWRCore 40 20-Inch Single Stage Snow Blower
Skil has been helping you keep your lawn maintained, and now, it can help you when the snow starts falling as well. New for 2023, Skil has a 20-inch single-stage snow blower available on the PWRCore 40 battery platform. Its brushless motor can throw snow up to 30 feet and the 180° chute control sits right in front of the handle where it's easy to change on the fly. There's an LED headlight and the handle folds up to make the storage footprint smaller. Packed with a 6.0Ah battery and charger, you won't need to worry about winterizing when the season's over or if it's going to start after the first good snowfall.
Price: $399 kit
If you want to get into gas pressure washer performance without leaving the convenience of an electric unit behind, the Greenworks 3000 PSI electric pressure washer is a great way to accomplish that. Powered by a brushless motor and running on standard 120V service, it reaches higher performance than most other electric pressure washers can even dream of. Its combination of PWMA-certified performance and conveniently thought-out design make it an easy recommendation for homeowners.
Price: $429
Oklahoma Joe's Rider DLX 1200 Pellet Grill
If you're not on the pellet grill wagon yet, it's time to jump on, and the Oklahoma Joe's Rider DLX 1200 has a ton of great features to give you the wood-fired flavor you're looking for. From low and slow at 200° F to a 650° F direct sear, and everything in between, you can cook just about anything on it. Seriously, try baking a pizza—you won't go back to the oven again. Second generation Pit Control offers dual sensor temperature control to maintain outstanding accuracy during the cook. Plus, the PowerFeed high-torque auger got an upgrade as well. From 4th of July ribs and Labor Day pulled pork to Thanksgiving turkey and Christmas tenderloin, your family won't know what hit them… but they'll be begging for more.
Price: $899
Best Christmas DIY Tool and Household Gifts For Homeowners
Duke Cannon Bourbon Solid Cologne
It's time to rethink your cologne. Duke Cannon has what you need to smell like a man who's got it all together. The Solid Cologne line uses a balm to help avoid having a spray scent everywhere and comes in a tin that's travel-friendly. Of the various scents available, we recommend the Buffalo Trace. It offers a bourbon-inspired scent that delivers a woodsy, charred oak barrel aroma and lets the folks around you know that your presence is as impeccable as your bourbon selection.
Want even more? Duke Cannon has a ton of great Christmas bundles, such as the Beard that Stole Christmas, Winter Survival Tube, and Jingle Booze soap set!
Price: $25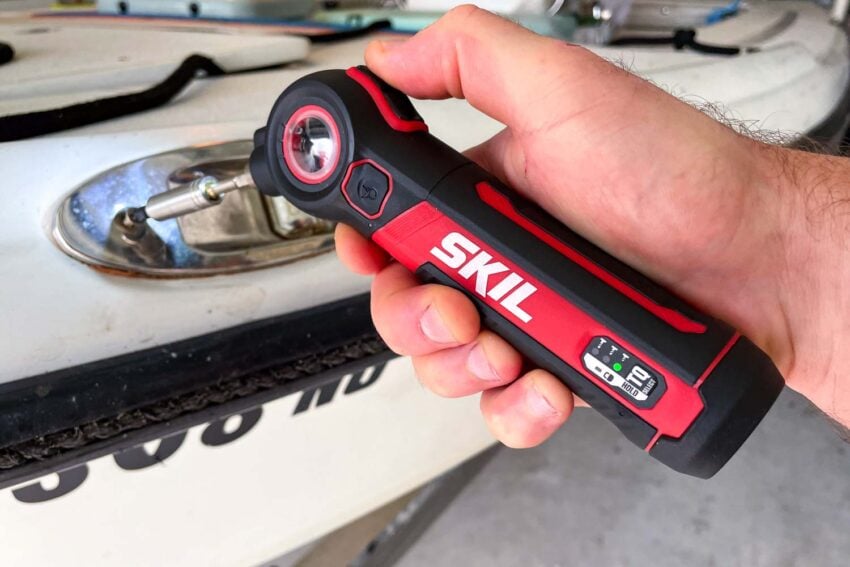 The Skil Twist 2.0 Cordless Screwdriver is one of the handiest tools you can add to your toolbox for a wide range of light-duty screwdriving jobs. The possibilities are near endless: IT, furniture assembly, RC and drone repair, electrical installation… and the list goes on and on. Skil's attractively low price tag makes this a low-risk purchase, so give it a shot—we bet you'll be reaching for the Skil Twist 2.0 more than you might think!
Price: $29.99
Breckenridge Distillery Bourbon Whiskey, A Blend
When you think bourbon, you're probably thinking about Kentucky, but Breckenridge Distillery out in Colorado will make a Western connection that's tough to beat. Their A Blend high-rye bourbon whiskey is aged for a minimum of three years in charred, new American oak barrels and cut with snow melt from the Rockies. A deep, honey-amber hue gives way to pronounced aromas of butterscotch, candied orange and apple on the nose while a dry cacao and brown sugar envelop your tongue with lingering notes of vanilla and white pepper on the end. It's an absolute rockstar in an Old Fashioned, where the whiskey outshines the bitters and sugar, ending with a lingering finish as delightful as a first kiss.
Price: $42.99
Comphy Sheet Set
You work hard, and a good night's sleep is key to giving your body the recovery it needs to deliver each day. Enhance your sleep with a set of Comphy bed sheets. Made from microfiber twill, these sheets are lightweight and luxuriously comfortable. Plus, they're wrinkle-free, quick-drying, treated to release stains, protective against allergens. They're even recyclable and scientific studies have proven their ability to promote sleep. So toss those cheap sheets away and treat yourself to a more comfortable and restful sleep tonight.
Price: $179 (king size)
Of the many, many products Ryobi released this past year, the 18V Mid-Size Spot Cleaner is the one that makes its rounds among all of our team members. Vehicles, carpets, rugs, and furniture are all on the menu, and the cordless operation makes it incredibly convenient to use. The 4-foot hose offers excellent reach, multiple nozzles and brushes allow you to attack everything from new spills to old stains, Ryobi includes a 6-ounce bottle of OXY cleaner to help you get started, and the unit contains the mess to make cleanup a snap.
Price: $169 bare tool, $219 kit
HART has been on a roll with its vacuum lineup. In fact, it's on two rolls with the 20V Brushless Dual Roller Stick Vacuum. With a typical brush roller in the back, a removable front microfiber brush does a better job of picking up the larger debris, dust, and hair that can often be left behind or tangle on other vacs. HART's brushless motor offers strong performance and longer runtime while multiple accessories and a detachable main shaft open up a versatile range of cleaning options.
Price: $219
Typhur Dome Air Fryer
If you're like us, the #1 reason you haven't bought an air fryer yet (or complain about the one you have) is that it's too small. The Typhur Dome Air Fryer solves that problem with a massive tray that's 12.6 x 12.6 inches, and an overall capacity of 5.4 liters! Better yet, it has an excellent range of 105° – 450° F, 10 cooking presets, a self-cleaning mode, a dishwasher-safe cooking tray, and it's app-controllable from your phone. Seriously, air frying doesn't get any better than this!
Price: $499
Benchmade 3-Piece Cutlery Set
If you're like us, you know Benchmade for their outstanding folding knives, such as the Bugout and Redoubt. But did you know they make high-end cutlery? Benchmade's 3-Piece Cutlery Set is a great way to combine your love of the outdoors with your passion for the kitchen. These Made in the USA Chef, Utility, and Paring knives use premium quality materials, come with a wonderfully sharp edge, and are customizable to make them uniquely yours. Plus, they're backed by Benchmade's lifetime guarantee that includes free sharpening, maintenance, and cleaning.
Price: $750 and up
Best Christmas Tool and Outdoor Gear Gifts: Workwear, Clothing, and Safety
Meindl Extra MT8 Heavyweight Merino Wool Socks for Men and Women
Whether you're at work or play, taking proper care of your feet is key to having a great day. Meindl knows what it takes to protect your feet, and their Italian-made Extra MT8 Heavyweight Merino Wool Socks are perfect for the winter season. Using a 46% Merino wool blend, these socks are soft and cushiony without any itchiness or abrasion that comes from other wool blends. The Merino wool naturally helps regulate temperature, wicks away moisture, and resists odor from bacteria. Plus, the socks are left/right specific, giving your feet a secure, comfortable feeling from the moment you put them on until you take them off again.
Price: $30
5.11 Alta Belt
5.11's Alta belt is made from 1.75-inch wide nylon webbing and features a parachute-grade metal buckle with a sliding tension bar. While the Kangaroo or Black color options can make your outfit look good, all that durability isn't just about keeping your pants up. This belt easily doubles as a tie-down or carry strap, and can serve dozens of different functions in the field with the strength to hold a heck of a lot more than standard department store belts could ever dream of. Available in sizes small to 4XL, these run a little small, so order a size up.
Price: $42
ORTOVOX Whiteout Mask Baclava
Whether it's work, chores around the house, fishing, skiing, or dozens of other outdoor activities, Old Man Winter can make you uncomfortable. When a hat or hood won't cut it, the ORTOVOX Whiteout Mask Baclava gives you the cold weather protection your face needs. Made from 100% Merino wool, it naturally helps regulate the temperature and wicks away moisture while remaining soft and comfortable on your skin. Better yet, Merino wool naturally resists odors and it's an environmentally-friendly, sustainable material.
Price: $45
Superfeet Green Insoles for High Arches
High arches can be a real pain for your feet, but Superfeet has the relief you need. Whether it's your work boots, hiking boots, running shoes, or daily wear, Superfeet Green insoles are specifically designed for high arches. With a high level of cushioning and cut-to-fit design, they're much more affordable than custom orthotics. With a deep heel cup, stabilizer cap, and an all-natural odor control coating, these insoles can last up to 12 months or 500 miles.
Price: $54.95
Tecovas Goat Billfold
There comes a point in your life when you appreciate the quality and durability of a real leather wallet, and Tecovas has several to choose from. Of those, we're hooked on the Goat Leather Billfold. Handcrafted from real goat leather, the classic style has the space you need to carry your cash and cards. Plus, this leather patinas quickly thanks to its natural oils and soft hide, helping it age gracefully while working hard—just like the Western integrity that inspires it.
Price: $65
Black Diamond Women's Project Flannel
Made from 100% organic cotton and carrying the ECO sustainability label, Black Diamond's Women's Project Flannel is your go-to cozy shirt for cooler weather. Its brushed cotton plain weave softens with wear, and its regular fit gives you freedom of movement when it's time to work. In short, it's a great flannel you can feel great about about buying. It's available in extra small through extra large sizes with 3 color combinations to choose from. Need even more warmth? There are also heavy flannel and lined flannel versions.
Price: $90
Filson Elk Heights Camp Shirt
Filson's Elk Heights Camp Shirt is everything you want in a comfortable 3-season shirt. It's made from 6-ounce cotton woven into a flannel fabric. As for the style, the hem is straight, so it looks great untucked—exactly what you want when you're going for comfortable relaxation. Up top, the Cuban collar style has no structure, ensuring that it always lays flat and open without the need to iron it down. When you leave the top button open, it helps promote cooling airflow.
The Elk Heights is available in men's sizes small – 3XL, and in 4 plaid color options.
Price: $115
Ariat Riveter Women's Work Boot
Ladies, if you're on the hunt for a new pair of work boots designed specifically for the unique shape of a woman's foot, Ariat has you covered with the Women's Riveter work boot. These certified work boots are lightweight and waterproof, designed to provide all-day comfort. It's also a versatile lineup, with 6-inch and 8-inch lace-up, pull-on, and Chelsea styles to excel in a variety of working environments. While you're shopping, be sure to check out the Women's Riveter line of jeans to perfectly complement your boots.
Price: $164.95 – 204.95
Brunt Distasio Composite Toe Work Boot
Brunt Workwear has been making a name for itself with a direct-to-consumer business model that cuts out the middle man and offers high-quality workwear at a lower price. Among their latest options, the DiStasio was described by PTR reviewer Josh McGaffigan as "the most comfortable boot straight out of the box" he's ever worn. It's a logger style with a composite safety toe that offers the traction and stability you need on uneven and unstable ground. The story behind the name is all about excavation, and you'll find the DiStasio excels in that environment.
Price: $179
Backcountry Runoff 2.5L Rain Jacket
When you want quality rain gear with the smallest possible footprint, trust the crew from Backcountry. Their Runoff 2.5L Rain Jacket starts with a waterproof Pertex membrane, adds a DWR coating, and finishes with fully sealed seams to keep the rain out. At the same time, it's a breathable fabric with additional ventilation built-in. In true mountain adventure form, the jacket folds up into its own chest pocket, making this lightweight rain jacket supremely packable whether you're overlooking the Rocky Mountain or your latest jobsite.
Price: $179
Icebreaker Men's Merino Cable Knit Crewe Sweater
Whether it's a date night with your wife, the annual Christmas cantata, or you just want to look sharp off the clock, Icebreaker's Merino Cable Knit Crewe Sweater has your back. Made from 100% Merino wool, it's soft and does a great of regulating your body temperature with naturally resisting odors. Plus, there's no itch like you get from some wool garments. Available undyed or in Laden green, it's a fantastic choice for cold days and doesn't mind being packed for your holiday travels.
Price: $260
Best Christmas Outdoor Gear Gifts for Dad and Mom
Savage Gear Panic Popper V2
There are topwater poppers, and there's the Savage Gear Panic Popper V2. Its shape, cupped mouth, and even eyes were inspired to better mimic a bait fish trying to escape predators. Designed to work with a faster panic than other poppers or walk-the-dog lures, it generates ferocious strikes when fish are feeding. Its heavy-duty hardware can withstand 120 pounds of pull pressure from large fish, and it has the weight to cast long distances to cover a large area. It's available in four sizes and 12 colors.
Price: $15.99 – $25.99
Sawyer Permathrin Bug Repelling Treatment
Sawyer's Permethrin Fabric Treatment offers a way to look at insect repellent. Instead of spraying on once the pests come out, you pre-treat fabrics ahead of time. Clothing, shoes, tents, backpacks, and hats are all fair game. Simply apply, let dry, and for the next 6 weeks or 6 washings, the Permethrin does its work without any odor or staining. You can even spray it directly on your dog to help control fleas and lice for 35 days and ticks for 6 weeks.
Price: $17.99 (24-ounce)
VSSL Nest Pour Over Coffee Maker
How many times have you been on the job or on the trail and thought, "If I could only get a good cup of coffee…"? With the VSSL Nest, your next brew is wherever you are. The Nest kit includes everything you need to make a pour-over coffee, aside from the hot water. There's a coffee beans/ground holder, pour-over kit, filter, and cup. The best part is that it all nests together for a coffee-making kit that's easy to carry. Combine it with a VSSL grinder to use fresh beans, heat up some water, and you've got a better cup of Joe than you'll find at any drive-thru.
Price: $75
Fenwick Eagle Fishing Rods
Featuring a blend of 24 and 30-ton intermediate and high-modulus graphite, the Eagle series is a high-value way to enjoy the benefits of Fenwick's legendary fishing rod design. It's all about balance to reduce fatigue and sensitivity to feel when the most subtle of fish inhale your lure wrapped into a proprietary new design for 2023. There are 56 models available, covering both spinning and casting rods, and ensuring there's an Eagle rod for every species and situation you fish.
Price: $99.95 – $109.95
Moultrie Mobile Universal Solar Power Pack
If you use trail cameras or automatic feeders, you know the pain of trying to maintain power deep in the field. With Moultrie's Universal Solar Power Packs, the chore is a lot less painful. Available in 3.4W or 10W configurations, a built-in power bank supplies consistent power and recharge via solar panel. Don't worry about the weather, either. These are built for the outdoors with an IP65 rating and automotive-grade cable sheathing, plus a retainer clip to avoid accidental unplugging. Designed to play well with others, each unit includes cables for 6V and 12V power and works with most major brands of trail cameras and feeders.
Price: $99.99 – $129.99
Penn Squall II LD Fishing Reel
From the wintertime inshore grouper bite to offshore blue water trolling for giants and all the miles in between, the PENN Squall II Lever Drag reel is for anglers who demand both power and precision from their conventional reels. Far from conventional in design, this reel blends a light graphite composition with outstanding strength. Stainless steel main and pinion gears accompanied by the PENN Dura-Drag system give you the advantage in making sure the strike you worked hard for becomes the memory of a lifetime. It's available in a range of sizes, from 25N to 60, and now includes a 40N High-Speed model as well.
Price: $189.99 – $209.99
Orvis Encounter Fly Rod Outfit
Orvis makes some of the best fly rods and reels on the planet, and there's no better way to get started fly fishing than with the Orvis Encounter Fly Rod Outfit. Don't call it entry-level, though. It has the heartbeat of the Orvis passion from the reel seat to the last guide. This outfit has everything you need to get started except the flies and leaders (and you can order those at the same time). A 5, 6, or 8-weight rod is paired with its corresponding reel and preloaded with line. Plus, it comes in a travel case that fits perfectly in your vehicle or on an airplane for travel. Whether you're heading out west in search of cutthroat trout, up to Alaska for the salmon run, or down to Florida in search of a trophy largemouth, there's an Orvis Encounter Fly Rod Outfit for what you're targeting.
Price: $198
Learning about the tech behind the design, Fin-Nor's lens concept makes sense. But does the real-world use back up the claims? Absolutely. The difference in what I can see in the early morning and late evening is, well, night and day. It's not just during those hours, though. When heavy cloud cover rolls in, you should switch to these lenses as well. If you're serious about keeping up your on-the-water A-game from sunup to sundown, you should have a pair of Fin-Nor sunglasses with Lateral Line L4 Low-Light Lenses on your boat every trip.
Price: $199 – $219
Game Winner Full 18-Foot Platform Ladder Stand
Game Winner has you covered while you wait comfortably for your target game to come in range. The 31 x 21-inch platform houses a comfortable mesh seat complete with a flip-up backrest, flip-out footrest, and padded armrests. There's accessory storage on the side and an adjustable shooting rail to help you stabilize the shot. The 18-foot frame is powder coated to improve the durability and help it blend into the surroundings better and can support up to 300 pounds.
Price: $199.99
Milo Action Communicator
The Milo Action Communicator reimagines what two-way communication can be. Instead of relying on radio channels, groups of communicators create a mesh network among themselves, resulting in a completely secure communication system that others can't listen in on. Each unit also acts as a repeater, extending your range beyond the base 2000 feet. Better yet, they're waterproof, have a strong magnetic attachment that won't detach easily, and they're completely hands-free (no button to push). You can even connect a Bluetooth headset if you like.
Price: $249 each
Magellan Outdoors Pro Explore Marine Ice Chest 75L Cooler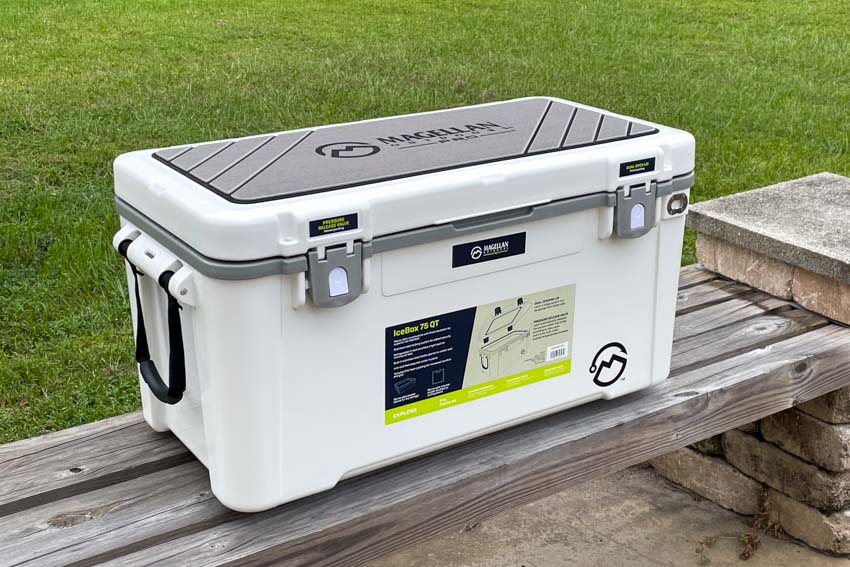 Magellan Outdoors absolutely nails the value proposition on their Pro Explore 75L Cooler. A large capacity and high ice retention start things off before the lid takes off in a completely new direction. Latches on both sides mean you can open it from either side or completely remove it if you like. Plus, the integrated bottle opener, a divider, and a top pad come standard—good luck finding all that anywhere near the price of what you can get this model for from Academy Sports.
Price: $249.99
Redfield Rebel 6 – 24 x 50 IR Riflescope
Redfield packs a ton of value into its Rebel riflescopes. Leading the line for long-range sport shooting and hunting, the variable 6 – 24 x 50 offers clear sighting with the benefit of an illuminated reticle (IR) with 11 brightness settings. The scope is nitrogen purged to keep the multicoated low dispersion lenses from fogging up, and the elevation/windage adjustments have positive clicks to help you easily keep track of them. Plus, it's glove-friendly and operates on an easy-to-find CR2032 battery.
Price: $299.99
Matador Globerider45 Suitcase
Matador absolutely nailed the fusion of a carry-on bag and a hiking backpack with the Globerider45 With its soft exterior over the internal frame, it's able to meet the requirements of most airlime carry-on dimensions, yet holds a generous 45 liters of volume. Inside, the clamshell opening is a traveler's dream with pockets so intelligently designed and in so many places that it's sure to make the most OCD of packers content. Outside, padded, breathable shoulder and hip straps reveal the Globerider's intent to accompany you into the backcountry once you're off the plane. Plus, they stow out of the way for travel. Built using recycled materials, this is the best overall travel bag we've come across, period.
Price: $350
Maven B.7 Binoculars
Maven's direct-to-consumer business model means that you can get your hands on high-quality optics at fantastic prices compared to similar models from the competition. The premium B-series binoculars are phenomenal, but they've been missing a compact model… until now. The B.7 comes in an 8 x 25 or 10 x 25 configuration. Folded, they take up a mere 2.94 x 4.76 x 1.99 inches, and weigh just 12.4 ounces, making them an awesome travel companion. Packed with high-end features to ensure outstanding visual quality, our friends at Maven make these in Lander, Wyoming, home of the country's best 4th of July celebrations. If you stop by to visit, be sure to make a reservation at Cowfish for dinner while you're there!
Price: $600 – $625
Aventon Aventure.2 E-Bike
Aventon is getting a lot of love in the e-bike industry for good reason. Their balance of performance, features, and price makes them an outstanding value. Take the Aventure.2 for example. This fat tire bike is built for offroad adventures with a 20 MPH throttle top speed, 28 MPH pedal-assisted top speed, and a 60-mile max range. Worried about Class 3 restrictions? No problem—you can set it to Class 2 mode. Add in an 8-speed cassette, Shimano groupset, and 55-pound rear storage capacity, along with built-in headlights, taillights, and turn signals, and the Aventure.2 is your new favorite travel companion.
Price: $1799