DR Power Chipper Shredder Reduces Debris Around Your Property
Owning acreage is a nice luxury but it comes with higher maintenance needs, especially if you have a lot of trees on your property. As we roll into fall, we took the DR Power Premier 310 Chipper Shredder up to the farm in Georgia to help PTR reviewer Luke Smith with some of the cleanup chores.
DR Power Chipper Shredder Performance
Powerplant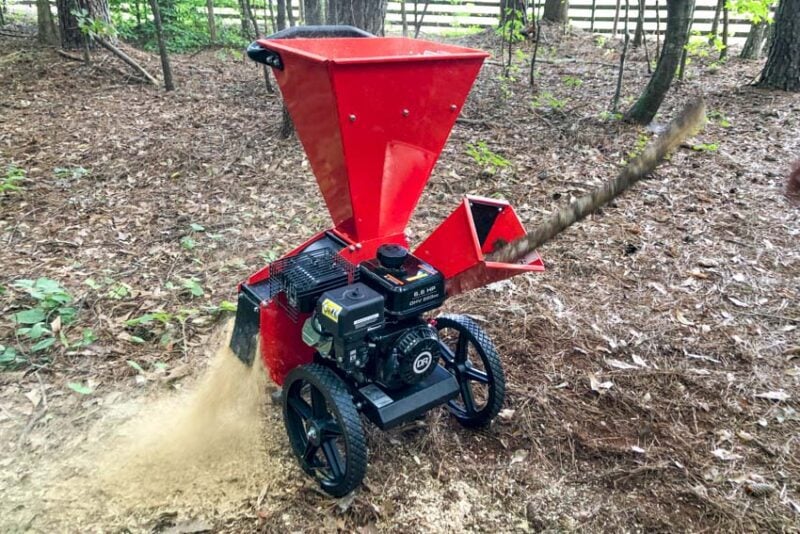 For the Premier 310, DR Power uses a 233 cc gas engine that produces 6.6 HP and 11.1 ft-lbs of torque. As the smallest in the lineup, it's the most fuel-efficient and is capable of shredding branches up to 3 inches.
If you need more power and capacity, there are options. The Pro 410 gets you to 4 inches with a similar design. For an ATV/tractor tow-behind option, the Premier 375 handles branches up to 3.75 inches, and the Pro 475P does 4.75 inches with a Category 1 PTO tractor drive. The Pro 475P is also available as a standalone tow-behind as the Pro 475. The Pro XL501 is the strongest in the lineup with a 5-inch capacity and tow-behind design.
Proper Feeding
If you're new to chipper shredders, the two hoppers are for different applications based on the way the debris engages the chipper knives or shredder hammers. The smaller side hopper takes branches up to 3 inches and does the hardest work. DR Power's beefy Pro-Spec alloy steel chipper knives turn at 231 fps (158 MPH) to make quick work of those branches. It self-feeds, so you only need to help support the weight as the machine takes care of the rest.
The larger top hopper accepts debris up to 1/2 an inch. From this direction, eight free-swinging hammers shred smaller debris down.
It's important to use the correct hopper. If you put larger branches in through the top, they won't shred down as small and can bind up the drive. If that happens, there's an access door to help you dig the larger chips out.
As you feed, the DR Power Premier 310 chipper shredder reduces your waste volume by a 10:1 ratio, directing the chips out through a specially-designed screen on the side. When you're done, feel free to use those chips however you see fit.
DR Power Chipper Shredder Design Notes
Portability
DR Power goes with a high-wheel design on the Premier 310. Its 14 x 2-inch wheels roll easily across a wide range of ground from concrete pads to trails. A handle on the large hopper helps you move it and a kickstand on the bottom offers stability during use and storage.
While this model isn't towable, it's not stuck in a limited area. At 129 pounds dry weight, Luke and I were able to lift it into the back of the truck and into a UTV to work in different areas around the farm. Just be sure to strap it against the bed or frame as you travel.
Additional Highlights
Manual recoil start
0.9-gallon fuel tank (3.4L)
DR Power Chipper Shredder Price
As the smallest in the line, the DR Power Premier 310 is also the most affordable. The list price is $969.99 and it is on sale for $849.99 at the time we're writing. DR Power backs it with a 2-year residential warranty or a 90-day commercial use warranty. Here's the full price list if you're interested in any of the other models:
Premier 310: $969.99
Pro 410: $1499.99
Pro 400 $1499.99
Premier 375: $2199.99
Pro 475: $3499.99
Pro XL501 $3799.99
The Bottom Line
The DR Power Premier 310 Chipper Shredder did an excellent job helping us clean up fallen branches around the trails we use for horse riding. While some properties will certainly need the higher capacity of some of DR Power's other models, the Premier 310 is a convenient, affordable way to help keep your property looking great throughout the year.
Specifications
Model: DR Power Premier 310
Power Source: DR Power 233cc, 6.6 HP gas engine
Engine Torque: 11.1 ft-lbs
OilL 10W-30 or 15W-39
Starting: Manual recoil
Chipping Capacity: 3 inches
Chipping Hopper: 10.4 x 7.2 in.
Chipper Knives: 4.125 x 1.25 x 0.25 in.
Shredding Capacity: 1/2 an inch
Shredder Hopper: 19.8 x 13.7 in.
Discharge Screen Opening: 0.94-in.
Wheels: 14 x 2 in.
Dry Weight: 129 lbs.