Blowers have been one of the most intriguing OPE tools to try and get a solid grip on since they hit the lithium-ion stage. The nature of the tool demands significant battery capacity in order to get performance and run time that meets the needs of Pro-minded homeowners and commercial crews. The handheld EGO LB6500 56V blower exceeded those expectations with a highly portable 650 CFM powerhouse. Now, product managers and engineers have turned their attention toward the commercial and large residential market with the new EGO 56V backpack blower.
This one moves 600 cfm of air—that's 600 cubic feet per minute. And it does it at 145 mph. Lest you think the EGO backpack blower is just a regular blower with a remote battery—keep reading.
Backpack blowers are in the early stages of development in this segment. They were able to get the run time up to 45 minutes by using a pair of 7.5 amp hour batteries. However, the design suffers from a lot of weight and lower performance than most Pros require. Several other manufacturers have products in the works, and perhaps we'll learn more after this year's GIE Expo in Kentucky.
Editor's Note: Check out our best backpack leaf blower article to get our top picks.
EGO 56V Backpack Blower First Impressions
The EGO 56V backpack blower comes in at the same speed, 145 mph, but with as much as 33% greater air volume. With this blower pushing 600 CFM, it's a wonder how they managed to keep the weight down to less than 13 pounds. EGO also paid attention to the ergonomic considerations of users by adding a chest strap and hip belt. That's really going to help users who have to strap this thing on for hours each day.
EGO gets greater performance from the 56V backpack blower, in part, by eliminating the air resistance found in a curved tube design. At first glance, the inline design of the EGO backpack blower begs the question as to why they even bothered to make it a backpack in the first place. After all, it almost seems like it's just a more powerful version of their handheld blower.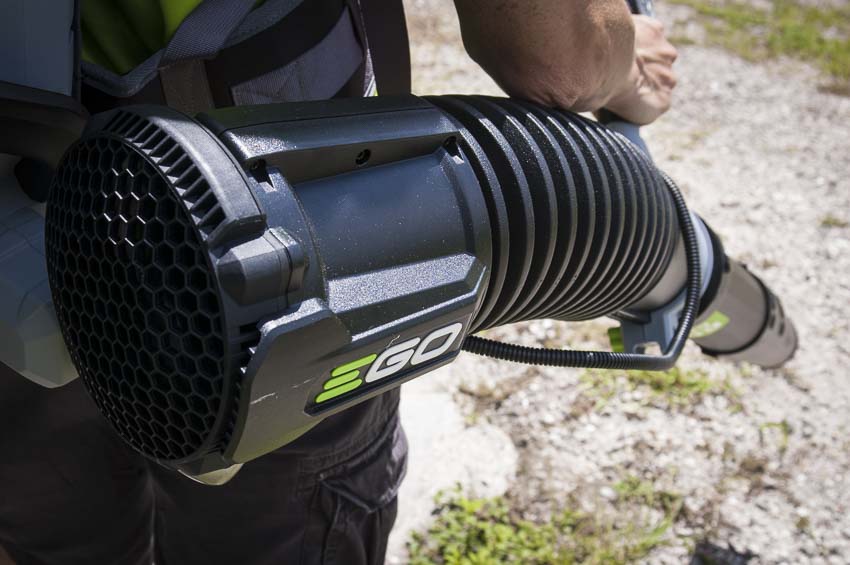 The Waist Belt—A Mandatory Feature
When you get the EGO backpack blower adjusted to fit your back, it all falls into place. If you've ever been backpacking, the hip strap will be a familiar sight. Those of us who do a lot of hiking want to transfer as much weight from our shoulders and back to our hips as possible.
The frame of the EGO 56V backpack blower neatly holds the included 5.0Ah battery. You can also use the larger 7.5Ah model if you need more run-time. A flexible tube runs to the blower motor housing, and it utilizes top-oriented joystick controls to complete the traditional backpack blower feel.
Backpack or Handheld Design?
Given the simplicity of the rig, could EGO have stuck with a handheld design on this unit? Perhaps, but it would have missed the mark for its intended user base. Bearing the weight on your hips is a big advantage for users doing more than just a few minutes of work at a time. It also leaves your right arm available for controlling the airflow without fatiguing it. The design works well whether you're blowing leaves on a large homestead or pulling cleanup duty on a commercial lawn crew.
Editor's Note on Air Volume vs. Speed: When looking at blowers—backpack or hand-held—you need to understand the difference between volume and airspeed. Think of air volume (cfm) as the amount of work you can get done with the tool. A high airspeed is what allows you to get stubborn or stuck material off the ground. That includes wet leaves, piles of dirt, etc. You need both, but cfm is probably the more significant of the two numbers since it's what does the majority of the work.
EGO 56V Backpack Specs
Model: EGO LB6000
Brushless motor
Variable speed throttle w/lock-on
Run time: 120 minutes (low), 22 minutes (high), 15 minutes (turbo)
Air speed: 145 MPH
Air volume: 320 CFM (Low) to 600 CFM (Turbo)
Noise: 64 dB SPL
Battery: 56V 5.0 Ah Arc-Lithium, 280Wh
Adjustable harness with waist belt
Weight: 13 lbs.
Warranty: 5 years
Includes: Backpack blower, 56V 5.0Ah battery, charger, user manual
Price: $199
What About the EGO Backpack Blower Performance?
When we visited the Chervon factory in China, we took the EGO 56V backpack blower inside for a test drive. We used it to blow around a room full of 3-inches of wet sawdust. Back home, I tested it again on a residential home and around the PTR Shop. Having reviewed over a dozen handheld and backpack blowers (including two other EGO models), I've developed a good feel for these units.
When using the EGO backpack blower I quickly found a very natural position for both the backpack frame and the vertical handheld controls. Moving grass and dirt at high speed was easier than I expected, given my experience with other cordless blowers. In China, I easily blew a solid 4-foot path through wet sawdust. Even in more densely packed, wetter sections, a solid burst in Turbo mode helped the EGO backpack blower break up the mass nicely. Back home, getting moist clippings off driveways and sidewalks shouldn't prove to be an issue.
EGO 56V Blower Power and Runtime
Run time is on par with what we're used to seeing. You should be able to get at least 15 minutes in High power from one 5.0 amp-hour battery. You'll get more than I care to test in one sitting in Low (EGO claims over 100 minutes). Of course, it only gets better with one of the EGO 7.5 amp hour batteries.
In our testing, the EGO 56V backpack blower demonstrated more power than we've experienced in any other lithium-ion blower. While I think it's proved itself capable for the homeowner with acreage to maintain, it's in the middle of the pack with respect to gas-powered backpack blowers. Compared to a commercial model like the ECHO PB-770T backpack blower, it will come up a tad short, but it's close. It also doesn't require ear protection…or gas—and that's something.
The 600cfm EGO 56V backpack blower is pushing the market as far as practical specs go. Pros may want to get closer to 200 MPH before they jump on board. At that point, they'll be forced to acknowledge a Li-ion blower is at the top end of what gas-powered blowers can achieve.
Here's a video of the EGO 56V backpack blower making quick work of some wet sawdust:
Conclusion
With each new model EGO has produced, they've pushed the limit farther than anyone else at the time. Just when someone else appears to catch up or surpass them, they jump right back up to the lead, leaving a pretty substantial gap to second place.
Now they've done it again.