EGO Zero Turn Riding Mower Line Adds A 52-Inch Option
The team at EGO whet our appetites about a ZT they had in the works a while back. After a successful entry with their 42-inch EGO battery-powered zero turn riding mower, there's now a 52-inch option for larger lawns.
Check out our video review of the EGO Z6!
Pros
Uses the same 56V ArcLithium batteries as other EGO lawn care products
Onboard fast charging system
LED lights cover both safety during the day and low/no-light mowing
Adjustable seat is comfortable and fits a wide range of heights/weights
Eyes-forward LED charge status indicator
5 drive and cutting speeds
Powerful cutting matches the experience of cutting with a gas-powered residential ZT
Easily cuts 1-1/2 acres on a charge with 2 acres possible on the stock battery set
Cons
Unconventional 1/3-inch deck height increments
EGO 56V Battery-Powered Zero Turn Riding Mower Power Source
Perhaps most importantly to current EGO users, they're keeping their riding mowers on the same battery platform as the rest of their 56V lineup. Each mower holds up to six batteries.
The 10Ah batteries that come with the 42-inch model give it a potential capacity of 3360 watt-hours. Four batteries come with the kit, so you have 2240 watt-hours to work with out of the box.
The 52-inch model comes with six 12Ah batteries for a total capacity of 4032 watt-hours.
Let's not overlook the importance of EGO's design. By using their 56V battery and Peak Power technology, they use the same batteries as the rest of their tools. You can pop them out to use in other EGO 56V tools or use the batteries you already have to extend your mower's runtime. You can also swap the batteries out if you have a larger area to cover than what you can get from a single set.
If you want to swap in other packs, there is a minimum capacity you need to hit. We tested it with 10Ah, 7.5Ah, 5.0Ah, and 2.5Ah batteries and any combination of at least 15Ah brings the mower to life.
Charging an EGO 56V Battery-Powered Zero Turn Riding Mower
Another impressive part of the system is the charger. It's capable of charging up to six batteries simultaneously and charges them while they're on the mower.
Four 10Ah batteries take 2 hours, and a full load of six takes 3 hours. For the 52-inch model, expect it to have all six 12Ah batteries back to 100% in 4 hours.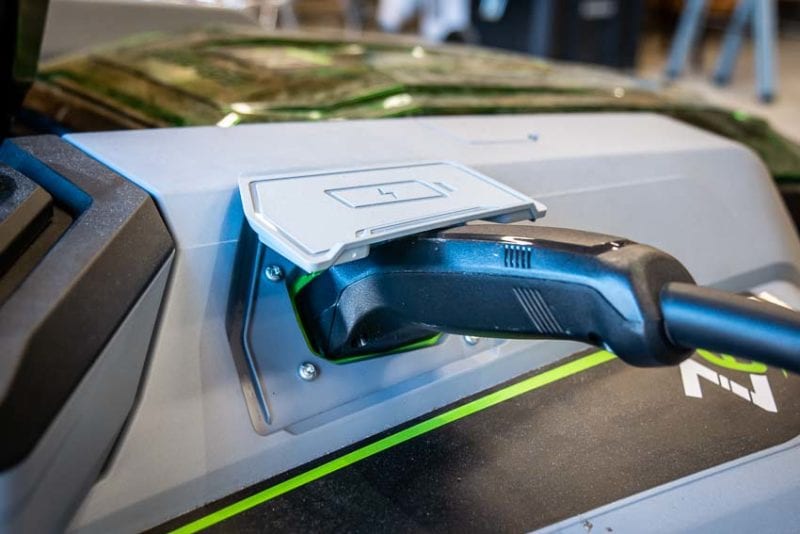 After just 15 minutes of charging, EGO tells us you get enough juice to cover a 1/4-acre of grass for those times when you need to finish up but don't want to wait for a full charge cycle.
We ran the mower down to 6% battery which is where it kicks into limp mode and encourages you to head back to the charger. From there, the four 10Ah batteries took 1 hour, 53 minutes to get back to 100%—slightly faster than EGO's estimate.
The charger is pretty substantial. However, there are keyholes on the back so you can hang it on a wall and you have a generous 15-foot total reach with the cords.
EGO 56V Battery-Powered Zero Turn Riding Mower Additional Highlights
Traditional Design
The mowers maintain a traditional ZT profile with independently-controlled 18-inch drive wheels on the back and 11-inch 360° caster wheels on the front to help you make those tight turns using the lap bars.
Like most ZTs, the long wheelbase of the mower becomes noticeable when you're mowing around objects. It's certainly capable of tight zero-radius turns, but getting the cutting deck to hug smaller trees, buried tank covers, and other obstacles is a challenge.
LEDs for Sight and Safety
Looking at the front, you can see the LEDs. These are always on when the mower is powered up, but hit the light button on the control panel, and you'll activate even more to help you mow in low or even no light.
There's another set of LEDs on the rear that blink when you're in Reverse to get the attention of anyone who might walk across your path.
Height Adjustments
Moving around to the driver's right, you'll find the manual deck height adjustment bar. It adjusts the 42-inch steel deck between 1-1/2 and 4-1/2 inches with 10 levels.
Those levels end up being at 1/3-inch increments. It's a little odd and but isn't a big deal once you find the height you want to stick with.
It's a similar story for the 52-inch model. Aside from the width difference, it's also a fabricated deck instead of stamped.
Device Storage and Charging
The EGO battery-powered zero turn riding mower gives you a handy storage area with a magnetic closure and interior USB charging. It's big enough to store your phone, wallet, and keys if you like.
Next to that is a welcome cup holder with two sizes that hold a water bottle, malt beverage, or even an oversized mug from your local corner store.
If you want to have quicker access to your phone, there's a slot on the right side by the control panel that you can put slide it securely into.
Seating Arrangements
At the center of it all, EGO placed a comfortable seat with pivoting armrests. In fact, it's the most comfortable among the residential battery-powered ZT's we've tested.
Clint was able to find a good setting for his considerably lighter frame but did bottom it out in bumpier areas. A few turns to tighten it up and he was good to go.
On the other hand, my 6-foot, 2-inch, 200-pound build needed to increase the tension and set the seat back some. However, I was also able to find a good fit with room to spare.
Most of EGO's competitors use a non-adjustable spring system that's not as comfortable for notably light or heavy riders.
Eyes Forward Charge Indicator
Looking forward from the driver's seat, an LED indicator sits between your feet to let you keep an eye on your charge levels without taking your eyes off of what's in front of you. It's brilliant and we LOVE it!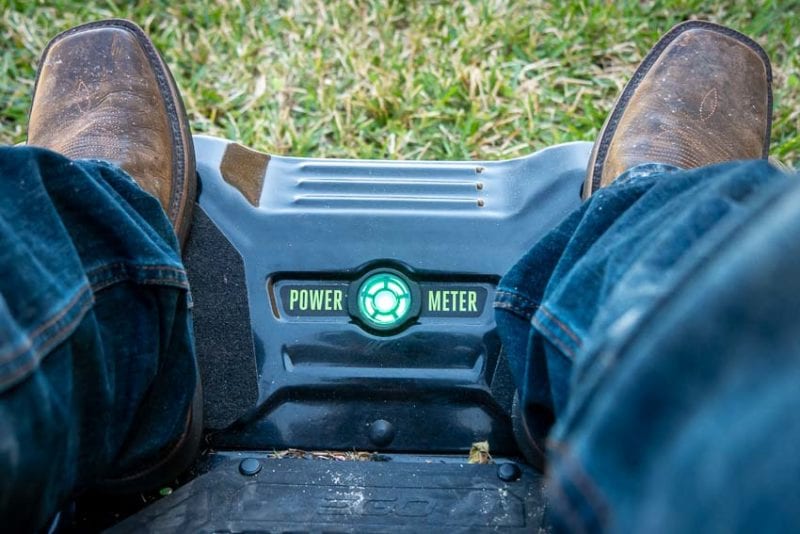 More LCD Info
There's plenty of other information on the control panel, including connecting to your mower with Bluetooth and calibrating for left or right drift. It's by far the most advanced control system we've seen so far. Check out your manual for more details on what's in there.
Deck Wash
EGO includes a deck wash hose connection on the driver's left. Aside from that and blowing off any dry grass that collects around the mower, there's not much else to worry about before putting it away.
Starting the EGO 56V Battery-Powered Zero Turn Riding Mower
For their first ZT, EGO went with a 42-inch steel deck that uses a pair of 21-inch blades. Its four independent brushless motors give it the gas equivalent of a 22 HP engine and a top transport speed of 8 MPH.
The 52-inch model steps up to a 3-blade design with a 25 HP equivalent performance level.
To turn the mower on, make sure the key is in first. Pressing the power button gives you a charge status. Press and hold the power button to bring the mower to life.
Push the parking brake on the left with your foot and you're ready to roll.
Control Freak
The EGO battery-powered zero turn riding mower has separate drive and blade speed controls. Each has four modes plus a bonus you can jump into by holding the button down at its highest level.
Drive speeds while cutting range from 3 to 7 MPH and you get to the top 8 MPH travel speed by pressing and holding the button when it's in high.
For the blade speed, the bottom two speeds are good for light cutting in dry conditions and the top two speeds are better for thicker, wetter grass. There's a turbo mode for the blades if you press and hold the button after getting to the top speed. It's great for particularly tough patches, but we didn't find it necessary for any of our cutting.
There are three drive modes to work with: Control, Standard, and Sport. These define the aggressiveness of the acceleration and turning.
Control mode is great if you're new to zero turn mowers or need to be careful around landscape obstacles. Standard mode feels very much like most residential zero turns we've used while Sport mode gets you into the quickest accelerations and turns. We were even able to spin the tires slightly in Sport mode.
We recommend sticking with the Standard mode unless you're an advanced ZT veteran or need to outrun a summer thunderstorm.
EGO 56V Battery-Powered Zero Turn Riding Mower Performance
Cutting
Cutting a combination of Bahia and St. Augustine grasses, the cut quality was excellent—taking our test yard from 5 inches down to 3-1/2 inches. At least that's what we presume the height was considering those 1/3-inch increments.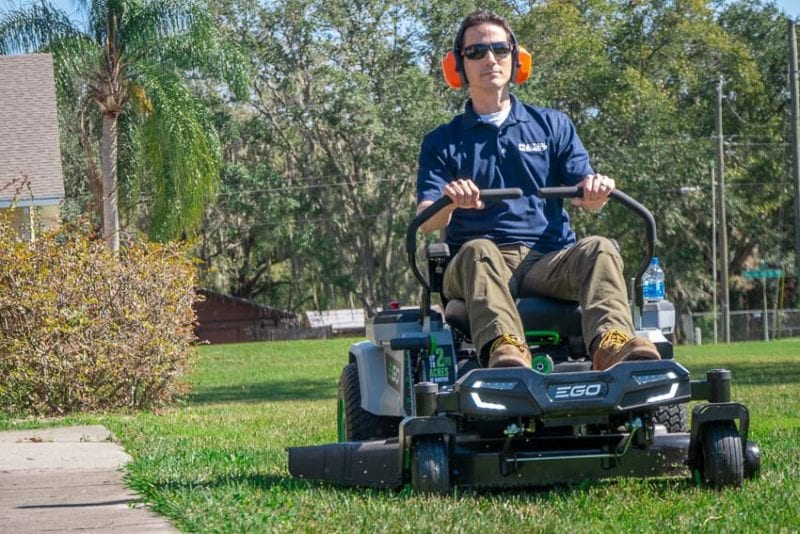 With both mowers, there was plenty of power behind the blades. We could cut at the lower two speeds, but the lift and side ejection were much better at high speed. That's where the mower cuts most like a quality gas model. That's also the setting that should give you the best mulching if you add the optional plug.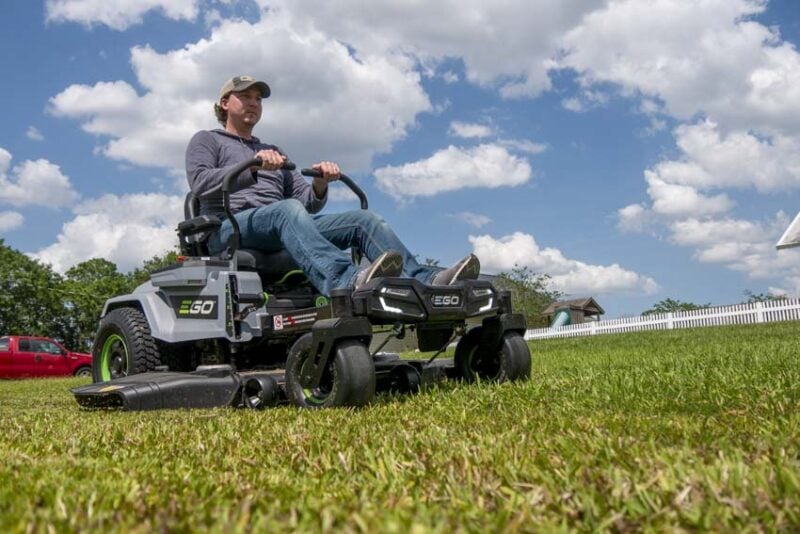 EGO 56V Battery-Powered Zero Turn Lawn Mower Runtime
We had about an acre of yard to cut and the runtime was more than enough to cover that. We ran our runtime test in Standard mode with both the drive and blade speeds set at level 4. That gave us enough juice to mow right at an hour using the 42-inch model and just the four batteries that came with it.
With the same settings and similar lawn conditions, you should be able to easily cover 1 1/2 acres. 2 acres isn't an unreasonable assumption for properties where you're making long runs between turns. Filling out the battery capacity with two more 10Ah packs, EGO claims you can cut up to 3 acres and we believe that's a realistic estimate depending on your specific conditions.
With a larger deck and bigger batteries, you should expect to cut more area. Setting the mower the same (Standard mode, setting 4 for the blades and drive), we cut for 1 hour and 15 minutes. If you could mow at the top speed the entire time, that would cover more than 4 1/2 acres. At a more realistic 4 – 5 MPH average, you're looking at 2 1/2 to 3 acres.
EGO Z6 Zero Turn Riding Mower Price
As a full system with the new charger and four 10Ah batteries, the 42- inch EGO Zero Turn retails for $5499. Given what else is available currently, that's a pretty attractive price for a lithium-ion ZT with the design they're offering.
If the 52-inch model fits your needs better, it retails for $6999 with six 12Ah batteries.
Register your purchase and EGO covers the mower, charger, and batteries for 5 years.
The Bottom Line
The EGO 56V battery-powered zero turn riding mower shakes up what you can expect from a battery-powered rider. It's more expensive than some of the other options, but it's also a step up in design. In our opinion, the design team clearly did their homework, and EGO has delivered the top-of-the-line options for battery-powered residential zero turns.
Have any questions or feedback? Let us know in the comments below!
EGO 56V Battery-Powered Zero Turn Riding Mower Specifications
Models: EGO ZT4204L (42-inch), EGO ZT5207L (52-inch)
Power Source: EGO 56V batteries (at least 15Ah combination required)
Gas Engine Equivalence: 22 HP (42-inch), 25 HP (52-inch)
Deck Material: Steel
Deck Width: 42 inches or 52 inches
Max Coverage: 3 acres (42-inch), 4 acres (52-inch)
Warranty: 5 years with registration
42-Inch Price: $5499 with four 10Ah batteries and charger
52-Inch Price: $6999 with six 12Ah batteries and charger
Learn more on EGO's website.