Gearwrench GSX Tool Chests Smart and Strong
Gearwrench had trade Pros in mind when they designed the GSX Series Storage Chests and Cabinets. These tool storage solutions feature rugged builds and a stable of features to make securing, organizing, and accessing your tools with Gearwrench a smarter option. We got one of their 26-inch chest and cabinet combos for our office. We planned on using it to store our electrical and mechanical testing equipment along with other hand tools and supplies.
Editor's Note: Check out our Best Tool Chests article for our top picks.
Gearwrench GSX Storage Chests and Rolling Tool Cabinets Features
GearWrench really beefed up the durability of its GSX chests and cabinets. They use 20-gauge steel for the construction—that's about what you find on Snap-on's Blue-Point roll cabs.
Additionally, the GearWrench GSX Tool Chests also offer gas-charged lift support struts. These let you effortlessly open and close the top lid. Ours remains open most of the time. Gearwrench made a great call including their logo prominently on the inside.
Industrial-grade Casters
Industrial-grade 5-inch casters (two locking and two fixed) offer easier mobility around the shop. They also lock down and don't move unless you want them to. With tool chests, the locked end casters prevent the toolbox from rolling forward when you pull open the drawers. While this may make it more difficult to initially position, the trade-off makes sense.
Locking Drawers
GearWrench uses 22-gauge steel for the GSX cabinet's drawers. These glide on ball-bearing slides for 100-pounds of load capacity and smooth opening. A trigger lock system lets you open and close the drawers naturally. Just grasp the handle and you automatically squeeze the release mechanism that lets you open the drawer.
Each drawer also includes a durable black foam mat liner that you can install. We recommend using spray adhesive to keep it from sliding around as you load the boxes with tools.
The drawers open and close easily, and we definitely like the locking feature. Nothing can open unexpectedly on you. If you plan to roll these boxes around, that can save you lots of potential headaches.
While we tested out the 26-inch GearWrench GSX Series Tool Chest and Cabinet, it also comes in 36-inch and 41-inch widths. Pair the tool chests and rolling cabinets together to make your desired systems. The two larger chests also include a built-in power strip with four outlets and two USB ports.
Since our 26-inch cabinet lacked this feature, we added one to the top chest which charges our iPads and label maker.
GearWrench GSX 35-inch 7-drawer Rolling Tool Cart with Tilt Top
If you want something truly mobile, check out the GearWrench GSX 35″ 7-drawer Rolling Tool Cart with Tilt Top. This system includes a built-in charging station, auto-return sliding drawers, and a textured finish. Though the cart feels compact, it still provides over 16,200 cubic inches of storage capacity.
Final Thoughts
We really like what we see with these toolboxes. Having already used the GearWrench Mobile Work Station, we knew we liked the general build quality, color scheme, and design of the GSX line. These tool chests and cabinets provide tons of storage and easy access to our tools. The build quality and style are second to none for the price.
You can, of course, find less expensive solutions. However, Gearwrench does a great job putting out quality products that both look and feel impressive. Once you get your hands on them and feel the drawers and latches you quickly get a feel for the quality.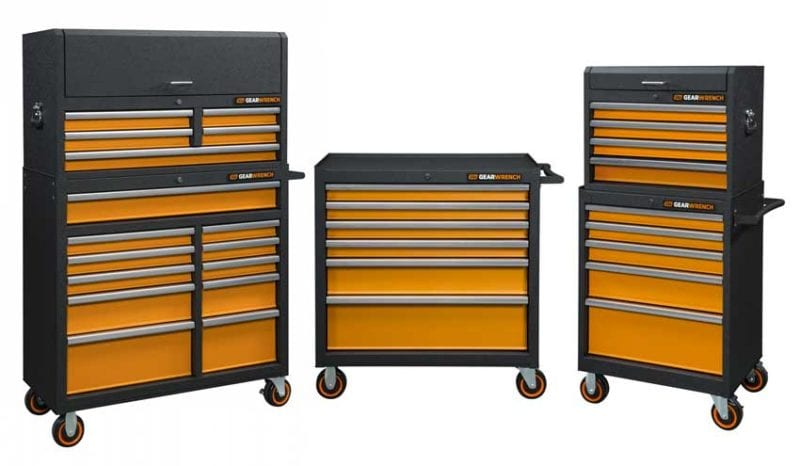 GearWrench GSX Tool Chest Pricing
Here we have a pricing breakdown for the items in the GearWrench GSX Series Tool Storage options.
83240 – 26″ 4-Drawer GSX Series Tool Chest – $499.99
83241 – 26″ 5-Drawer GSX Series Rolling Tool Cabinet – $759.99
83242 – 36″ 5-Drawer GSX Series Tool Chest – $819.99
83243 – 36″ 6-Drawer GSX Series Rolling Tool Cabinet – $999.99
83244 – 41″ 5-Drawer GSX Series Tool Chest – $893.99
83245 – 41″ 11-Drawer GSX Series Rolling Tool Cabinet – $1,410.99
83246 – 35″ 7-Drawer GSX Series Rolling Tool Cart with Tilt Top – $1,458.99
83240G+83241 – 26″ Combo – $1259.98
83242G+83243 – 36″ Combo – $1529.99
83244G+83245 – 41″ Combo – $1869.99
Get more info at the Gearwrench website.