Good work boots are important—particularly when you spend all day on your feet. They have to endure mud, rain, sand, oil, and anything else the job site throws at them. Just a cursory glance at the Georgia Boot Carbo-Tec Wellington work boots piqued our interest. These are boots made with supple leather, and they have a more natural design and feel than your traditional Wellington "cowboy" work boot. Right off the bat, we noticed the Goodyear welt construction and slip-resistant sole. It's not a rugged on the bottom as some work boots, so you can walk around more comfortably—and still retain traction when things get slick. In terms of style, it has that nice cow-leather look and feel, and the texture is authentic as opposed to the smooth oil-rubbed surface you find on a lot of boots. In short, these boots look great—almost too good for the jobsite!
Editor's Note: Check out our best work boots review article for our favorite products for all applications.
Georgia Boot Carbo-Tec Features
I already went into some of the features, but it bears expounding upon some additional highlights. First, the uppers are full-grain leather. This is the only kind of leather I now buy for my belts. It won't pull apart or peel like lesser-quality leather products. In case you're not aware, it doesn't get better than full grain leather. This leather is taken from the top layer of the hide and includes all of the leather's natural grain. This makes it extremely strong and durable. To compare, top grain leather sands away the outermost layer of the hide, making it thinner but more workable. Full grain leather is generally harder to work with—and it costs more. You will also find this type of leather in the best tool belt rigs.
While full grain leather often includes imperfections—that's part of its beauty—Georgia Boot must be pretty selective. I didn't notice much in the way of discoloration or breaks in the general quality or pattern of the upper. The natural texture of the leather looked great in our sample boots.
The Georgia Boot Carbo-Tec Wellington Work Boots feature a fiberglass shank that sits between the insole and outsole. It's what gives you the support to walk, and it stabilizes the boot while also allowing it to flex. There's one other benefit to a fiberglass shank—it's airport-friendly. In the days of TSA-Pre(Check), having any metal in your shoes is a sure-fire way to slow down the process. Fiberglass (and nylon) also help reduce weight. Going with fiberglass (or nylon) over steel is my preference, so it was good to see Georgia Boot take this route.
ComfortCore Insole
Next to the durability and styling of a boot comes the insole. Without a comfortable insole, your feet despair. The Georgia Boot Carbo-Tec Wellington work boots use a ComfortCore insole that actually has a "heel plug" for shock absorption. It goes down into the boot right below the heel—so the insole has a heel on it. I personally have never seen this design before. It definitely gives you additional heel comfort when walking and standing.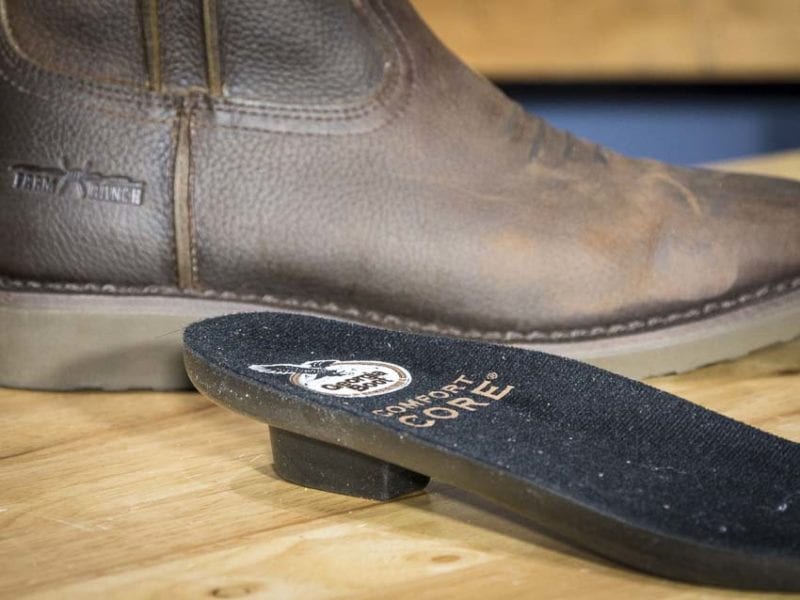 The ComfortCore insole offers a decent amount of arch support, and you can remove it from the boot. You can replace it with the Georgia Boot CC6 insole if needed. That features the heel plug and has the correct shape to seamlessly snug back into the boot. The removability of the insole is helpful for cleaning when needed.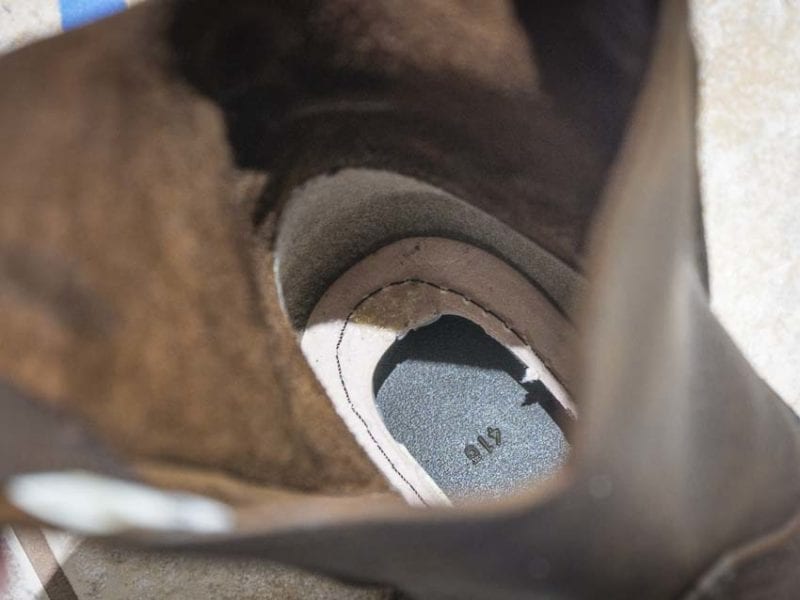 Gripping the Floor
The rubber Carbo-Tec Chevron outsole is oil, chemical, and slip-resistant. It's not as aggressive as many work boots we've reviewed. In fact, it's pretty flat, making for a more comfortable boot when you're just walking or standing. The sole is indeed slip-resistant, and I tested this on a slick epoxy-coated floor as well as concrete covered in fine sawdust. During some woodworking projects, I've been known to lose my footing as I walk over the finer dust that settles to the ground. It's pain, and I welcome any advantage I can get.
Size Options
You can get the Georgia Boot Carbo-Tec work boots in both Wide and Medium widths from size 8 to 13. At the time of this review, pretty much all sizes were in stock and ready to ship.
Wearing the Boots & Wrapping It Up
I did just about everything except walk in the snow with these boots. That would be tough indeed in Central Florida…Nevertheless, I really enjoyed these boots. They feel comfortable, and they have held up well over the past couple of months. They endured several date nights, walking through miles worth of storefronts. They served me well in the shop as I organized the space and did a considerable number of tool tests. They survived what must have been dozens of trips to The Home Depot, and even moved a family from one home to another. If they hadn't been comfortable, I simply wouldn't have kept wearing them.
One of the weightier matters when choosing a boot revolves around…well, weight. A pair of Georgia Boot Carbo-Tec Wellington work boots hit the scale at just over 3 pounds and 13 ounces. That's actually quite light, and likely due to the use of the fiberglass shank and the lack of a reinforced toe.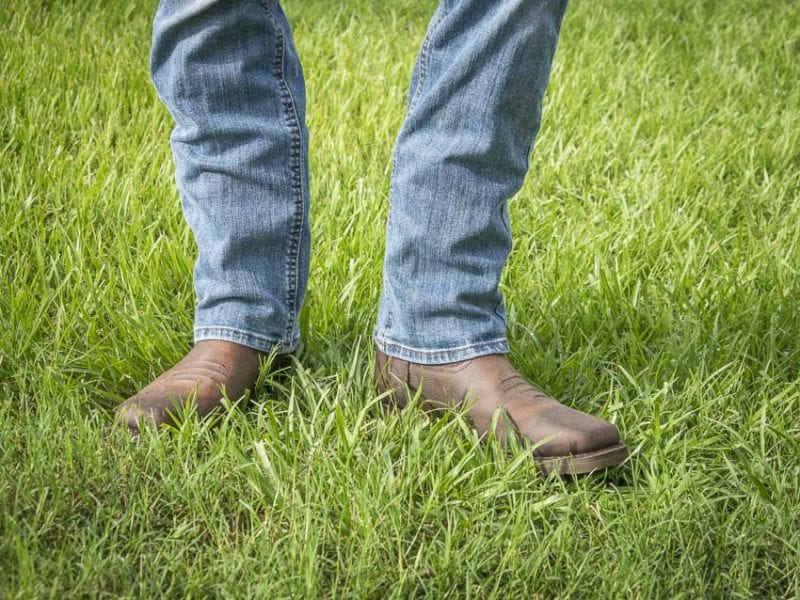 Of course, you expect your boots to hold up, and these really do. What impressed me was that the full-grain leather buffed out all of the minor nicks and scrapes to leave the boots looking new again. That means they not only last—they keep looking good as well. At a price of around $150, I can heartily recommend these boots to Pros looking for a non-steel toe solution for both on and off the jobsite.