Hilti 36V Reciprocating Saw Cuts Where Other Won't Dare to Tread
How many reciprocating saws have you used that are rated to cut masonry? For our team, the Hilti 36V reciprocating saw is the first, setting itself apart in our cordless Super Saw class.
Just as a point of clarification, when we use the term cordless "Super Saw", we're referring to reciprocating saws that have higher power than standard models in the 18V/20V Max class and take advantage of advanced battery technology.
Pros
Excellent metal cutting speed
Rated to cut structural steel and concrete
Very good vibration control
Ultra-high capacity 9.0Ah (324Wh) battery available
Dust collection and cutting assist accessories available
Cons
Expensive
Heavy with a 9.0Ah battery
How Fast Does the Hilti 36V Reciprocating Saw Cut?
We put all of our cordless Super Saws through 4 rounds of speed testing. In our nail-embedded wood test, it posted a very reasonable 10.03-second average. Even though it was several seconds off of Milwaukee's class-leading 6.67 seconds, it doesn't feel slow. However, several of the 18V standard models posted times a little faster.
Moving into metal cutting, the Hilti SR 30-A36 really picked up some momentum. It took an average of 3.75 seconds to cut through 2″ EMT and gave the Metabo HPT MultiVolt (3.58 seconds) a run for the top spot.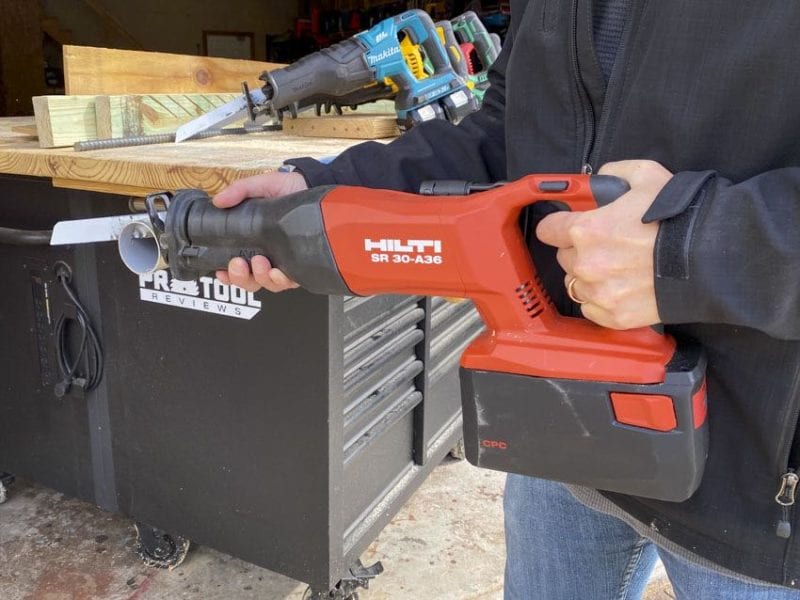 Hilti kept its speed up in thick metal as well. In #5 rebar, it needed just 6.23 seconds on average to cut through using a Lenox Lazer CT thick metal blade. This time, Milwaukee (5.89 seconds) edged it out for first.
We wrapped things up with a roofing sandwich made up of 2×10 nail-embedded PT, tar paper, flashing, and asphalt shingles. Here, Hilti fell to the bottom of the pack with a 22.14-second average. That's nearly 10 seconds off of the lead.
Hilti proved in our metal cutting tests that it has plenty of muscle, but it might make significant gains with orbital action. Here's the thing, though—the Hilti 36V reciprocating saw is rated to cut structural steel and masonry. Seriously, who else does that?
While Hilti's wood cutting times are slower, I have no doubt that this is a saw I want in my hands when I'm working on commercial demo where metal and concrete are far more common than wood.
How Much Vibration Does it Have?
Hilti has some of the best vibration control technology across its entire line of power tools. Its reputation for taming vibration in rotary hammers is almost legendary. That focus applies to its reciprocating saws as well and the Active Vibration Reduction does a fine job making demo a little easier on your arms.
After our team tested each saw independently, only Metabo HPT managed to earn a higher vibration control rating than Hilti's 84 points.
How Big is It?
Anytime you move into the biggest, baddest reciprocating saws available, you expect there to be some extra size and weight. That's definitely the case for the Hilti 36V reciprocating saw.
At 18.8″ long, it's one of the longest in our testing. It's not obnoxious, though. Even our longest saw didn't really feel like it was oversized. In fact, a couple of our corded models are nearly 2″ longer than the Hilti SR 30-A36.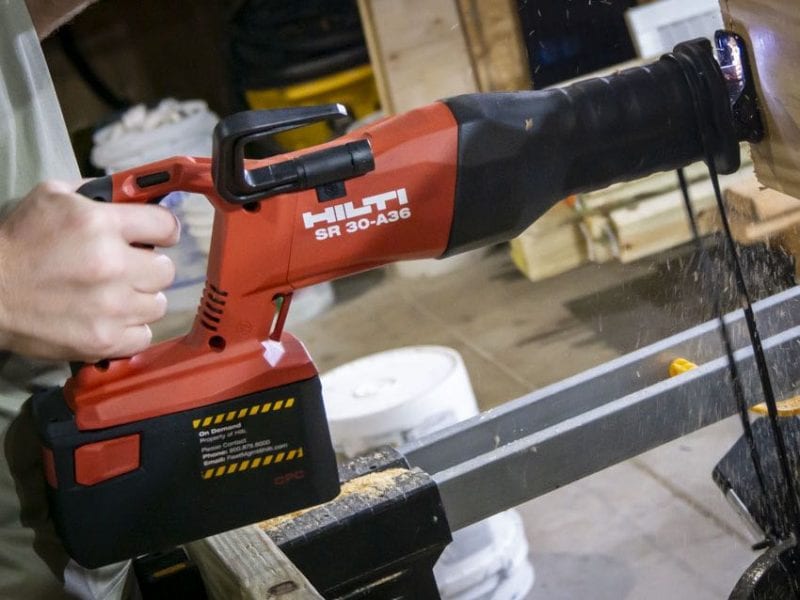 Weight is an interesting topic. As a bare tool, the saw weighs 7.7 pounds. That's right in the middle of the class. We tested it with Hilti monstrous 9.0Ah advanced battery, though. While it packs 324 watt-hours (the highest we've seen in a handheld tool), it also packs on an extra 4.5 pounds.
Consider moving down to the 5.2Ah battery. You'll sacrifice runtime, but you'll save 1.5 pounds.
What Else Should I Know?
Slim Design
Despite the fact that this is a big cordless saw, it has a slim design running down the front handle. It's easier and more comfortable to grip, especially when you're making longer cuts.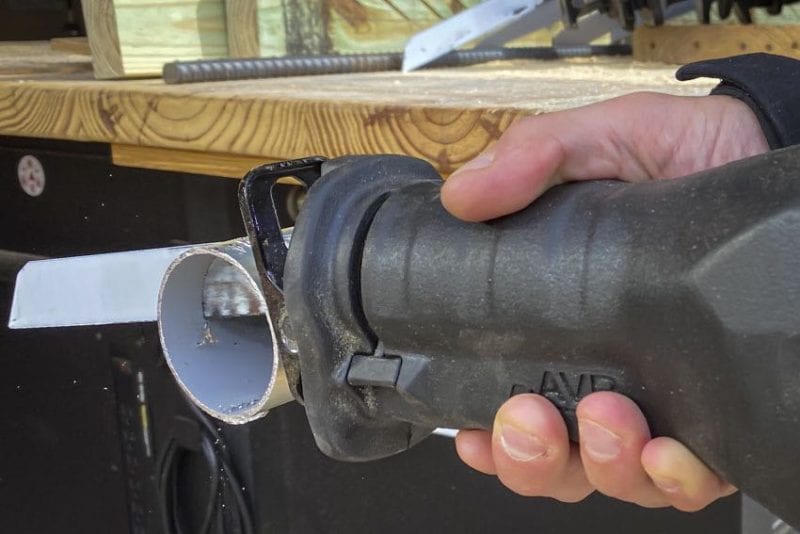 Blade Release Lever
Hilti moves the blade lock off of the shaft and onto the outside of the housing where it's much more convenient to use.
Dust Collection
To date, Hilti is the only brand we've seen design a dust port for their reciprocating saws. It makes a lot of sense considering they rate it for cutting thick metal and masonry.
Cutting Assist
On the side of the front handle, there's an access point. You can grab Hilti cutting assist accessory and install it there. The accessory has a vice system that grabs materials and pivots on the install point to help you make stable, straight cuts. It's something unique to Hilti that we haven't seen from other brands.
Rafter Hook
The Hilti 36V reciprocating saw uses a plastic rafter hook. We're grateful to have it, but the choice of plastic is an interesting call. We haven't had any issues with it on this saw or other ones from Hilti that have the same hook, so it may just be the perception of plastic vs. metal.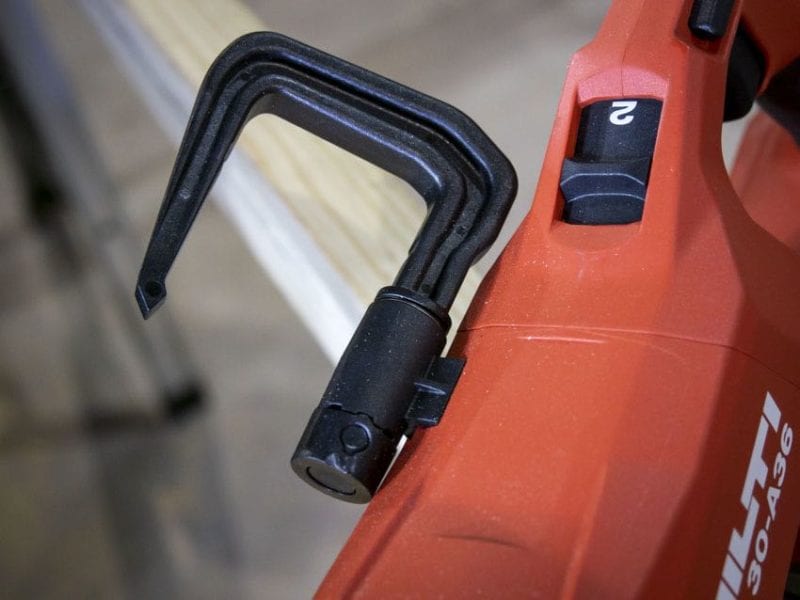 It comes off by removing just one screw, so it's easily replaceable if something does happen and Hilti's 20-2-1 warranty program takes care of the wear and tear for the first 2 years.
Additional Features
2-speed mode selection
Pivoting, tool-free adjustable shoe
LED light
How Much Does it Cost?
The Hilti SR 30-A36 is the brand's top-of-the-line cordless reciprocating saw and has a premium price tag. The saw by itself runs $319. Hilti has a la carte style pricing, and here is what you can expect to pay if you need to add batteries and/or a charger:
2.6Ah battery: $209
5.Ah battery: $269
9.0Ah battery: $319
Single port charger: $45
Single port fast charger: $79
4-port charger: $159
The Bottom Line
If you're looking for a reciprocating saw that's designed for commercial demo work, it's tough to find a better option than the Hilti SR 30-A36. Its ability to take on structural steel and masonry is something we just don't see from other brands.
Buy it if you're looking for a seriously heavy-duty cordless reciprocating saw for commercial applications. Pass if you rarely run into thick metal or mainly tackle medium to light-duty demo.
Hilti 36V Reciprocating Saw Specs
Model Number: SR 30-A36
Motor: Brushless
Strokes Per Minute: 2800
Blade Stroke Length: 1.25″
Adjustable Shoe: Yes
Weight: 11.5 lbs
Variable Speed: Yes
Warranty: Lifetime tool warranty; 2-year battery warranty
Price: $319 (bare tool)