Last Updated on July 11, 2023
The Hilti Nuron Cordless Impact Driver Packs A Serious Punch In A Compact Frame
The Hilti Nuron cordless impact driver is part of the latest generation of tools coming down the pipe from Hilti and it's boasting eye-opening performance improvements. We're putting it to the test and diving deeper to see how it compares to Hilti's other cordless impact drivers.
Pros
Strongest impact driver we've tested
Significant improvement in performance compared to the SID 4-A22
More compact than the previous model
Excellent ergonomics
LED light ring surrounding the collet
Nuron technology
Cons
Slower driving light and medium-size fasteners than some competitors
On the heavy side when you're not using the most compact battery
Hilti Nuron Cordless Impact Driver Performance
Diving into the details on this impact driver reveals some truly impressive specs. It's Hilti's most powerful 1/4-inch impact driver and the most powerful we've seen on paper. The brushless motor produces up to 2,655 in-lbs of torque. The previous leader was Flex at 2500 in-lbs.
For speed, it's a bit slower than some of the top dogs, topping out at 3600 RPM. With some models hitting 4000 RPM or more in high speed, we expect this to run a little slower with light to medium-size fasteners.
That's not an unusual move with impact tools, though. If you consider impact wrenches, as they grow in overall power from compact through mid-torque all the way to high-torque, the top speed tends to drop.
That's what we saw in our 8-inch GRK rugged structural screws test. Driving into stacked OSB, Hilti's Nuron impact driver averaged 10.4 seconds. That's significantly slower than the 5.8 seconds of Milwaukee's M18 Fuel which currently holds the record.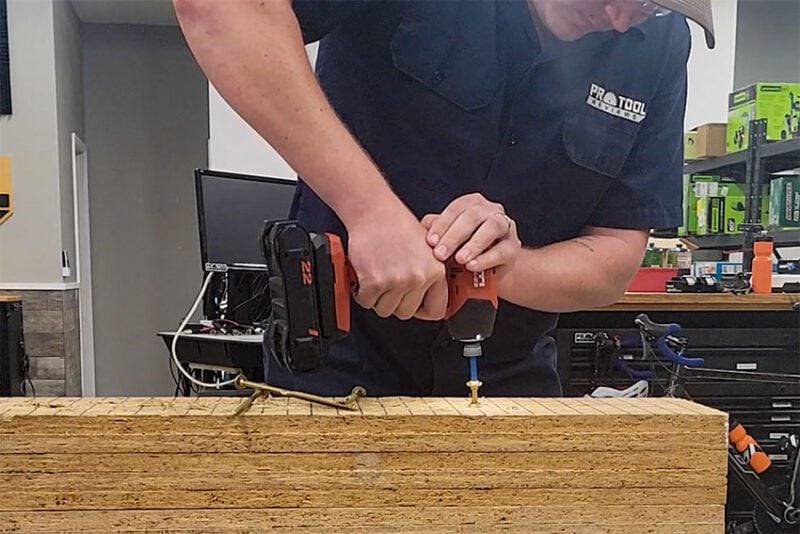 Before we close the door on this part of the conversation, there are a couple of important takeaways. First, it's a big jump from the SID 4-A22 on Hilti's previous line. That one had just 2700 RPM and a max torque of 1717 in-lbs.
The other side is the impressive torque level. Particularly in wood fastening when adapters and bits hold up better, you can drive lag screws and other large fasteners… all the way up to M16 bolts according to Hilti's ratings.
Hilti Nuron Cordless Impact Driver Design Notes
Ergonomics
The textured and contoured grip is very comfortable and gives you a ton of control during long periods of use, or when working overhead. With the recommended B 22-85 battery in place, the SID 6-22 has a good balance and isn't too top or bottom-heavy.
While it's still a beefy tool (2.2 pounds bare, 3.9 pounds with a 4.0Ah battery), it's more compact than the SID 4-A22. Measuring 5.4 inches from front to back, it's about 1/2 an inch shorter.
LED Worklight
One thing we love about this impact driver is the LED light ring surrounding the collet. It helps to fully illuminate the work area and has a diffuser on it which softens the light and cuts glare on your material.
Additional Features
Protective rubber bumpers
One-handed bit insertion
Hilti Cordless Impact Driver Quick Comparison
Nuron
SID 6-22
22V
SID 4-A22
12V
SID 2-A12
Max Torque
2655 in-lbs
1717 in-lbs
1593 in-lbs
No-Load Speed
1800/2700/3600 RPM
1000/1500/2700 RPM
2750 RPM
Impact Rate
4250 IPM
3500 IPM
3988 IPM
Number of Gears
3
3
1
Head Length
5.4 in
5.8 in
5.4 in
Bare Weight
2.2 lbs
2.1 lbs
1.6 lbs
With Nuron's updated battery design, we expect longer runtime, especially when you need to keep the tool under a heavier load for longer periods of time. It's a combination of cell selection, cooling technology, and lower resistance of the pack design that makes it happen. All of that works together to power this impact driver more efficiently than before.
On the inventory management side of things, the batteries' ability to automatically store and transmit data about the tool and battery can be a big help. Even if You're using multiple tools with one battery, it stores the data and transmits it via the charger when you put it on.
Hilti Nuron Cordless Impact Driver Price
This Hilti Nuron retails for $169 as a bare tool. From there, you can customize your kit with the exact batteries and chargers you want. Hilti backs the tool with its signature 20-year warranty, 2 years of free service, and 1-day turnaround on service.
If you're looking to outfit an entire tool crib, be sure to check out Hilti's fleet pricing program. It includes free service, maintenance, and loaner tools to help mitigate downtime. On this program, the price for the SID 6-22 comes to $5.50 per month.
Compatible Batteries
2.5Ah (B 22-55): $84 each (most compact option)
4.0 Ah (B 22-85): $114 each (best for balancing size and weight with performance and runtime)
8.0 Ah (B 22-170): $174 each (best for long runtime and extra performance but heavy)
12.0 Ah (B 22-255): $204 each (compatible but not recommended due to size and weight)
The Bottom Line
The Hilti SID 6-22 impact driver is another example of how Nuron technology is resulting in significantly higher performance. It leaves its predecessor in the dust with far greater speed and torque. While it still has some room to grow in speed, its impressive power makes it far more capable of driving large fasteners than its competition.
Hilti Nuron Cordless Impact Driver Specifications
Model: Hilti SID 6-22
Power Source: Hilti Nuron 22V battery
Chuck Type: 1/4 in. hex collet
Max Torque: 2655 in-lbs
No-Load Speed: 1800/2700/3600 RPMs
Impact Rate: 4250 IPM
Weight: 2.2 lbs (bare), 3.9 lbs (with recommended B 22-85 battery)
Dimensions (LxWxH): 5.4 x 2.7 x 8.1 in.
Warranty: 20-year
Price: $169 (bare tool), $5.50/mo. (fleet pricing)