Milwaukee M18 Fuel Impact Driver with One-Key Dominates in Raw Hard Torque Power
The Milwaukee M18 Fuel impact driver is in its third generation and making a more compact tool was high on the list for the design team and now it includes One-Key. As one of the top cordless impact drivers available, we decided to take a closer look at the design and see how its performance compares.
Check out the Gen 4 M18 Fuel impact driver here!
Milwaukee M18 Fuel Impact Driver with One-Key Performance
On paper, the third-generation Milwaukee 18V impact driver looks solid with 2,000 in-lbs of torque, 3,600 RPM, and 4300 IPM available. It's definitely in the top tier, although there are a lot more impact drivers with 2000+ in-lbs of torque than when the 2857 first launched.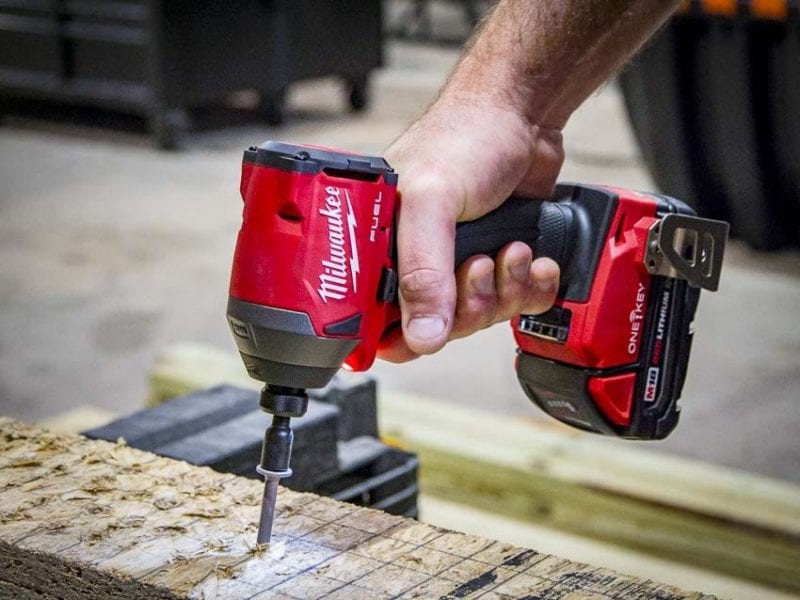 We have a few ways of seeing how those specs convert to real work. In terms of power, the Milwaukee 2857 is one of the strongest models we've tested. It's able to easily break loose 300 ft-lbs. While it's certainly capable of more, it breaks socket adapters so quickly at higher torques that we can't get a reliable result.
On the speed side, we like to drive 8-inch Rugged Structural Screws from GRK Fasteners into stacked OSB. It's not an application you'll see on jobsites, but it's much more consistent and repeatable than lumber. In this test, Milwaukee came out on top, driving the screws in an average of 5.84 seconds. No other impact driver we tested was able to beat 6 seconds and only Flex and Kobalt came in under 7 seconds.
We wrap it all up with our Impact Driver Test Track. Combining drywall screws, self-tapping screws, drilling holes, and driving ledger screws into one continuous test, it runs the gamut from control to power. The 2857 finished in 2:16 and nearly 20 seconds off the lead held by Flex and Makita.
Milwaukee M18 Fuel Impact Driver with One-Key Design Notes
Size and Weight
At 2.3 pounds bare and 3.2 pounds with its compact battery, the Milwaukee M18 Fuel Impact Driver with One-Key keeps is one of the lighter impact drivers available.
Milwaukee also does a nice job keeping their model compact at 4.6″ long (only 1 mm longer than Makita's XDT16) and 7.6″ tall without the battery. It's able to get into some tight spaces that most of its competitors can't and it's a big improvement from the previous generation.
One-Key
This tool's feature set is really set apart by its Milwaukee One-Key controls. You can customize each of the standard modes in a variety of ways.
Custom Drive Control

RPM (1900–3600)
Precision mode (on/off, 1 – 10)
Trigger ramp up (shorter or longer slider)

Self-Tapping Screw

Screw diameter and length (SAE or metric)
Head style (flat, hex, pan head, or wafer)
Steel gauge (14–26)
Starting speed (slower or faster slider)
Trigger ramp up (shorter or longer slider)

Universal Settings

LED worklight duration (always on, 60, 30, 15 seconds)
LED brightness slider
On-tool reset (hold for 5 seconds to factory reset)
One newer feature is that you can save your custom settings in the library for later use if you want to go back to factory settings or adjust which custom settings you want for a specific job.
One-Key also offers inventory and tracking features.
Additional Features
Milwaukee M18 Fuel Impact Drive with One-Key Price
We tested the Milwaukee 2857-22CT kit with two compact batteries with a price tag of $279. It's also available as a bare tool for $179 and as a kit with two 5.0 Ah batteries for $349.
If ONE-KEY isn't your thing, you can also look at the 2853 (part of the 2997-22 M18 Fuel Gen 3 Hammer Drill/Impact Drive combo) and save about $50.
The Bottom Line
The Milwaukee M18 Fuel impact driver is really well-rounded with excellent performance and a solid feature set packed into a wonderfully compact design. It's possible to get higher performance or lighter weight, but no other impact driver we've tested balances it all as perfectly as Milwaukee.
Milwaukee M18 Fuel Impact Driver with ONE-KEY Specifications
Model: Milwaukee 2857-22CT
Power source: Milwaukee 18V battery
No-load speed: 0 – 3,600 RPM
Maximum torque: 2,000 in-lbs
Impact rate: 0 – 4,300 IPM
Bare weight: 2.3 pounds
Weight with 2.0 Ah battery: 3.2 pounds
Dimensions (LxH): 4.6 x 7.6 in.
Warranty: 5 years
Discover more at Milwaukee's website!