Portable generators come in a variety of flavors, from camping-sized 1800-watt models to 10,000-watt monsters that power an entire job site. In this article, we're looking at the Honda EB4000, which is in the 4000-watt generator class. Honda is well-known for the reliability of their GX line of gasoline engines and they're reputation borders on legendary in the generator sector. So is this model right for your needs?
It depends on what those needs are.
First Impressions
While I might not go so far as describing the Honda EB4000 as "compact," it does seem like Honda put some effort into taking up as little space as possible. It's on par with most of the other Pro-level generators in this power class and a little larger than some of the budget brands. The engine sits inside a one-piece welded frame that feels solid.
It has reinforced standing legs and a hanger kit in case you need to lift it. While preppers and emergency power users may not need the hanger kit, it's important to have on a generator that's likely to see commercial job site use.
The handles, when folded away, snug up neatly to the frame. When extended, they lock into place securely without any janky wiggling. Additionally, the wheels feel sturdy enough to support the weight of the generator over uneven terrain.
I did run into one little hiccup during installation. There's enough wiggle room for the handle bolts to tighten down slightly off so that your handle doesn't snap into place. Just be sure to center the catch before you give the bolts that last half-turn and you'll be good.
Start-Up
The Honda EB4000 generator is not an electric start model. It's something we prefer to have on all of our portable generators. However, it's one of the trade-offs you'll make to get a Honda generator at this price point. So far, the generator starts easily – but that's how it should be during the first months of your relationship.
From here, it's the Honda reputation for quality that we're relying on to keep the engine starting easily over several years. As long as you maintain your generator properly, that's an expectation you can share with us.
Power
The Honda EB4000 features the iGX commercial engine. This 270cc engine provides 4000 watts of running power and 10 seconds worth of 5000-watt start-up power. The higher starting wattage is something you should expect on a Pro-level generator and helps you run more while dealing with the startup surge that electric tools and equipment require.
This 4,000-watt generator can provide enough energy to power multiple tools on the job site. Or, if you're the type that likes to be prepared for whatever life throws at you, the Honda EB4000 can generate enough juice to keep your fridge and some lights running, along with a window AC unit in some cases. The big thing is to know what all you might need to run at once and be sure you have enough generator to get cover it.
It's also worth mentioning that the Honda EB4000 fully complies with OSHA job site emissions and safety standards. That means you can power your tools without the government dropping some huge fine on your head.
Runtime
On the runtime side of this whole equation, the Honda EB4000 doesn't disappoint. At 50% load, this generator will run for around 16 hours. At full load, Honda tells us that you can expect the EB4000 to run for around 10 hours. In either case, you should get through the workday without having to dump more gas into the 6.2-gallon tank.
Outlets
Honda does us all a solid here with the EB4000 generator by including a variety of outlet options to cover just about anything you need on the job site or for emergency power. All of the outlets carry GCFI protection.
(2) 20 Amp 125V GCFI Duplex (4 outlets total)
30 Amp 125V Locking Plug
20 Amp 125/250V Locking Plug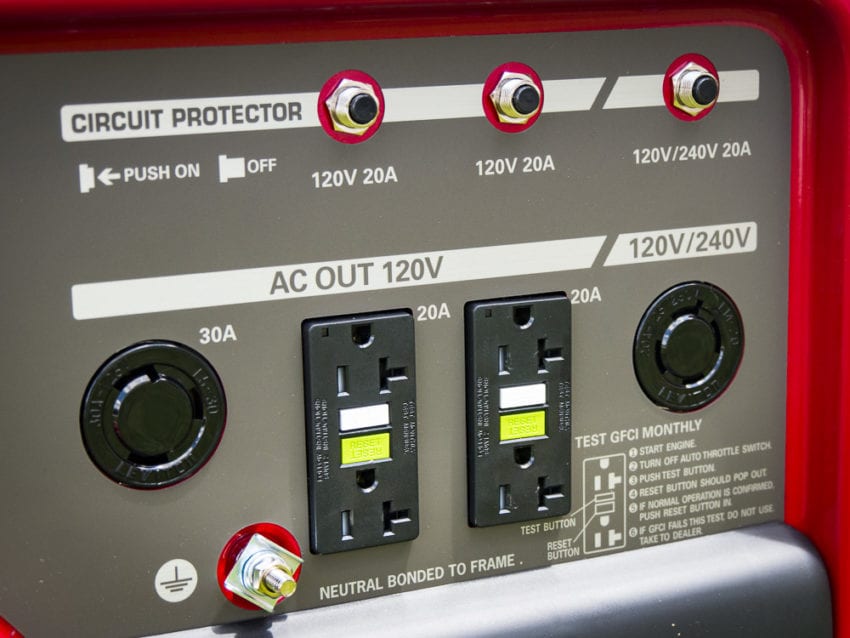 Pro Tip: If you're going to wire this Honda generator directly into your house for emergency power, be sure to enlist the help of a licensed electrician to make sure you get it done correctly.
Noise Level
All things considered, the Honda EB4000 runs relatively quiet. Running at 50% load, this generator pumps out a placid 61 dB. Running full-bore, this guy only jams out around 63 dB. 63 dB falls somewhere in between casual conversation and classroom chatter, so it's quiet enough that you can still communicate on the job site without resorting to an all-out shouting match.
Price and Value
The Honda EB4000 retails for just under $1900. If this seems a bit high to you, you're not alone. Honda builds a quality engine, and there's a reason many Pros consider Honda to be the gold standard. Getting the best comes at a premium price, but Honda backs the EB4000 with a 3-year warranty to give you some confidence behind your purchase.
There are a few things you give up to get this Honda quality. The most obvious is that you can get more power from other brands for the same or less money. Just keep in mind that the EB4000 is a commercial duty generator and many of the budget brands aren't.
The other big one is the lack of electric starting. It's not a deal-breaker with a reliably starting engine, which this has, but it may sway some homeowners elsewhere.
There's also no electronic fuel injection system, so you'll have a carburetor to maintain. That means it's not as fuel efficient and as it could be and produces more emissions than an EFI equivalent along with other benefits.
The Bottom Line
Assuming the Honda EB4000 has the power you need, it comes down to the question of whether or not you value dependability over price and features. You don't have to pay $1900 for a 4000-watt generator and can add an EFI engine with electric starting. But you won't have the advantages of a full Honda build that includes an iGX engine.
Honda EB4000 Key Features
4000 watts, 120/240V
Provides 5,000 watts for 10 secs to start larger equipment
Honda commercial iGX engine
Full GFCI protection
OSHA worksite compliant – meets job site emission and safety requirements
Long run time – up to 16 hrs
120/240V selector switch
2 wheel kit & lift hook
Honda EB4000 Specifications
Model: Honda EB4000XAT1
Engine: Honda iGX270
Engine Size: 270cc
Starting System: Recoil
Starting Watts: 5000 Watts
Running Watts: 4000 Watts
Maximum Amps: 30 Amps
Fuel Tank Size: 6.2 Gal
Run Time: 10.1 H @ rated load, 16.0 H @ 1/2 load
Outlets: 20A 125V GFCI Duplex (2), 30A 125V Locking Plug, 20A 125/250V Locking Plug
Noise Rating: 63 dB(A) @ rated load, 61 dB(A) @ 50% load
Weight: 185 lbs
Warranty: 3 Years
MSRP: $1,899