Buying a table saw covers a lot of bases. You have everything from entry-level models to professional production level cabinet table saws. In this article, we're looking at the most popular—job site table saws. These highly portable saws fall on the less expensive side compared to their cabinet saw counterparts. That makes them the go-to tools for framers, job site carpenters, and even DIYers.
Features aside, it's the blade that does the work. So no matter what features you need, start with a quality table saw blade. After that, set the optimal table saw blade height, and you're much more likely to get a quality product in the end.
Check out our best portable jobsite table saws article for even more great recommendations
Buying a Table Saw for Jobsites
Motor Power
As you might imagine, table saw power increases from benchtop through cabinet models. Looking specifically at jobsite table saws narrows things down considerably. Buying a table saw for jobsite use, you'll want a 15-amp motor. There's plenty of ripping power, and you only need 120V AC power.
The first cordless table saws are making their way into the industry. However, we don't have a viable replacement for the 10″ table saw just yet. You'll still get the best performance with corded power.
Direct Drive Motor of Belt Drive
The vast majority of job site table saws use a direct drive motor. You'll typically only find belt drives in more powerful cabinet saws. There is a twist on jobsite models, however. Skilsaw has two models that use worm drive motors. They have the lightweight Skilsaw SPT70WT-22 and the heavy-duty Skilsaw SPT99-12 table saw.
Table Saw Blades
The standard table saw blade diameter is 10-inches These will give you somewhere around a 3-1/2″ cut capacity at 90°. Many cordless table saws running around have blades in the 8-1/4″ range. These require you to give up some cutting depth. If you need maximum depth, you get more versatility out of a table saw with a 10″ blade.
Blade RPM | Speed of Cut
For benchtop and jobsite saws with direct drive motors, the motor RPM is the blade RPM. If you're considering a contractor or cabinet saw, it's a different story. In any event, professional table saw blade speeds generally fall between 4000–5000 RPM. Don't let numbers on the lower side dissuade you. There's a limit to how much power you can draw and each manufacturer has to decide how they'll channel it between blade speed and torque. So higher isn't necessarily better.
If you're on the carpentry side of jobsite table saw use, a lower RPM can actually help you. High speeds can burn hardwoods or require faster feed rates as the blade cuts. Lower speeds help alleviate those issues.
Blade Arbor
The arbor and trunnion hold the blade and allow it to move up, down, and at angles. Their quality increases with saw power and price. The arbor—the shaft that holds the blade in place—almost always measures 5/8″ on jobsite table saws. Just double-check the size before buying blades.
The Table and Ripping Fence
When buying a table saw, tools made for jobsites use an aluminum table. The lighter weight makes them much more portable than shop saws with a cast iron table.
A quality table saw requires a fence system that remains perfectly square to the table. This keeps your cut perfectly parallel to the edge. Obviously, framers have a bit more leeway than job site carpenters and there's plenty of variance in fence quality. Cheaper saws have fences that can easily move out of square as they slide along the surface of the table. Avoid these if you want quality results. The fence system needs to be easy to keep square to the blade.
One of our favorite systems is the rack and pinion design of Skilsaw's heavy-duty model. A couple of other brands also use the same concept. Since the fence locks in place and the table does the moving, you don't get the slight misalignment that comes with fences that clamp onto the table.
Rip & Outfeed Capacity
When choosing the best table saw for job sites, you'll need a rip capacity of more than 24″. Why that number? 24″ is half the width of sheet material. Some models will give you as much as 35″. Since you ideally want to have the waste edge opposite the fence, the larger the capacity the better. But again, jobsite table saws are designed for Pros with a little more inherent forgiveness in the job. Presumably, you can cut the waste edge against the fence if necessary.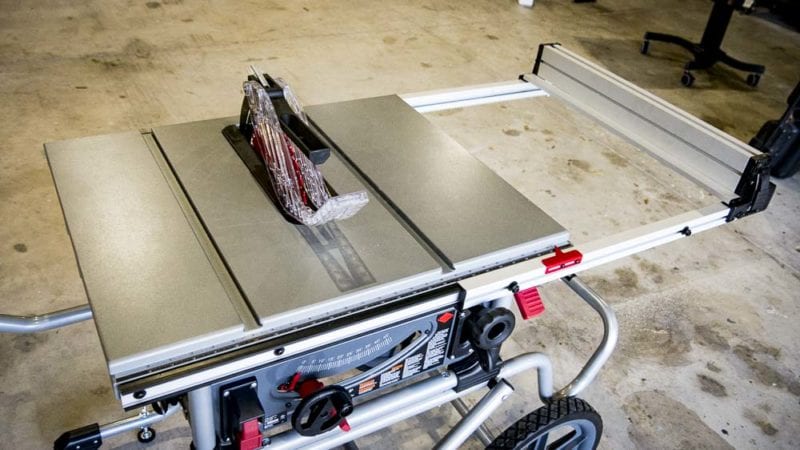 Outfeed capacity is almost always the depth of the table. Pros using a jobsite table saw can opt to put a sawhorse or other support to hold the material after it passes the blade. A few models on the market give you some extra outfeed support. Most of the time, however, you'll just have a buddy help guide the cut-through from behind the saw.
Throat Plate & Dado Stack Capacity
The throat plate is the removable piece surrounding the blade that sits flush with the table. Removing it gives you the ability to access the blade for removal or riving knife adjustments. The narrower the blade clearance the better for two reasons. First, it helps keep material from falling into the blade area or lodging between the blade and throat plate. Second, it gives you material support very close to the cut to help reduce tear-out as the blade exits the cut.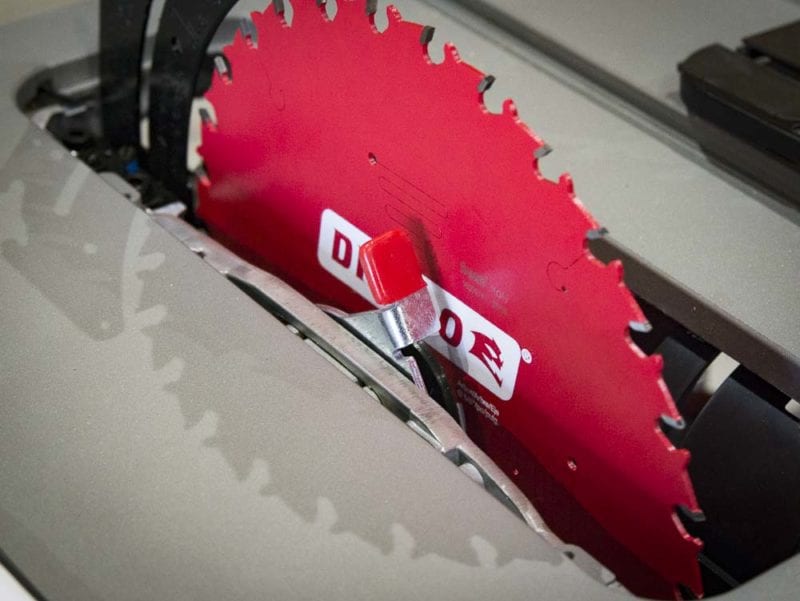 Framing work is full of rougher cuts that rarely make use of more than one blade at a time. But occasionally you might need dados for an onsite custom built-in. If that sounds like you, find out the saw's dado stack capacity. It requires a longer arbor, and you won't be able to use your normal throat plate for it. Some manufacturers offer a dado throat plate if they have the capacity for it.
Miter Gauge
You'll make most of your miter cuts on a miter saw. But when the material you're cutting exceeds a miter saw's cross-cutting capacity, you turn to your table saw miter gauge. These usually aren't quite as precise, but some manufacturers put more thought and robustness into it than others. If you make a lot of long miter cuts, be sure to pay attention to this accessory.
How to Buy a Table Saw with Dust Collection in Mind
Dust collection can seem like an afterthought when buying a table saw for the jobsite. Often when working outside on an unoccupied site, dust collection seems unnecessary. Inside a shop, however, things change.
Breathing sawdust doesn't do your lungs any favors. That's why dust collection is so important. Of course, when working inside or in an occupied structure, collecting all that dust also makes cleanup easier to deal with. Since we're not talking about concrete dust regulations, even a standard shop vac works great to help contain the mess.
Safety Features
You'll find a riving knife on every modern table saw. This helps prevent kickback that occurs when the material pinches along the back of the blade. You'll also get a push stick to help keep your hands away from the blade. Knowing how to safely use a table saw involves using these tools.
One of the first things many Pros do is permanently (and intentionally) lose the blade guard and anti-kickback pawls. While often a pain to install and store onboard, they significantly reduce the risk of injury due to kickback. Table saws are responsible for thousands of injuries every year, and there are plenty of folks running around with stories of how they got injured. So practice installing them until it feels natural and then actually use them onsite.
Another safety feature to look for is a blade brake. You'll know if yours doesn't have one. The blade will continue spinning for what seems like forever before it finally stops. Having a blade brake gives you an extra layer of protection, although it still takes a few seconds to completely stop.
How to Buy a Table Saw Conclusion
Finally, a couple of job site table saws include flesh detection to drop the blade out of the way if it detects contact with a finger or arm. There's a significant premium in cost for these saws. There has also been plenty of litigation regarding whether it should be required on every table saw and whether more than one company has the right to manufacture the mechanism. But they'll save you a much worse injury in the event you touch a spinning saw blade.
Now that you're armed with more knowledge of how to buy a table saw, go out and get one. Just remember to check back in and tell us which one you got! Did we miss anything that you look for? Let us know in the comments below.
Like the table saw in our photos? It's Skilsaw's Heavy-Duty Worm Drive Table Saw and we highly recommend it!