IR Two-Stage Compressor Offers Reliable Air Supply for Mobile, Every-Day Use
The Ingersoll Rand Truck-Mounted Two-Stage Diesel Driven Reciprocating Air Compressor (IR 2475F10DY) provides fuel-efficient compressed air when electric power isn't readily available. IR specifically designed this compressor for field service and remote pneumatic applications, making it an ideal solution for auto servicing, farm and agriculture, and oil and gas markets. According to the company, this is the first in a line of diesel-driven compressors they plan to release.
Check out our Best Air Compressors article for our top picks across a variety of applications and uses.
What is IR Saying About the 2475F10DY Air Compressor?
The Truck-Mounted Two-Stage Diesel Driven Reciprocating Air Compressor complements Ingersoll Rand's line of time-proven gasoline-driven mounted air compressors. The new diesel-driven compressor is a robust option for technicians who depend on reliable compressed air in the field.

Derek Davis, Product Manager at Ingersoll Rand Industrial Technologies and Services
What's the Big Deal?
The Ingersoll Rand Truck-Mounted Diesel Driven Compressor presents a fuel-efficient solution for mobile serviceability, letting you leverage diesel fuel to power several air tools in the field. It provides a maximum pressure of 175 pounds per square inch from a 10 hp Yanmar motor. You also get an impressive 23 cfm of airflow from its 30-gallon horizontal receiver tank. This lets it deliver continuous-duty operation for sustained use over the course of the day.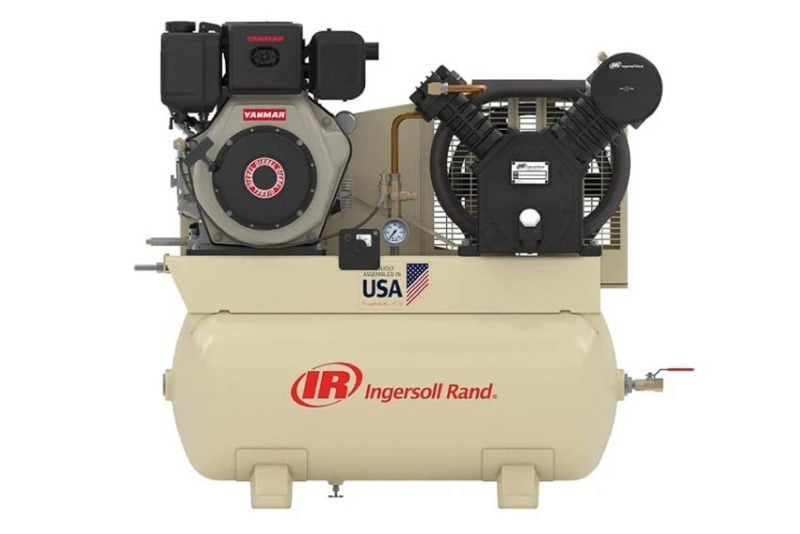 The Ingersoll Rand Truck-Mounted Diesel Compressor features 100% cast-iron construction with an overhung, precision-balanced crankshaft to reduce noise and vibration. IR designed this compressor with a fully enclosed belt guard, as well as built-in protection for critical components like the control valve and pressure gauge. IR claims that they have designed this compressor for over 15,000 hours of trouble-free usage.
The IR 2475F10DY compressor also utilizes the brand's All-Season Select lubricant to maintain performance and efficiency on the job. It provides 2,000 hours of service between changeouts, performing four times longer than petroleum-based lubricants.
Other Features
Electric key start
Fuel-efficient idle control
Weather-resistant powder-coat paint finish
Simple to install and maintain
Made in the USA
Pricing
It looks like you can pick up the Ingersoll Rand Truck-Mounted Diesel Reciprocating Compressor for less than $5,500. For more information about the compressor, including firm price quotes, visit Ingersoll Rand by clicking here.
Ingersoll Rand Truck-Mounted Diesel Reciprocating Compressor Specs
Model: Ingersoll Rand 2475F10DY
Flow at 90 psi: 22.9 cfm
Max Pressure: 175 psig
Nominal Power: 10 hp
Flow at Max Pressure: 22.6 cfm
Length: 45 in.
Width: 50 in.
Height: 41 in.
NPT Outlet: 1/2 in. Quick Disconnect
Engine: Yanmar
Tank: 30-gallon horizontal
Weight: 535 lbs.
Warranty: 2-year warranty available
Price: ~$5,500