If you happened to catch the last time I covered something footwear-related, you'll remember that I have pretty strong feelings about ill-fitting, poorly made work boots. Without getting back on my soapbox, I would rather cut off my own feet than torture myself by standing around in some $30 Walmart Specials. So when I was asked to try out the Keen Utility Concord 6″ Waterproof Boots, I quickly agreed.
I've been wearing these boots for several weeks now. And I'm pleased to announce that the Keen Concord hasn't inspired any panic attacks or existential angst. But before I declare them an outright winner, let's take a closer look at the build to see if they really fit in the premium work boot category.
Editor's Note: Check out our best work boots review article for our favorite products for all applications.
First Impressions
Upon opening the box, I found a work boot that, aesthetically, might be a little edgier than I like, but still remains a handsome shoe. Incidentally, anything that doesn't look exactly like a cowboy boot or a pair of black Chuck Taylors constitutes "edgy" in my world. The Keen Utility Concord Boots look more or less like hiking boots with a few flashes of color here and there. Coming from a company that thrives on hiking boots, that's not a surprise.
Uppers
These boots look tough and durable. The upper is a combination of leather and Keen.Tuf-Tex fabric which, KEEN tells us, provides exceptional abrasion resistance and tensile strength that should last the life of the shoe. Beefy, metal hooks allow for quicker lacing on the high top of the boot.  Wrapped in a hard plastic, the heel of the upper features the Keen.Heel Guard, which should provide solid protection and stability to the back of the heel.
Midsole
Keen uses the direct-attach method for joining the upper to the polyurethane (PU) sole. This type of construction produces a tough, watertight bond, and it's generally used in making waterproof safety footwear. Direct-attach bonds also produce a lightweight and flexible boot. As it happens, one of the first things I noticed when picking these boots up was that they felt light, especially considering the steel toe.
Direct attaching remains a good middle ground for durability. It's between cement (glue) on the light-duty end and welting for the strongest connection.
Outsole
The non-marking, non-conductive rubber soles on these boots are oil and slip-resistant. They wrap over the toe box for added protection against abrasion and impact – a trademark Keen Utility style. Speaking of toe boxes, the steel toe of the Concord features an asymmetrical design which gives you a left and right specific safety toe to go with the wide toe box for greater comfort.
USA Built
Finally, I'd be remiss in my description if I didn't mention how KEEN makes these boots. This model is assembled in the USA. Inspection of the tongue reveals that Keen work boots are "assembled with pride in Portland, Oregon using the finest materials from around the world."
Fit & Comfort
When I asked for these boots, I figured I'd shoot for a half size smaller than what I normally wear. My thinking was that a tighter fit would provide better ankle and arch support. I have a pretty narrow foot, and so it's sometimes difficult to find shoes that fit exactly right. Going a size smaller sometimes helps. In this case, and be forewarned, these still feel a little large. This is not an altogether unpleasant experience, however. The boots feel snug on my ankles, and my toes reach just shy of the end of the shoe. They seem to fit really well, except for the fact that the mid part of the shoe feels just a bit too roomy for my taste. This coincides with arch support that's on the light side.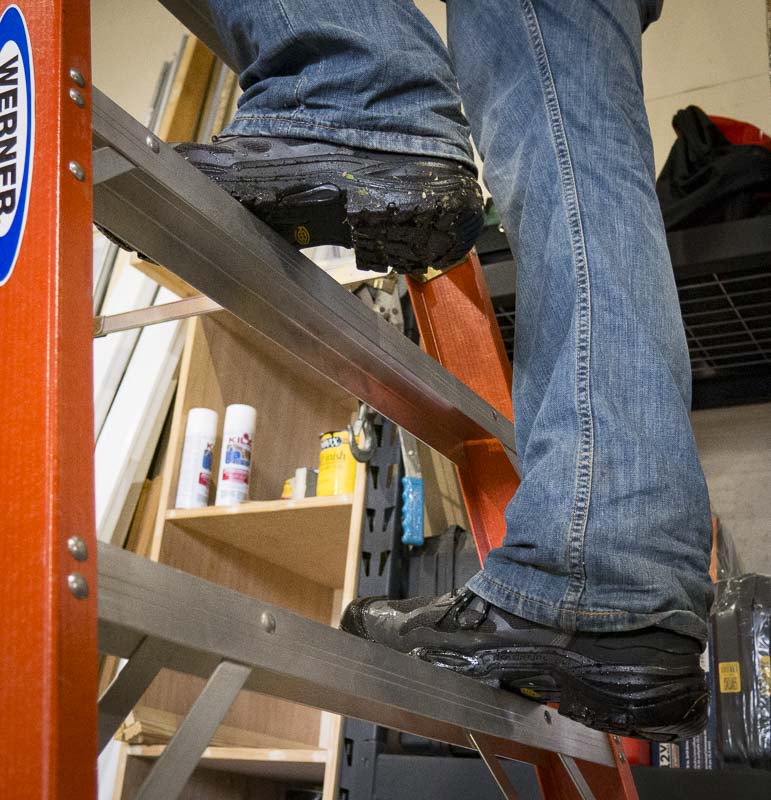 Safety Toe
The toe box feels roomy as well, but this is definitely by design. I've worn steel toes before that have felt a little tight and cramped. But, these steel toes leave plenty of room for my little piggies to wriggle around wild and free.
Initially, my only gripe with the toes on these boots revolved around being able to feel the edge of the box on the underside of my toes. It was almost as if my toes were being propped up by the toe box. But, as the boots have broken in, I've noticed this less. As it stands now, I really like the way these boots feel. Although, I do wish they had a touch more arch support.
Keen.Dry Technology
One of the big features that come with a lot of Keen work boots revolves around moisture control. Many of their boots are waterproof, and this model falls into that camp as well. The Concord features Keen.Dry, a proprietary waterproof breathable membrane that lets sweat and water vapor out without letting water in.
This feature helps a lot with my foot sweat. These Concord boots might be a far cry from the hottest things I've ever strapped to my feet, but neither are they quite like wrapping my feet in a cool, spring breeze. When I take them off at the end of the day, my feet don't look like they've been pickled.
EVA Footbed
The Keen Concord Work Boots include a "removable, metanomical, dual-density EVA footbed". If this sounds like a bunch of technical, marketing jargon, well, I guess it kinda is. What Keen means here is that they've designed these insoles around the shape of the foot with a special emphasis on the joint of the big toe. I find that the results here are more important than the description: the insole provides a good amount of padding under the heel and the ball of the foot.
Final Thoughts
From a comfort and enjoyment perspective, I've got no major complaints. These shoes get more comfortable the more I wear them. The metanomical footbed cushions everything pretty well. The CleanSport NXT tech keeps them from stinking up the house when I take them off. And the breathable Keen.Dry tech keeps water and sweat from ruining my day on site. I also really enjoy the wiggle room that I have inside of the steel toe.
From a safety perspective, the Keen Utility Concord 6″ Waterproof Boot seems like a good option as well. The high top feels secure around my ankle, and there's enough support to keep me from rolling it. The heel cup and steel toe provide protection from impact and sharp objects. This delights me as I fall a bit on the accident-prone side of the spectrum when it comes to my feet. The sole of the boot also protects against electrical hazards and static electricity build-up, which means that I should be able to stomp around wherever I like.
The only real criticism I have with these boots revolves around arch support and the general roominess around the middle of my foot. Of course, everyone's foot is different, but personally, I'd like a bit more support than what the TPU midfoot shank provides, and maybe a bit less space in the mid.
The Keen Utility Concord 6″ Boot retails for $175, which isn't bad for a quality boot made in the states. But moving up to this price point, I'd like to see a welted construction over direct attach. However, the goal for every premium work boot is to reduce foot fatigue and pickled toes while protecting you on the jobsite, and the Keen Utility Concord accomplishes that.
Keen Utility Concord 6″ Boot Features
American built with materials from around the world
Left and right asymmetrical steel toes
Keen.Dry waterproof, breathable membrane
TPU shank for midfoot support
Lining with hydrophobic/hydrophilic 2-zone comfort technology
CleanSport NXT for natural odor protection
Meets ASTM F1677-96 MARK II non-slip testing standards
Meets ASTM F2412-11 and F2413-11 M I/75 C/75 EH standards
Keen Utility Concord 6″ Boot Specs
Toe Type: Steel

Duty Type: Medium Duty
Waterproof leather upper
Oil- and slip-resistant non-marking rubber outsole
Direct-attach PU midsole for long-lasting comfort
Moisture-wicking textile lining
Removable, metatomical dual-density EVA footbed

Weight: 

28.0 oz / 793.8 g
Price: $119.99 – $175