When a company has been around as long as Klein Tools, you have to figure it has a finger on the customer's pulse. Klein's 160 years of tool-making experience convey a certain expectation of form and function. The same goes for the Klein 9125K 25-Foot Double Hook Magnetic Tape Measure. Journeymen electricians like me—and every other tradesman—will always need an accurate and wieldy tape measure for our work. That's the promise of this particular Klein magnetic tape measure, so let's see how it works.
Editor's note: Check out our best tape measure article for our top picks!
First Impressions
The tape measure body is an orange composite material with several large areas of rubber overmold for protection and gripping. The slightly curved top feels good in the hand. The brake that runs along a good portion of the bottom really stands out. It conveniently keeps the blade from retracting without having to use the lock while allowing quick retraction when you're finished with a measurement.
Some tape measures (see our best magnetic tape measure article), have an open area where you essentially use your index finger as a break. The Klein brake can be operated with the index, middle, or even ring finger. It doesn't sound like a big distinction, but it's helpful in practice.
Speaking of stand-out features, Klein claims a 9.5-foot standout of the nylon-coated steel tape, and it seems to hold up to a bit more. It won't have the standout of wider tapes like the Stanley Fatmax tape measure, but that's the trade-off for a relatively smaller profile. You don't always have someone else to hold the other end of the tape, so a long standout is essential. Other notable features include things you'd hope to have in a professional tape measure. This includes the magnetic double-sided tang, double-sided gradation markings, a nylon coated blade, tape lock, a belt clip, and even a conduit bending table for offsets and saddles. Let's see how it measures up.
Measuring Up the Klein Magnetic Tape Measure
I recently began installing electrical service on a building that had been abandoned and neglected for quite some time. It's part of the revitalization of a blighted commercial district that's attracted the attention of the local economic development council as well as some start-up businesses. I'm thankful to be a small part of this project but, as anyone who has retrofitted older buildings can tell you, it can be full of surprises. This was the perfect location to see how the 25 ft. Klein magnetic tape measure performed.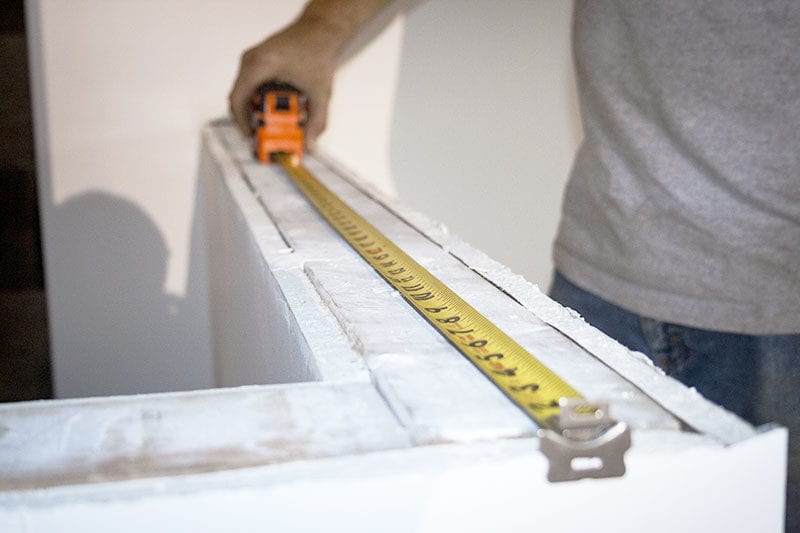 I used the Klein magnetic tape measure to lay out conduit, wire, and distances for this installation. It performed really well and, as I suspected, the brake was very handy. The double-sided tape is very easy to read. If you've ever tried to contort yourself to get a single-sided tang to hook onto an edge, you'll appreciate the double-sided tang on the Klein. This has become a standard feature on professional tapes—and for good reason.
The 25 ft. Klein magnetic tape (model 86225) weighs 17.6 ounces. It feels just right, especially since I've had tapes that feel like a brick. It's not burdensome when clipped on your pocket or belt. But it is slightly heftier than say, Milwaukee's comparable tape at 12.8 ounces. Then again, the Milwaukee doesn't have the brake that I like so much on the Klein but instead uses an open area.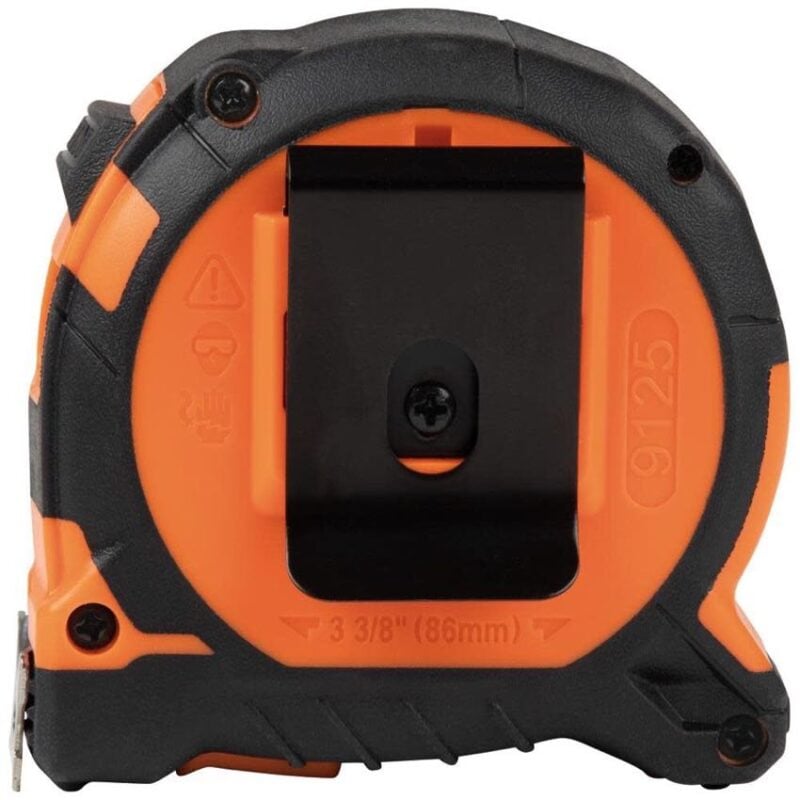 Klein Magnet Issues
The only area of the Klein Tools magnetic tape measure that needs improvement is the magnet. I had an older Klein whose magnet was attached to the end of the tang. That thing held fast to any metal. The one on this new tape isn't as strong. I found it pulled away about 25% of the time I needed it to stick. A stronger rare earth magnet would make this tape a home run for Klein.
Klein Magnetic Tape Measure Features
Uncluttered, easy-to-read bold lines marked on blade every 1/8 inch
Dual angle magnetic hooks attach to conduit and steel studs
Heavy-duty nylon-coating protects blade printing
Retraction speed brake controls blade speed and protects fingers from touching blade
Blade printed Conduit Bending Table helps calculate offsets and saddles
Super-sized back clip holds securely to wide belts and extends deep into pockets
Up to 9-1/2 ft. stand-out
Price: $32.99
The Bottom Line
The 25-foot Klein magnetic tape measure with a double hook has a composite body with lots of rubber overmold for grip and protection. It boasts a nylon-coated, double-sided steel tape with a magnetic double tang. The shining feature of this overall solid tape is the long brake, which allows the user a wide area to temporarily stop retraction without using the tape lock. It's a better design than tapes that have an open area for your finger to act as the brake.
I found the gradations on both sides of the Klein Tools 25-foot double hook magnetic tape measure easy to read, and the coating held up really well in my work environment. You can find lighter tapes, but the Klein isn't too heavy at 17.6 ounces. It won't feel like a burden when clipped on your pocket or belt with its wide, easy-to-use belt clip.
Pricing and Final Thoughts
I don't think tradesmen will ever refuse having a longer standout. Many times you just don't have someone to hold the other end of the tape. Klein claims a 9.5-foot standout, and I found it to be over 10 feet. Still, I'd take more! The one true weak spot of this tape: the magnet strength needs to be increased. At around $20, however, I can easily recommend it.
Editor's Note: Think you know everything about tapes? Check out our article on how to read a tape measure and we promise you'll learn something new!
Klein Tools 25-foot Double Hook Magnetic Tape Measure Specifications
Model: Klein 9125K
Blade length: 25 ft. (7.6 meters)
Blade coating: nylon
Blade material: steel
Hook/tang: double, magnetic
Belt clip
Lockable blade
Measurement standard: SAE
Markings: Double-sided, 1/8-inch
Weight: 17.6-ounce (498-gram)