Kobalt 80V Mower Covers a Lot of Ground
We tested out a whole mess of mowers recently—both gas-powered and battery-powered—to see what the state of mowing looks like these days. One of the really impressive models we had the opportunity to check out was the Kobalt 80V self-propelled mower, which is a Lowe's exclusive.
Pros
Long runtime is perfect for lots up to 3/4-acre
Excellent power under heavier loads
81 dB(A) under no load
Battery level indicator is clearly visible on the back of the mower
Upright storage
Cons
Thumbs only self-propelled motor control limits hand positioning
Editor's note: We did some additional testing on this model and several others since this review first published. Check out our best battery-powered lawn mowers article for our top picks.
Performance and Cutting Power
Baseline
We started out our power testing by checking the RPM and blade tip speed of our mowers under no load. Although no-load tests don't provide a lot of real-world applicational information, they do give us a good baseline to check against the under-load tests we do later.
The Kobalt 80V mower started things off with a no-load speed of 2856 RPM and a blade tip speed of 169.8 MPH with its 20″ blade. This is right in the middle for battery-powered mowers that range from roughly 135 MPH to 200 MPH. Again, this is really only a baseline test that doesn't necessarily have much to do with the actual performance under load.
Maintenance Load
When we applied a load designed to test the mower under regular maintenance cut conditions, we saw the Kobalt 80V settle into the middle of the pack. It dropped its speed slightly to 2796 RPM and 166.3 MPH. It's far from the 189 MPH leader, but also much higher than the 133 MPH basement dweller.
In practice, it's plenty of speed to do a good job of mulching grass on your weekly cut.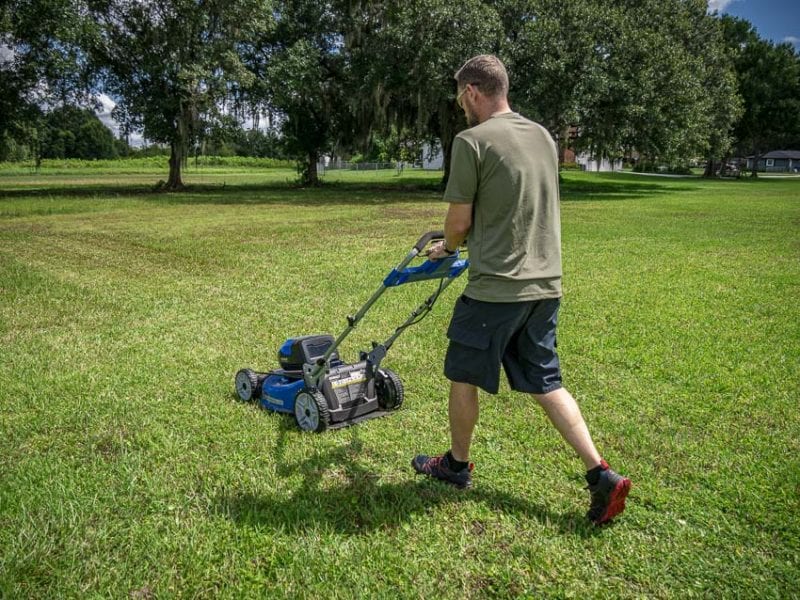 Why is blade tip speed so important? Higher speed to ensures a better cut. As the grass gets thicker, the motor needs to maintain blade tip speed to make sure it can both provide suction to pull the grass up into the blade as well as maintain enough momentum to slice through it.
However, if your mower is ramping up power, it will affect your runtime. In this case, the middle-finishing Kobalt isn't burning through your battery reserves for a simple maintenance cut…we'll see this even better later on in the review.
Heavy Load
So what about when things grow longer than a week?
We threw a heavier load onto the Kobalt 80V mower to see how it held up under the increased pressure. We saw it jump up to 3190 RPM and 189.7 MPH. This increase of 23.4 MPH is among the top performers as a response. Only 3 cordless mowers managed to produce higher speed under pressure.
If you're the type of guy or gal that doesn't always get around to mowing in a regular and timely fashion, the Kobalt 80V self-propelled mower is a good choice to power through procrastination.
Torture Test
We decided to take some of our better performers and really stick it to them in a torture test. We let our grass grow for 5 weeks in the rainy and hot Florida climate. Then, we set our mowers to a 2.5″ cut height and walked them into the grass at a consistent 2.5 mph. When the mowers bogged down and quit on us, we measured the distance.
Because grass can be an inconsistent thing, we don't take these results and factor them into our final rankings. There are too many variables to be able to draw any hard and fast conclusions. But it's still interesting to see what they can do in the worst-case scenario.
The Kobalt 80V self-propelled mower ran for 36 feet before we overwhelmed it and it shut down. As a comparison, this performance was bested by the EGO 56V Peak Power mower at an impressive 60.5 feet (it actually beat all but one gas mower) The Greenworks Commercial model lasted 37 feet. It outperformed the Snapper 82V, the Ryobi RY40LM10, and the Craftsman V60.
Cutting Area
While all this talk of power is great, one of the reasons that the Kobalt scored so highly for us was because it managed the ever-challenging balancing act of cranking out serious power while also providing enough runtime to cover a large area.
With its 80V, 6.0Ah battery, it shows up to the party with 432 watt-hours worth of power, which is the most of any single battery in our self-propelled class. With no load and the wheels set to 2.5 MPH, we measured its runtime at 121 minutes.
When throwing it under a maintenance load, it still got 91 minutes, which is 75% of its no-load speed. In terms of efficiency, the Kobalt is pretty competitive with most of the other mowers.
But how does this affect the actual area cut?
The Kobalt 80V mower can cut 33,366 square feet on a charge on a light weekly maintenance cut. That's more than 3/4-acre on a charge, a runtime that was only bested by the Greenworks Commercial's .85 acre per charge and the EGO 56V Peak Power's .82 acre (running on two 5.0 Ah batteries). And both of those mowers will set you back a lot more than Kobalt.
In the real world, you have to account for 5%–10% overlap to avoid leaving any mow-hawks (get it?) in your lawn. By the time you account for a house and landscaping, you should be able to mow a 3/4-acre lot with one 6.0Ah battery even if the cutting conditions aren't quite ideal.
Noise Level
Kobalt performs well in the noise category. Under no load, we measured it at a pretty quiet 81 dB(A). To put that in context, the self-propelled mowers ranged from 78 dB(A) to 88 dB(A). One of the cordless push mowers was all the way down to 74 dB(A).
On the other hand, our gas models ran 86–94 dB(A). You can learn more about the relationship in decibels here.
Feature Set
Self-Propelled Drive
This feature is so important to us that we needed to draw a distinction between our battery-powered self-propelled mowers and our battery-powered push mowers in the shootout. The Kobalt 80v mower falls into this self-propelled category that we like so much.
However, not all self-propelled drives are created equally. Some are variable speeds, some run more smoothly than others, and some can easier to operate than others. We like the variable speed on this model, and it runs pretty smoothly. Our only gripe, and it's a relatively minor one, is that to engage the drive, you need to press your thumb down on the engagement pad to get the mower to move. It's not the worst design in the world, but a drive bar would allow us to position our hands anywhere on the handle.
Steel Deck
The Kobalt 80V mower opts for a steel deck, which steps up the mower's durability. Sure, steel is heavier than plastic, but who cares? The mower is already doing the hard work of pushing itself.
We'll take the higher durability, thank you very much.
Height Adjustment and Range
We love single-point height adjustments for their convenience and simplicity. Rather than adjusting the cut height at every wheel, you simply grab the one lever and set it to any of the 7 height levels that range from 1.25″ – 4.375″.
One of the downsides to the single-point system is that the lever has to bear the entire weight of the mower. Battery-powered mowers are typically light enough to get away with it.
However, we noticed it can cause some flex in the mower base on some models. We didn't really experience that here—the Kobalt feels pretty solid and rigid, helped by the steel deck.
Handle Positions
The Kobalt 80V mower's handle can be set to three positions, giving tall people, short people, and in between people some customization with their comfort settings.
Discharge Options
The standard options are all here. You can mulch, bag, or side discharge your clippings.
Additional Features
Visible battery charge indicator on the handle
Value
The Kobalt 80V self-propelled mower, 80V Max 6.0 Ah battery, and charger can be purchased for a reasonable $549 from your local Lowe's or online. It also comes with a solid 5-year limited warranty.
We like what Kobalt has been up to with their cordless lines for the past few years. They've quietly been releasing high-quality cordless tools at affordable prices for a while now. While the 80V line might not be super deep, it does include the "meat and potatoes" tools of the OPE world. They have a chainsaw, pole saw, hedge trimmer, blower and string trimmer available on this higher voltage line.
The Bottom Line
Kobalt does a lot of things right in the design and performance of their 80V mower. With cutting area being the only chink in its armor (and a small one at that), it's proving to be a significant player in the upper tier of battery-powered lawn mowers.
Kobalt 80V Self-Propelled Mower Specs
Model Number: KMP 6080-06
Adjustment Type: Single-point
Assembled Weight: 76 lbs
Battery Amp Hours: 6.0 Ah
Brushless Motor: Yes
Charge Time: 1.5 hours
Height Adjustment: 7-position
Cut Width: 20.5″
Cut Range: 1/2 to 1 acre
Discharge Location: Rear and side
Drive Type: Rear-wheel drive
Front/Rear Wheel Size: 8″/10″
Handle Adjustment: 3-position
Cut Range: 1.38″-3.75″
Mulching: Yes
Warranty: 5-year limited
Price: $549 from Lowe's