Added to the Makita sub-compact class of cordless tools is the Makita XRJ07 18V LXT Sub-Compact Recipro Saw. Like all of the tools in the line, the goal is to go for the compact, lightweight convenience of 12V tools without forcing you away from their deep 18V lineup.
The recipro saw is an interesting category for the sub-compact class because there are really two ways it can go. On one hand, you can go the one-handed route, like Makita's 12V CXT Recipro Saw. The other is to simply go the way of a more compact two-handed model. In this case, it's the two-handed model.
Pros
Excellent cutting speed
Excellent vibration control
Lightest and most compact in its class
Top feature set in its class
Good value
Cons
Not as many bells and whistles and full-size saws (no rafter hook or tool-free adjustable shoe)
Makita XRJ07 Top Features
Brushless Motor
The Makita 18V LXT Sub-Compact Recipro Saw uses a Makita BL brushless motor to deliver 3000 strokes per minute with a 13/16″ stroke length. The advantages of a brushless motor have been well-documented, but it's of particular interest on this sub-compact model. Since you're going for a lighter weight, you're more likely to grab the compact battery pack. Having a brushless motor gives you more runtime out of that pack.
Compact Size
At just 12-1/2 inches long, Makita 18V LXT Sub-Compact Recipro Saw is one of the most compact – perhaps the most compact – 18V reciprocating saw on the market. For height, it stands at just over 8-1/2 inches tall. And that's with a 5.0 AH battery pack. The total package weighs in at 4 pounds, 15 ounces bare and 6 pounds, 5 ounces with a 5.0 AH battery pack.
Blade Changes
Blade changes are pretty easy with the tool-free style. You'll need to twist open the blade lock to insert or release the blade. A spring will eject the blade gently. If you twist the lock far enough, it will hold itself open and auto-lock when you insert a new blade. The rubber overmold on the lock is a nice touch, keeping things reasonably comfortable no matter where the shaft stops in the cutting cycle.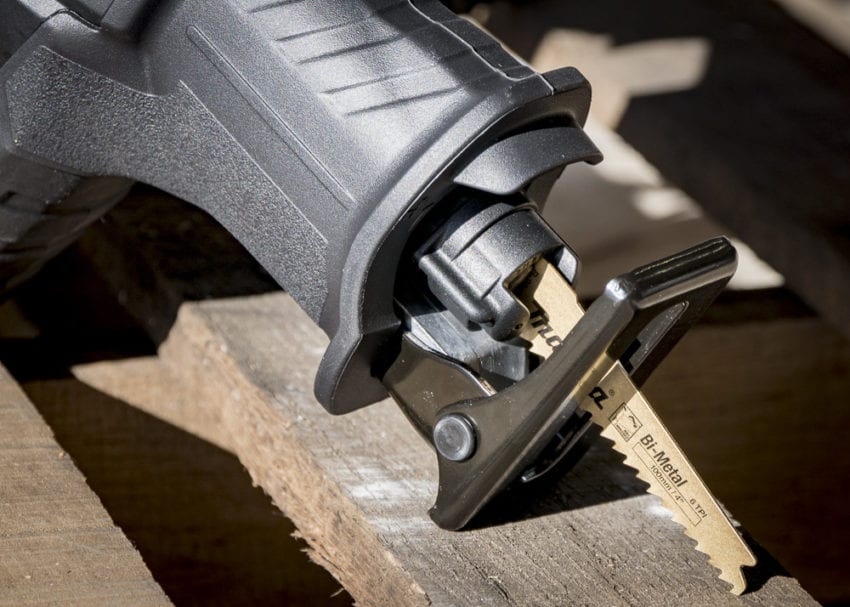 LED Light
LED lights are almost standard on cordless tools these days, but some inevitably lack them. Makita positions theirs above the blade. It gives the light a straight shot through the shoe and definitely helps for effective blade placement in low light.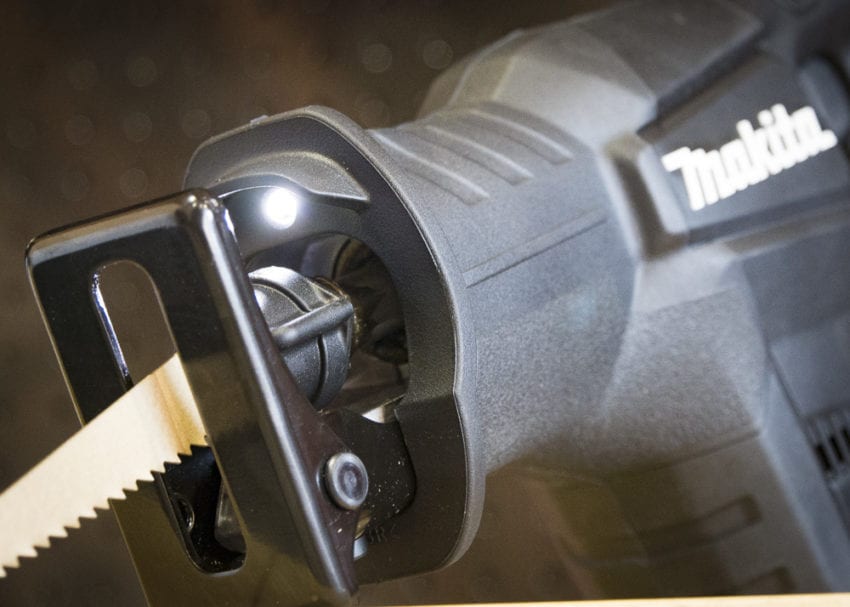 Anything Missing?
There are always tradeoffs to make when you're shooting to hit a price point or size. In this case, the Makita 18V LXT Sub-Compact Recipro Saw lacks an adjustable shoe and rafter/belt hook. Those aren't deal breakers, but I really prefer to have a rafter hook.
One other thing you'll want to know going in is that there isn't a battery level indicator on the tool. If you're still using some of Makita's older packs, that may be an issue for you.
Makita XRJ07 Ergonomics
The Makita XRJ07 18V LXT Sub-Compact Recipro Saw brings your hands closer together than a full size reciprocating saw and that makes the weight a little easier to manage. Not that it's heavy by any means. Compared to Makita's other 18V Recipro Saws, it's 1.9 pounds lighter than the 18V and 3.9 pounds lighter than the 18V X2.
The handle design has a small enough diameter to be comfortable and the rubber overmold helps in that department as well. The trigger lock is easy to work with your trigger hand for both locking and unlocking.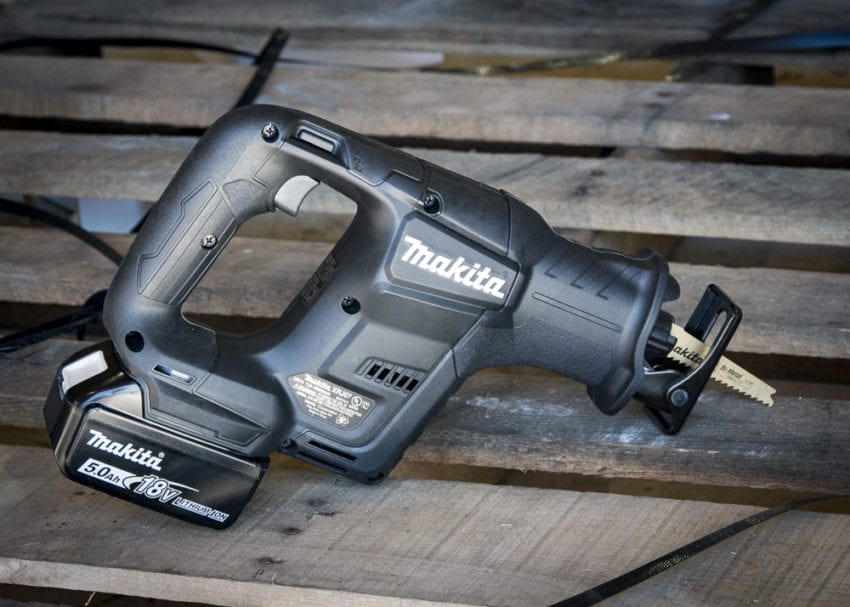 The compact length of the Makita XRJ07 necessitates a shorter support handle toward the front. It took me a little bit to get used to it, but I did find a comfortable place to guide my cuts.
There's a ton of rubber overmold around this tool. It surrounds both handles and extends well beyond where your hands will likely be during use. It's pretty much only the side motor housing that doesn't have the extra protection.
I have a couple of minor complaints to register – and they really are minor. I'm a huge fan of Makita's handle design on the drills and drivers, so I'd love to see the same contour on the saw. I'd also like a two-finger trigger instead of the one. I don't plan on using this saw for the biggest demo work. But when I need to do extended work in tight applications, it would be nice to have the extra trigger length.
Performance
We have to temper our expectations slightly when it comes to the cutting performance of the Makita 18V LXT Sub-Compact Recipro Saw. After all, if you could make an industry-leading performer with a compact design, you would. The trade-off is going to be slower cutting, but if we know that going in, we can look at the saw's strengths.
The first key to the performance is in the specifications. We're looking at 3,000 strokes per minute – a solid Pro-level speed. But it's at 13/16-inch stroke length, 5/16-inch shorter than the industry standard for full-size saws. So we just don't expect it to cut as fast as the big boys. Compact saws tend to run in the 1/2-inch to 7/8-inch range, so it's really close to the top end.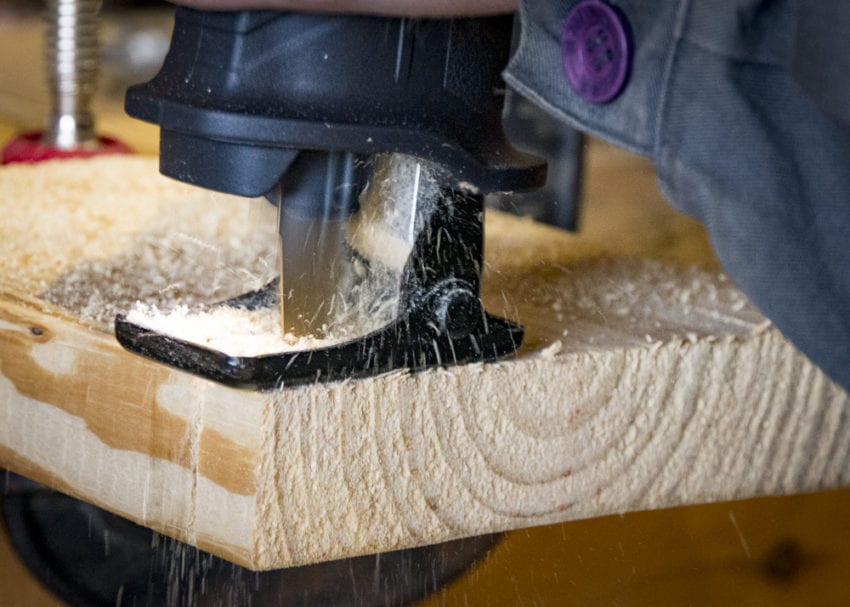 And that was the case in our testing. In the wood and PVC pipe that we needed to work through, it's slower than full size but just below the top against compact models. Granted, slow in PVC is relative. On the other hand, the compact size makes it easy to control and work around tighter spaces. It's also small enough to use with one hand, though not quite as easy as the one-hand specific designs out there.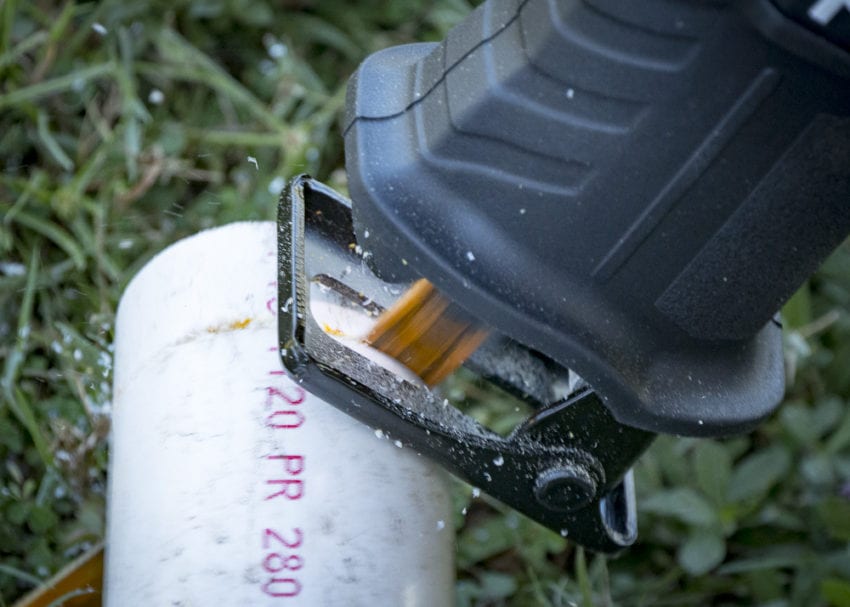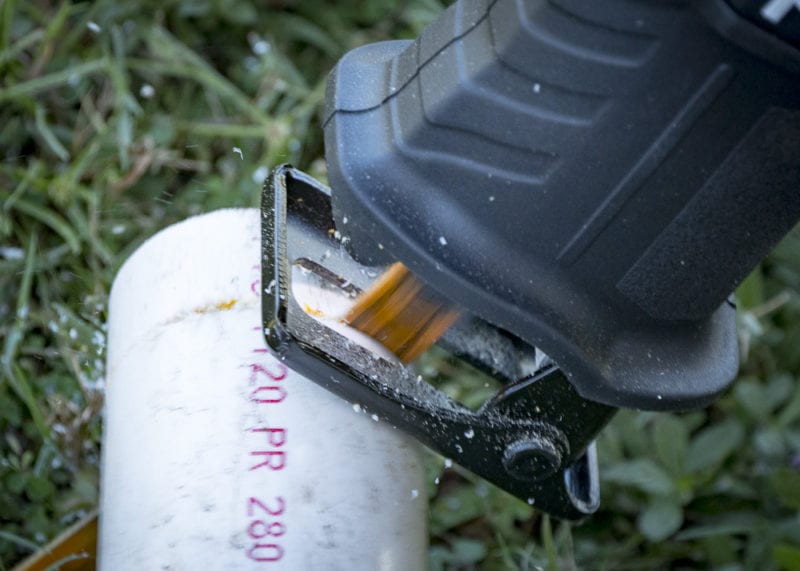 The Bottom Line
We expected the Makita 18V LXT Sub-Compact Recipro Saw to perform slower than the full-size cordless reciprocating saws out there. Considering Makita intentionally designed the saw for use in tight spaces, that's not a knock against it. It's a trade-off they are willing to make and one that works out well in practice. Compared to the other compact reciprocating saws running around, the cutting speed is near the top end.
Considering the design intent, I'd look to improve the tool by adding a battery indicator to the tool. The new Makita batteries have one onboard, of course. But if you still have some of the older ones running around as we do, an indicator on the tool would be helpful. And yes, I still want a rafter or belt hook.
On the pricing side of things, you can get the kit for $219 with a 2.0 Ah battery and charger. Or get this saw as part of a Makita Sub-Compact combo kit with the drill and impact driver for $319 or grab the bare tool for $159. It works on any of your Makita 18V LXT batteries, so you're good to go either way. While it's a good fit for occasional demo work that puts you in tight space, this will be a big win for plumbers and HVAC Pros already on Makita's battery platform.
Makita 18V LXT Sub-Compact Recipro Saw Features
Makita-built brushless motor delivers 0-3,000 strokes per minute combined with a 13/16″ stroke length for faster and more efficient cutting
Compact and ergonomic design at only 12-1/2″ long
Weighs only 5.7 lbs. with battery (battery not included) for reduced operator fatigue
Ideal for working in tight spaces
"Tool-less" blade change system allows for faster blade installation and removal for increased productivity
Reinforced fixed shoe for added durability
Electric brake for maximum productivity
Built-in L.E.D. light with preglow and afterglow illuminate the work area
Rubberized soft grip handle provides increased comfort on the job
Extreme Protection Technology (XPT) is engineered for improved dust and water resistance for operation in harsh conditions
Makita 18V LXT Sub-Compact Recipro Saw Specifications
Model: Makita XRJ07ZB
Power Source: Makita 18V LXT battery
Stroke Length: 13/16″
Stroke Speed: 3000 SPM
Max Cut in Wood: 10″
Max Cut in Pipe: 5-1/8″
Length: 12.5″
Weight: 4.9 pounds bare, 5.3 pounds with 5.0Ah battery
Warranty: 3 years
Price: $219 (kit)