Gas Power Without the Gas
The Makita XCU04 16-inch Chainsaw gives landscapers and contractors a viable alternative to noisy, messy gas power. Powered by two 18V batteries for a combined total of 36V, the XCU04's brushless motor provides enough muscle to rival a 32cc gas engine while keeping quiet and emission-free.
10-Second Summary
Model: Makita XCU04
16″ guide bar
Powered by two 18V batteries
Brushless motor provides equivalent power to 32cc gas chainsaw
Variable speed trigger and 0-3,940 FPM chain speed
XPT provides dust and water protection
Tool-less chain adjustment
Auto power-off function
Adjustable auto chain lubrication with large oil reservoir
Large oil filling port with view window
Weighs just 11.5 lbs.
3-year warranty
Kit price: $409
Key Features
The Makita XCU04 Chainsaw features a 16″ guide bar and the outer-rotor brushless motor direct-drive system to drive it. It can deliver up to 3,940 FPM, providing fast, clean cuts for cutting and trimming applications.
With no spark plug to replace, no engine oil to change, and no air filter to clean, the Makita XCU04's battery power has some distinct advantages over a traditional gas chainsaw. It runs off of two 18V batteries, meaning that operating this chainsaw won't require jumping to a different battery platform. And, with both batteries attached, this saw still only weighs a manageable 11.5 lbs.
An LED on/off switch with an auto power-off function shuts off the saw when you have to delay operation. When it's go-time again, simply push the power button back on. The feature extends battery life by not draining the batteries when the saw sits idle.
But the convenience doesn't end with low weight and reduced maintenance. The Makita XCU04 also features a tool-less chain adjustment and automatic adjustable chain lubrication with a large oil reservoir. A clear view window lets you check your bar oil level without having to open up the large filling port.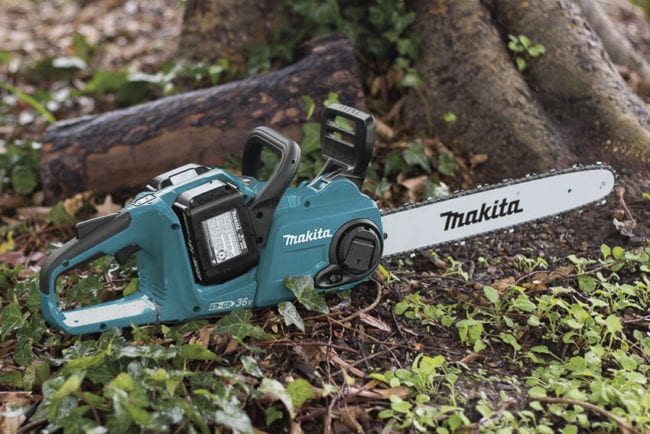 You find a comfortable front handle on the Makita XCU04 Chainsaw with a rubberized grip. It positions your hand ergonomically and allows the actuation of the electric chain brake when kickback triggers the guard. The soft grip also helps you apply even pressure while cutting.
Finally, Makita built this chainsaw to last in any job site condition. It includes the Extreme Protection Technology, Makita's answer to dust and water ingress.
Pricing
The kitted version of the Makita XCU04 16-inch chainsaw includes four 5.0Ah batteries and an 18V dual-port charger. The tool, batteries, and charger are all warrantied for 3 years. You can pick up the kit for around $409.
Makita 18V X2 LXT 16-Inch Chain Saw Specs
Model: Makita XCU04
Guide bar length: 16 in.
Pitch: 3/8 in. LP
Gauge: .043 in.
Chain speed: 3,940 FPM
Weight (with battery): 11.1 lbs.
Weight (without battery): 8.3 lbs.
Battery: 2X 18V LXT Lithium-ion
Warranty: 3 years
Price: $409