The Metabo HPT 10-inch MultiVolt Table Saw doesn't need to compromise on cutting capacity or power because it offers both 36V battery and AC options. We've used this table saw to build a bar in an Orlando restaurant, trim out several jobs, and even cut up a stack of pressure-treated wood for making gate posts.
Pros
Hybrid power for its muscular brushless motor comes from either a 36V MultiVolt Battery or the AC Adapter with a generously long cord
10-inch blade—unheard of on a cordless table saw until now
35-inch rip capacity
Material support on fence and out-feed
Sturdy, smooth cutting experience
Big safety switch and adjustable riving knife
Effective rack-and-pinion fence adjustment mechanism
Cons
Bigger and heavier comparable cordless blue and yellow saws (it's a 10-inch after all), so you'll need to plan transport accordingly
No stand available at the time of this review
No on-board blade storage
Recommendation
The Metabo HPT MultiVolt Table Saw's hybrid power capability brings contractors the best of both corded and cordless worlds. The battery's
21700 cells
offer ample power for cordless applications. The Metabo HPT AC adapter means you don't need multiple batteries if you want the saw to work all day long. But that's not the end of the story. Its 10-inch blade, 35-inch rip capacity, side supports, outfeed supports, smooth trunnion action for bevels, rack-and-pinion fence adjustment, and multiple safety features clear away any vestiges of a cordless table saw as a supplementary tool. The MultiVolt can very likely be your primary tool on the job and in the shop because of its hybrid feature—a feature the competition will almost certainly have to imitate.
Performance
Hybrid Power Sources
The Metabo HPT 10-inch MultiVolt Table Saw's marquee feature is undoubtedly the unique hybrid power option. The saw accepts the new 21700-cell MultiVolt battery delivering 36V to the saw (and 18V when inserted in the product line's 18V tools). But it can also be powered with an AC adapter.
This results in a tool that can work all day long. Several manufacturers have made impressive cordless table saws over the last few years (and we own most of them!), but unless you buy, carry, and charge several batteries, those saws can't be in near-constant use throughout the day. However, with hybrid power, this MultiVolt Table Saw gives the impression that it never meant to be a supplementary cordless tool. It's in the game to be your main table saw.
That powerful advantage translates to another advantage. While others run 8-1/4-inch blades, the Metabo HPT MultiVolt Table Saw runs with a 10-inch. Combine that with a footprint and table space that's significantly bigger than the competition, and you've got a cordless table saw that is sturdy and smooth throughout the cut—even on larger stock.
Sink Your Teeth In
The saw came together easily out of the box with little effort. We also found that we didn't have to do much to calibrate the table saw before we were up and running.
An effective soft start assists the process of getting up to speed (and helps tame the inrush current in corded mode). The table saw's tall fence adjusts smoothly using the popular rack-and-pinion design.
Metabo HPT also included a plastic fence attachment for thinner and shorter cuts. It's probably not sturdy enough to survive the job site, but it's a nice idea. The 35-inch rip capacity complements this saw's other larger-than-the-competition features.
The trunnion's action is as smooth as we've ever used. It doesn't have freely-swinging, loose feel that many other saws exhibit. The gearing lets you easily dial it in and hold the correct angle until you lock it in place.
Smooth Operator
An outfeed support bar slides out from the back of the saw to give you a hand. Its movement isn't as smooth as the fence's, but it's satisfactory and we'd rather have it than not! Other safety and convenience features include a large, accident-proof safety power switch and an adjustable riving knife.
When Pro Tool Reviews previewed the Metabo HPT 10-inch MultiVolt Table Saw, a commenter pointed out another fine feature: two rubber feet on one side for standing the saw on end.
It's also worth mentioning the Metabo HPT 10-inch MultiVolt 36V Table Saw is a 2019 Pro Tool Innovation Award Winner. It didn't win just for the big design choices. Smaller features, like a generously long cord AC adapter cord and detents on the miter gauge also contributed.
A Few Quirks
There's no stand for the Metabo HPT 10-inch MultiVolt Table Saw at the time of this review. That seems like an oversight—one we hope to see options for in the near future.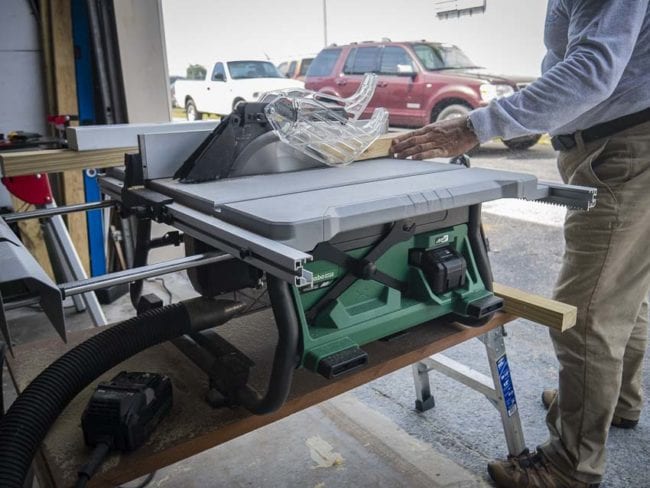 You'll also notice that the AC adapter takes up a lot of space. That's really not a big deal, but it will have to live somewhere in your work area when you use the cord. Just make sure it's not a trip hazard.
The same gentleman that referenced the rubber feet in the preview's comment section pointed out (as others have noticed) that the table has a curiously rough texture. We expect a table saw top to be smooth but, even so, we didn't notice a difference in operation. Dimensional lumber, trim, and composite all glided across it smoothly.
Finally, there's no place to store extra blades. Several other saws offer this feature—though those cordless saws do run smaller blades.
Price
Since the Metabo HPT 10-inch MultiVolt Table Saw is unique, price comparisons with its closest competition come with asterisks.
DeWalt DCS7485T1 (Kit) – $449
Milwaukee 2736-21HD: $624.98 (kit with 12.0 Ah High Output battery), $399 (bare tool), Stand: $79
Metabo HPT 10-inch MultiVolt Table Saw C3610DRJQ4: $499 including either the 36V MultiVolt battery and charger starter kit or the MultiVolt AC/DC corded adapter
The Bottom Line
The Metabo HPT 10-inch MultiVolt Table Saw continues to impress us. Its dual power options, 10-inch blade, large ripping capacity, and powerful and sturdy cutting experience stand apart. You can work all day on the job site or in the shop with a combination of its MultiVolt Battery and the AC Adapter. It would be surprising if other manufacturers didn't follow suit with hybrid power options. We're rooting for a fold-and-roll stand, but all told, the Metabo HPT C3610DRJQ4 sets a high bar for functionality and performance.
Metabo HPT 10-inch MultiVolt Table Saw Specifications
Model: C3610DRJQ4
Motor: 36V DC brushless, 5000 RPM
Soft-start function
Electric brake
Bevel: 0 to 45 degrees for cuts ranging from 3-1/8″ (at 0 degree) to 2-1/4″ (at 45 degrees)
Table size: 28-3/4″ x 22″
Outfeed support: 28-3/4″ x 2″
Rip capacity (right): 35 in. with telescoping table extension
Rip capacity (left): 22 in.
3/4 in. T-slot miter gauge with adjustable positive stops at 0, 15, 30, 45 and 60 degrees to the left and right
On-tool accessory storage
Dado capacity: 8 x 13/16 in.
Overload protection
Oversized power switch
2-1/2 in. dust port
Weight: 67.3 lbs. (w/MultiVolt battery)
Includes: 10 in. 40-T Carbide Tipped Blade, blade guard assembly, anti-kickback pawl assembly, miter gauge assembly, push stick, rip fence assembly, VIC rip fence assembly, outfeed support assembly, (2) blade wrenches, 4mm hex bar wrench, and 2.5mm hex key
Warranty: 2-year tool body
Price: $499