The Milwaukee M18 FUEL cordless table saw (2736-21HD) is certainly a welcome addition to the M18 Fuel line of cordless tools. one of its few competitors includes the DeWalt FlexVolt table saw model. We do have at least some comparisons we can make across these cordless saws. However, if we're talking about moving to a fully cordless job site, I need this table saw to get the job done well enough to make the cordless convenience worth it.
Pros
Plenty of power
Smooth cutting
Lightweight enough to carry easily
Outstanding feature set and adjustment designs
Cons
Could use an AC adapter option to solidify itself as a primary table saw
Has the power to move up to a 10″ blade, but sticks with 8-1/4″
Milwaukee Cordless Table Saw Height Adjustment
All metal gearing makes for a smooth blade height adjustment. It's not SawStop's 1-turn dial, but with 14 turns to fully extend the blade, it doesn't take as many as most table saws.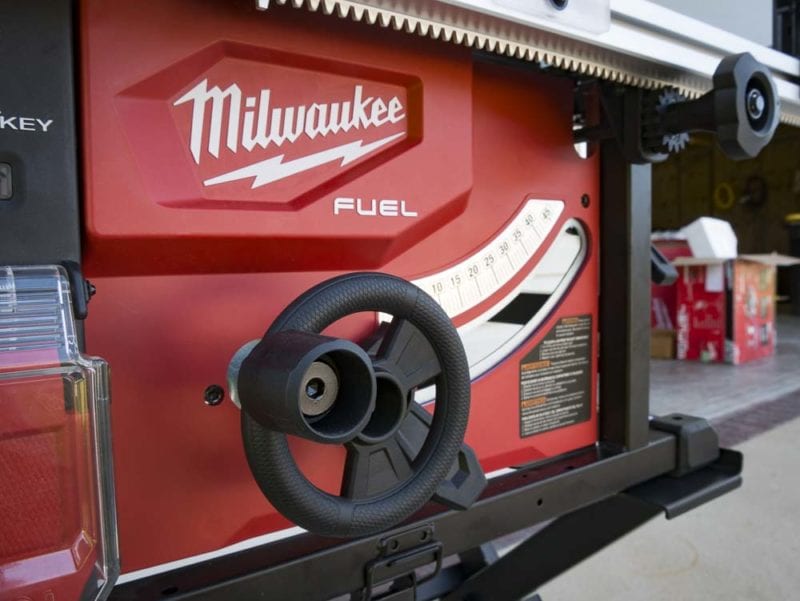 Adjusting the Bevel Angle
A standard release lets you swing the blade angle to the left. There's not really anything out of the ordinary here except that Milwaukee puts the scale on the right half and it has a nice contrast to make it easier to see.
Milwaukee 2736-21HD Rip Capacity
Milwaukee follows the trend of rack-and-pinion adjustments to the rip length. The action is smooth and easy to dial into the length you're looking for. A simple lever beneath the right side locks down the length.
Using the Milwaukee M18 Table Saw Fence
The fence on the Milwaukee 2736-20 has clamp locks on either side with a pivoting extension to hold material once you move beyond the table edge. Two hard contact points for the fence ensure you're square and get the full range from 0 to 24-1/2″.
Pro Tip: Be sure to calibrate the table saw when it comes in. Ours needed a 1/8″ fence adjustment on both contact points.
Installing the Riving Knife
A release on the back relieves the riving knife clamp. Getting it to settle in the correct position is pretty simple and it's easily one of the best designs available.
Speaking of riving knives—you get two riving knife choices. You can go with or without the blade guard. Going that route adds an extra piece, but you don't have to fool with the @#$%! blade guard installation. You're still on your own for anti-kickback pawl installation, though.
While there's no tool control (what would you want to customize?), you get the tool tracking, lockout controls, and asset management features that Milwaukee ONE-KEY offers.
Power Loss Safety Switch
If your battery runs out or loses its connection with the trigger still on, the saw won't spin up the blade as soon as you insert a battery. You'll need to cycle it off first.
Single Wrench Blade Change
With a push-button blade lock similar to a miter saw, it takes just one wrench to loosen the nut for blade changes.
Milwaukee Cordless Table Saw Stand
If you opt to get the $79 scissor stand for your Milwaukee 2736-20 cordless table saw, it's a reasonably easy assembly process. Clamping the saw on is an easy process, though you'll want to carry the saw and stand separately to and from the job site.
The legs spread wide enough to provide a stable platform and a single adjustable foot will help on any uneven ground. With how light the saw is at 41 pounds, it's not a major issue to forgo the gravity rise stand this time.
Additional Features
Brushless motor
Electronic blade brake
Push stick stores on the fence
Miter gauge has a metal bar with plastic lock and gauge
Dual channels for miter gauge
Anti-kickback pawls have a standard spring clamp installation
Missing Features
AC power: I'd love to have an AC adapter, at least as an option
Flesh detection (groan): Hey, it's available if you want to go with SawStop, but we don't expect anyone else to have it
Premium stock blade: I'd like to see one of Milwaukee's new blades come with the saw
Milwaukee M18 Table Saw Performance
Milwaukee's M18 Fuel brushless motor is one of the new large-frame designs that spins the 8-1/4″ blade at 6300 RPM. A standard 10″ table saw has a 5000 RPM no-load speed. Accounting for the difference in blade diameter, Milwaukee's tip speed is 159 MPH—10 MPH faster than a corded 10″ model.
That's all well and good if it comes up on Final Jeopardy, but you need some torque to go with that speed. I set up a variety of test cuts for the M18 Fuel table saw: 3/4″ OSB, 2x untreated pine, and 2x pressure-treated pine. I initially took more time than usual to let the saw keep up. It was quickly evident that I didn't need to.
After several members of our Pro team made test cuts, the result was unanimous – the Milwaukee cordless table saw cuts like a corded model. Beyond having plenty of power, the cut is also very smooth, even with the stock Milwaukee blade.
With the amount of power Milwaukee gets out of this saw, I think they could move up to a 10″ blade. For most of the work we see on residential job sites, you probably don't need the additional capacity, though.
Milwaukee 2736-21HD Dust Collection
Dust collection is above average with the M18 Fuel table saw's design. You'll notice a soft canvas-like layer that moves along with the blade bevel and helps deliver more dust to the port. Even if you're working outside where you can shoot it out, sawdust doesn't collect below the blade as much as a couple of our other saws.
It's interesting that Milwaukee goes with a metal design on the dust port. While most of our saws are happy to use plastic, I'll take the extra durability.
Price and Value
The Milwaukee cordless table saw with a 12.0 Ah High Output battery (216 watt-hours) and Rapid Charger runs $599. That's obviously higher than your typical corded 10″ table saw and we expect that kind of premium.
DeWalt's current price is $449 with one 2.0 Ah battery (108 watt-hours). To get past Milwaukee's capacity, you'll need DeWalt's two-battery kit for $648. That will get you a 2.0 Ah and 3.0 Ah for 270 watt-hours. Or you can just buy another 2.0 Ah pack for $149. Either way you swing it, Milwaukee is the better deal and you get One-Key integration to go along with it.
Milwaukee 2736-21HD Bottom Line
The Milwaukee 2736-21HD cordless table saw packs a big punch along with a solid feature set to expand the M18 Fuel line. In my opinion, it overtakes DeWalt for the lead in a very small group of cordless table saws. The question is whether it can act as a primary job site table saw or if it's just a supplementary tool.
If you don't need to rip beyond the 2-1/2″ capacity, it has the power to stand alone. You'll have to decide if you need a second battery, though.
Milwaukee Cordless Table Saw Specifications
Model: Milwaukee 2736-21HD
Power Source: M18 RedLithium battery (High Output recommended)
Blade Diameter: 8-1/4″
No Load Speed: 6300 RPM
Rip Capacity: 24-1/2″
Max Cutting Depth: 2-1/2″
Cutting Depth at 45°: 1-3/4″
Max Bevel: 47°
Dimensions (LxWxH): 22 x 22.5 x 12 in
Weight: 41.6 pounds
Warranty: 5 years