I remember back when I was helping my dad renovate our old split-level home in Allentown, PA. We did everything with a circular saw, a corded drill, and some well-used hand tools. What I wouldn't have given for the Milwaukee 2734-21HD cordless 10″ miter saw back then. Of course, back then, the concept of a cordless miter saw wasn't even in our imaginations. Today I use a miter saw for a variety of tasks including crown & base molding, cutting composite railing for decks, and other general construction tasks. Switching to something like the Milwaukee cordless dual bevel miter saw would only be possible if I had the power and runtime needed to get my work done.
This is a new category of sorts for Milwaukee. While they've tackled—quite well, actually—cordless circular saws and cordless reciprocating saws, the cordless miter saw is unique. To come up with one that's an effective compound slider is even more impressive.
We got our first sneak peek at the Milwaukee cordless dual bevel miter saw when they announced their 2015 crop of new Milwaukee FUEL tools. At the time it was under a blanket, and we weren't even allowed to take photos of it. Now we get to see what the production version has to offer the professional trim carpenter and contractor.
Editor's Note: Check out our best miter saw article for our top recommendations.
Milwaukee Cordless Dual Bevel 10″ Miter Saw Features
From the name you can gather that the Milwaukee cordless dual bevel miter saw is, well, a compound dual bevel saw. A large rear paddle lets you swing this cordless 10-inch miter saw left or right, and it locks into the expected crown bevel stops.
Before you get to that, however, you need to install the included 60-tooth blade. This revealed our first pleasant surprise. When getting ready to insert the blade I locked down the slide to keep it from drifting and lifted up the blade guard.
And it stayed up!
Sometimes it's the simple things in life that bring a smile to tool reviewers' faces. Yes, the guard will stay up provided you don't bump it. It's enough to allow you to remove the retaining bolt and washer (righty-loosey, lefty-tighty) and install the included 10-inch fine finish blade. Since Milwaukee includes a nice 60-tooth carbide blade, it furthers the impression that the company is targeting the trim carpenter with this tool.
More Milwaukee 10″ M18 Cordless Miter Saw Features
Miter cuts are easy, and the Milwaukee M18 miter saw has a very familiar mechanism that's simple to use. The deck has a stainless steel detent plate, and there are 11 miter locks with an override. We gave the miter lock adjustment screw an additional 180-degree turn to get it to lock more securely to the base. Before that, we could defeat the lock by applying just a little pressure to the arm.
The Milwaukee designed their cordless 10″ miter saw to work with the new Milwaukee M18 9.0 Ah High Demand lithium-ion battery which has a full 162Wh of power capacity. Just one battery delivers around 400 cross cuts of 2×4 on the Milwaukee 2734-21HD miter saw.
Cutting capacity in this saw is impressive, and a lot of manufacturers have been successfully figuring out ways to extend both vertical and horizontal cuts. the Milwaukee cordless miter saw can cut base up to 5-3/4″ in height or nested crown up to 5-1/4″ against the fence. Lay a board down and at 90 degrees you can cut through a 2×12.
The Milwaukee cordless miter saw's dual bevel system has 9 stops which you can bypass by pulling the large paddle all the way up. Possibly the most impressive feature is the LED which is positioned right over the front of the blade. It activates automatically, but you can also trigger it with the flick of your finger (We'll let you guess which one). This gives you a shadow cut line that shows you exactly where the blade is going to contact the workpiece. We first saw this technology on the DeWalt DWS780 12″ miter saw. Back then we said every miter saw should use that system. I'm thankful you apparently can't patent a shadow.
Milwaukee 2734-21HD Miter Saw Specifications
Blade: 10-inch, 60-tooth (included)
Speed: 4,000 RPM
Vertical capacity (base): 5-3/4 in.
Vertical capacity (crown): 5-1/4 in.
Horizontal capacity (45/90 degree bevel): 2×12 in.
Horizontal capacity (45-degree miter): 2×8 in.
Miter: 50/60 degrees (left/right)
Stainless steel miter plate (11 detents)
Bevel: Dual 48/48 degrees with 9 detents
Shadow cut line indicator
Top and Side Carrying handles
Run-time: Up to 400 cuts (w/9.0 Ah battery)
Sliding, removable fences
Easy access blade change
Includes: Miter saw, RedLithium High Demand 9.0Ah battery, M18/M12 Rapid Charge Station, 60-tooth carbide-tipped blade, clamp, dust bag
Weight: 45 lbs.
Warranty: 5-years
Using the Milwaukee M18 Dual Bevel Miter Saw
Of the available cordless miter saws on the market that we've reviewed, the Milwaukee cordless dual bevel miter saw falls in the middle of the pack for portability. A nice rubber over-molded top handle and stainless steel side handle provide some portability, but the saw is generally bulky. As far as weight goes, it beats many competitive saws from Ridgid and DeWalt by 10 pounds or more. By the numbers this saw is lightweight. Only a couple of saws like the Hitachi C10FSB give it a run for the money. Still, I found that the next tool I was keeping my eyes out for was an updated Milwaukee miter saw stand to carry it around on.
With that heft, however, comes some decent build quality. From the FUEL brushless motor to the stainless steel miter deck and heavy-duty bevel controls, there's no skimping on quality or parts. The Milwaukee cordless dual bevel miter saw is, if anything, well-constructed.
Shadow Line & Bevel Cuts
I loved the shadow cut line. Regardless of what blade you put on the saw, you get a dead-accurate line with the exact kerf of your blade. There's no guessing how much material you'll be shaving off with the blade. This saw also has very little blade deflection, so your cuts are more accurate. For trim carpenters, this is a huge issue, and it's nice that the portability of this saw doesn't take away from its accuracy.
For right bevels your need to remove the right-side fence, but the Milwaukee 2734-21HD makes that easy. You just loosen the rear screw and slide the fence to where the provided notch clears it. Both fences slide and remove easily. The included clamp is useful, but we wish it had a quick-adjust mechanism for reaching its minimum and maximum height more quickly.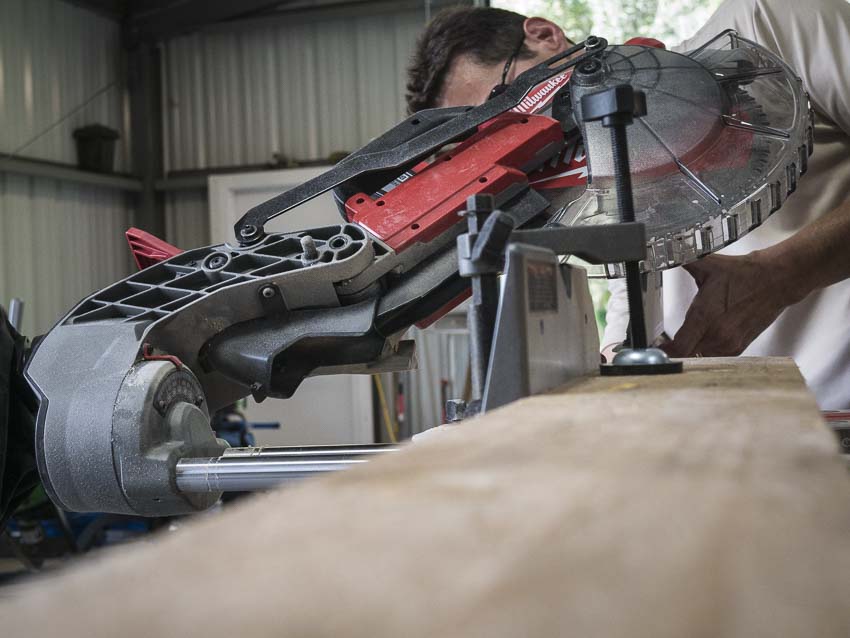 Clean Cuts & Dust Collection
Cuts on the Milwaukee M18 miter saw were smooth with the included 60-tooth blade, and it left nice clean edges. You could hear the saw slow a bit under load when cutting dimensional lumber. The speed drop wasn't so noticeable as to cause concern, however. Swapping out the blade for a 24-tooth general construction model helped speed up cuts but at the expense of the edge smoothness. For crown, base, chair, and cove molding, you'll want to stay with a 60-tooth blade.
Dust collection is very unusual with this saw—as are the bottom-mounted slide rails. Because the rails slide out from the bottom of the saw, the dust port is at a lengthy fixed distance from the blade. The Milwaukee 2734-21HD uses a chute that funnels the sawdust from the blade, along this chute, and into the dust bag. At first, we thought there was no way this could be effective, but the bag captured a considerable amount. With dust collection, it was even more impressive. Make no mistake, you're going to leave a ton of dust around the saw and on the ground if you just use it with the included bag. Many won't care much about this, but it's good to note in case you're planning to use this saw indoors without dust collection.
Milwaukee 2734-21HD Portability
One last note here is that Milwaukee went through great lengths to design their cordless miter saw to be portable. They seemed to cut out a lot of weight by using fancy grids and struts across much of the metal. You can see this especially around the saw arm and the base. One unfortunate consequence of this is that this saw is a veritable dust magnet. After just a few cuts there was dust trapped in just about every crevice imaginable. A good practice is going to be blowing this saw off with a compressor at the end of the day. If you want to keep it clean, you won't have much choice. Vacuuming it takes too much time due to all the nooks and crannies.
We did use the new Milwaukee cordless miter saw to cut some Pergo Outlast laminate flooring, but we kept the saw outside to minimize dust issues. It cut cleanly—even using the included blade.
Milwaukee M18 Miter Saw Review Conclusions
I used the Milwaukee 2734-21HD cordless dual bevel miter saw for several weeks. I can honestly say that I really like it—cord or no cord. It's nice to be able to ditch the cord. I don't have to worry about whether the battery will last. If the Milwaukee 9.0Ah battery has a full charge, just get started. Making more cuts in a day than it will handle is unlikely.
Though this is technically a "lightweight" tool for its class, I plan on keeping the Milwaukee miter saw mounted to a stand. It's easier (for me) than lugging it around by the handles.