We originally saw the Milwaukee 9.0 Ah battery (48-11-1890) in 2015 at Milwaukee's New Product Symposium and immediately started wondering what kind of cordless tools this capacity could open up. They were already pushing the limits with cordless mag drills and rotary hammers. A Milwaukee 9Ah battery opened the final door towards 18V table saws and miter saws.
How Much Work Does a Milwaukee 9.0 Ah Battery Do?
These Milwaukee 9 Ah batteries provide over twice the work of a 5.0 Ah battery because they can run cooler and with greater efficiency. To give you an idea of how this translates into a real-world application, it can make 258 cuts of 2×10. For comparison, Hilti's 36V circular saw did 173. If 2x4s are your mainstay, then realize that a single Milwaukee 9.0 Ah battery can make 537 of those cuts—that's astronomical and likely a full day's worth of work. In fact, at the 2014 Milwaukee media event, they were bragging about the new Milwaukee FUEL M18 circular saw making 233 cuts of 2×4. The times; they are a-changin'.
Watt-Hours Matter
If you want to know the math, the Milwaukee 9.0 Ah High Demand battery delivers 162 Wh (Watt-hours) or energy. That's 80% more than the 90 Wh available on their 5.0 Ah battery pack. On a battery platform, more watt-hours mean you get more run time. It can also potentially mean you get access to more power.
As an aside, we found it pretty interesting that the results of our cordless circular saw review numbers matched up to within 5% of the numbers Milwaukee used at their event to display the run-time and cutting capacity of various manufacturers' competing products. If you ever wondered whether manufacturers tend to "stack the deck", our experience has been that most (not all!) are quite reasonable and fair in their general claims.
Over 2X the Power, But NOT Twice as Big
So how do you get over twice the work of a 5.0 Ah battery out of a 9.0 Ah pack? First you have to understand energy flow. The Milwaukee 9.0 Ah batteries are more efficient thanks to wide channels which feed voltage across the cells. They also run cooler. A cooler pack can accomplish more work because it doesn't have to worry about overheating as easily.
Milwaukee designed the RedLithium High Demand 9.0 Ah battery pack to have 5 cells in three staggered rows, distributing the power in such a way as to keep the pack compact—it's only a little larger than a 4.0 or 5.0 Ah pack. They also retain all the features of current Milwaukee M18 RedLithium batteries like shock absorption, temperature control, RedLink electronics, and protection against water incursion.
When to Use 9Ah Batteries
I knew the future of tools lay with cordless technology, but I hadn't thought we'd get quite this far this quickly. With the Milwaukee High Demand 9.0 Ah RedLithium battery, you get new possibilities. Those new possibilities include cordless SDS Max hammer drills, all-day run-time, cordless saws that compete with corded models—and probably a lot of things we haven't thought of just yet.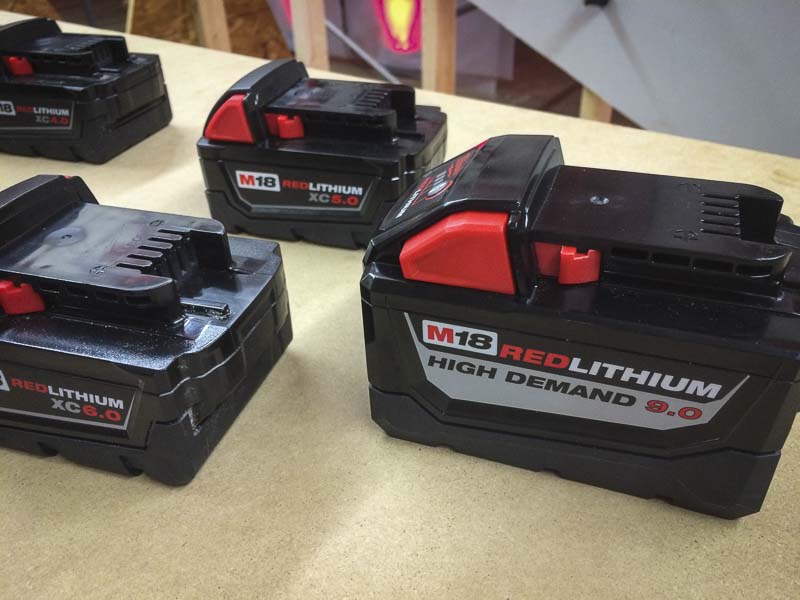 You're not going to want to run these batteries on tools that don't need them—there's no need to add the additional weight (which is measured in ounces, but still). Milwaukee 9.0 Ah batteries work best on high demand tools and applications where you really need to squeeze out the most power or runtime possible from a cordless tool.
Milwaukee M18 9.0 Ah Batteries and Liquid Contact
Milwaukee issued a press release reminding users that highly conductive and corrosive liquids can have disastrous consequences on your battery. Liquids like bleach, salt water, and a plethora of other chemicals can create a connection between cells and cause a battery failure. In its most spectacular form, that can cause the battery to smoke or catch fire.
With hoverboards and smartphones making the news for their actual battery failures, it's a good reminder of how reactive these packs can be – if they're mishandled or poorly constructed. There's nothing wrong with the construction of Milwaukee's packs, but there can be serious consequences if you're not conscientious of your usage.
Why is the Warning Attached to the Milwaukee M18 High Demand 9.0 Ah Battery?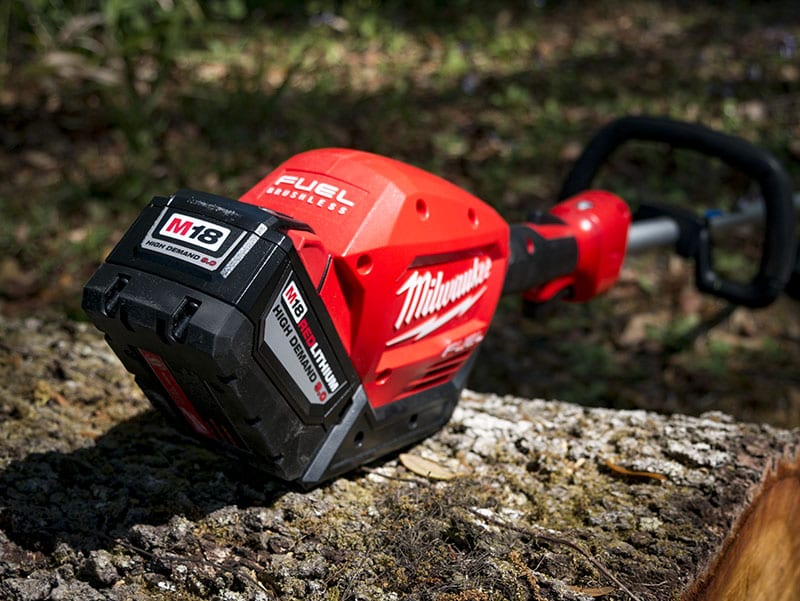 When we spoke to the gurus at Milwaukee, they used a rather simple, but intelligent word picture to help us understand why this is just now becoming an education focus for them.
Take two ladders – one with a 3-foot working height and the other with a 10-foot working height. Which will do more damage if you fall off of it?
The taller ladder, of course. It's a similar idea to the Milwaukee M18 High Demand 9.0 AH Battery. The increase in overall energy storage is much greater and the failure is potentially more dangerous. So like when you're working at higher elevations, more precaution is in order.
But like I said, the warnings are the same for all lithium-ion batteries, there's just a greater point of emphasis to educate end users as they get more powerful. It's always a good idea to avoid getting any liquid inside your battery packs, but some liquids are worse than others.
Milwaukee 9.0 Ah Battery Features
Model: 48-11-1890
Up to 5X more run-time
Up to 35% more power
Runs up to 60% cooler
Up to 2X the performance of M18 Redlithium XC5.0
Delivers more work per charge of any 18V battery on the market
Exceeds higher-voltage or multi-battery platform performance
Fits all M18 tools
Price: $199