Laser distance measures – or meters – are a great tool for quickly measuring spaces more easily than with a tape measure. While they are very convenient, there are some trade-offs to consider. One of the great things is that these measuring devices continue to improve in their accuracy and function, making them much more than just a simple tape measure replacement. The Milwaukee Laser Distance Measure currently comes in several different options and price points. Today, we take a closer look at their mid-range 150-foot Milwaukee 48-22-9802.
The laser is built around standard tool plastic and has a protective overmold on each of the four side edges. This should protect it in most drop situations, but there's room to extend it to be a little more encompassing. The unit runs on two AAA batteries that Milwaukee includes in the package. Milwaukee's motto is "disruptive innovation", so there are a couple of new features here that we don't see on the models. Let's take a closer look.
Notable Features
Side Shot
You have seven buttons to work with, which makes the 150′ Milwaukee Laser Distance Measure look a little complicated at first. However, two of these buttons serve the same function. In the center is your standard measurement storage button, but Milwaukee also includes one on the side.
This is particularly helpful when you are measuring against walls and that measurement storage button is in a rather inconvenient location. Even though I know the button is there, I still find that I will go with the center button. But the Side Shot really is more convenient. The more I get used to it being there, the more I like it. I also appreciate the fact that Milwaukee didn't use the Side Shot as a replacement button, but rather as an addition to the standard design. This means I have a convenient button location in most scenarios.
Corner Lever
The other new innovation on the 150′ Milwaukee Laser Distance Meter is a corner lever. This simple appendage kicks out to give you a contact point in corners and automatically adjusts the measurement to account for its length.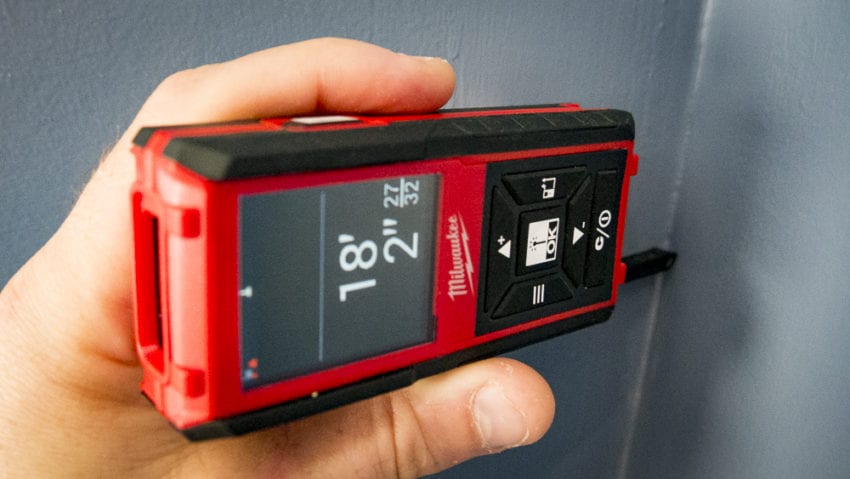 Backlit Screen
A backlit screen hasn't always been the standard for laser distance measures and Milwaukee includes a nicely lit 2″ screen with some color to it. As you can imagine from the brand known for its red color, red is the predominant color aside from the black, white, and gray. The screen is bright enough for all interior use, though I did have some issues seeing it in bright sunlight. Simply using my hand to provide a shadow is enough to make it visible again.
Controls
I already mentioned the Side Shot and its companion button, but there are five others to work through. Typically, more buttons mean more complexity. That's not really the case here since each button serves just one function.
Well, almost.
The power button turns the unit on or off – obviously – and also functions to clear a measurement you don't want to keep. The left button opens the menu and the up and down buttons scroll through the options. Your select button is in the center or side.
The right button on the main control pad switches between measurements from the back or front of the unit. An icon in the top left of the screen lets you know which one you're on so there's no guesswork. This button doesn't change anything when the corner lever is out.
Sheath
I really wouldn't mind having a belt clip on my laser measure and none that I've used come with one. However, Milwaukee does give you a nice sheath with a belt loop that looks heavy-duty enough to take just about anything you throw at it.
Milwaukee 150-ft Laser Distance Measure Performance
Accuracy
The accuracy of this laser is 1/16 of an inch and it reads to 1/32 of an inch. In my testing, I found the measurements to be dead on with my Milwaukee 25′ Compact Tape Measure from both the front and the back on all but a few test measurements. Using the corner lever made it a little more difficult to line up exactly with my tape, but even by just eyeballing it, it's no more off than 1/16 of an inch.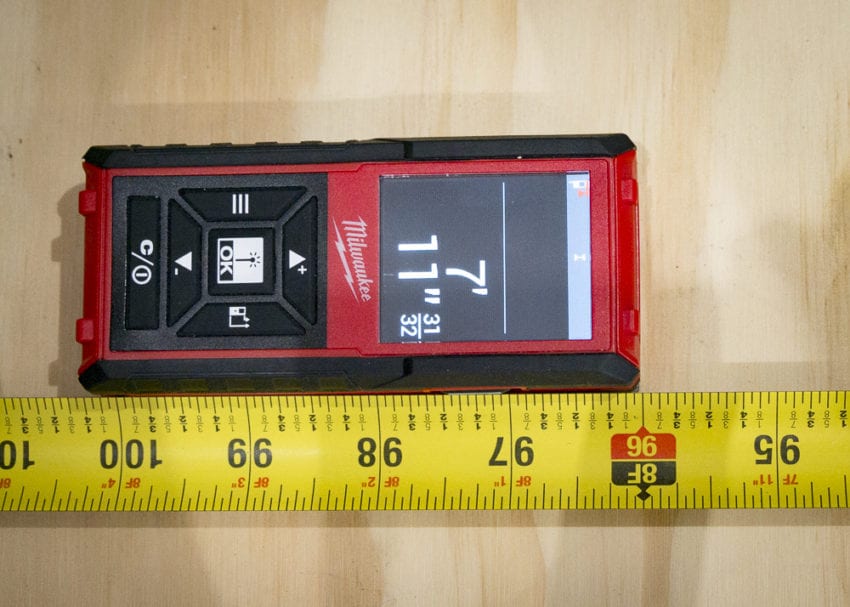 It is possible for the material the laser is striking to affect the accuracy of the measurement. It's going to do best against hard surfaces that the laser reflects easily off of. However, with the measurements I took against granite backsplashes, plaster, and drywall with various paint colors, I didn't have any measurements outside the 1/16 inch level of error. The one place I did was against crown molding that deflected the laser more than a flat surface.
Laser measures on the inexpensive end will typically have an accuracy of 1/8-inch, so the 1/16-inch accuracy here is definitely a step up and about as good as you can expect at any price point.
Range
If you go for an entry-level laser measure, you should expect it to get 50 to 65 feet of range. On the other hand, going to the more expensive side of things will net you 330 feet or so. The Milwaukee 48-22-9802 is the mid-range model and it will give you up to 150. That's a good middle ground for most interior work and helps balance out the price point.
The Bottom Line
For most interior work where a laser distance meter is a useful tool, the 150′ Milwaukee Laser Distance Meter finds a nice middle ground between range, accuracy, and feature set while keeping the price under $100. The Side Shot button and corner measurement lever are nice additions over standard measures and Milwaukee keeps the interface from being overly complicated.
There are some other features available on other units like Bluetooth connectivity and some more advanced calculations, but this will handle the majority of your needs for calculating distance, area, and volume without a notepad and calculator.
Calling the $99 Milwaukee Laser Distance Meter – or any laser measure for that matter – a tape measure replacement is a bit of a misnomer. It's true for applications like estimates for flooring or paint and transferring layout information to a CAD system. But it's not going to help you make cuts on a table or miter saw on its own, so you'll still need a tape measure for that. For its design purposes, though, the 150′ model does a very nice job with solid accuracy at a reasonable price.
Milwaukee Laser Distance Measure Key Features
150′ Range
+/- 1/16″ Accuracy
Simplified User Interface
Backlit Color Screen
Side-Shot Button
Continuous Real-Time Measurements
2 Position Auto-Detecting Lever
IP54
Milwaukee Laser Distance Meter Specifications
Model: Milwaukee 48-22-9802
Length: 4.2″
Width: 1.9″
Height: 0.9″
Weight: 0.2 lbs
Warranty: 3 years
Price: $99.99