The Milwaukee 2848-20 Inflator Claims to Be the Fastest 18V Model on the Market
When Milwaukee Tool made the claim that its M18 2848-20 cordless tire inflator was the fastest 18V model on the market, we had to get it in and test it for ourselves. Having used nearly a dozen of these cordless tools already, we've found that they all get the job done…but quickly? Not so much. We wanted to put this particular tool to the test on cars, trucks, and even some ranch equipment to see if it could increase the only kind of inflation we like around here.
Pros
Truly quick compared to all other tested tools to-date
Lower frequency sounds better than the typical high pitch of other cordless inflators
Accurate pressure gauge
Brass Schrader chuck
150 Max PSI
Cons
Leaks a bit of air on removal due to the depth of threads on the Schrader chuck
Milwaukee M18 Cordless Inflator Performance
Right from the start, we knew this was an unusual inflator. For one, it never took more than a minute to top off any of our vehicle tires—even the ones that were down by a considerable percentage. The Milwaukee M18 Cordless Inflator also emits a lower pitch when running than other tire inflators we've used. It's not as hard on the ears. We first tested it out on a combination of passenger vehicles, including cars, trucks, and SUVs from Jeep, Honda, Subaru, and Ford.
Setting the desired pressure involves pressing the + and – buttons on the Milwaukee 2848-20 and then hitting the inflate button on the right to begin. Milwaukee designed their M18 cordless inflator to take readings throughout the tire inflation process. This seems to help it get a more accurate fill. Based on our comparisons using a manual tire pressure gauge—it did a more accurate job of hitting our target PSI numbers by as much as 2 PSI.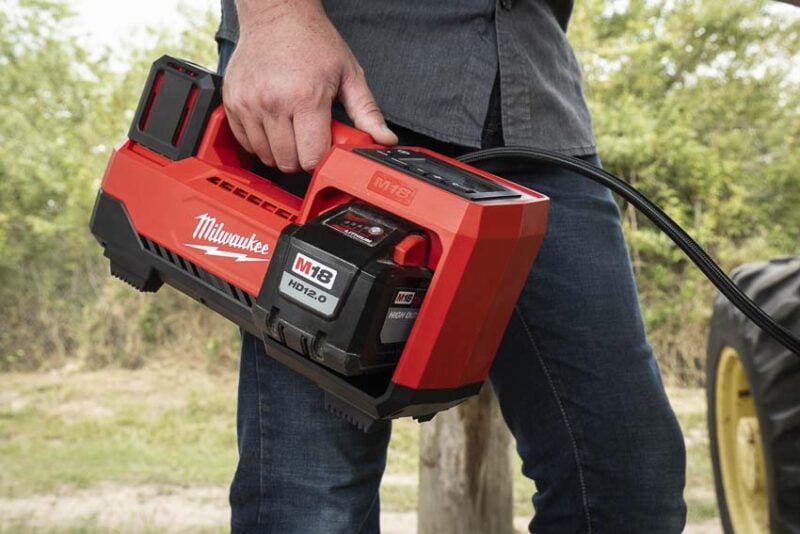 After finding it easy and quick to fill up our passenger vehicles, we took the Milwaukee M18 tire inflator to the ranch to pair it with a John Deere tractor. While those tires don't require a lot of pressure, they do need a bunch of air volume. Unsurprisingly, the Milwaukee 2848-20 tire inflator's increased filling speed—even with the pauses to re-evaluate pressure—shaves a lot of time off a job filling larger tires like these.
Comparing the M18 Tire Inflator Speed and Accuracy to Other Models
We compared the Milwaukee 2848-20 to the Ryobi P747 dual function inflator and the Ridgid R87044 digital inflator. The test included draining 6 PSI off the tire of a 2015 Ford F150 and then seeing how quickly the inflator could top it off back to 36 PSI. We verified the before and after pressure using a manual dial-style tire gauge.
| | Milwaukee 2848-20 | Ryobi P747 | Ridgid R87044 |
| --- | --- | --- | --- |
| Inflation Time | 0:52 | 2:19 | 1:19 |
| PSI at completion* | 36 PSI | 35 PSI | 35 PSI |
| Function | Tire Inflation only | Tire & High Volume | Tire Inflation only |
| Price | $169 | $59.98 | $69 |
*Measured with a manual tire gauge
Milwaukee M18 Cordless Inflator Design Notes
This really isn't a complex tool. While it excels in speed it also uses a simplistic interface. You get 4 memory positions which you toggle through using the Memory button under the backlit LCD screen. Use the + and – buttons to set the desired pressure and then hit the inflate button to begin inflating.
I love that, as it works, the tone of this tool isn't quite as high-pitched as other battery-powered tire inflators. Milwaukee clearly used a larger internal bladder, so it runs at a lower frequency and fills tires more quickly. The auto pressure check feature seems to work really well, and I even liked the design of the brass Schrader chuck. One potential issue is that the number of threads on the Schrader valve caused me to lose a bit more air than I would like when removing it from the valve stem.
Additional Features
Includes inflation needle, nozzle, and Presta chucks
Backlit LCD screen
Onboard hose and nozzle storage
Fits all current M18 batteries
Anti-vibration feet
Milwaukee M18 Cordless Inflator Price
You can pick up the Milwaukee 2848-20 M18 cordless tire inflator for around $169 as a bare tool. We've seen it as a kit for around $348, but that seems excessive. Get the bare tool or wait for a deal or special.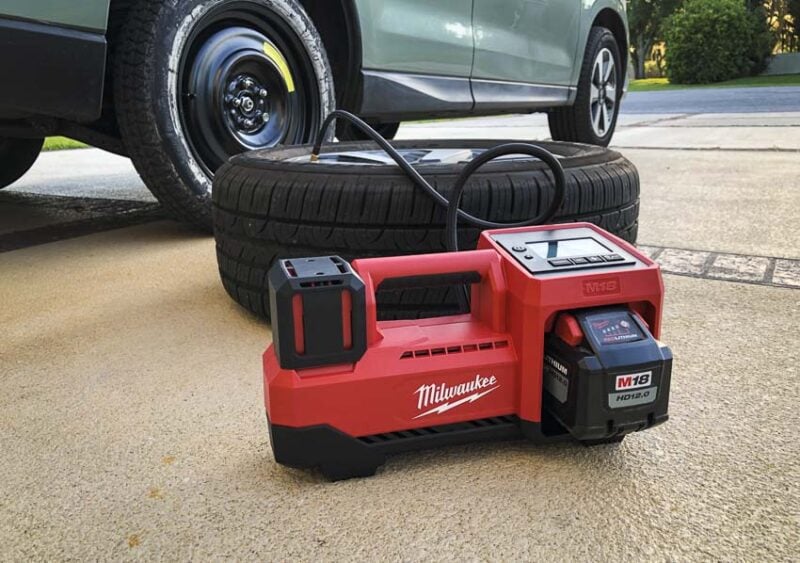 The Bottom Line
This product should really appeal to current Milwaukee Tool users. Skip the kit option and just use whatever batteries you have lying around. We tried it with both a 5Ah RedLithium and 8Ah High Output battery. You just get more inflating between charges with a larger pack. Compared to every other 18V tire inflator we've used, the Milwaukee is significantly faster. This will especially matter to anyone doing a bunch of remote inflating and wanting a quicker solution. If that was the primary design goal Milwaukee Tool had in mind for this tool, then we say: Mission accomplished.
Milwaukee M18 Cordless Inflator Specifications
Model: 2848-20
Chuck (integrated): brass Schrader
Max pressure: 150 PSI
Dimensions (HxWxL): 7.8 x 6.4 x 13.8 in.
Weight: 9 lbs.
Warranty: 5-years
Includes: M18 Inflator, integrated brass Schrader chuck, inflation needle, inflator nozzle, Presta chuck