Last Updated on May 3, 2022
Ryobi Upgrades a Classic
Not many of us spare too many thoughts for the lowly tire inflator until we actually need one, and then they become exceedingly helpful in a pinch. Between filling bike tires, the occasional air mattress, the odd basketball, ZT mower tires, and my driver-side rear car tire with an almost-imperceptible-but-definitely-there-if-you're-paying-attention slow leak, we actually find a fair amount of use from our old Ryobi Inflator. That's why when Ryobi sent us the new P747 Ryobi Dual Function Inflator/Deflator recently, we got excited about the potential upgrade.
An Unsung Hero of the Shop
The new Ryobi Dual Function Inflator/Deflator comes through in a pinch so long as you have an available One+ stem pack style battery. Fortunately for many of us, the Ryobi One+ platform is so deep, yet affordable, it's not unreasonable to assume that you could likely have a few spare batteries lying around. Such is the case in our shop.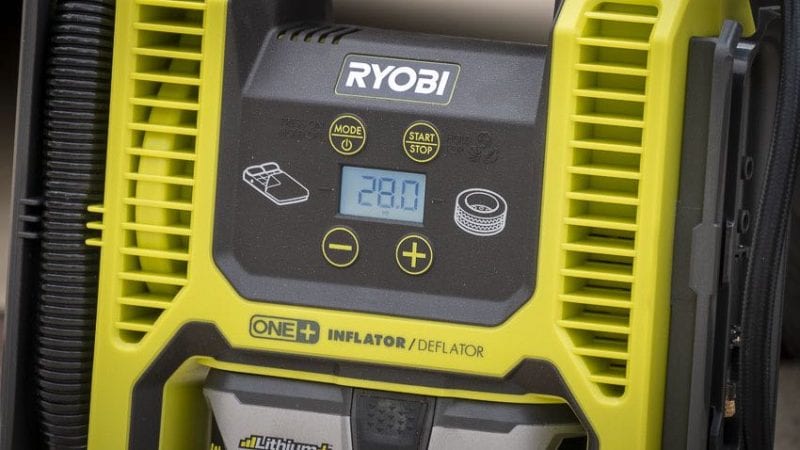 The P747 Inflator/Deflator is legitimately easy to use. It has a pretty intuitive control panel that doesn't really require you to read through the manual (I didn't bother). You turn on the unit and pick your application by toggling through the modes on one button, set the desired pressure via the +/- buttons, and fire it up with the Start/Stop button.
As I've already mentioned, I have a slow leak in one of my tires. It's not the end of the world, but it does require the occasional fill-up from time to time. After hooking up the hose from the P747 to the fill nozzle and setting my pressure level, the digital readout showed that my tire pressure was a little low at 26 psi. Starting the process was quick and easy, and the tire reached the desired 30 psi in about 15 seconds then shut itself off. This inflator can actually reach a max pressure of 150 psi.
But car tires aren't the only application this inflator can handle. Ryobi includes a high-pressure nozzle, Presta valve adapter (now brass!), and a needle for filling sporting equipment. All of these accessories and the air hose store neatly away on one side of the unit. They've even included nubs that hold your valve stem caps in place so you don't lose them.
Useful for Work and Play
On the other end of the Ryobi Dual Function Inflator/Deflator, we have the business end for your high volume fill and deflation applications. The high volume hose, which wraps around its hub for out-of-the-way storage, locks into the nozzle on the top of the unit for filling things like air mattresses. Incidentally, you can fill a twin-size air mattress in about 30 seconds with this inflator.
For those inflatables that have pinch nozzles, Ryobi includes a removable adaptor. Those will likely fill up much faster.
When it's time to pack away that air mattress, you can attach the hose to the deflation port and suck the air away just as quickly.
Quick Gripes
Neither of the following criticisms feels like the end of the world for us, but they're probably worth mentioning. One thing we noticed about the P747 was that it ran a bit louder than the older model. This probably won't ruin your day as long as you're not trying to hold a conversation around it during the 30 seconds that it's working.
This also seems trivial, but we might like to check the battery level without having to remove the battery from the inflator. As it stands, there's no way around that minor annoyance.
Affordable and Portable
The P747 measures about 9″ x 10″ x 3″, and it weighs just 2.8 lbs. That makes it both easy to carry, and it won't take up a ton of space when stored away on a shelf or in the trunk of your car.
The Ryobi Dual Function Inflator/Deflator retails for $34.97 at Home Depot. It sells as a bare tool, but Ryobi does a really good job of making the 18V One+ batteries affordable. At the time of this review, you can pick up two 18V 3.0Ah batteries and a charger for just $99. Ryobi tools, batteries, and chargers all come with a 3-year manufacturer warranty.
Ryobi Dual Function Inflator/Deflator Specs
Model: P747
Voltage: 18V
Max Pressure: 150 psi
High Pressure Inflator (HPLV) Flow Rate: 0.49 SCFM @ 35 psi
Dimensions (LxHxD): 9.3 x 10.3 x 4 in.
Weight: 2.8 lbs.
Warranty: 3-year
Price: On sale for $34.97 (bare tool) at Home Depot