Last Updated on August 25, 2020
The Milwaukee M18 Force Logic 750 MCM Dieless Crimper recently put on a crimping clinic and displayed the company's knack for innovation. An inline design and proprietary Auto Distance Control makes it the lightest battery-powered 750 MCM crimper on the market. Our crew at G&G Electric gave it a test run wiring up large cables at a regional airport. The job site provided the perfect proving ground for the Milwaukee 2877-22.
Need a Lift?
The airport job required working up in a lift, wrestling stiff cables into a shallow box, and crimping in tight spaces. In other words—perfect examples of the advantages of the remarkably light and maneuverable Milwaukee M18 Force Logic 750 MCM dieless crimper.
The benefits of a battery-powered crimper of any kind over the hydraulic or manual pump versions that we used for so many years should seem obvious. There's also a clear advantage when using a dieless crimper. For those new to crimping: someone could have forgotten the dies in the truck—or worse, back at the shop! That's incredibly inconvenient when you find yourself up on a lift. And there's no tethering dies when working at height, so inherent convenience and safety features come along with dieless crimpers.
The Milwaukee 2877-22 Grip Style
Of course, the Milwaukee M18 750 MCM dieless crimper has dieless competitors. Most use a pistol-grip style much like this model's (die-d) predecessor we reviewed a few years ago.
The barrel-grip inline design shaves the weight down to 9 pounds from 11.3—and that comes before adding dies. Even DeWalt's pistol-grip dieless crimper comes in at 11.2 pounds. We were very grateful for the weight reduction as we contorted ourselves and the cables to get proper crimps on the barrels!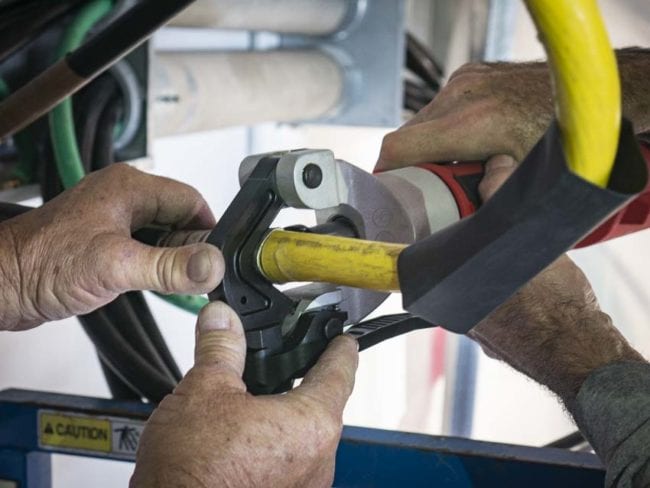 The inline design also makes the Milwaukee 2877-22 dextrous in tight, shallow spaces. Simply put the barrel in the clevis for the first crimp or open the access latch and slip the jaw around the barrel for the second crimp. You can hold the Milwaukee M18 Force Logic 750 MCM dieless crimper out further from your body with less fatigue than the heavier, pistol-grip versions. And the 180° rotating head helps, too.
Crimping With Confidence
There's no need to adjust the crimper across the size range because its Auto Distance Feature detects and adjusts to provide the appropriate crimp. As you may have seen with other crimpers, the tool will only begin the crimp if the battery has enough power to complete it. And you know it supplied the proper amount of pressure when the green light illuminates.
The Milwaukee M18 750 MCM Dieless Crimper can certainly make crimping heavy cable a one-person job, but we found it much easier with two of us, especially as we became acquainted with the tool. If you don't have a lot of cable to work with, you may just need a hand wrestling it into place for the proper crimp.
Price
Crimpers often fall among the most expensive power tools on the job. The Milwaukee M18 Force Logic 750 MCM dieless crimper kit is no exception at $4,599. Although it's the only inline design in the group, here's a look at some competitors.
Milwaukee 2877-22 750 MCM Dieless Crimper Features
Produces UL 486a-b classified connections for #6 AWG to 750 MCM Cu & dual rated connectors across all leading connector manufacturers
Auto Distance Control continuously measures distance & pressure for uniform crimp across all cable sizes
Crimps 750 MCM cable in <5 seconds
180° rotating head
Low profile clevis and narrow nest for easy alignment
Easy access latch & one-handed close
Up to 90 600MCM Cu crimps per charge on an M18 CP2.0 battery
Pre-crimp battery check ensures enough charge to complete each crimp
Successful cycle Green LED
Record & stores every crimp made for reporting via ONE-KEY
Brushless motor
Weather-protected electronics
Dimensions (LxWxH): 18.9 x 3.3 x 6.5 in.
Weight: 9 lbs
Price: $4599 (2877-22 kit)
The Bottom Line
The Milwaukee 2877-22 750 MCM dieless crimper is a huge improvement over die-d crimpers and even over heavier pistol-grip designs. It's one of those tools that you won't give up one you've used it. Yes, it's a pricey tool in a pricey category, but for industrial and other large-scale electrical installation, it quickly pays for itself in time saved.
Get more information from the MilwaukeeTool.com.