When we documented the best new Milwaukee tools from NPS19 (their annual media event), the Milwaukee M18 Fuel 9-inch cut-off Saw was only two tools away from our top spot. The new saw does an incredible amount of work on a single 18V battery and seemed to have the power required for both metal-cutting and concrete work. This saw raises the bar for cordless concrete tools in the industry.
Milwaukee M18 Fuel 9-inch Cut-Off Saw Features
The Milwaukee M18 Fuel cut-off saw kit comes with the 12 Ah High Output battery. It uses that as its sole power source yet cuts up to 3.4-inches deep into concrete. The tool includes both diamond and abrasive wheels.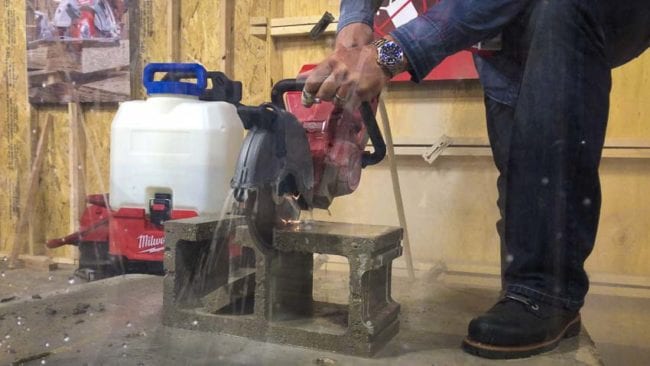 Milwaukee also ensured its power cutter can handle reinforced concrete—all while reducing weight. In fact, the Milwaukee cordless cut-off saw weighs up to 50% less than some gas saws we've used. Also, since there's no gas, the tool emits no fumes. You can cut to your heart's content on indoor projects. We recently did a bathroom addition using a corded Husqvarna K4000 power cutter. A cordless cut-off saw like this would have come in very handy.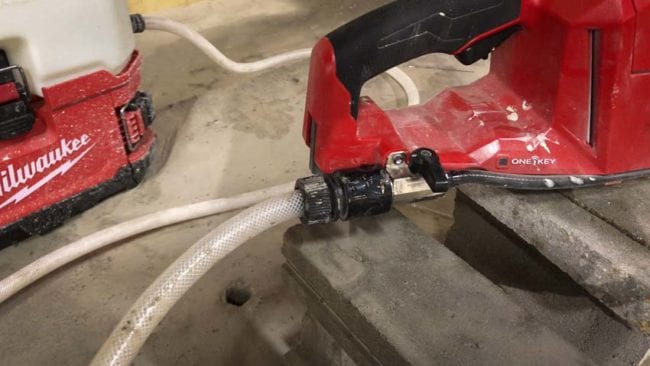 An onboard water connection pairs beautifully with the Milwaukee Switch Tank Water Supply, making a completely cordless wet-cutting solution. There's no vac attachment for dry cutting, though.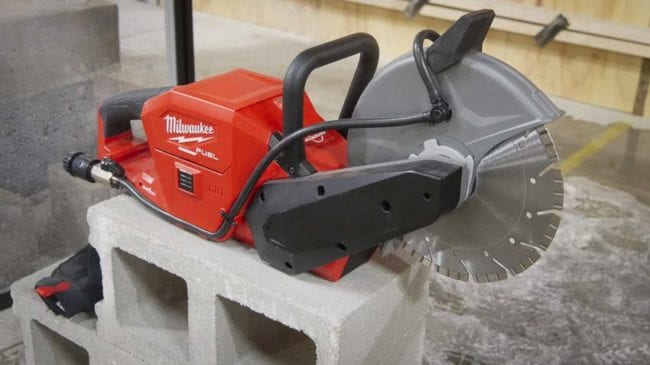 Last, but not least, One-Key is onboard to help you track and lockout the tool. It doesn't provide custom tool control, but for something like this, making sure it's easily inventoried makes sense. It also works to track the tool through the use of the Milwaukee On-Key app.
The new tool hits stores in October 2019 for $599 (bare tool) and $899 with two 12.0 Ah batteries and a charger.