Milwaukee M18 Fuel Compact Pipe Threader Drops Size and Weight for Smaller Pipes
Milwaukee's original cordless threader is a really big deal in a couple of ways. Not only does it give tradesmen a cordless option for threading pipe, but it is also a hefty tool. While convenient, it can be a bit much if your needs are primarily on smaller-diameter pipes. If that sounds like you, the Milwaukee M18 Fuel Compact Pipe Threader is right up your alley.
Pros
More compact
Much lighter
Excellent threading speed
Kickback control
Head extension (Side-Grip) eliminates contact with the dies during use
One-Key onboard
Easy die changes
Cons
Milwaukee M18 Fuel Compact Pipe Threader Performance
The trade-off for going with a more compact threader is that you have a smaller capacity than the full-size version. The compact threader is compatible with 1/8-inch to 1 1/4-inch dies whereas the 2874 can thread up to 2 inches.
Speaking of dies, there's news on that front, too. Milwaukee is launching a line of die heads that claim to be the industry's lightest—50% lighter than the competition. These compact forged aluminum die heads are compatible with the new threader but not the larger model. If you have the 2-inch threader already, Milwaukee has dies for it, too.
Between the dies and the tool's brushless motor, you can thread rigid conduit, stainless steel, and even black iron pipe at speeds up to 35 RPM. That's slightly lower than the larger version's 41 RPM top speed. The compact model also sports one speed compared to 2874's two speeds.
The Milwaukee 2870 shares the Autostop kickback protection of its big brother. If the tool senses kickback, it automatically shuts down the motor before it can cause an injury.
Milwaukee M18 Fuel Compact Pipe Threader Design Notes
Size and Weight
Without a doubt, size and weight are the two biggest talking points on Milwaukee's latest threader. The compact 2870 is 19.7 inches long as a bare tool. That's more than 6 inches shorter than the original 2874.
The weight is significantly lower, too. Where the original weighed 22.3 pounds bare, the compact version is just 14.3 pounds… with a 1-inch die and 8.0Ah High Output battery. Bare, it's 10.6 pounds. That's a HUGE drop!
Die Changes
Another big advantage the Milwaukee 2870 has is that die changes are super-easy. Just turn the collar to the unlock position, slide the new die in, and turn the collar back to the lock position. It's much easier and faster than we found with DeWalt's cordless threader.
Additional Highlights
Side-Grip eliminates hand contact with the die head before and during threading
Dedicated support arm included
One-Key integrated for tracking, inventory management, and security
Milwaukee M18 Fuel Pipe Threader Vs M18 Fuel Compact Pipe Threader
| | | |
| --- | --- | --- |
| | 2874 Pipe Threader | 2870 Compact Pipe Threader |
| Speeds | 2 | 1 |
| Die Range | Up to 2 inches | Up to 1 1/4 inches |
| Length | 26.3 inches | 19.6 inches |
| Weight | 22.3 lbs bare | 10.6 lbs |
Milwaukee M18 Fuel Compact Pipe Threader Price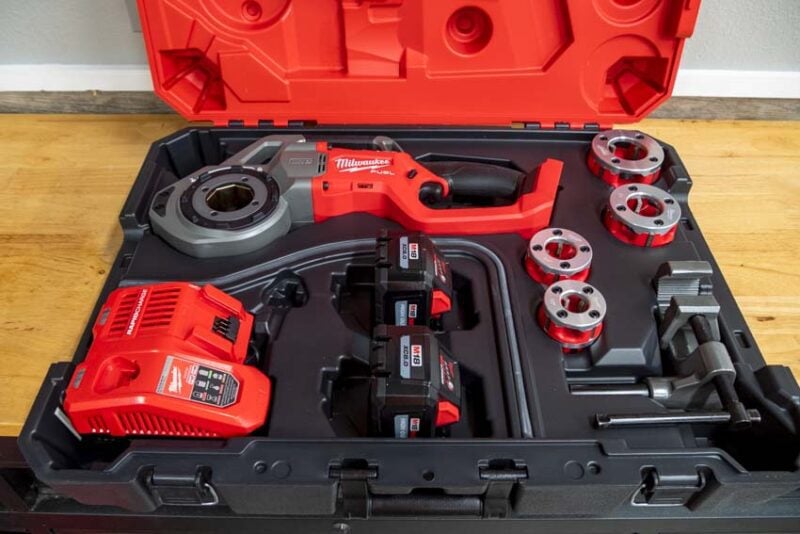 Look for the compact threader as a kit for $2199.99. It includes the tool, two 8.0Ah High Output batteries, and an M12/M18 multi-voltage rapid charger along with the lightweight 1/2, 3/4, 1, and 1 1/4-inch dies. There's no bare tool option at the moment.
Milwaukee backs the threader with a 5-year warranty.
The Bottom Line
Whether you deal exclusively with pipe and conduit 1 1/4-inch or less, or you want a compact supplement to your larger threader, the Milwaukee M18 Fuel Compact Pipe Threader is incredibly convenient. It's lighter, smaller, and still has excellent threading speed. Of course, it's cordless, so you can take it anywhere without needing to worry about a separate power source.
Specifications
Model: Milwaukee 2870-22HD
Power Source: Milwaukee M18 battery (High Output recommended)
Die Range: 1/8 – 1 1/4 inches
Length: 19.6 inches
Weight: 10.6 pounds bare, 14.3 pounds with 1-inch die and 8.0Ah battery
Warranty: 5 years