Milwaukee Brings a Wet/Dry Vac to Join the Packout Team
The Milwaukee Packout modular system might be the tippy top of what the industry has on offer for complete modular tool storage and transport solutions. And, with the addition of the Milwaukee M18 Fuel Packout Wet-Dry Vacuum (model 0970-20), the system looks like it's now… completer. Not only does the 2.5-gallon vac offer 60% more suction than your typical 18V vacuum, but it also fits seamlessly onto Packout storage boxes and tools for secure and organized transport to and from the jobsite.
10-Second Summary
Model: Milwaukee 0970-20
Brushless motor generates ~50 CFM and 47-inches of water lift
Built-in blower port
High/low switch
Up to 50-minute runtime with 8.0Ah battery
Organized onboard storage for hoses and accessories
Noise: 87 dBA
Washable HEPA filter and power tool adapter help keep jobsite OSHA-safe
Available Fall 2020
5-year warranty
Packout with Your Vac Out
The Milwaukee M18 Fuel Packout Wet-Dry Vac features a brushless motor that, Milwaukee claims, delivers 60% more suction. This should give users more power for cleaning up common wet and dry jobsite debris. What does that look like (aside from an improved version of the Milwaukee M18 Cordless Wet/Dry Vacuum)? Milwaukee claims this 2.5-gallon vac generates 47-inches of water lift at 50 CFM. A built-in blower port lets you send all that sucking force the other direction if needed.
The Milwaukee 0970-20 vacuum includes a washable HEPA filter to keep dust and microparticles safely contained. A power tool adapter allows the vacuum to work in conjunction with your tools for powerful dust collection, helping to keep your jobsite OSHA-safe.
Milwaukee 0970-20 Packout Vacuum Runtime
The Packout Wet-Dry Vacuum features two speeds, prioritizing either power or runtime. With an 8.0Ah High Output battery attached, this vacuum can run for up to 30 minutes in High mode, or over 50 minutes in the Low. That tops the capabilities of the former M18 wet/dry vac. That model has just one speed and delivers around 30 minutes using a 9Ah battery.
Operating at only 87 dBA, the M18 Fuel Packout Vacuum offers a quiet solution to jobsite cleanup. Milwaukee also claims that it's 2X quieter than a traditional wet-dry vac, making it the ideal solution when working in occupied spaces.
Attachments and Organization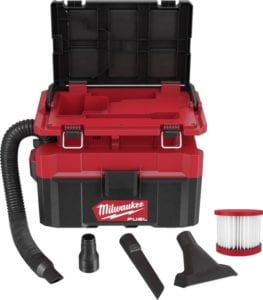 As part of the Packout lineup, the Milwaukee 0970-20 features an intuitive attachment mechanism that lets you quickly and securely lock it into place on your Packout boxes. It can be used either on or off the Packout stack.
Milwaukee redid onboard storage for the hose, utility nozzle, and crevice tool. These now recess into the top section, keeping your whole setup nicely organized. The battery inserts down through the opened top lid—just as you'd expect. Based on the opening, the vacuum looks like it supports up to 12Ah batteries.
You can expect to see the Milwaukee M18 Fuel Packout Wet-Dry Vacuum in stores sometime this Fall. It should price somewhere in the neighborhood of $199 and includes Milwaukee's standard 5-year warranty.
Milwaukee M18 Fuel Packout 2.5 Gallon Wet-Dry Vacuum Specs
Model: Milwaukee 0970-20
Suction volume: 50 CFM
Sealed suction in water: 47-in.
Noise: 87 dB(A)
Canister capacity: 2.5-gallons
Inlet diameter: 1-1/4 in.
Dimensions (HxLxW): 12.8 x 17.1 x 10.5 in.
Weight: 11.3 lbs
Warranty: 5-years
Price: $199 (bare tool)
Washable HEPA filter (49-90-1900): $14.99 (one included)