Cordless rotary hammers may still have some catching up to do with the corded masonry scene, but the Milwaukee M18 Fuel SDS-Plus Rotary Hammer is leading the pack. Managing road crews, we end up drilling through concrete and asphalt quite a bit for various repairs and installations, but I've been hauling around a generator and extension cords for too long now.
The fact is, going greener is better for everyone. No emissions and less noise make for happier neighbors. Not dragging extension cords and fooling around with gas generators makes for a happier and more productive crew. Well, more productive if this new cordless hammer can keep up with the pace we work.
I was impressed with what Bosch put together in their 36V rotary hammer that I reviewed a few months ago. But Milwaukee has a reputation for pushing the performance envelope. Since I'm already on the M18 battery platform with other tools, like the Deep Cut Band Saw, I'm hoping this will at least meet the performance and durability of what Bosch offers.
First Impressions
Before the Milwaukee M18 Fuel SDS-Plus Rotary Hammer even arrived, I took a look at how it compares to other 18V hammers on the SDS-Plus system.
Mind. Blown.
With 3.3 foot-pounds of impact energy (or 4.5 joules if that's what you're comparing),  5000 BPM for an impact rate, and 1350 RPM Max, nothing else really comes close. Makita's 18V X2 (36V) model reaches the general neighborhood but still falls short along with the other 36V hammers I looked at.
I went with the Milwaukee 2715-22 kit. This comes with the tool, depth rod, and auxiliary handle like you'd expect along with a charger and two 5.0 amp hour batteries. Other kit options include a bare tool, 5.0 Ah kit with a dedicated dust extractor, and a 9.0 AH kit. At 7.7 pounds without your chosen battery, the hammer isn't light, but it's well within the acceptable range for tools in this class, corded included.
Three standard modes are found on the control switch – drilling, hammering/chiseling, and hammer drilling – plus a setting that allows you to rotate the chisel to your desired angle before locking it in.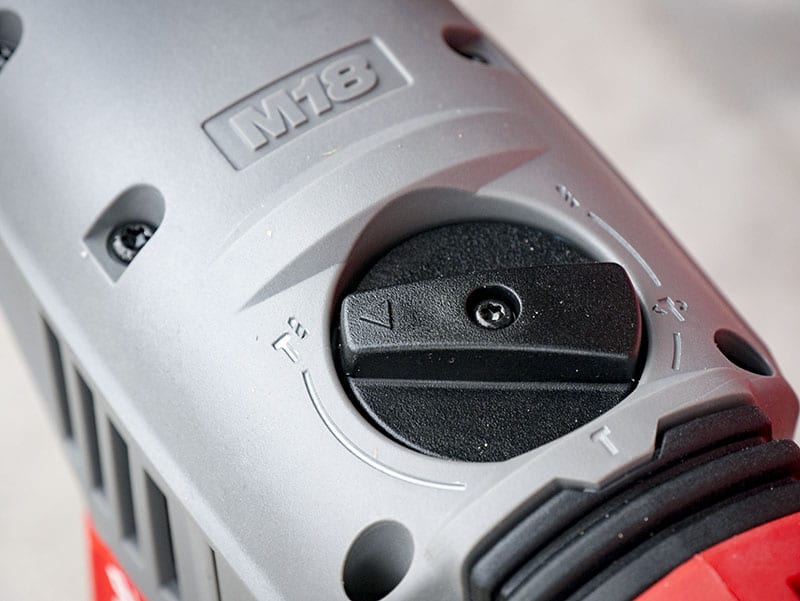 An LED light is located at the bottom of the tool. I didn't have much use for this since I wasn't in any low-light applications, but it seems bright enough.
Performance
Class leading performance stats don't mean much if it doesn't translate into real-world performance and the Milwaukee M18 Fuel SDS-Plus Rotary Hammer doesn't disappoint. We're not your typical concrete guys – we're on road maintenance and repair. That means our needs are pretty varied and we have a combination of scheduled work and reactive work following accidents.
The biggest task we've had on our plate over the past few weeks is sign installation. These have to go into concrete with fasteners that are right in the wheelhouse of the Milwaukee M18 Fuel SDS-Plus Rotary Hammer.
Runtime
As I said, we're not the "bring out the rotary hammer for the day" kind of users like the concrete Pros out there. But it's that kind of hit-or-miss work that makes going cordless so convenient. About a year ago, using a rotary hammer meant connecting 100-foot extension cords to a generator. For convenience, my guys went to a DeWalt hammer drill – not exactly the most effective tool, but it worked.
The kit comes with two 5.0 amp hour batteries, so I told my guys to keep using the first one until it ran out. It took 3 days before I finally had to switch batteries.
Power
Some of my guys have been using a Bosch 36V SDS-Plus Rotary Hammer so we took the opportunity to compare it to the Milwaukee 2715. As impressive as Bosch's hammer is, Milwaukee simply gets more with its 3.3 foot-pounds of blow energy. It's also got a higher speed and impact rate, so it really sets itself apart.
At the end of the day, the Milwaukee M18 Fuel SDS-Plus Rotary Hammer turned a job that was taking my guys an hour into one that now takes them 23 minutes. One tool more than doubled the production rate. That's the kind of performance that you just can't ignore.
Check Out How Bosch's SDS-Plus Rotary Hammer Performed with the Same Crew
Ergonomics
Milwaukee does pretty well keeping the weight down to 7.7 pounds bare. With the 5.0 amp-hour battery, it moves up to 9.2 pounds. The housing is a pretty standard shape for this class and takes advantage of rubber overmolding on the handle.
The vibration controls include a separated handle section and it works well. Milwaukee's measured vibration is at 8.6 m/s2. There are models with less available, but you'll have to drop real performance to get it. As it stands, this is a very respectable figure in the class. In the real world, we found that it's a more comfortable option than we're used to.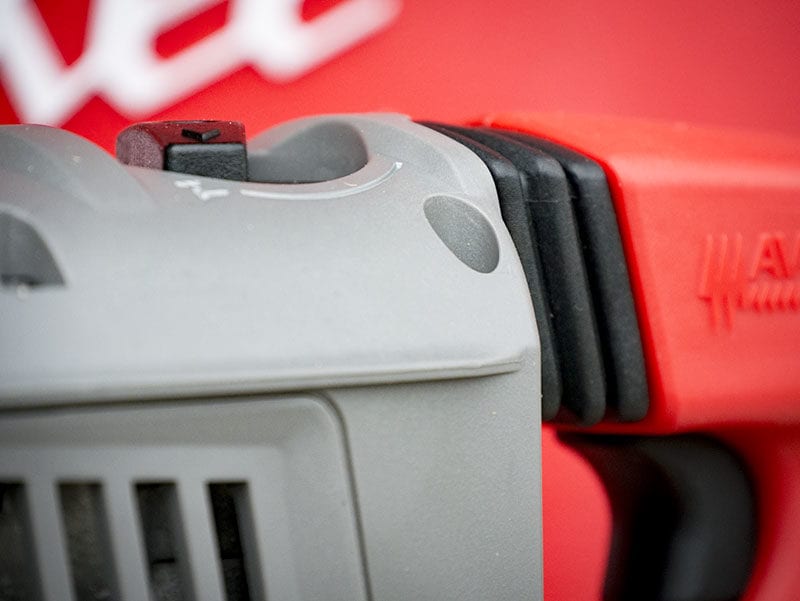 The rotating auxiliary handle is also pretty standard and swings around 360 degrees to accommodate different angles and left or right-handed users.
The Bottom Line
The Milwaukee M18 Fuel SDS-Plus Rotary Hammer is simply the best in the class in all performance metrics and it translates to outstanding real-world performance. You can find lighter hammers out there with less vibration. But while the Milwaukee 2715 doesn't lead those two categories, it's competitive. At the end of the day, you have to drop so much performance to get lower vibration and weight that it really isn't worth it.
When you compare pricing, this model is dead on par with several other options on the market and this model still takes them to the woodshed. It's not that the other hammers are incapable of doing the job – they absolutely can and are fine tools – Milwaukee just does it faster.
For the cordless SDS-Plus category, this is the rotary hammer to buy, period. You'll have to move up to SDS-Max to get more power – and Milwaukee has a class leader there as well.
Need SDS-Max? Take a Look at the Milwaukee M18 Fuel SDS-Max Rotary Hammer
Milwaukee M18 Fuel SDS-Plus Rotary Hammer Key Features
Milwaukee POWERSTATE brushless motor provides more power, more run-time, and longer life.
REDLINK PLUS Electronic Intelligence enables advanced communication between your batteries and tools, allowing for unmatched levels of performance, protection, and productivity.
The Milwaukee REDLITHIUM battery pack is the most durable pack on the market delivering more run-time, power and longer battery life.
AVS Anti-Vibration System, minimizes vibration for maximum comfort
Milwaukee M18 Fuel SDS-Plus Rotary Hammer Specifications
Model: Milwaukee 2715-22
Voltage: 18V
Battery: M18 REDLITHIUM 5.0 Ah
Charger: M18 and M12 Multi-Voltage Charger
No Load Speed: 0 – 1,350 RPM
Blow Energy: 3.3 ft-lbs
BPM: 0 – 5,000
Solid Bit Capacity: 1-1/8″
Thin Wall Core Bit Capacity: 3″
Drilling Mode: Rotary Hammer, Hammer Only, Rotation Only
Handle Style: Drop Motor
Vibration: 8.6 m/s2
Length: 12.8″
Weight: 7.7 lbs
Includes: Multi-Voltage Charger, (2) Battery Pack, Depth Rod, Side Handle, Carrying Case
Battery Warranty: 3 years
Warranty: 5 years
Price: