Milwaukee To Deliver First Cordless Sewer Sectional Machine
Milwaukee unveiled the latest in their cordless drain-clearing solutions, and this one is the first of its kind. The Milwaukee M18 Fuel Sewer Sectional Machine with Cable Drive lets users clear blockages in 2″ to 8″ sewer lateral lines and can clear roots up to 200′ out, providing full power at the maximum capacity of the tool. And it does it all without the hassle of cords.
10-Second Summary
Model: Milwaukee 2871-22
Brushless motor
Easy set-up and transport
Uses 7/8″ and 1-1/4″ Cables
Clears blockages in 2″ to 8″ pipe
Delivers full power up to 200 ft out
12.0Ah battery tackles multiple jobs on a charge
Cable Drive automatically feeds and retracts
Enclosed cable reels
One-Key compatible
Price: $2599
Milwaukee On The Drain Cleaning Industry
"Since we first introduced our drain cleaning lineup just two years ago, we've been able to put an end to years of stagnant product innovation in the drain cleaning industry by delivering solutions that can be instantly set up, minimize the mess, and have the performance needed for to clear the toughest clogs quickly. This attention to user needs has led us to offer the only completely portable drain cleaning offering for fixtures and main lines within buildings. Now we're taking this drain cleaning innovation out to the sewer lateral lines. The M18 Fuel Sewer Sectional Machine with Cable-Drive is our first sectional machine solution, delivering on the promises of safety, mobility, and mess containment that users have come to rely on from Milwaukee drain cleaning solutions."

—Kathleen Keegan, Product Manager for Milwaukee Tool
M18 Fuel Snakes In A Drain
Using 7/8″ and 1-1/4″ cables, the Milwaukee M18 Fuel Sewer Sectional Machine can clear all blockages in 2″ to 8″ pipe. It's capable of clearing at full power up to 200 ft out multiple times over the span of the day.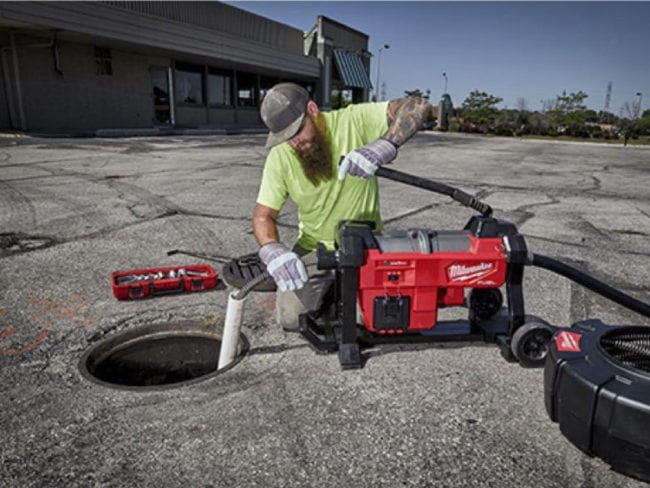 Thanks to its battery-powered operation, you eliminate trip hazards or the need to bring electrical cords around standing water.
This new machine also includes a number of features to further streamline operations. The Cable-Drive system reduces the strain on you by automatically feeding and retracting cables from pipes.
An enclosed cable carrier not only protects your cables but also contains the messes associated with drain clearing. You can even stack these cable carriers for easier and tidier storage.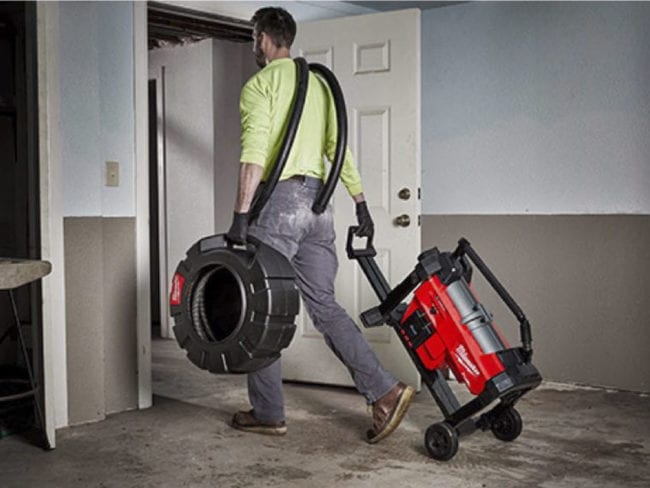 It also includes One-Key connectivity to wirelessly track, manage, and secure your M18 Fuel Sewer Sectional Machine.
The Milwaukee M18 Fuel Sewer Sectional Machine due in stores in January of 2020. The kit includes the tool, two M18 RedLithium High Output HD12.0 batteries, and a rapid charger for $2,599. An assortment of cables and accessories will also be available from your authorized Milwaukee Tool dealer.
Thoughts on the Milwaukee M18 Fuel Sewer Sectional Machine
The Milwaukee 2871 is a huge step beyond Milwaukee's M18 drain snake. It shows how dedicated they are to the plumbing trade and also what the power they're able to get out of an 18V battery now that they've moved onto an advanced design.
If we take a brief look back Milwaukee's history here, we see an M12 TrapSnake, M18 drain snake, and M12 AirSnake before moving up to the more powerful Switch Pack auger. There's even a cordless transfer pump available.
While the new sectional machine represents the latest move forward for the M18 line, the MX Fuel line has an even more advanced drum machine with powered stair-climbing treads coming next year.
The question we all have is "what's next for battery-powered plumbing?" Chances are, it's something far better than anything we're dreaming up. What would you like to see Milwaukee come up with next? Let us know in the comments below!
Milwaukee M18 Fuel Sewer Sectional Machine Specs
Model Number: Milwaukee 2871-22
Length: 35″
Height: 23″
Weight: 70 lbs
Max Drain Line Capacity: 200′
Recommended Pipe Size: 2″ up to 8″
Cable Capacity: 7/8″ & 1-1/4″
Feed Type: Manual or Automatic
Cable Spin Speed: 700 RPM
Cables Available: 7/8″ All-Purpose Open Wind Sectional Cable, 1-1/4″ All-Purpose Open Wind Sectional Cable, 1-1/4″ Heavy Duty Open Wind Sectional Cable
Warranty: 5 Year Tool / 3 Year Battery / 2 year Cable
Price: $2599