I wasn't sure what to expect when those upstanding Pro Tools gents texted me from the 2017 Milwaukee New Product Symposium. They told me that I'd soon have some interesting new plumbing tools to review. Now I've thought of tools as useful or helpful but…interesting? I had to see what that was all about. But even if they'd told me it was a novel drain snake, I'm not sure I could have envisioned the Milwaukee M18 Fuel Switch Pack Sectional Drum System. It really is a sight to see: a modular, M18 Fuel-powered backpack that includes a belt drive component and separable drum housing operated with a foot pedal.  It's designed for easy transport, simple cable size switching, and mess containment.
If any company is capable of introducing bold, successful designs, it's Milwaukee Tool. I should know, as I've reviewed quite a few of its fine products right here on these pages. And because clogs are the most common plumbing service call, it makes sense that many of those designs are dedicated to unclogging pipes. The M12 Drain Snake was a great one as was the more recent Trapsnake. So I have little reason to doubt the Switch Pack's concept and lots of reasons to use it. So let's go clear out some lines!
Key Features
Motor, Electronics, Battery
Milwaukee's Fuel system consists of a powerful trifecta: the PowerState Brushless Motor, RedLink Plus intelligence, and RedLithium batteries. Brushless – or electronically commutated (EC) – motors are known for lasting longer than brushed motors. But they offer another important advantage: they provide for tool intelligence or smart tools. In other words, wheres other tools mindlessly follow the orders of the trigger or switch, a smart tool's motor and battery constantly communicate to protect against thermal overload that results in damage to both. It's like having a tool assistant. RedLink Plus is Milwaukee's name for tool intelligence. The signature RedLithium batteries complete the team as its efficient powerplant.
Powered Base and Drum
The Milwaukee M18 Fuel Switch Pack Sectional Drum System's modular backpack is pretty ingenious. As I alluded to above, there are two main components: the red, backpack strapped powered base housing the belt drive system and the black drum housing the cable. The powered base and drum housing hold fast to one another with beefy clamps.
But the components also separate for two reasons. First, for transport: the system is meant to be transported with the powered base on the user's back and the drum's large handle in hand. Milwaukee discourages wearing the Switch Pack as a complete unit as the nearly 30-pound apparatus can throw off your balance. I'm sure some plumbers will be tempted to disregard that advice for the sake of convenience, but it really is a safety issue.
But the second reason the powered base and drum separate is really the hook of the whole system. Each cable can have a dedicated drum so there's seamless interchangeability between cable size and the powered base. Have a small waste arm that only calls for 5/16-inch cable? Just grab the drum with the 5/16-inch cable and attach it to the powered base. Clog in a large diameter drain line? Grab the drum with the 5/8-inch cable and go to town.
Cable Guy
Specifically, the Milwaukee M18 Fuel Switch Pack Sectional Drum System accommodates a 5/16-inch x 75-foot Inner Core Cable, a 3/8-inch x 50 Inner Core Cable, a 1/2-inch x 50-foot Inner Core Cable, or a 5/8-inch x 50-foot Open Wind Cable. You can interchange and connect cable drums up to 100-feet. The system also accepts other brands of cable.
Veteran plumbers will quickly see the other advantage of this drum system – its full enclosure. There might not be another tool with the potential to make such a repulsive mess as a drain cable as it retracts on its way back into an open drum design. But as the Switch Pack retracts its cable, it goes neatly back into the drum with only a short length that's exposed between it and the pipe.
That's going to greatly reduce the mess in customers' houses – and that's excellent. Needless to say, the drum will still have to be cleaned, but you can do that back at the shop.
Foot Pedal, Brake, Other Notable Features
The user controls the Switch Pack with a large foot pedal. This leaves both hands free to guide the cable gently back and forth to break up the clog as well as to start and stop rotation without missing a beat. A small compartment on top of the switch pack neatly stores the pedal for transport and a rubber strap secures its cable.
The brushless motor spins the cable at 250 RPM which seems just right to break up clogs but protect pipes. Milwaukee claims the integrated drum brake slows the drum up to 5 times faster than other systems.
I like the onboard accessory attachment for various cable heads and 5-year warranty, too.
Performance
Totally Modular
Now that I've had the Milwaukee M18 Fuel Switch Pack Sectional Drum System out in the field for a couple of months, I'm familiar with its capabilities and limitations. Before all that experience, I predicted that you'll want to use the 5/8-inch cable and that turned out to be accurate. It's easy to add the 5/8-inch cable to the mix because of the modular design. Simply release the drum latch and swap it out.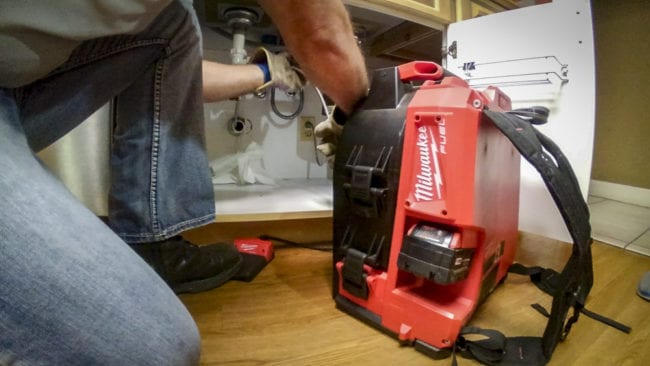 You'll also want to consider the size – this isn't the unit you want to bring in for kitchen sink clogs that are only a few feet down the line. That's why you'd use the M12 Drain Snake. Even the AirSnake is designed for clogs 20 or 30 feet down the line, but I haven't reviewed that tool. You'll want to save the Switch Pack for more substantial clogs.
Capabilities and Limitations
Over the course of the review, I was able to clear many medium- to large-sized clogs that a smaller auger couldn't handle. Still, you won't get the Switch Pack to clear the most stubborn blockages, and that's not a big surprise. I wouldn't ask it to try cutting through roots, for instance. The tool excels the middle-of-the-road plumbing problems, especially because it's cordless, much easier to transport, and much cleaner than the big cable machines that would be overkill for many clogs, anyway.
https://www.facebook.com/protoolreviews/videos/10155631423278003/
But there are a couple of caveats and points of improvement that I hope Milwaukee will address in the next generation. I'd like to see some markings on the cable itself. There's value in knowing how far down the line a clog is. For repeat service calls, it helps us identify a chronic issue that may require further investigation or repair. On a typical cable, we piece together sections and know how many we've put down to give us an idea.
Plumbing Shark
The Milwaukee M18 Fuel Switch Pack Sectional Drum System's biggest need is a set of jaws that hold the cable as it comes out of the drum. Many larger augers systems have this – let me explain why it's so important. When the cable head runs into tough resistance in the clog, its ability to turn is constrained. The cable begins to twist and bind up which isn't a huge problem because it's supposed to put more pressure on the clog. But without a clamp or jaws that force the cable's pressure toward the head, the binding follows the path of least resistance – which is backward and right into the drum.
I knew I'd maxed out the Switch Pack a few times when opened the drum to find a rat's nest of cable. Of course, someone might argue that the Switch Pack simply wasn't made for that type of clog, but I'd say that power wasn't the problem in these cases. The auger had the muscle, it just didn't have the grip. It would be capable over a wider range of clogs if the torque could be directed toward the head.
The Bottom Line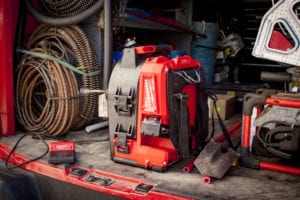 It's hard to overstate the convenience of the Milwaukee M18 Fuel Switch Pack Sectional Drum System. Still, you have to keep its capabilities in mind. Sink stoppages and other small to medium clogs are right in its wheelhouse. It won't handle a main line, although it could if its PVC. But if it's a 50-year old cast iron main with roots in it, that's just not going to happen. And that's fine since it's never what the Switch Pack claimed to do.
I suggest that you grab the 5/8-inch cable to go along with the unit. But the modular design is pretty ingenious, so you can choose the right diameter for the job. The Switch Pack is easily portable, keeps the work area clean, and simple to use. In the next generation, I hope Milwaukee will add jaws to the outfeed so the cable won't bind inside the drum. Otherwise, as part of a clog-busting team with the M12 or M18 Drain Snake, TrapSnake, and AirSnake, Milwaukee is making some excellent progress in plumbing.
Editor's Note: This article was originally published in November 2017. It has been updated now that it has has more time in the field. Normally, we give all Pro-level tools a rating. However, this is unique in the space and there are no direct competitors to rate it against.
Milwaukee M18 Fuel Switch Pack Sectional Drum System Features
PowerState Brushless Motor delivers maximum power 100 feet down the line
RedLink Plus Intelligence ensures maximum performance under load and improves control throughout the entire process
RedLithium Batteries power through multiple jobs on a single charge, the first to bring cordless mobility, safety, and power supply to the drain cleaning industry
Interchange and connect various cable drums up to 100 feet
Built-In Backpack Straps: Easiest Transport
Integrated Drum Brake: Electronically slows drum up to 5 times faster than competitor drum machines
Electronic Foot Pedal With Non-Slip Grip: Maximum Durability
Fully Enclosed Drum: Best Protection and Mess Containment
Milwaukee M18 Fuel Switch Pack Sectional Drum System Specifications
Voltage: 18V
Accessory Attachment Storage: On-Tool
Back Pack Straps: Yes
Drain Line Capacity: 100-feet x 1/2-inch
Inner Core Cable: 100-feet x 5/8-inch Open Wind Cable
Integrated Drum Brake: Yes
Drum Capacity: 5/16-inch x 75-foot Inner Core Cable; 3/8-inch x 50-foot and 1/2″ x 50-foot Inner Core Cable; 5/8-inch x 50-foot Open Wind Cable
Spin Speed: 250 RPM
Warranty: 5-Year Limited Warranty
Length: 15.75 inches
Weight: 28.10 pounds
Height: 17.75 inches
Width: 15.00 inches
Tool Warranty: 5-Year Tool/2-Year Cable/3-Year Battery
Accepts Other Brand Cables: Yes
Price:  $1,379.00 (Kit)