The Milwaukee MX FUEL Rocket Tower Light and Charger (MXF041-1XC) goes up against the likes of 250W LED or 600-watt metal halide tower lights. It provides a very portable 27,000 lumens of job site lighting. By far, this is the most easily-transported 10-foot tall site light we've seen in this class. Up until now, the biggest light available from Milwaukee was the Milwaukee M18 Rocket Dual Pack Tower Light. The new MX FUEL Tower adds a whole new class of lighting to Milwaukee Tool's arsenal.
How Does It Handle Rough Terrain?
Milwaukee Tool demonstrated the new MX FUEL Rocket Tower Light by bringing it out onto an uneven pile of dirt and setting it up. We thought it might fall over, but it set up quite easily. You just hold the base level and press the buttons at the top of each leg to extend each independently. This lets the Rocket Tower keep a level stance even when you'd think that would be impossible. We continue to be pleasantly surprised by the features and technology exhibited by Milwaukee MX FUEL equipment.
Because the four legs operate independently, the MX FUEL Rocket Tower stands straight and tall—even on piles of rock or stone. Also, the 8-inch all-terrain wheels let you quickly and easily pull the tower light across dirt or gravel. Just collapse the mast (more on that later) and wheel it where you need it.
Because the outrigger splay out so far, Milwaukee claims the light can withstand winds of up to 45 miles per hour. Fully-collapsed, the MX FUEL Rocket Tower measures just 44-inches tall.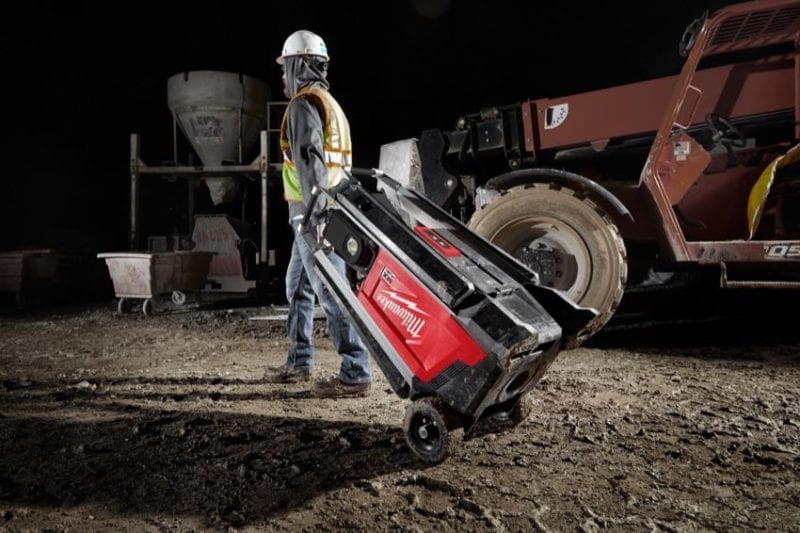 Automatic Setup and a Motorized Mast
The four adjustable LED light heads pivot and twist to direct light wherever it's needed. You can set the individual lights when the mast is down. Then, activate the controls to engage the motorized 4-piece mast to raise the lights up to their 10-foot maximum height.
The Milwaukee MXF041-1XC LED light heads operate in one of three brightness levels. The maximum output delivers 27,000 lumens for either task or area lighting. That's not as bright as some generator-powered site lights that hit 50,000 lumens or more. Still, it covers a good distance—and with a much smaller, more portable footprint.
The motorized mast goes up in just seconds with the push of a button. Leave the lights hanging down, and you get a wide-area site light. Flip them up, and you can direct light to a specific area of the job site.
With that many lumens for task and area lighting, the MXF041-1XC MX FUEL Rocket Tower presents a new way of thinking about area lighting. You can use it indoors for larger warehouse and commercial job site spaces. It also handles outdoor use, featuring plenty of water and dust resistance.
Is the MX FUEL Rocket Tower Light One-Key Compatible?
In a word, yes. The Milwaukee MX FUEL Rocket Tower Light uses One-Key to provide tool tracking and inventory. It also lets you set and dim the LEDs, customizing them as you see fit. In fact, you can set the desired run-time, and the system will dim the LEDs to ensure you reach that time limit before the CP203 or XC406 battery pack runs out.
One-Key also provides remote control of the MX FUEL Tower LED light from up to 100-feet away. You can also check the remaining battery charge, so you know when it's getting close to time to change out the pack.
Yes, the MX FUEL Rocket Tower Light Also Charges Batteries
Not only does the MX FUEL tower light deliver up to 27,000 lumens, but it will also charge an MX FUEL battery. An integrated AC plug lets you connect the Rocket Tower to an available 120V outlet. You also get a cover that protects that plug from exposure to the weather.
When connected to power, the tower light can charge an XC406 or CP203 MXFUEL battery—either for use in the Tower Light or one of the other MX FUEL tools. Milwaukee told us that this light will run for up to 10 hours in a single XC406 pack. Presumably, that would not be at its full 27,000-lumen capacity.
Finally, the battery compartment is lockable and sealed from both weather and unwanted access.
Milwaukee MXF041-1XC Conclusion
We like that Milwaukee made the MXF041-1XC Rocket Tower light one of its earliest MX FUEL products. It fits in well with the line and looks to change the way you can achieve temporary lighting on the job site. At 27,000 lumens, this light goes well beyond the typical portable LED light. Add in One-Key, the 10-foot mast, and the flexibility of the four LED heads, and you have a system that looks a lot like a more affordable version of a diesel or gas-powered portable light tower.
Milwaukee MX FUEL Rocket Tower Light Details
Model: MXF041-1XC
Max lumens (AC): 27,000 (variable/dimmable)
Max lumens (DC): 20,000 (variable/dimmable)
4 positionable LED lights
Collapsed Height: 44 in.
Extended Height: 10 ft.
Weight: 108 lbs.
Dimensions (LxW): 24.75 x 20.75 in.
Self-leveling independent leg adjustment
Power supply: One MX FUEL battery
Enclosed battery compartment
Charges MX FUEL battery
IP56 rated for outdoor use
Milwaukee One-Key tool tracking + App Control
Battery level LED gauges (4-bar)
Integrated wheeled dolly system
Warranty: 2-year (tool + battery)
Price: $2,999 (kit with XC406 battery)
Check out more info on the Milwaukee Tools website or buy it online.