Milwaukee has long settled on a trade-focused approach to power tools. They also maintained a ton of consistency and backward-compatibility with their M18 FUEL tools. But what about light equipment? This includes tools that need more power and runtime than M18 currently delivers. Power cutters. Core drills. Bigger tools. To address this type of trade tool, the Milwaukee MX FUEL line of equipment emerged alongside new MX FUEL batteries.
The new MX FUEL platform operates a variety of light equipment using a system-wide battery platform. Milwaukee designed the MX FUEL system to deliver the performance, run-time, and durability needed for tradesmen operating these larger tools. At the same time, they reduced or removed several hazards, including emissions, noise, and vibration. Plus, since this equipment operates on MX FUEL RedLithium batteries, you eliminate many of the hassles associated with the maintenance of gas and pneumatic tools.
Why a New Battery System?
Milwaukee Tool spent over 10,000 hours with contractors and tradesmen across thousands of job sites around the world. They saw a lot of safety issues and generally-accepted workflow issues that no one seemed able (or willing) to fix. Particular product categories in gas-powered and corded equipment just seemed to lack innovation.
Problems range from "gas headaches" to excessive vibration. Workers also commonly deal with tripping breakers, voltage drops, and power cords that present tripping hazards. In short—Milwaukee saw an opportunity to innovate select light equipment using battery technology. To do that, they needed a new and different approach geared specifically for this market.
Milwaukee MX FUEL Batteries
MX FUEL batteries represent the powerplant behind the new cordless light equipment system. Milwaukee currently has two MX FUEL RedLithium battery packs:
MX FUEL CP203 Battery – This "compact" MX FUEL pack features twenty (20) 3.6V 21700 lithium-ion cells arranged (more or less) in two layers. You effectively get a 3Ah pack to operate MX FUEL tools and equipment.
MX FUEL XC406 Battery – This MX FUEL extended-run battery pack contains forty (40) 3.6V 21700 lithium-ion cells arranged in two parallel double stacks. This pack comes rated at 6Ah for operating MX FUEL tools and equipment at maximum power and run-time.
The new batteries clearly contain more power than practically possible with existing M18 battery packs. Even the largest pack, the M18 FUEL HD 12.0 pack contains only 15 cells.
So what kinds of tools can you operate with MX FUEL? We're glad you asked.
The Milwaukee MX FUEL 14-inch Cut-off Saw has the same cutting capacity of a 14-inch gas cut-off saw. Since it uses the new CP203 or XC406 MX FUEL battery packs, you get no starting hassles. You also set aside any maintenance issues that typically accompany a 14″ gas saw. Having a 14″ blade lets you cut 6-, 8-, or even 10-inch pipe straight—possibly without having to rotate the pipe.
The tool starts up quickly with the push of a button. Interviewed Pros commented they liked the power and capacity for cutting through steel, concrete, and cast iron. The Pros we heard from communicated it was as fast as a gas power cutter and the speed of cut was at least identical.
Specifically, with regard to power, they liked that it could tackle thicker steel and cast iron a lot more quickly. Add to that the fact that you don't need to buy gas or premix fuel, and the tool simply became easier to use on the job site.
They also revealed that the tool weighs less than at least some comparable gas cutters they've used in this class. The tool proves easier to use indoors since you don't need to worry about fumes. Since the cutting action—and not a gasoline engine—produce the majority of audible sound, the MX FUEL 14-inch Cut-off saw makes a lot less noise.
The tool also produces less vibration since it uses a smoother electric motor as opposed to the pistons of a gasoline engine. Functionally the tool works in a way that takes less effort to make straight cuts. This applies to both metal and when used with the optional wheeled cart for cutting concrete floors.
Overall, the saw scored high points for being very portable and quite reliable for getting work done quickly and efficiently. The words "well-built" and "powerful" kept coming up over and over again to describe this saw.
Details
Power supply: One MX FUEL battery
Blade: 14-inch metal or concrete
Adjustable blade guard
Integrated water supply port w/quick-connect
Milwaukee One-Key tool tracking
Battery level LED gauges (4-bar)
Overload indicator
Optional cart and water supply tank
The Milwaukee MX FUEL Breaker Demo Hammer focuses on three key things. It reduces vibration to the user, drops weight to be the lightest breaker in its class, and demos up to two tons of concrete per charge. The MX FUEL breaker shocked Pros with respect to its power and how long the battery lasts.
One worker used the new MX FUEL breaker to cut an 80-foot long 10-inch wide trench in 6-inch concrete. When he finished, the battery still showed half of its life remaining.
Professional construction workers compared its power to traditional air-powered breakers. Compared to those, it weighs less and doesn't vibrate as much as a pneumatic tool. Overall, the response was that it provides much more control over corded or hosed tools. With the side handle, the tool can be carried one-handed from the mid-position—even with the battery installed. It balances perfectly from the mid-point.
The tool also operates with less noise than air hammers currently used by so many construction workers. Overall, this new breaker looks poised to change expectations regarding what a cordless power tool can accomplish.
Details
Power supply: One MX FUEL battery
Chuck Size: 1-1/8 in.
Vibration-reduction system
Dust collection accessory compatible
Milwaukee One-Key tool tracking
Battery level LED gauges (4-bar)
Side carry handle
The Milwaukee MX FUEL Core Drill focuses on safer handheld coring. It tackles up to 6-inch holes in reinforced concrete. Because it includes a brushless motor and Redlink Plus technology, Milwaukee could include some important safety features. For example, an integrated clutch all but eliminates kickback events.
You can really observe the significance of this feature when you get up on an 8-foot ladder to drill a hole. We saw this first-hand at the 2019 Milwaukee NPS Media Event. Typically, this would represent a potential safety issue. With the electronic clutch, however, the tool never presents a potential kickback. Additionally, the clutch and Autostop protect the bits as well as the user.
We also like the integrated digital level feature. Four directional LED arrows tell you if you've got the tool oriented perfectly along the axis while drilling. This takes the hassle out of making an accurate core in walls. It's particularly helpful when you're standing on a ladder.
Pro Features
Similarly, a 5-LED performance gauge lets you know how hard the tool is working. If you light up too many LEDs (crossing the visible threshold) you can back off the pressure, allowing the tool and core bit to work smarter and conserving valuable battery run-time.
Pros used the tool, among other things, to drill 6-inch holes in 14-inch thick concrete. That represents an entirely new territory for cordless equipment technology. Several tradesmen commented that they felt it had as much power as any similarly-classed corded core drill on the market.
The system also has an optional wall and floor mount that lets you anchor the tool when drilling larger holes that require a precise and level path. The mount includes depth controls as well as level vials for accurately setting the core drill. Combined with the Milwaukee Switch Tank, you can get this tool up and running on the job site in far less time than dragging cords and/or hoses.
Details
Power supply: One MX FUEL battery
Max recommended drill diameter: 6-inches
Spindle: 1-1/4″-7
Electronic anti-kickback clutch
Autostop™ function
Milwaukee One-Key tool tracking
Battery level LED gauges (4-bar)
Overload indicator
Onboard 4-arrow LED Level
Integrated water feed
Lock-off switch
Optional wall/floor mount w/depth and level controls
We loved getting a sneak peek at the Milwaukee MX FUEL Rocket Tower Light/Charger. This system presents an entirely new way to light the job site with up to 27,000 lumens. By far, this is the most portable 10-foot tall site light we've seen for both indoor and outdoor use. The four legs operate independently, letting the MX FUEL Rocket Tower stand straight and tall—even on uneven and rocky terrain.
With that many lumens for task and area lighting, it presents a new way of thinking about area lighting. Made for outdoor use, it also features plenty of water and dust resistance.
Details
Lumens output: 27,000 (variable/dimmable)
4 positionable LED lights
Height: 10-feet (maximum)
Self-leveling independent leg adjustment
Power supply: One MX FUEL battery
Enclosed battery compartment
Charges MX FUEL battery
Milwaukee One-Key tool tracking + App Control
Battery level LED gauges (4-bar)
Integrated wheeled dolly system
The Milwaukee MX FUEL Sewer Drum Machine simplifies sewer calls by letting one person tackle a 200-foot auger. The PowerTredz system lets you transport the sewer drum in and out of a service van and even up and down stairs.
The MX FUEL battery and brushless motor give it enough power to clear roots up to 200 ft away. An enclosed drum then lets you reel the auger back in without making a mess on the job site.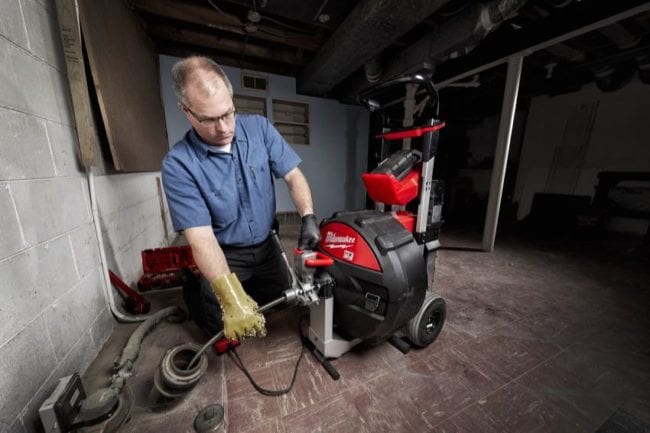 Details
Auger length: 200-feet
Automatic motorized feed w/speed control
PowerTredz™ battery-operated stair track system
Fully-enclosed drum
Power supply: One MX FUEL battery
Milwaukee One-Key tool tracking
Battery level LED gauges (4-bar)
Integrated wheeled dolly system
The Milwaukee MX FUEL Carry-On 3600W/1800W Power Supply provides 1800W of sustained power to the job site. The system handles 3600W of peak power but maintains a compact size. Since it runs off one or two Milwaukee MX FUEL batteries, you also get quiet operation with no emissions. It also charges up to two MX FUEL batteries when you connect it to an AC power source.
This solution works really well for charging batteries (onboard or external), running fans, operating smaller tools, or anything where you need access to power indoors and away from an outlet.
Details
Power output: 1800W (continuous), 3600W (peak)
Power supply: One or two MX FUEL batteries
Output: 2 x 110V AC
Charges MX FUEL batteries (via extension cord)
Milwaukee One-Key tool tracking
Independent battery level LED gauges (4-bar)
Milwaukee M12/M18 battery charger mounting points
How Does MX FUEL Fit into the M12 and M18 EcoSystem of Tools?
What many people want to know is how Milwaukee MX FUEL fits into the company's ecosystem of power tools. Fortunately, Milwaukee Tool provided the answer—and it makes total sense.
MX FUEL
This platform delivers the technology needed for best-in-class light equipment solutions. Milwaukee will continue to expand the MX FUEL System with light equipment solutions that slowly but surely replace gas and pneumatic power on-site. The platform emphasizes long term tool use, interoperability, and trade-focus. New Milwaukee MX FUEL batteries come optimized for tools with higher power and run-time demands.
M18 FUEL
The M18 FUEL System includes more than 200 tools and products. In short—it ain't going anywhere. Milwaukee is committing to use this platform for trade-focused power tool solutions that don't compromise on power and performance.
M12 FUEL
Milwaukee M12 FUEL currently occupies the largest sub-compact space in the industry. The company has over 100 products and tools on the platform with more on the way. M12 focuses on truly portable power. It seeks to transform inefficient manual tools into advanced and practical cordless solutions.
Wrapping It Up
To say our glimpse of the Milwaukee MX FUEL cordless light equipment system surprised us would be an understatement. We had no idea a cordless battery platform could tackle so many trade-specific applications. We look forward to the growth of this platform—if only because it represents such a needed shift in thinking when it comes to light equipment. Milwaukee has just unlocked a need for innovation in an industry where only micro-adjustments had been common. The industry is about to be shaken—and we're excited to see what comes next.
For more information about the MX FUEL Equipment System or Milwaukee MX FUEL batteries, please visit their website.