Milwaukee Packout Boxes Coming with Drawers
The Milwaukee Packout System has revolutionized the way Pros can store and transport tools, but users relentlessly requested one thing the tool storage system lacked: drawers. The company finally responded with two new products sure to fit the bill. Early next year, the Milwaukee Packout System expands with two new models featuring drawers!
10-Second Summary
Models: Milwaukee 48-22-8442, 48-22-8443
50-lb weight capacity
Locking security bar
Constructed with impact-resistant polymers, all-metal ball bearing slides, and metal corners
Quick-adjust dividers
Prices: $134.99 (2-Drawer); $149.99 (3-Drawer)
Available early 2021
Pull Up Your Drawers
Both of the Milwaukee Packout Drawers tool box options, the 48-22-8442 2-Drawer Box and the 48-22-8443 3-Drawer Box, join an already robust modular storage system. They each feature a 50-lb weight capacity, letting you store more tools and accessories in an organized and highly mobile tool storage system.
The smaller drawers look great for accessories, and separators keep things organized. Larger drawers work well for power tools and other larger items. Both drawer Packout boxes have the same outer dimensions, so you simply get two larger drawers as opposed to three shallower drawers.
The Milwaukee Packout Drawer boxes also feature a security bar that folds over the front of the box, keeping them closed during transport. You can throw a padlock on the metal bar to keeps your tools secure when not in use. Even without the padlock, the security bar keeps the Milwaukee Packout Drawers from opening during transit. The bar then stores nicely underneath when unused.
Milwaukee constructed the Packout Drawer Tool Boxes from impact-resistant polymers for better durability in tough jobsite conditions. Metal corners also provide additional reinforcement. For easy opening, both boxes feature all-metal ball bearing slides for smooth drawer action.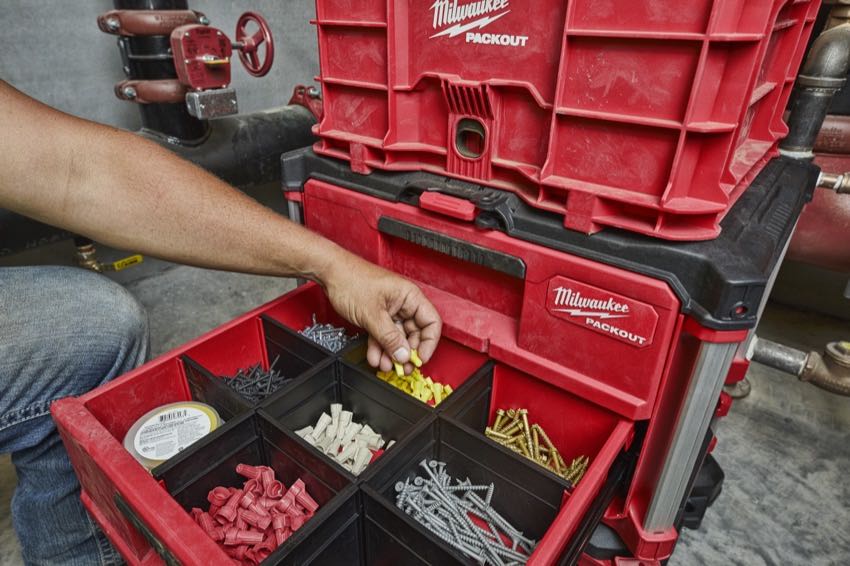 We love the use of quick-adjust dividers on the Packout drawer boxes. These let you fully-customize the layout of each drawer.
Availability
Both Milwaukee Packout Drawers tool boxes will make their way to stores sometime early next year. The 48-22-8442 2-Drawer Tool Box will retail for $134.99. You'll be able to pick up the 3-Drawer Tool Box for $149.99.