The Milwaukee Quik-Lok attachment system is a multi-head solution that includes a power head and an expanding range of attachments. If you're ready to move your handheld lawn care tools away from gas, is Milwaukee the way to go? We'll tell you what we've learned over the past few years of using it to help you decide. Along the way, we'll also show you the latest and greatest attachments to look for.
Pros
Excellent performance across all attachments
Wide range of attachments create a versatile system
Uses the same 18V batteries that power all of Milwaukee's M18 and M18 Fuel products
Extension pole and shoulder strap available
Nice variety of combo options to get started
Cons
Not compatible with other brands' attachments
Milwaukee Quik-Lok Attachment System Power Head
Like the other tools in Milwaukee's OPE lineup, they go with an M18 Fuel brushless motor in the power head. Originally kitted with a 9.0Ah battery, the High Output 8.0Ah pack now serves as the primary power source and is what's available in the kit options. However, you're free to use any M18 battery, from a 2.0 Ah compact pack to the 12.0 Ah High Output battery. Just be aware that the battery you use will have an effect on weight and balance.
To connect any of the attachments, line up the arrow with the arrow on the power head's shaft. It clicks solidly into place when it all lines up correctly and secures with a thumb screw on the side.
However, it's not always a clean connection. The internal parts of the shaft have to line up correctly and sometimes you need to give it a little twist to help out.
Also, the connection is unique to Milwaukee so you can't add any "universal" attachments.
The two-speed throttle control from the M18 Fuel String Trimmer is still here, giving you extended runtime when you don't need full power. Pick your battles when you want to drop the speed, though. It's fine for the string trimmer, but many of the attachments need to work at full speed to give you the best performance and quality results.
Milwaukee Quik-Lok Attachment System Attachments – New For 2023
Milwaukee announced new attachments at its 2023 Pipeline event, expanding the Quik-Lok system into an even more versatile platform. All of these attachments are due to hit Milwaukee retailers beginning in January 2024.
Milwaukee Quik-Lok Cultivator 49-16-2739
Milwaukee's cultivator attachment is your go-to option when you need to break up hard ground as you're defining landscaping beds. It has 9-inch tines designed to promote longer service life, plus a drive shaft that helps reduce the risk of damage from drops.
Look for a retail price of $249.00 for the attachment.
Milwaukee Quik-Lok Reciprocator 49-16-2794
For those of you who strive for the cleanest look, Milwaukee's Quik-Lok reciprocator attachment will keep you smiling. Using a reciprocating action, it trims in areas where you would normally use a string trimmer but without marring the edges or throwing material around.
If your lawn is like some of ours, every time you string trim around flower beds, it throws grass and weeds into the bed, where they inevitably sprout a few days later. That's exactly what the reciprocator attachment helps prevent.
Pricing is still to be determined for the reciprocator. We'll update this review when we have more information.
Milwaukee Quik-Lok Bed Redefiner 49-16-2795
Using Milwaukee's bed redefiner is similar to working with an edger, but there are some key differences. The blade flares out to create an angled edge that's up to 2 3/4 inches deep and 2 inches wide. With that much soil flying around, the mud flaps and blade guard help keep it from going all over you or the lawn you're working around.
We like this Milwaukee Quik-Lok attachment when we're installing bed boundary material. The extra width and depth helps us set it easily, whether it's a new bed you're creating or you're bringing an established on back to life.
Add the bed redefiner to your Quik-Lok system for $279.00.
Milwaukee Quik-Lok Hedge Trimmer 49-16-2796
Milwaukee launched the M18 Fuel Quik-Lok system with an articulating hedge trimmer that we use frequently. The latest model is fixed and has a slightly smaller 3/4-inch capacity. As an attachment for the Quik-Lok system, it gives you some additional length that the standard M18 Fuel hedge trimmer does, making it easier to quickly trim and shape larger hedges and ornamental trees.
Expect retail pricing to run $169 on this one.
Milwaukee Quik-Lok Blower 49-16-2793
The blower attachment is a nice addition that we're excited to see come on board. At 500 CFM and 120 MPH, it matches the Gen 3 M18 Fuel blower if you'd prefer to keep everything on Milwaukee's attachment system. There's also better reach to consider. The total length when installed on the power head is 66 inches, putting the nozzle closer to the ground or offering higher reach when you're blowing debris off of other surfaces.
If you need more blowing force, be sure to check out the M18 Fuel Dual Battery Blower for a higher-performing option.
Grab this one for $159.00.
Milwaukee Quik-Lok Must-Have Attachments
There are four basic steps for weekly lawn care: mow, trim, edge, and blow. When you buy into the Quik-Lok system, these are the attachments we recommend you get your hands on. Add in Milwaukee's M18 Fuel Self-Propelled Lawn Mower, and you have everything you need for standard weekly maintenance.
Milwaukee Quik-Lok String Trimmer 49-16-2717
If you used Milwaukee's first-generation string trimmer, you likely noticed a gritty feel under load. It's much better in the attachment system, though it doesn't eliminate vibration as well as some of the dedicated cordless string trimmers.
The throttle is incredibly responsive. Milwaukee claims it reaches full speed in under 1 second, and I believe it.
You get a choice between cutting 14-inch and 16-inch swaths. Just remove the screws and flip the cutter to switch positions. Since we have multiple batteries and a rapid charger, we don't worry about runtime and stick with the 16-inch diameter.
Milwaukee is also pairing this attachment with their Easy Load Trimmer Head to make those $%#@! line changes easier and less time-consuming.
Key Highlights
14-inch or 16-inch cutting swath
0.080-inch or 0.095-inch line
Easy Load Trimmer Head included
2-speed controls: 0 – 4900 RPM or 0 – 6200 RPM
73.6-inch length
12.3 pounds
2825-21ST Kit: $299.00 with 8.0 Ah battery, Rapid Charger, power head, and attachment
2825-20ST Combo: $229.00 with attachment and power head (no battery or charger)
$109 attachment only
Milwaukee Quik-Lok Pole Saw 49-16-2720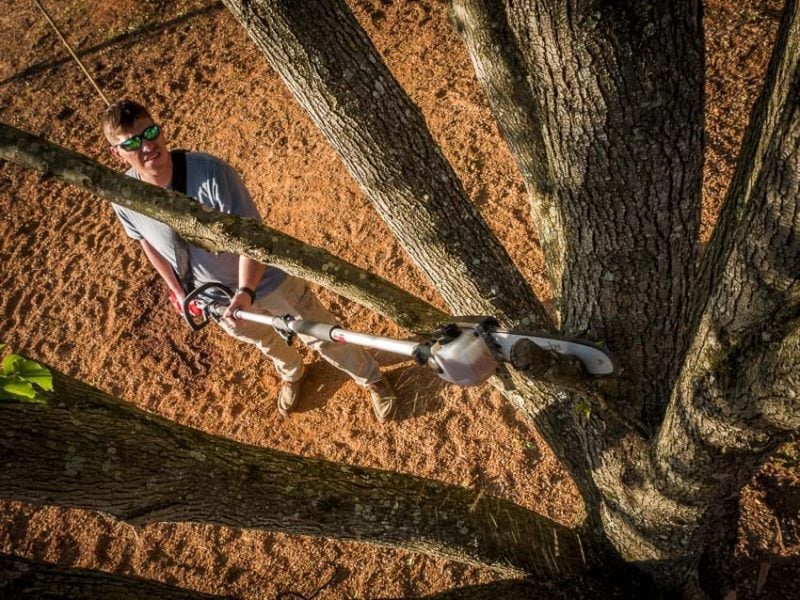 The pole saw attachment comes with a 10-inch Oregon bar and chain that ramps up to 4600 RPM in less than 1 second. With the full kit, you get a 3-foot extension to give you a full 80 inches of reach.
It's amazing how many people came out of the woodwork when they found out I now have a battery-powered pole saw. It seems my entire family saved 5 years' worth of tree trimming for this moment.
That said, I'm making the rounds trimming back oaks and Bradford pears mainly. It's definitely effective, especially if you keep your chain sharp.
Don't overlook the bottom hook – it's fantastic for grabbing cut branches that catch in the canopy of our oak trees. With all the yellow pollen finally giving way to brilliant green leaves, it's a shame to have a few dead pieces browning the look.
The translucent oil tank makes it easy to quickly check the fluid level and avoid overfilling.
Key Highlights
10-inch Oregon bar and chain: 0.43 gauge, 3/8-inch low profile pitch
0 – 4600 RPM
80-inch reach with the extension
12.7 pounds
2825-21PS Kit: $399 with 8.0 Ah battery, Rapid Charger, powerhead, and attachment
$169.00 attachment only
Milwaukee Quik-Lok Edger 49-16-2718
Using a standard 8-inch blade, the edger attachment defines the edges of your hardscape with up to 3900 RPM of speed. Gearing specific for this attachment allows the motor to keep the speed up while a metal alloy guard and skid plate offer resistance to the hard surface you're working against.
Even at its deepest setting in Georgia clay, the power head is able to keep the RPMs high. It doesn't quite have the power of a Pro-level gas edger, but it's really impressive for an 18V battery source.
Height adjustments are courtesy of a simple tool-free thumb screw.
Key Highlights
8-inch edger blade
0 – 3900 RPM
38-inch length (attachment only)
5.25 pounds (attachment only)
Alloy guard and skid plate
$119.00 attachment only
Milwaukee Quik-Lok Articulating Hedge Trimmer 49-16-2719
Some multi-head systems like Quik-Lok have a hedge trimmer attachment, but Milwaukee takes it to the next level with an articulating model. It's great for high shrubs or trimming hedge undersides.
You're able to rotate the 20-inch head up to 270º and cut branches up to 1 inch in diameter. With many cordless hedge trimmers maxing out around 3/4 of an inch, that's a significant capacity upgrade.
This is one of my favorite attachments for the line. There are very few times when a standard hedge trimmer puts me in a natural standing position while I cut. Between the extensions and the articulating head, I can trim multiple heights and shape much more easily. One of the biggest benefits is that I am able to trim back the intruding brush on our lakefront, making it that much less snake-friendly.
Key Highlights
1 inch cutting capacity
270º articulation with 13 locking positions
3500 SPM
Add a 3-foot extension for more reach
60 inches (attachment only)
5.8 pounds (attachment only)
$179.00 attachment only
More Milwaukee M18 Fuel Quik-Lok Attachments to Consider
Milwaukee's dedicated M18 Fuel Brush Cutter is outstanding, but if you don't need a full-on bike handle design, the brush cutter attachment is the way to go. Capable of 4900 RPM in low gear or 6200 RPM in high, the 9-inch blade makes quick work of thick weeds and brush that trimmer line tends to bog up in.
Get your hands on this attachment for $149.00.
Rubber Broom Attachment 49-16-2740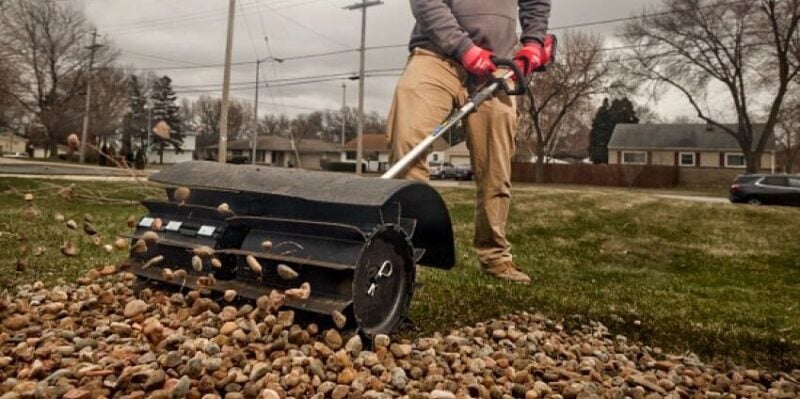 When you need to remove debris from grassy areas, a rubber broom is the way to go, and Milwaukee has the attachment you need. Providing 23 inches of clearing width, it helps push mulch and small rocks back where they belong without tearing up the lawn.
The rubber broom attachment runs $299.00.
Bristle Broom Attachment 49-16-2741
Complementing the rubber broom, there's also a bristle broom attachment. It's also 23 inches wide and is your go-to for clearing off hard surfaces, such as driveways and sidewalks.
Add this one to your Quik-Lok system for $279.00.
Milwaukee Quik-Lok Additional Accessories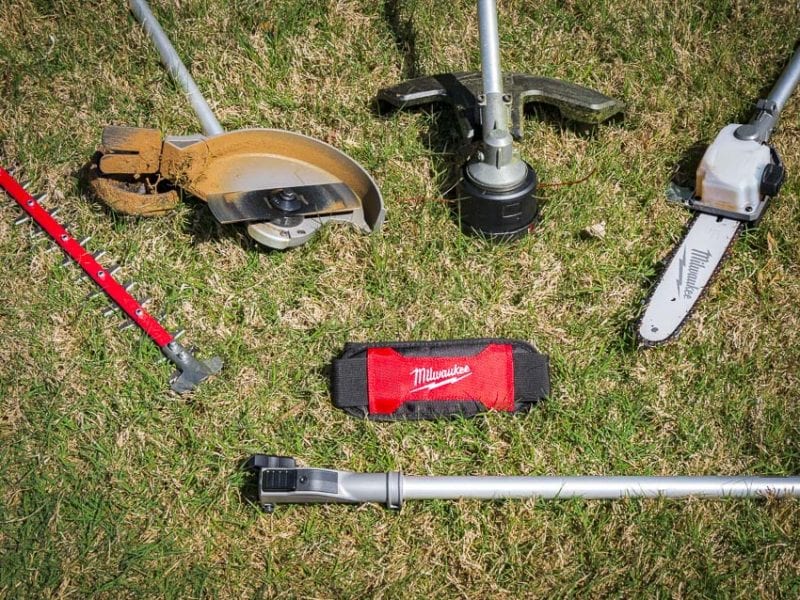 The hedge trimmer comes with a shoulder strap and I leave it on to use with every attachment. Whether I'm using the extension or not, working with any shaft-based tool like this can work on your back on longer days and the strap lets me work pain-free longer.
You install the clip between the trigger and the guide handle wherever it's the most comfortable for you and attach the stout single point clip to it. The strap itself has plenty of adjustable length to fit a wide variety of heights. Once you find the best length for you, slide the pad around to your shoulder and you're ready to go.
3-foot extension for pole saw and articulating hedge trimmer: $69.00 (49-16-2721)
Shoulder strap: $24.97 (49-16-2722)
10-inch pole saw chain: $24.97 (49-16-2723)
Best Milwaukee M18 Fuel Quik-Lok Attachment System Combo Kits
There are a lot of ways to get started with this system and save some money with a combo kit. Here are some of our favorites:
The Bottom Line
With the number of attachments now available, the Milwaukee M18 Fuel Quik-Lok system has the versatility to maintain nearly any property. The tools are well-designed for their purpose, help ensure you're making efficient use of your time, and help you achieve professional quality results. If you're in the market for a multi-head attachment system, be sure you take a close look at what the Milwaukee Quik-Lok system has to offer.