The Ridgid R250AFF 15-Gauge Angled Finish Nailer with Clean Drive is part of their latest series of finish nailers featuring a tighter drive track to reduce the number of jams and misfires you get.
Pros
Clean Drive track reduces jams
Easy access for jam clearing
Smooth thumbwheel depth adjustments
Narrow nose design improves shot placement
Adjustable exhaust
Dry fire lockout with 4 nails remaining
Cons
Ridgid R250AFF Feature Set
Clean Drive System
The major upgrade for this Ridgid 15-gauge nailer is Clean Drive. It's a tighter, more precise drive track that greatly reduces the number of jams and misfires you get over time. Ridgid claims you'll get up to 17x more perfect drives, including with toe nailing. Months after our first tests with the 18-gauge version, we're still not having any jam issues.
Jam Clearance
No nailer is perfect and even the Ridgid 15-Gauge Angled Finish Nailer with Clean Drive eventually will. When that happens, the access door on top is easy to open by flipping the latch release forward.
Magazine
The magazine is a rear loading style that's mainly plastic construction. The nail track on the inside is metal. A bypass pusher makes loading the nails easy, though it doesn't slide as snappy as an all-metal magazine.
The upside is that it helps keep the weight down some.
Thumbwheel Depth Adjustment
Thumbwheels depth adjustments are pretty standard. Ridgid place theirs on the right side of the nose. What sets it apart is that it's super-smooth to adjust.
Narrow Nose Design
The Ridgid R250AFF sticks with a narrow nose design that's easier to see some of the competition. Ridgid says it has an aggressive toenailing tip. It's narrow and rounded, so it's not going to stick as well as the barbs on a framing nailer.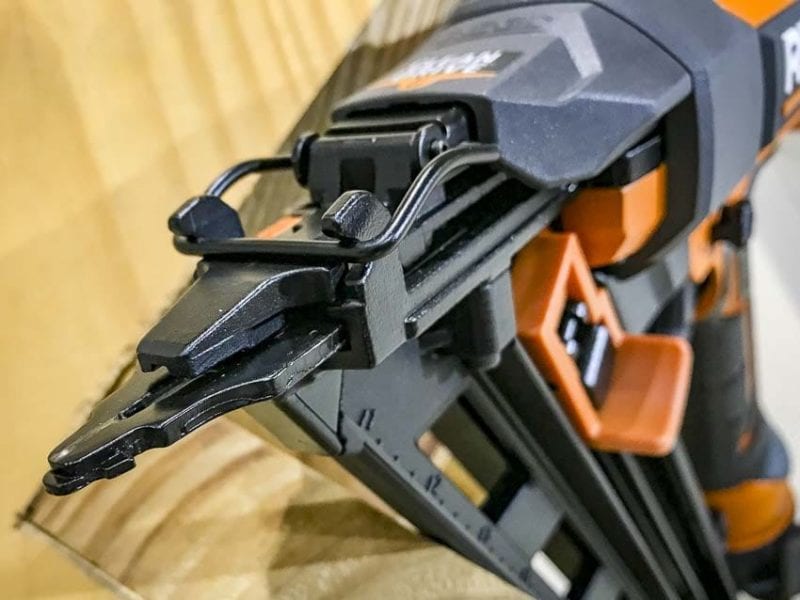 Additional Features
Adjustable air exhaust
Tool-free mode change
Oil-free motor
Dry fire lockout with 4 nails remaining
Three no-mar pads included – two narrow and one wide
Swiveling air inlet included
Ergonomics
At 4.2 pounds, Ridgid comes in on par with most of its competition. You can save a few ounces with Makita or gain a couple with Bostitch. Like most nailers in this class, there's a forward lean, but nothing out of the ordinary with how it balances.
It's no surprise to find HexGrip overmold to increase the comfort and grip security of the handle.
Ridgid 15-Gauge Angled Finish Nailer Performance
You're not likely to bump fire at a crazy rate with a finish nailer, and I was able to consistently drive 2-1/2″ nails at roughly a 1/2-second interval without an issue. It's possible to shoot faster than that, but it's tough to get good results no matter what nailer you're using.
Moving to our test grid of poplar and PT pine, the Ridgid 15-Gauge Angled Finish Nailer sinks 2″ nails with ease. I'd have been shocked if that wasn't the case, though.
The big deal on our grip is being able to test accuracy. Ridgid's nose design gives you a better sightline than some of their competition. I was able to keep each shot within 2 mm of my target – close enough for the kind of work you do with a 15-gauge nailer.
The amount of recoil you get from firing nails with this model is on par with what we expect from a 15-gauge nailer.
Ridgid R250AFF Pricing
Ridgid's $169 price tag sits in the middle of the group with Hitachi and Makita benefiting from some current sale prices*. With its overall design and feature set, you get a decent amount of bang for your buck.
Metabo HPT NT65MA4: $129
Makita AF6735: $148.71
Ridgid R250AFF: $189
Bostitch BTFP72156 (FN style): $175
DeWalt DWFP72155: $175
The Bottom Line
Ridgid continues to drive the pneumatic nailer line forward with features that make a difference and a competitive price. With a Lifetime Service Agreement that even covers driver blades, the R250AFF is a compelling choice for any Pro.
Ridgid 15-Gauge Angled Finish Nailer Specifications
Model: Ridgid R250AFF
Power Source: Compressed air
Nail gauge: 15 Ga
Fastener Size: 1-1/4″ to 2-1/2″
Min. Recommended Air Delivery SCFM @ 90PSI: 1.0
Min. Recommended Operating Pressure: 170 PSI
Height: 12.38″
Width: 3.50″
Weight: 4.2 pounds
Warranty: Lifetime Service Agreement
Price: $189