The newest Ridgid 18-gauge finish nailer is arriving at Home Depot locations around the country. It's touting some impressive claims surrounding Ridgid's Clean Drive system. We all know reality doesn't always match the claims – check out any political post and following comments on social media if you don't believe me. I'm not going to fact-check the latest Republican/Democrat/Libertarian rants for you, but I do want to know if the Ridgid R213BNF is worth bringing into the fold.
Pros
Clean Drive system reduces misfires and jams
Complete feature set leaves nothing behind
Excellent value
Cons
One of the heavier 18-gauge pneumatics
Feature Set
Clean Drive Design
Clean Drive is the headliner for the latest Ridgid 18-gauge finish nailer. The system creates a tighter path for the nail and driver blade so that it delivers more consistent drives and fewer jams. Ridgid is claiming 17 times more perfect drives.
That translates to 3,750 nails before a misfire or jam compared to just over 200 for the competition in Ridgid's internal testing. Those are some impressive statistics.
In the real world, I'm not about to count that many nails just to make a point. I will say that after driving hundreds of nails, I'm still waiting for that first misfeed or jam. So far, so good.
Standard Pro Features
Two-stage tool-free mode selection above trigger
Oil-free motor
Dry fire lockout
Tool-free jam clearance access – just pop the lever forward and lift the door
Tool-free depth adjustment in front of trigger
Rear-loading semi-transparent magazine
3 no-mar pads included
Hex grip overmolded handle
Swiveling belt hook
Swiveling connector included
Additional Field Notes
I'm a little concerned for the long-term durability of the magazine. The slide has some wobble to it that I'm not crazy about. It shouldn't be a big issue considering this is a finish nailer that won't (or shouldn't) be subject to a lot of abuse and you have the Lifetime Service Agreement to back you up if you register.
Ergonomics
One of the joys of using 18-gauge nailers is how lightweight they are. Sure, you're still connected to a hose and compressor, but you save a ton of weight over the cordless models. The Ridgid R213BNF weighs in at 3.03 pounds on our scale with the connector installed. That's a little heavier than most of the popular brands. In Ridgid's defense, they give you slightly more nail length at 2-1/8″.
The slight forward lean you expect is there and Ridgid's HexGrip overmold leaves you with a comfortable, secure grip.
Performance
Using the Ridgid 18-gauge finish nailer is an absolute pleasure. Ridgid's narrow nose design is very helpful when you want to be accurate. It also helps keep the no-mar pad size down so you still keep the accuracy when you have to avoid damage to your workpiece.
As you're lining up shot, the narrow tip lets you see your placement easily. Rather than shooting through the tip, the nail drives just above the tip. If you're the type of person that makes a mark, you'll be able to see it when you fire.
Power shouldn't be an issue with a finish nailer this size, and it isn't. There's plenty of power to drive the entire range of nail length, including in denser wood. Driving depth is also very consistent.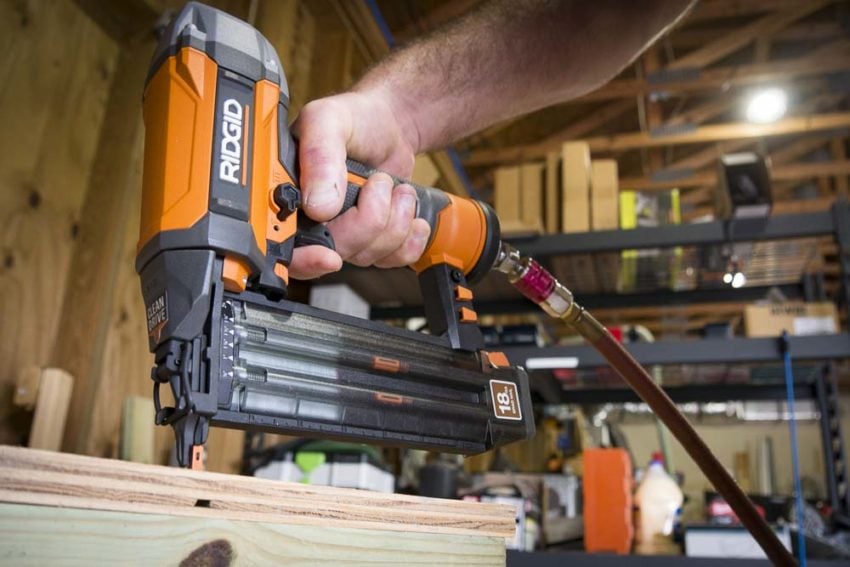 Price and Value
At around $79 from Home Depot, the Ridgid R213BNF is a few dollars less than the previous model ($99). Compared to the entire group, it's a mid-range price sitting squarely between the cheap guns and the premium models. From what I've seen so far, it's a good value for the performance and feature set.
The Bottom Line
If you're looking for Pro-level performance on a sub-$100 budget, Ridgid gives you a lot of bang for your buck with their updated 18-gauge finish nailer.
Ridgid 18-Gauge Finish Nailer Specifications
Model: Ridgid R213BNF
Power Source: Compressed air
Operating Pressure:
Air Consumption:
Nail Gauge: 18
Nail Length: 5/8″ – 2-1/8″
Capacity: 105 nails
Weight: 3.03 pounds
Dimensions: 9-5/8″ x 9-1/2″ x 2-5/8″
Price: $79
Warranty: 3 years and Lifetime Service Agreement with registration